By Cinda Chavich
Like seasonal vegetables, fish runs are seasonal too. So, eating what's local and in season from the sea helps to sustain both fishermen and fish.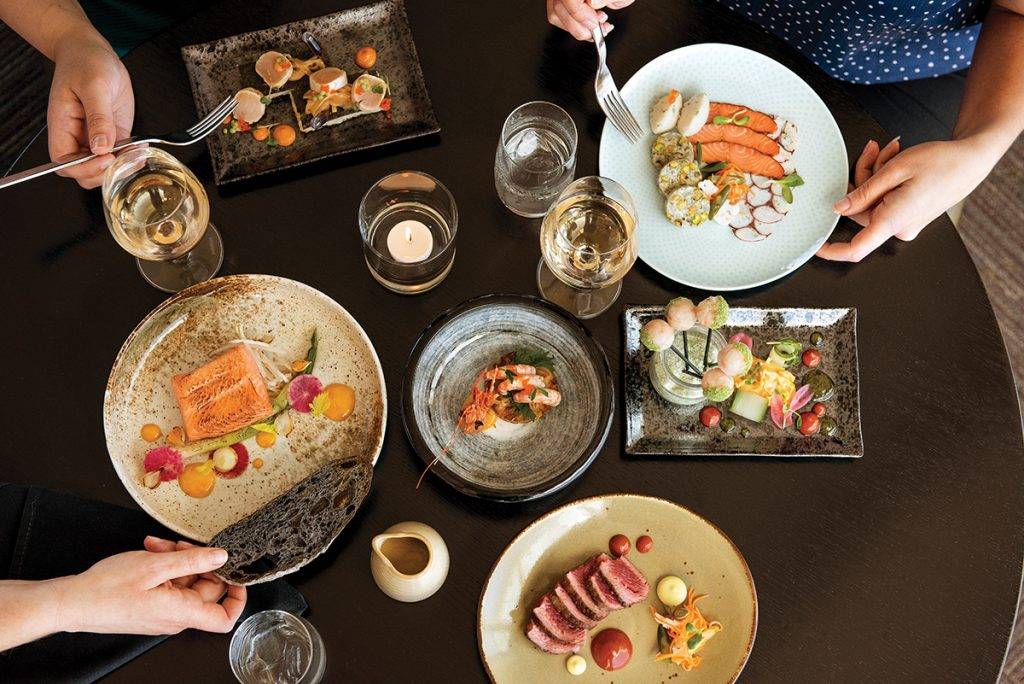 Chefs who work directly with local fishermen and small local processors are helping to swing the pendulum back toward truly sustainable local seafood through programs like Ocean Wise, which ensures chefs that the fish they serve is harvested sustainably, and Slow Fish, which goes a step further to make locally harvested fish a priority. Here on Vancouver Island, that can include salmon, halibut, tuna, sablefish and prawns, along with lesser-known ling cod, skate, sardines, geoduck, octopus and sea urchins.
The following recipes were served on World Fisheries Day (November 21) at an event hosted at the Inn at Laurel Point in 2019. All recipes were cooked by chefs who were there to talk to B.C. MLAs about sustainable seafood and the issues facing B.C. fisheries.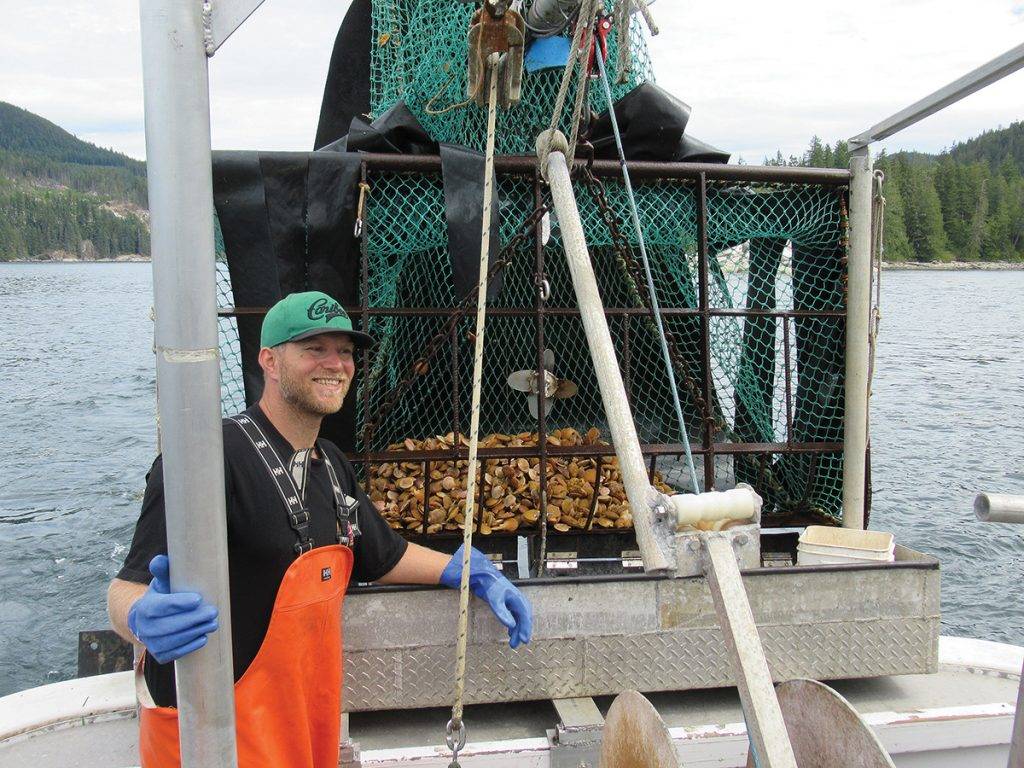 Steamed Swimming Scallops with Soy Yuzu Butter Sauce
Chef Takashi Ito of the Inn at Laurel Point served pretty pink swimming scallops from fishers Joel and Melissa Collier of West Coast Wild Scallops in Courtenay. These local scallops are sustainably fished using a butterfly trawl — the scallops literally swim up into the net.
You can eat the entire scallop, including the roe. Chef Ito simply steamed them in a Chinese steamer, then passed them around on the half shell, drizzled with a citrusy soy and butter sauce. He says the sauce works well with steamed local clams and mussels too.
• 2 Tbsp gluten-free tamari soy sauce
• 2 Tbsp sake
• 1/2 tsp yuzu juice (available at Asian grocery stores)
• 2 Tbsp unsalted butter, melted
• 2 pounds frozen swimming scallops, in the shell
In a small saucepan, whisk together the tamari, sake, yuzu and melted butter to combine. Set over low heat to keep warm, whisking if the sauce separates.
Place the scallops in a steamer basket and steam just until the scallops open, about four to five minutes (from frozen). Don't overcook; they will get rubbery.
Remove the top shells and drizzle each with a half teaspoon of sauce to serve.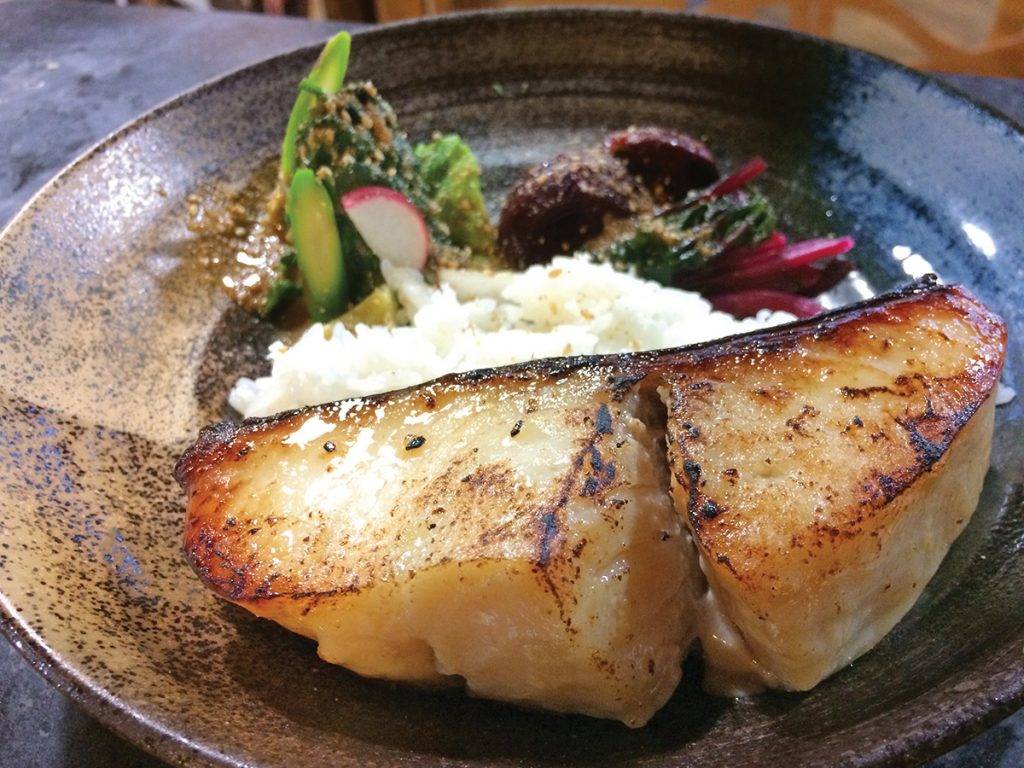 Maple Miso-Glazed Black Cod
Chef Dai Fukasaku of Fukasaku in Prince Rupert served a tuna sushi platter with tuna tataki and his signature dish, Maple Miso-Glazed Black Cod (a.k.a. sablefish). It's made with sake kasu, the lees from making sake, sourced from the Artisan SakeMaker on Granville Island. You can find this kasu in Victoria at Fujiya market.
It's an ingredient that's nourishing, tasty and used to tenderize fish, meat and chicken and for soups and dressings. Dai says the technique of "pickling" fish in sake lees is a Japanese tradition and one he uses for black cod, though says it also works well with salmon, halibut, yelloweye rockfish, scallops and the collars or belly meat from all of these fish. Get creative!
• 2.5 to 3 pounds sablefish fillet (Chef Fukasaku used Finest at Sea, Ocean Wise-approved, troll-caught black cod)
• salt (Fukasaku used local salt from Vancouver Island Salt Co.)
Miso Mix:
• 2 Tbsp (30 ml) cooking sake
• 1/2 cup (125 g) white miso
• 1/4 cup (40 ml) maple syrup
• 2 Tbsp (30 ml) tamari (gluten-free soy sauce)
• 1 cup (250 g) sake kasu (Fukasaku used sake kasu from Artisan SakeMaker on Granville Island)
• pinch red pepper powder
To prepare the sablefish, wipe off the fillet and place on a big tray, flesh side up. Sprinkle a generous amount of salt on the fillet. Cover the tray with plastic wrap and refrigerate overnight. Tilt the pan slightly, so any liquid that's drawn from the fish will drain away from the fillet. The purpose of this step is to remove extra moisture from the fish.
To prepare the miso marinade, place the sake in a pot and heat over medium low heat, just until the liquid is bubbling. Whisk in the miso, maple syrup, tamari and sake kasu, stirring until smooth. If mixture is too thick, add a little more sake. Season with the pepper powder. Place the mixture into a container and refrigerate overnight.
The next day, remove the fish from the fridge and wipe to dry. Cut fish into six portions. Rub the miso mixture over both sides of the fish to coat well, then put the fish into a zippered plastic bag, removing as much air as possible. Marinate in the refrigerator for seven days.
When ready to cook the fish, scrape off the miso mixture. Line a baking pan with parchment paper and arrange the fish fillets on the paper.
Preheat the broiler to 400°F and broil the fish for 12 to 15 minutes, until just cooked through.
Serves 6.