No time for a proper holiday? A "shortcation" to Parksville Qualicum Beach offers the respite you're craving.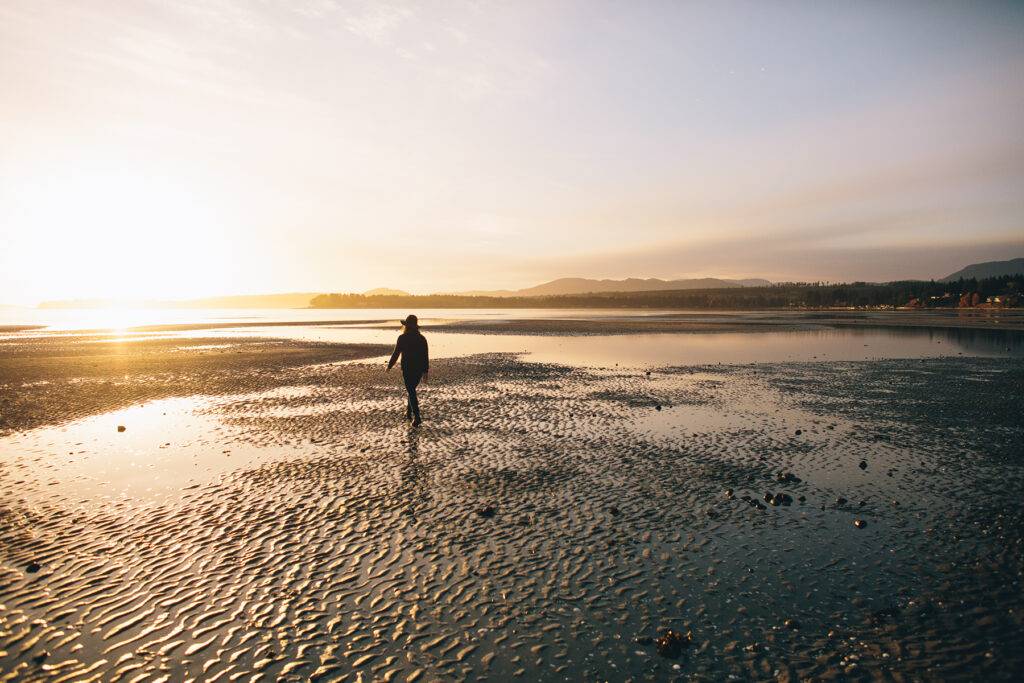 ---
BY JOANNE SASVARI
A change, they keep telling me, is as good as a rest. Well, there has been a lot of change over the past couple of years and none of it has felt particularly restful — at least, not until recently, when I took a two-night "shortcation" in Parksville and Qualicum Beach. Now I understand what everyone was on about.
There's something wonderfully soothing about this place. Perhaps it's the gentle rhythm of the tide washing over the endless sandy beach or the playful breeze whispering among the Douglas firs. Maybe it's the art that seems to be everywhere, or the wilderness on its doorstep, or the farm-to-table dining scene, best enjoyed in a plush bathrobe.
Heck, it could just be that it's an easy two hours' drive from Victoria, with no ferry lineup involved.
I'm certainly not the first to discover the picturesque beauty of Parksville Qualicum Beach. In summer, thousands of visitors, especially young families and older guests, are drawn to the area's friendly beach culture. Lineups snake outside the ice cream stands and chowder joints, and traffic along the Old Island Highway slows to a crawl of out-of-province licence plates.
But visit in the shoulder season and it's a different story. There's room to breathe, to soak in the scenery, to meander peacefully.
Ahhhh. Now isn't that just what we all need right now?
Healing Waters
There's plenty to do here in what's charmingly known as Oceanside. You could take in the coastal views of "Lighthouse Country" up around Bowser, or enjoy the mountainous playground of Mount Arrowsmith Regional Park further inland, or join the more than a million visitors who stop each year to glimpse the goats grazing on the Old Country Market roof in Coombs.
Then again, you could also do pretty much nothing at all.
And a good place to pretty much nothing is at the Grotto Spa at Tigh-Na-Mara Seaside Spa Resort. Tucked amid the arbutus trees along Resort Drive, not far after the Parksville exit off Highway 19, this spa is a destination unto itself. Year after year, it perches on top of all the "best of" lists and wins hampers full of awards.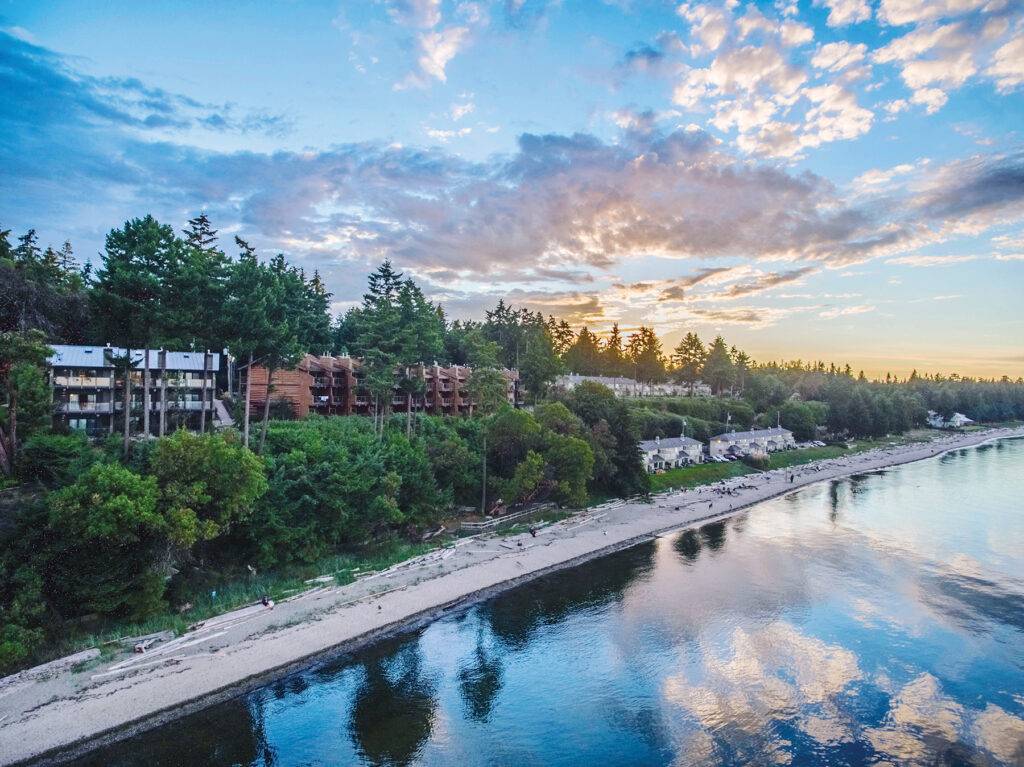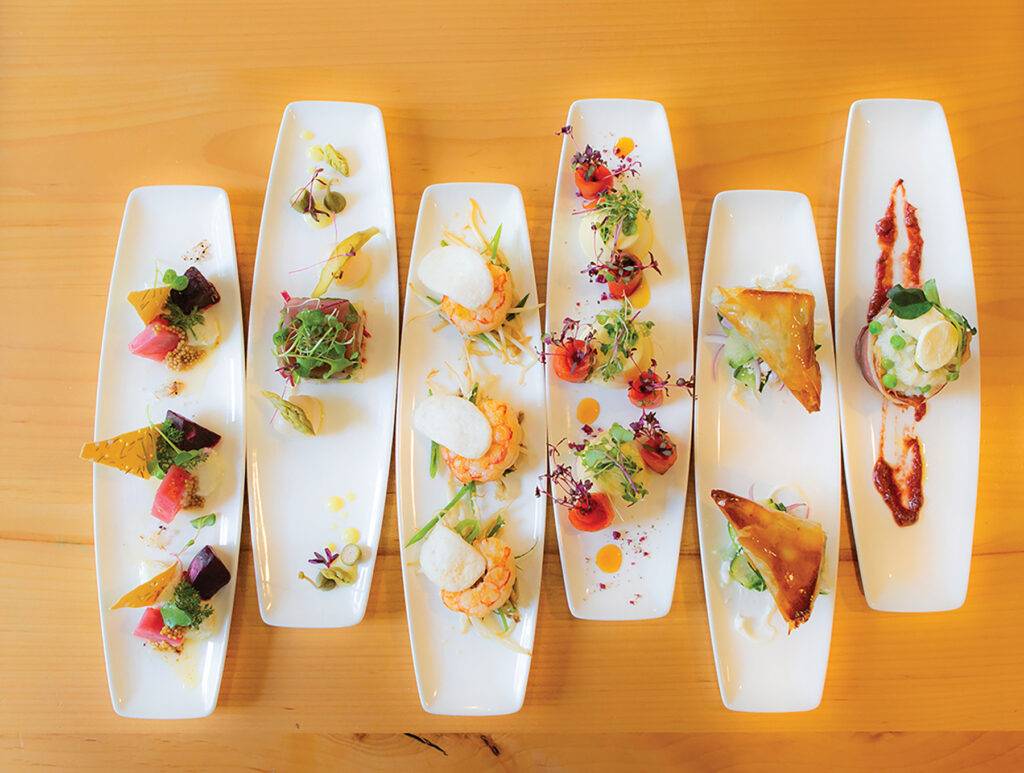 ---
But it's not just the mineral pool, the manicures, the massages or even the epic sunrises over the Salish Sea that make this place so restorative. The real reason to stop here is for the Dip & Dine, an experience you can enjoy nowhere else in Canada.
It starts with a soak in the healing waters of the pool, which is designed to look like a stone grotto, complete with waterfalls and a steamy whirlpool. Then, just before you've completely dissolved into a puddle of relaxation, you change into your bathrobe — it's the only attire permitted — and hop an elevator up to the Treetop Tapas & Grill.
You'll be happy you wore the bathrobe because you will then proceed to graze your way through a 15-course feast of small plates of, say, gnocchi with duck confit or demitasses of sablefish chowder or cubes of crisp pork belly, all of it made even better with a glass or two of B.C. wine alongside.
From there it's a short stroll — to be fair, it might be more of a waddle by this point — to your cozy room, where the wind and the waves will sing you to sleep.
A Brush with Nature
On this protected eastern side of the Island, chances are good that you will wake up to sunshine. It's a good thing, too, because rain or shine, hot or cold, you'll want to hit one of the epic beaches. When the tide goes out, sand spreads as far as the eye can see; when it comes back in, the sea slips shallowly over that sun-baked sand, making this the warmest bit of ocean in Canada. Talk about healing waters!
At this time of year, the water's still not warm enough for me to want to dip my toe in it. But plenty of other critters are enjoying the opportunity.
Whales, seals and dolphins frolic offshore, pursuing a giant shoal of herring. Meanwhile, high above, eagles, gulls and other birds follow the Pacific Flyway, including the small Brant geese that flock here every spring, pausing on the way to their breeding grounds up north. They're the focus of the Brant Wildlife Festival (April 1 to 9 this year), which seems like a good reason for a return visit.
But when nature and humankind come as close together as they do here, sometimes they collide in unexpected, and unfortunate, ways.
That's why the North Island Wildlife Recovery Centre exists. It's the creation of Robin and Sylvia Campbell, who, back in 1985, rescued an injured great horned owl they found caught in a barbed wire fence. Now they have eight acres up near Coombs, where they rehabilitate injured and abandoned animals — 24,850 so far, including dozens of orphaned bear cubs — and release them back into the wild.
When you wander the grounds, though, you'll come across a number of permanent residents. These ravens, ducks, eagles, owls and black bears are too badly injured or too used to humans to survive on their own. It's a bit magical being this close to a ghostly white raven or an imperious bald eagle. Mind you, as Sylvia says, it's hard to know if we're watching them, or they're the ones watching us.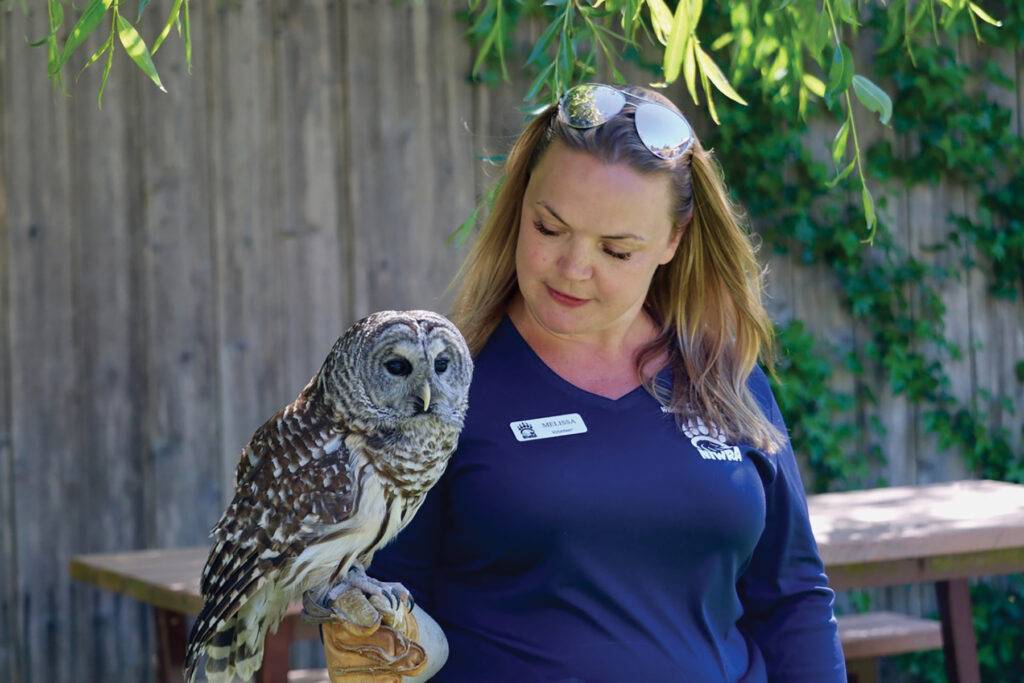 ---
An Artful Getaway
Ocean, forest, mountains — the wilderness is never far away here. And the great natural beauty of this area is, perhaps, what inspires so much art.
I've dropped into The Old School House Arts Centre (TOSH) in Qualicum Beach, which is holding an exhibition of local art "from the attic," mostly works by local artists, professional and amateur. (There is, as you can imagine, a wide range of quality.) Illana Hester, TOSH's executive director, estimates some 35,000 artists live on Vancouver Island, and a goodly number of them reside in and around Oceanside. She's all about fostering their work and giving them gallery space so that visitors like me can enjoy their pieces.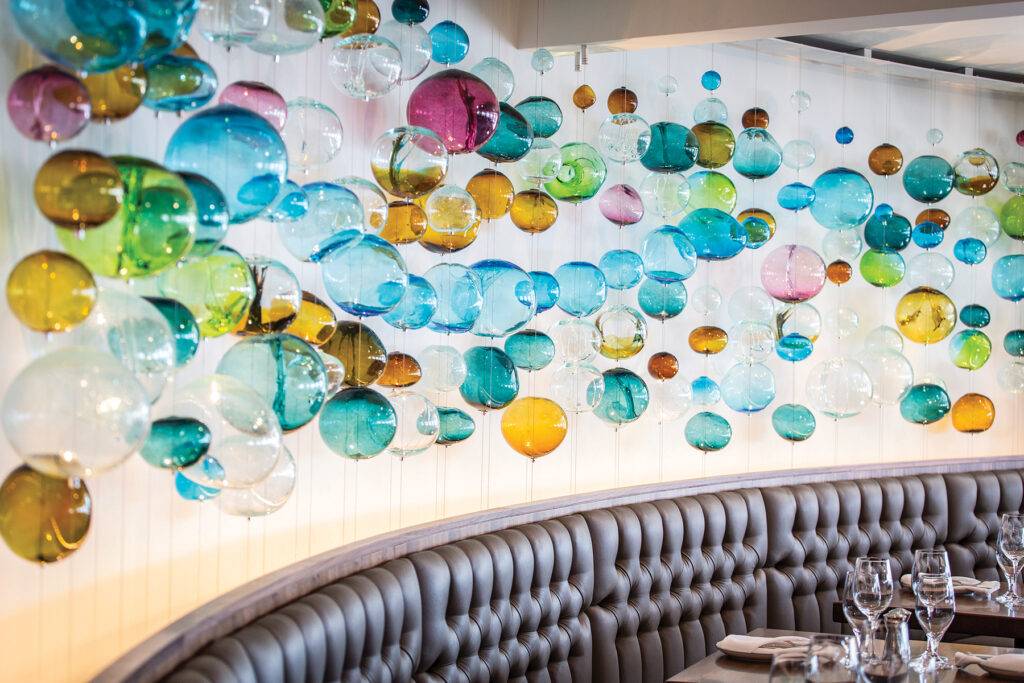 ---
Many local artists languish in relative obscurity; not so Robert Held, the famous glass artist whose studio is in Parksville. His colourful vases, bowls and paperweights are inspired by the likes of Gustav Klimt and Tiffany, and can be found in famous collections around the world — even the late Queen Elizabeth collected one of his commissioned pieces. I love dropping in and watching the master at work at his furnaces, then browsing through his shop on the way out.
I spy more of Held's work at the Qualicum Beach Café where his hand-blown glass orbs dangle from the ceiling like vintage fishing floats, a curtain of shimmering sea colours. It's a fitting backdrop to this modern restaurant where West Coast meets Italy at the junction of welcoming hospitality. The view of the Salish Sea from here is so pretty, they hardly need to make any effort at all, but they do, and I'm so glad for it.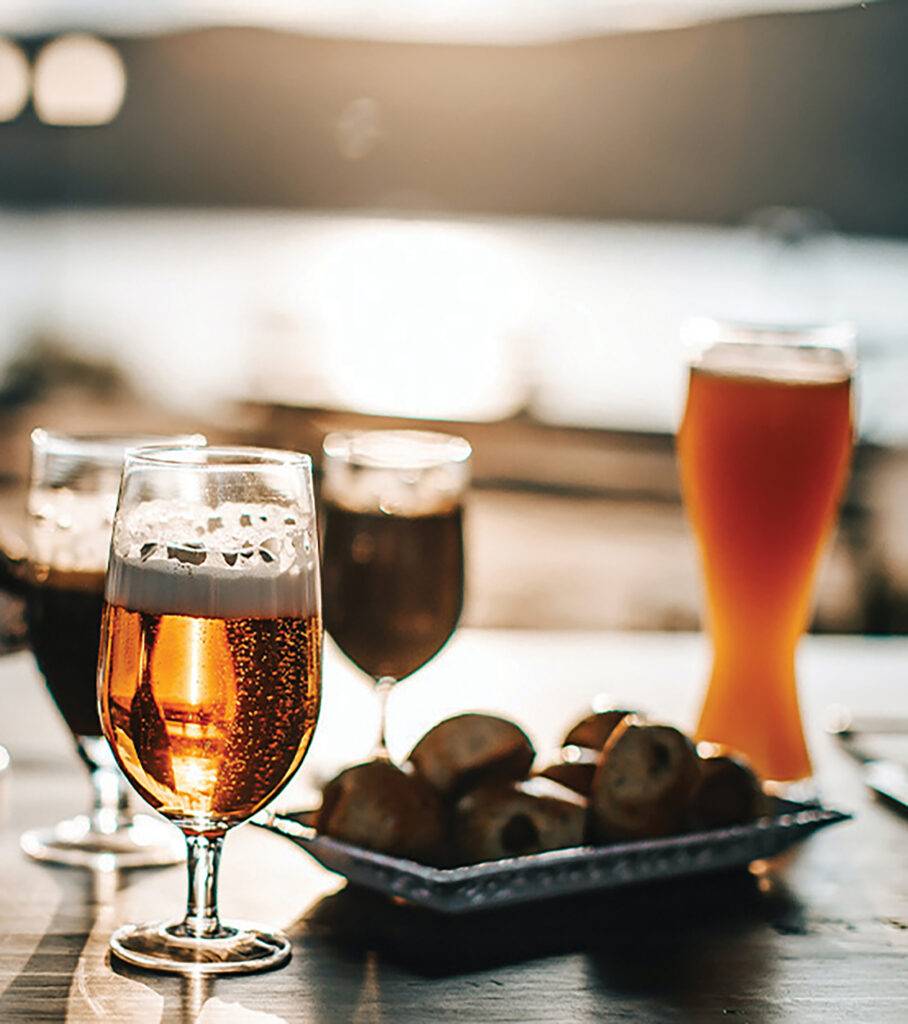 ---
It's the same story at The Beach Club in Parksville, where Pacific Prime Restaurant & Lounge is serving up fine fare in outdoor domes next to the boardwalk until the weather gets warm. It's like sitting inside a crystal ball, enjoying lunch or dinner with the ocean just metres away. And there's even more good eats to be had at the French Press Coffee Roasters, Q Burger, Fern + Cedar Brewing Company and so many more places.
And there we have it. When a change means a soothing spa, a brush with nature, some beautiful art and delicious food, in a picturesque setting just a short journey from home, it really is as good as a rest.
Maybe even better.
More Info: To plan your own mid-Island shortcation, go to hellobc.com or visitparksvillequalicumbeach.com.