Strap on the skinny skis and learn why cross-country is the best winter sport for exploring the Island (and beyond) at any age and skill level.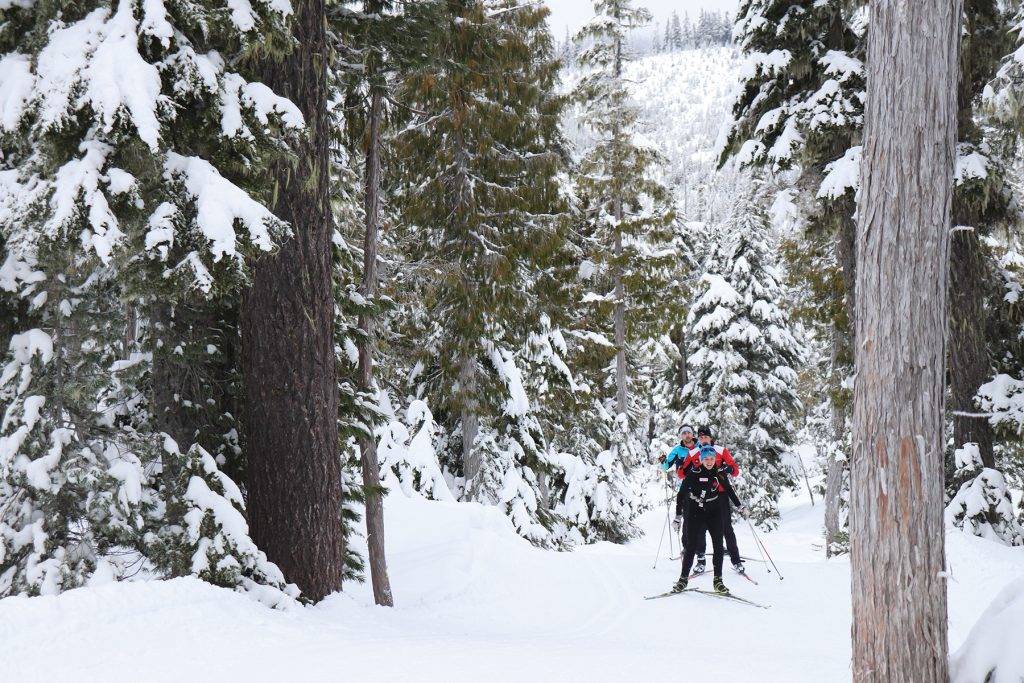 ---
BY DIANE SELKIRK
On a clear day, the views from Mount Washington's cross-country ski trails seem endless. To the east are the blue waters of the Salish Sea and the rugged mountains of the Coast Mountain range. To the west are the bright, snowy peaks of Strathcona Provincial Park.
But today, as my family and I ski along the winding trails of Paradise Meadows, I can only imagine those stellar views. Lightly falling snow and low clouds give the forest an insulated and secluded feeling — perfect for the kind of quiet, meditative ski I was hoping for after a busy week.
But then, our daughter Maia kicks it up a notch. Lengthening my stride to catch her, I feel a bit of a wobble and think I may end up practising a newly learned manoeuvre that allows me to get up (more or less) gracefully after a fall. Instead, I calm my breathing and coach myself back into the simple, smooth rhythm of kicking and gliding. Within moments, I'm speeding along the tracks so confidently that skiers going the other way probably spot my grin of delight.
A Sport for Life
Once considered the stodgiest of the snow sports (compared to the flash of snowboarding or the thrill of downhill skiing), cross-country has recently come into its own and is now one of winter's fastest developing activities. In British Columbia, interest in the Nordic sport had already been growing steadily for the past few decades, but since COVID-19 hit, the province's ski clubs have reported a 50 per cent increase in their membership numbers.
Wannes Luppens, executive director of Cross Country BC, says this growth isn't a surprise. "Cross-country skiing is a lifetime sport, from ages 0 (in a chariot or backpack) to 90-plus," he says. "It's a full-body, low-impact outdoor activity that's accessible, affordable and great for families. It can be a peaceful experience in the woods, an exhilarating workout and everything in between."
I first tried cross-country skiing as a teen through a high school outdoor education class. Initially, it didn't captivate me — I was a downhill skier, and my novice Nordic skills didn't give me the shot of adrenalin I craved. A few years later, I tried it again by venturing into the backcountry with friends. This time I used special metal-edged skis to cut trails into the unblemished snow.
Setting off over frozen ponds and into towering old-growth forests, we'd camp out for a night or two — providing some of the most memorable winter adventures of my life.
Several years after those rugged undertakings, things changed again when my husband Evan and I introduced our baby daughter to the hills. Nothing could compare to Maia's joy when she graduated from a backpack to her own pair of tiny toddler skis — even though that first year, they only carried her the short distance from the parking lot to a warming hut for a cup of hot chocolate.
Varied Terrains and Styles
This something-for-everyone flexibility is what makes cross-country so special, says Andrea Stapff, the head coach of the Strathcona Nordic Ski Club on Mount Washington. "In some ways, it's like bike riding and all of the different ways that can look. You ski at your own pace and at your own level," she says.
And while non-skiers often assume cross-country is a physical slog that's tough to get the hang of, Stapff explains that once you nail the basics, it's pretty straightforward. "When you start, the first thing you do is literally just walk on the snow — and then you learn to slide," she says. From there, Stapff says, you can go any direction you like: "You can become competitive and start racing, head off bush bashing in the wilderness or just enjoy a leisurely classic ski with friends."
The goal is to have fun, stay active and ski at the level that suits you.
---
As a young family, cross-country skiing became our favourite winter activity. With a much lower barrier to entry than alpine skiing, it was easy and affordable to take up.
Trail passes are a fraction of the cost of downhill passes, and the clothing consists of the kind of items many people already own for winter biking or hiking (a base layer, fleece layer and a wind or waterproof shell). Basic classic ski gear is also quite cheap and, like many new skiers, we bought our first skis, poles and boots on the used market.
As we spent more time on the hills, Maia began lessons. This was when we discovered that cross-country clubs attract a diverse and welcoming community of people who enjoy being outdoors as much as we do. Luppens explains that because of the unique way that cross-country skiing first developed in the province, most cross-country ski areas are managed by non-profit clubs.
He says that many clubs go beyond simply managing the trails and often offer rental equipment, run social programming and provide lessons for children, youth and adults — even those who have never skied before.
Building Confidence
While Maia became faster and more fearless on the trails, the opposite seemed to happen to me. She was a teen when I realized our family sport was at risk of turning into individual sports because the pace I'd been skiing since Maia was a toddler wasn't cutting it anymore. This is when I discovered that adult lessons and masters programs could offer a way to improve at something I'd been doing sort of badly for over 20 years.
The first classes I took were filled with a range of adults wanting to improve skills, switch sports because of downhill injuries or simply see what the hype was about. I quickly learned my self-taught ski techniques needed refining — but by the end of the first set of lessons, not only was I quicker, I was more confident.
A few weeks later, we set off along the trails on Mount Washington. After Maia picks up speed and I almost lose my balance, I settle into a comfortable pace. Breathing deeply, the cold air fills my lungs while snowflakes dampen my cheeks and catch in my lashes.
The snow-covered trees look almost alive — bent into hunched human-like forms under a blanket of white. "How perfect this is," my now-adult daughter Maia says, before slowing just enough to catch a snowflake on her tongue.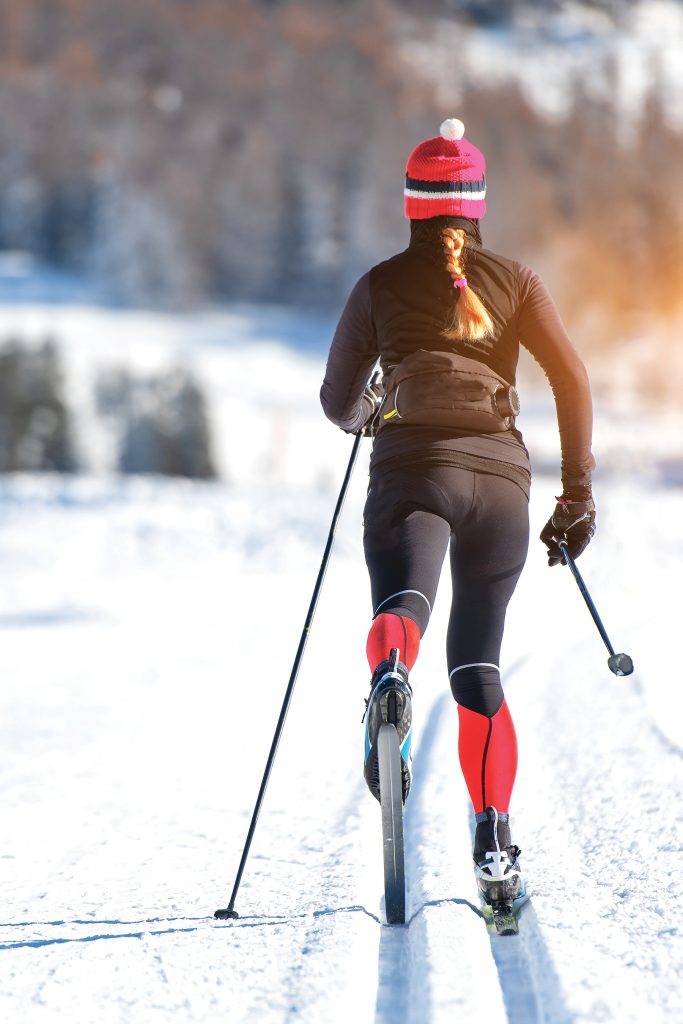 What to Know Before you Go
There are three main types of Nordic skiing: classic, skate and backcountry. With each one, the gear is a bit different, but the similarity is your toe stays attached and your heel is free (not fixed
as with downhill).
Classic skiing uses a gliding motion in preset, parallel tracks. Almost anyone can successfully shuffle along flat trails.
Skate skiing can look a bit like speed skating on snow. Done outside the tracks, the skating motion propels you forward quickly.
Backcountry touring takes you into the wilderness. It requires a range of backcountry skills (including avalanche safety) and safety gear.
Cross-country is for everyone. Many clubs run lessons and programs for people with all abilities, including adaptive ski programs, options for the visually impaired and rentals for all ages.
For more information, visit crosscountrybc.ca
X-Country Destinations
While you can ski just about anywhere that gets enough snow (the Cowichan Valley Trail is popular in the right conditions), check out these winter-long options:
Mount Washington Alpine Resort
The resort's 55 kilometres of machine-groomed cross-country trails provide stunning views of gorgeous Strathcona Provincial Park.
What to try: Check out the Strathcona Nordic Ski Club's programs for people of all ages and abilities — the club has two sit skis and also offers options for the visually impaired.
Mount Cain Alpine Park
This ski area northwest of Campbell River offers some of the easiest access to backcountry skiing found on the Island.
What to try: Hike Vancouver Island (Island Alpine Guides) have intimate knowledge of the terrain and can introduce skilled skiers to this much-loved area.
Dakota Ridge Ski Area
With 20 kilometres of volunteer-maintained trails, a warming hut and outhouse, this area on the Sunshine Coast is rustic Nordic skiing at its best.
What to try: Car-free skiers can catch a shuttle in Sechelt from Alpha Adventures to the ski area.