By Jody Paterson
Photos by Simon DesRochers
During one of the darkest times of her life, Gillie Easdon had ever known, she took up running and it changed her life. Today, as program coordinator of Every Step Counts, she is running with other who are changing their lives, one step at a time.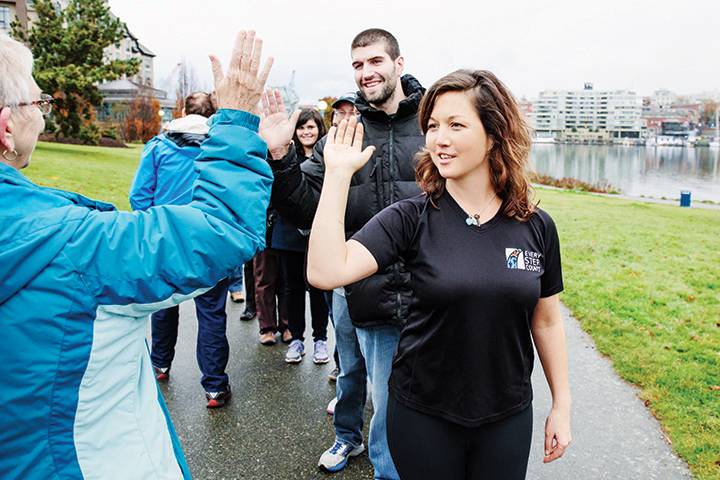 How challenging her beliefs changed her life
In 2008, Gillie Easdon decided to volunteer with Project Connect, a service and information fair where people experiencing homelessness and extreme poverty could come to receive a barbecue lunch and services, from care packs to medical attention and pet care.
"I went there to challenge my contempt for people on the street who had pets," she recalls. "I was pretty educated and travelled a lot, but I just couldn't get past that. Then, on my way there, I ran into a guy who seemed like he was living on the street … he looked up at me with this look of hope and anguish and said, 'Do you think they'll have food for my cat?'" I was a dog owner and I looked at him and thought, Oh, my god, he is me. I connected to him because we were both people who loved our pets. I got it — I understood."
How she found light in the darkness

"I got into running because, 15 years ago, my fiancé died in an accident," says Easdon. "… I was in a pretty dark place, and my girlfriend invited me to run. I couldn't think of a reason not to, so I did. It felt so good to be in the air, outdoors, feeling the rhythm.
I ran every day after that, and it got me out of a very big depression."
So when the ad to create a running/walking program for people who self-identify as having mental-health, addiction and poverty issues popped up on Craigslist in 2009, Eason knew she "had to have that job." She was hired as the coordinator for Every Step Counts, a program that began as a Victoria Foundation idea and later became a Victoria Cool Aid Society program.
She recalls her first run with the program: "There were four volunteers and four participants on an incredibly beautiful day. We had been hashing out all the details before that, but it was a lot like theatre — we still weren't sure how it was going to fly in the end. Then we went out for our run and came back all lit up, beaming. We all knew then that it was going to be amazing."
Why every step really does count
Every Step Counts is self-referred so it's open to anyone, says Easdon. "There are two groups and each go out for two run/walks a week. We go out, come back and stretch, eat together, clean up together,
90 minutes total.
"While poverty affects the majority of people in our group, not everyone [in the program] is poor," she adds. "Some have houses and cars, but use this program as a piece of their healthy lifestyle. Some come out of detox and use it for five months. For others, it's forever … It's pretty special in our group that people are consciously doing something good for themselves.
"For myself and people who didn't grow up in poverty, mental health and addiction were things dealt with behind closed doors," she says. "When I was going through my depression, for instance, I would not have gone to a group. I think that was shame that kept me from [dealing with it openly]. I've learned so much and it is humbling."
More than 680 people have now been through the program. "With two of my volunteers, I've created a template of how to do this in other cities," says Easdon, "so it can be replicated. Nova Scotia, for instance, wants to do a similar group for teenagers with addictions."
Why high-fives matter
"When people come for their run, they are encouraged not to get into what's going on in their lives," Easdon says.
"Every Step Counts is all about not talking about your personal stuff. It's more about 'Hey, it's nice to see you.' If you can't talk about your stuff, you will connect with what is happening that day."
She says this is particularly important because it allows people to get away from the self-labelling or labelling of mental illness. "It's good to have a place where you can just be you, without the labels."
And if you're going to be in the program, Easdon says, you have to do the high-fives. "Sure, it's cheesy, but that's what we do here, and you just have to do it. It's like a practical mindfulness."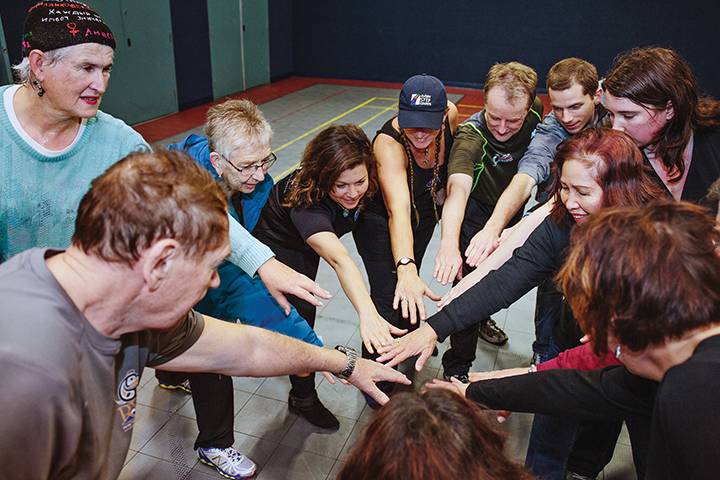 In their shoes
Every Step Counts participants get a pair of gently used running shoes when they begin the program. If they keep coming for 15 sessions, they get a brand new pair of running shoes from Frontrunners where owner Rob Reid is a long-time patron of the program.
"For probably 70 per cent of [the runners], that will be the first pair of new shoes they've ever had," Easdon says. And Canoe Brewpub provides everyone with a sandwich or equally nourishing meal after each run.
"It's really good food that says to people, 'You matter. This tastes good,'" she adds.
Why granola counts too > Every Step Counts is embarking into the world of social enterprise this January with the launch of Granola That Counts, their own yogurt and granola line.
"I get a lot of compliments on my granola," Easdon says. "Now Truffles Group has taken an interest and has had one of their chefs tweak it with me. We've got donated packaging from Victoria Box and Paper, we will be getting our ingredients through Canoe Brewpub and using Truffles' facilities to make the granola. McAllister Marketing is also helping. Plus four of our program participants will help make the granola, which gives them something for their resumés."
The granola will be sold for $9.99 a pound throughout January by Thrifty Foods who generously agreed to do an 11-store blitz. All of the net proceeds will go to fund Every Step Counts.
Her dreams for the future
Easdon, who is the mother of four-and-a-half-year-old Felix, currently has a children's book and a short story being considered by publishers. She hopes to do more writing in the future.
"But as a single mom, working with Every Step Counts in a job that is four days a week and really matters — well, that's a pretty great job. Where
do you go from work like this?"