The dining table is said to be the soul of the home — the one piece of furniture that encourages connection and enhances culture. But that doesn't mean it can't be stylish.
By Danielle Pope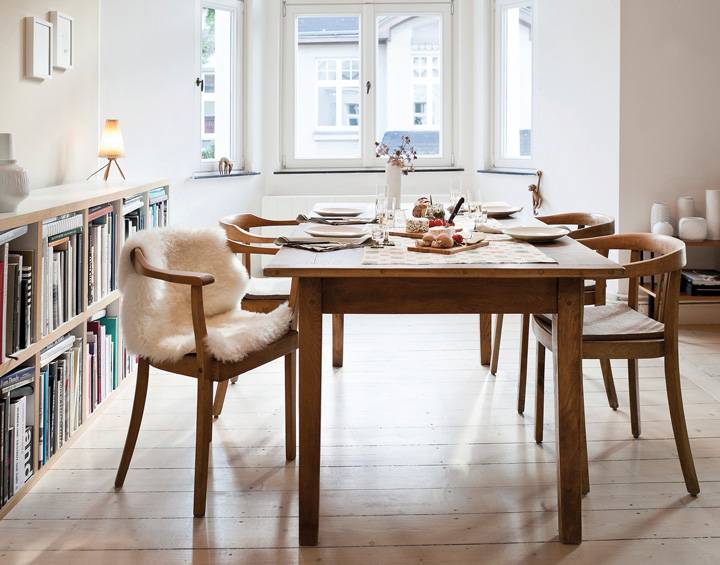 PHOTO: MARIA GILBERT/LIVING4MEDIA
---
Dining tables have come a long way since their early beginnings as stone slabs in ancient Egypt. By the Middle Ages in Britain and Europe, when nobility lived in manor houses or castles with multi-functional great halls, everyone would dine together at tables that resembled today's long trestle tables with benches. The family would sit at the head table on a raised dais, while other people were seated in order of diminishing rank. Over time, the nobility began to develop a taste for more intimate gatherings in smaller parlours — forerunners of modern dining rooms — right up to the late 20th century when the era of multitasking arrived.
These days, dining tables also double as workstations, homework hot spots and meeting areas, and dining has become a less formal affair. In fact, many homeowners have said no to building dining rooms into their homes, preferring expanded kitchens or great rooms instead.
But even without dining rooms, the desire for dining tables has remained.
Novelist Ian Sansom delved into our need for the table in his BBC essay Furniture —
A Personal History of Movable Objects. He said, "We put a deal on the table. We drink someone under the table — and then we turn the tables on them. The table is the place where we interact with others — with family, friends, colleagues, rivals and enemies. The value of a table, like all pieces of furniture, lies in its history. We might make it, but furniture in turn makes us. It shapes us, defines us, and determines our everyday lives."
Elaine Balkwill, a designer at Luxe Home Interiors, recognizes the deep significance tables can have in our lives.
"My dad had a hook on one hand," she says, "and there are still marks on the table from where his hook would hit the wood. There are also marks from my kids doing their homework, and they've graduated now. This is what it's all about — a table is a living piece of furniture in your home, and you want to make your memories with it."
And that's why now, as much as ever, the table — no matter how humble or how ornate — is still a cultural icon.
The Right Table for You
"Today," Balkwill says, "people are seeking tables that will be as artistic and conversational as they are functional."
At Luxe, tables run the gamut from Shaker-style to statement pieces, such as designer Timothy Oulton's round Rex table, which is softly lit from within, glowing like an art deco chandelier, or his Zodiac table, a rectangular marble-topped model which combines ancient classicism and modern glam with a patterned top reminiscent of an Escher optical
illusion.
"Depending on your creativity, your dining table can also be the boldest statement of your home," says Curtis Vertefeuille, owner of Moe's Home Victoria, whose downtown Victoria store features its own statement pieces, including the concrete-topped Amari dining table.
"That's the power of a good table — it adds soul," says Vertefeuille. Soul, substance and style — with so much importance placed on the dining table, is it any wonder people often struggle to decide on just the right one. Do you go with a classic wood table? Modern-vintage look? A contemporary classic? A custom-made live-edge table made from reclaimed Island wood? What about a refinished antique?
If you are driven by trends, you may be drawn to tables made from deep brown woods or with stone tops. Both are popular for 2018. Vertefeuille says trend-savvy people may switch up their home furnishings, including the dining table, as often as every decade.
But others want to purchase a dining table that will last for generations and are ruled by quality and durability, as much as style.
"Whether it's for now or forever, consider one thing when picking your table, Vertefeuille adds. "It has to suit your current needs and potential future needs."
Every table has advantages and drawbacks. While a trestle table may looks romantic in a country-style home, this format is best for long tables (eight to 12 seats), and whoever sits at the end may have to compete with the trestle's beams. A round table creates an environment of equality, but takes up space and won't fit as many chairs. A standard Parsons or square table offers a clean, modern look, but chairs are forced between rigid legs.
Here are some other considerations to look at before you buy:
What's your style?

Stone tops and deep brown woods are popular for 2018, but don't feel like you have to abide by trends. Instead, take some time to consider your style. Is it a mix of modern and vintage? Is it a trendy semi-industrial? Or is it rustic or elegant? You don't have to match the table exactly to your style either.
"A customer recently purchased a live-edge wood table with iron legs for a modern home, and it anchored the space beautifully," says Vertefeuille of Moe's Home.
How will your dining table be used?
Tables are shrinking in width, a trend symbolizing a reduced need for the classic family dinner with food centred on the table. Now, food is often served from the kitchen or a sideboard, or not served at all. Before you buy, decide whether a narrower table meets your lifestyle. If family-style dinners are frequent in your home, you may want a wider table to allow plenty of room for centre pieces and serving dishes.
How many people do you plan to seat?
Manufacturers may have their own measurement guidelines when it comes to seating people, but here are some for comfortable seating:
> 2 people: 30- to 36-inch round, oval, square or rectangle table
> 4 people: 36- to 48-inch round, oval, square or rectangle table
> 8 people: 72-inch round or square table or 96-inch oval or rectangular table
How much space do you need?
Before you buy, measure the space where the table will be to determine the amount of space you need for the table and chairs. Allow a minimum of 36 inches around the table to comfortably pull out standard dining chairs. If you have hardwood floors, you might even want to chalk the space to better visualize. Remember, if you plan to have larger chairs, you'll need more room. Don't forget to allow for table expansion if your table has leaves.
What height do you like?
In North America, people tend to prefer either a standard table height (30 inches) or counter height (36 inches). A standard height is usually the most flexible as it allows most people to have their feet firmly planted on the floor. Taller counter-height tables definitely stand out and create that pub-style feeling, but they may present challenges for people with mobility issues, children or the elderly.
Do you plan to stay in your home or do you have a more mobile lifestyle?
If movability is a consideration, you may want to avoid large, heavy wood, metal or marble tables. Instead, consider lighter materials and tables that can be dissembled for transport.
Character and Custom Tables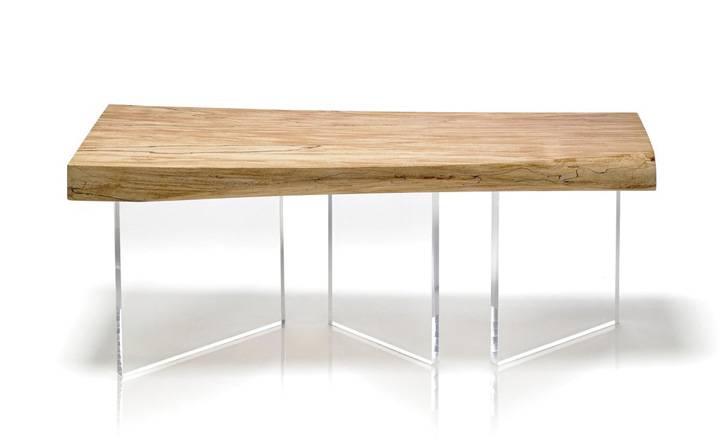 The Triplicity table from Autonomous is a contemporary choice, getting its distinct look from the juxtaposition of the solid spalted maple top and clear acrylic legs.
---
Kirk Van Ludwig, designer and co-founder of Autonomous Furniture Collective, believes you should need to purchase a table only once in your life, so it's important to choose carefully.
"Your table is going to become the focal point of the room, and the beauty of creating a custom piece is that you have a role in its story," says Van Ludwig.
"There's a lot of background work that goes into making sure a table is going to match your life — right down to taping out its dimensions on the floor. You want a dramatic piece of furniture with exceptional functionality, just outside the norm."
In his Victoria studio, Van Ludwig is keen on working with different materials, from concrete and resin to wood, steel and other mixed mediums. Wood is the premium choice for many people, he says, and it can be easily customized through burning, smoking and tinting to achieve that perfect colour.
Sustainability is high on Van Ludwig's list and reflected in his choice of materials. He also occasionally plays with the classic shape of tables. Case in point: the Kaiwa table. The word kaiwa, loosely translated from Japanese, means "conversation" and this table features angled table ends, creating multiple conversation lines. Van
Ludwig's award-winning CB1 table features a western maple live-edge tabletop set on clear Lucite legs, positioned strategically to maximize seating.
Live-edge continues to be a popular style, particularly on the West Coast. With live-edge style, some of the natural texture of the tree's surface remains and is visible as a reminder of the wood's origins and its natural state.
Live Edge Design's River Run tabletop paired with a Blackcomb base offers flexible seating around a striking slab whose live edge is accentuated by an organically shaped glass inlay with river rock detail.
---
The style first emerged in the 50s through Japanese artist George Nakashima's mission to bring a tree's natural texture and energy into the home. It was made popular again in the 90s through the work of Vancouver Island designer John Lore and his company Live Edge Design, the movement's namesake.
Live Edge Design creates most of its products from western bigleaf maples, reclaimed or salvaged on the Island from trees blown down in windstorms or removed for safety. Slabs are kiln-treated to match the humidity of the table's destination. Though the emphasis is always on the living layer of the tree, the company continually revises its looks to stay on the cutting edge of the trend: from the wild knots and river-rock inlays of their Tidepool table to the refined clean lines of the Metro design.
"What speaks to people most about these pieces is the 'tree-ness' of the table — its imperfections," says Donna Shaw, Live Edge's marketing manager. "We are seeing a real attraction toward clean lines and straight edges for our 2018 styles, but people still want wood with a lot of movement and character in the grain."
Whether he's using live-edge or traditional materials, Joe Gelinas of Gelinas Carr Furniture prefers to start with the base.
"The base is really what sets the tone for the table, and this is where a lot of the art and innovation comes in — from the material to the joinery," Gelinas says. "My job is to ask the right questions so that clients can think along this line."
Inspired by Danish modern design, the expanding Garry oak dining table from Gelinas Carr features trestle beams and angled legs to reduce their impact on seating. PHOTO: JOE GELINAS
---
Though Gelinas believes wood will remain the primary choice for most tables, he says mixed materials are growing in popularity, especially for bases. It can be easier to add elements of steel, laminate or live-edge wood to the base while still maintaining a traditional top. That said, Gelinas, who has been in the industry for over 20 years, has always wanted to find someone who would let him make a quarter-inch, steel-top dining table. He sees this as the ultimate stand-out piece.
"The trends I see focus on showing off the base of the table more than before, and using different media, even patent finishes on steel," he says. "There's a lot of room to be creative here, and that's how you make a statement."
The Human Element
The American actress Melina Kanakaredes said, "It's a wonderful time when you sit down around the table for dinner and discuss life. No matter where you are, it gives the semblance of normalcy to my crazy world."
And so, whatever table you choose, from a round Tulip table replica to a live-edge wonder that is a poetic reminder of the forest it came from, remember that a table is never just a table. It may hold your food, but it will also hold your ideas and conversations — and it will hold your memories.
---
What is the Best Material For Your Table?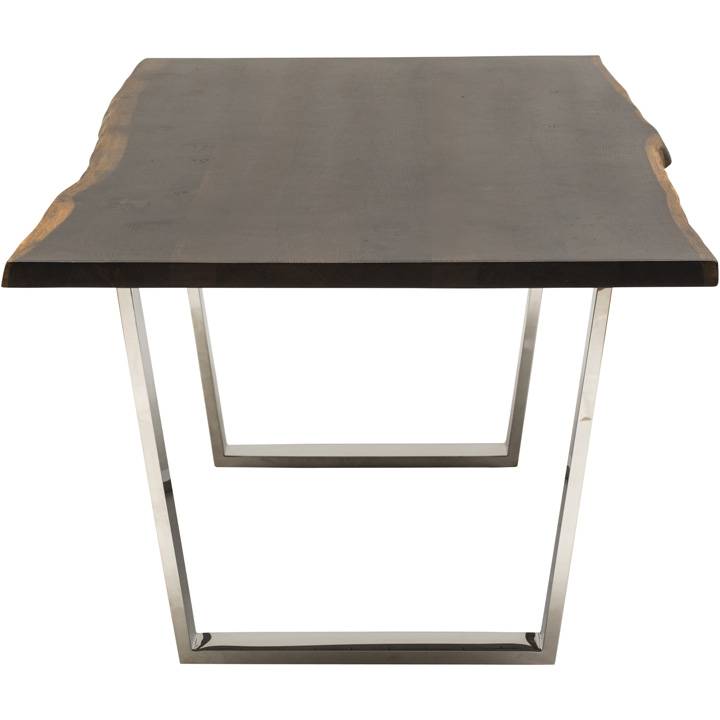 ---
Woods like mahogany, walnut, maple, teak or oak are typically sturdy, long lasting and require lower maintenance. Just wipe away spills and spray on a wood conditioner every few weeks. Seasonal wax applications will help keep wood from drying. The Nuevo Versailles table (above) from Parc Modern features a seared solid oak top with a live edge.
Pine is a popular option, but being a soft wood it does mark up more easily. If you expect your table to get lots of wear and tear, choose a wood that has a patina or is distressed.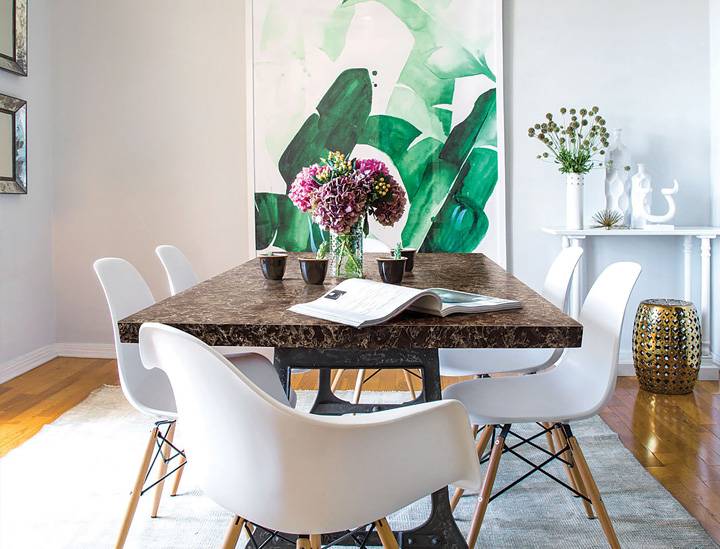 ---
Marble is timelessly beautiful, but it is a soft stone, which makes it prone to staining and scratching. Cambria's natural stone (above; find a local supplier at cambriacanada.com), such as their Hampshire Waterstone can be used to create a unique, custom table.
Wood veneers can be attractive, but cheaply made ones tend to be delicate, so be sure to protect surfaces from hot dishes or spills, which may mark or warp them. Unlike real wood, veneered tables can't be easily refinished if they chip, peel or scratch.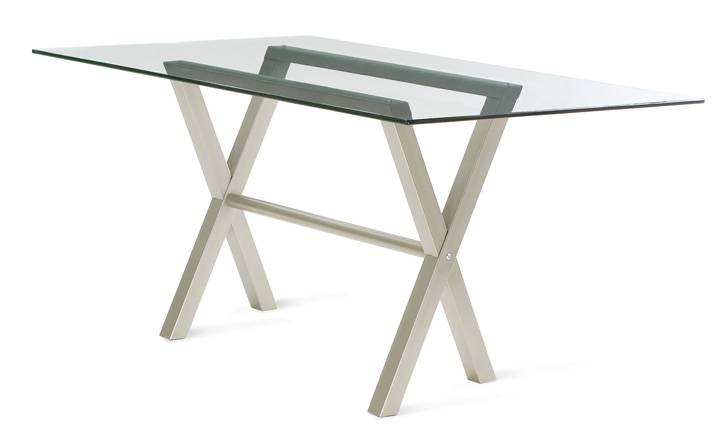 ---
Tempered glass — like the glass and metal Andre table (above) from Max Furniture — adds a feeling of spaciousness to a room but may show every fingerprint and require constant polishing.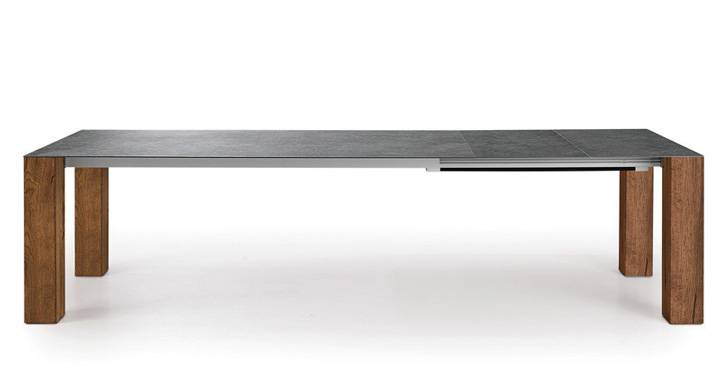 ---
Ceramic, as seen in the extendable Thin table (above) from Bellini Modern Living, available through Sager's Fine Furniture, is a striking and durable option.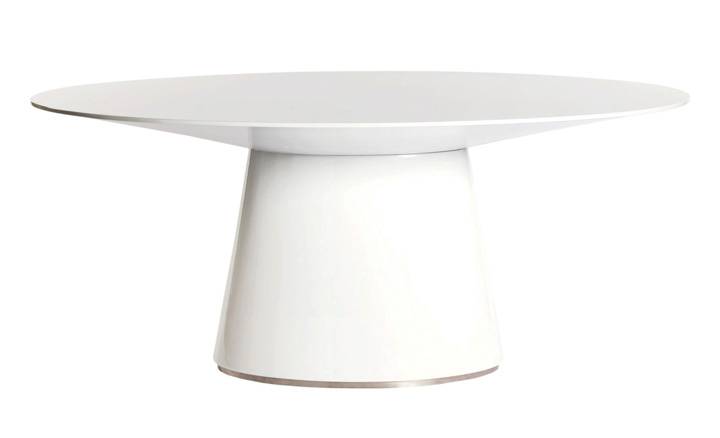 ---
Metal-finish tables, such as the stainless steel and lacquer Otago dining table (above), available from Moe's Home Victoria, make a definite style statement. Soft metals may scratch or dent easily, which is not a problem if you don't mind a look with a slightly worn-in appeal.