By Julia Dilworth
Spring is the perfect time to refresh your home. YAM brings you fresh ideas to make spring cleaning (without harming the environment) a breeze. Plus, uplifting ideas for you, your home and lifestyle for spring.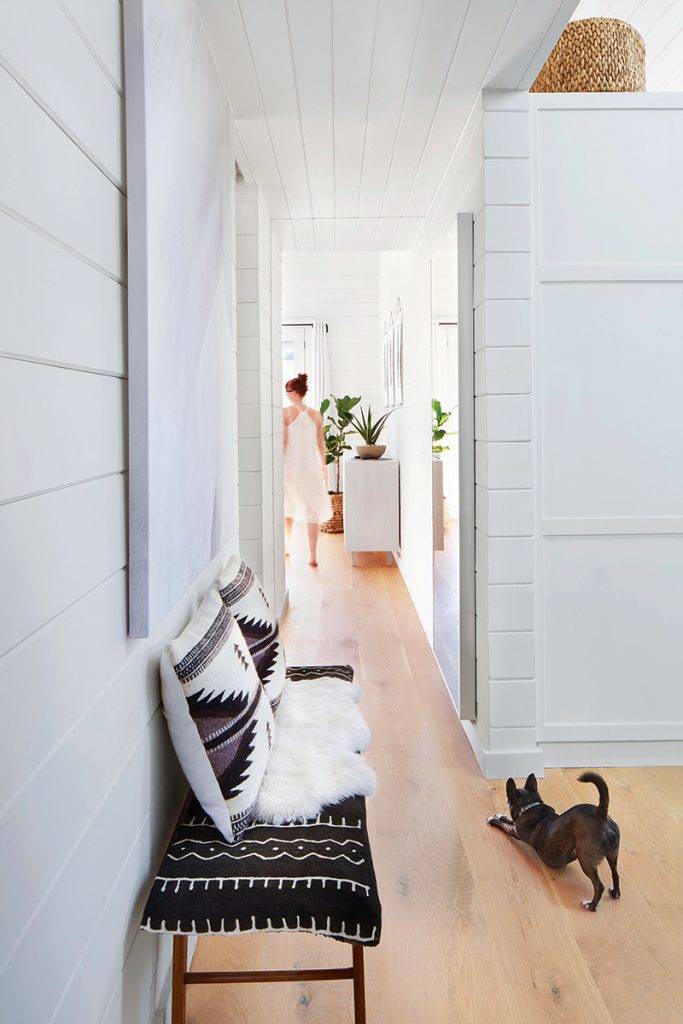 Picture your job, your daily routines, your hobbies, your family and responsibilities all stacked vertically on top of one another, and at the base of this is your home, a place that should offer pleasure but can sometimes be overwhelmed by stuff.
"People are busy," says professional organizer and counsellor Maggie Megenbir. "Having a strong foundation is a launch pad to live your life out in the greater world."
With her business, Calm, Cool & Uncluttered, Megenbir has seen first-hand how important it is to have a solid foundation — a home that is calm and welcoming and functions well on a day-to-day basis, so you can better handle carpool, work challenges, sick kids, fencing practice and whatever else life throws at you.
Spring is the perfect time to review your space and begin building the vision of the home you want — and lightening the load is the best place to start. The Great Purge can be daunting, but organizer and home stager Jaclynn Soet of The Happy Nest recommends reviewing items by category to identify what you can live without.
"When you see it all together, you can easily spot what your favourite is and what you can let go of," she says, adding that it's helpful to start the easiest categories first, like clothing or kitchenware.
"This way you can work your way up and strengthen that muscle for letting go," she says. Books you never read, patterns, duplicates, broken things, abandoned projects — identify and bid them adieu.
The Action Plan
The weight is already lifting; can you feel it? Now Megenbir says you'll have a more accurate picture of what's in your home and can assess if what you're left with can realistically fit. Deciding on the volume for each category of belongings can really help if you get stuck, she says. "For example, if you have one bookshelf in your home and that's the only one you're going to have, then work to declutter, so that all your books fit on that bookshelf."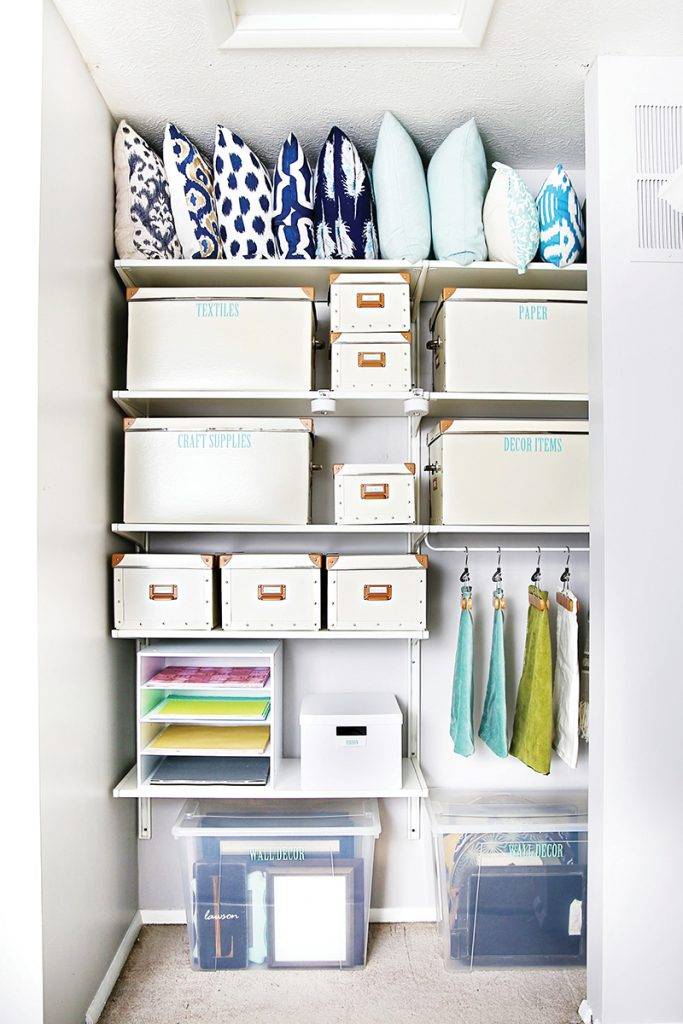 Downsizing is key for emotional objects as well. If your grandmother's teacups are all stored in bins, Megenbir suggests slimming the collection down to just a couple to enjoy in your space.
"There's a sense that you're honouring your grandmother and her memory, but on a smaller scale."
When setting up an organizational system, Soet says one of her top tips is creating labels for what goes where. "Type it in there and it's like the word of God. You'll never be in a situation again where you don't know where something goes."
And for anyone who has a partner who struggles to put things back: "The label does the nagging for you," she says.
Clear containers are a boon to storage spaces (everything can be accessed instead of forgotten). Soet feels it's crucial to find storage bins and accessories that are esthetically pleasing as well.
"The more beautiful it is, the more likely you are to commit to maintaining that function."
Everyone has at least one item bought with good intentions that now sits gathering dust. Whether it's a sequined blouse, a newfangled rowing machine or a full-wall magnetic spice rack, Megenbir cautions against holding onto things for future potential or a future home, unless there's a strong likelihood you're going to actually use it.
"It's a bit of a trap. It's living in the future more than living in today. Learn to live comfortably in the space you have."
In general, imposing new behaviours on yourself or your family members (from exercise to organization) is a tough sell. That's why, says Megenbir, it's important to seek out intuitive solutions they'll naturally want to use. For example, if you do all of your paperwork in the kitchen, then an office down the hall probably isn't going to work for you. If the kitchen is your habitual spot, find a drawer, find a solution, something, so that you're more inclined to do it.
"As a friend of mine very wisely said, 'Easy maintenance is regular maintenance.'"
Creating a home vision board or Pinterest board can inspire you and help you follow through with your spring refresh, but do let go of any notion that everything has to be perfect. Your front foyer is not a fair or accurate preview to the world of how successful or awesome you are as a person. Having all coats and boots tucked away in the front closet isn't always realistic.
"If people aren't using [that closet], then put hooks on a wall. Do whatever you need to do to get stuff off the floor — and work with how the people in your family function," says Megenbir.
Stop buying. Period. "If a person is determined to get a handle on their home, then put a stop to spending and bringing new things in," says Megenbir. "Stop buying. Just back up the bus."
Both Megenbir and Soet recommend enlisting the help of an objective observer when you declutter. An extra person can be a sounding board for your decisions.
"It's so much easier to help other people than yourself," says Soet. "And it's much faster to collaborate."
Finally, Megenbir says people need to follow through with actually getting things out of their home. Often, we want to sell an item to recoup the cost, but what it really comes down to is priorities.
"If reducing stress is a priority, unless something is going to bring you quite a bit of money, just let it go," she says. If money is a priority, ask if you've got the time and the ability to sell it.
Rome Wasn't Cluttered in a Day
"If people are at a point where they'd like to do things differently and turn their living space around, or their office space around, just remember that it didn't get to this place overnight," says Megenbir.
So be patient with yourself, stop the constant inflow of stuff and start to gradually let things go. Once you do this, you'll begin to notice a shift.
"Any forward motion is moving forward," Megenbir adds.
After many years in the organizing business, Soet says she never gets tired of the difference she sees in her clients once their homes have been decluttered.
"I love the physical transformation of the space, but also of the people," she says. "They were in a very stagnant place, and as you help them take back their space, the way they perceive themselves and their outlook just changes — it's like watching someone bloom."
Spring design tips for your home refresh
Once the spring sun is shining through your windows, you may notice your faux fur throws and thick-knit pillows are looking a little too Game of Thrones. ("Winter is coming.") When that happens, a spring refresh is in order to wake up tired interiors. We ask interior designer Jenny Martin of Jenny Martin Design to share her favourite tips.
"Spring is a great time to purge unnecessary things that weigh us down," Martin says. "I'd start there, then look for a few new pieces to inject positive energy — things that feel like the new season."
Fresh off a buying trip to North Carolina's High Point Market, Martin returned home with an insider preview into home trends for 2020.
"Some new spring trends include lots of beach textures, a great fit for our coastal location," she says. Think large-scale rattan light fixtures and jute rugs. Speaking of rugs, layering a few different ones is a trend to watch, she adds. "Picture a classic hand-knotted wool area rug layered over a textured jute one."
"Stoneware and pottery with a handmade esthetic will add a warm connection to your spaces," says Martin. (Opting for pieces crafted using natural, sustainable materials like clay or marble is a great way to help the planet too.)
Instead of thick drapes or black-out textiles for window coverings, Martin recommends light, ethereal linen draperies to gently filter in the sun and lift a dark or heavy-feeling space.
And don't shy away from colour.
"Bringing in a single pop of colour into a key piece is a fun way to add some spring fun in an otherwise neutral palette," says Martin. Do take colour inspiration from the flora and fauna outside — consider this a wake-up call for a grey, white or beige palette.