Why we should enjoy more local octopus — if we can get past our preconceptions.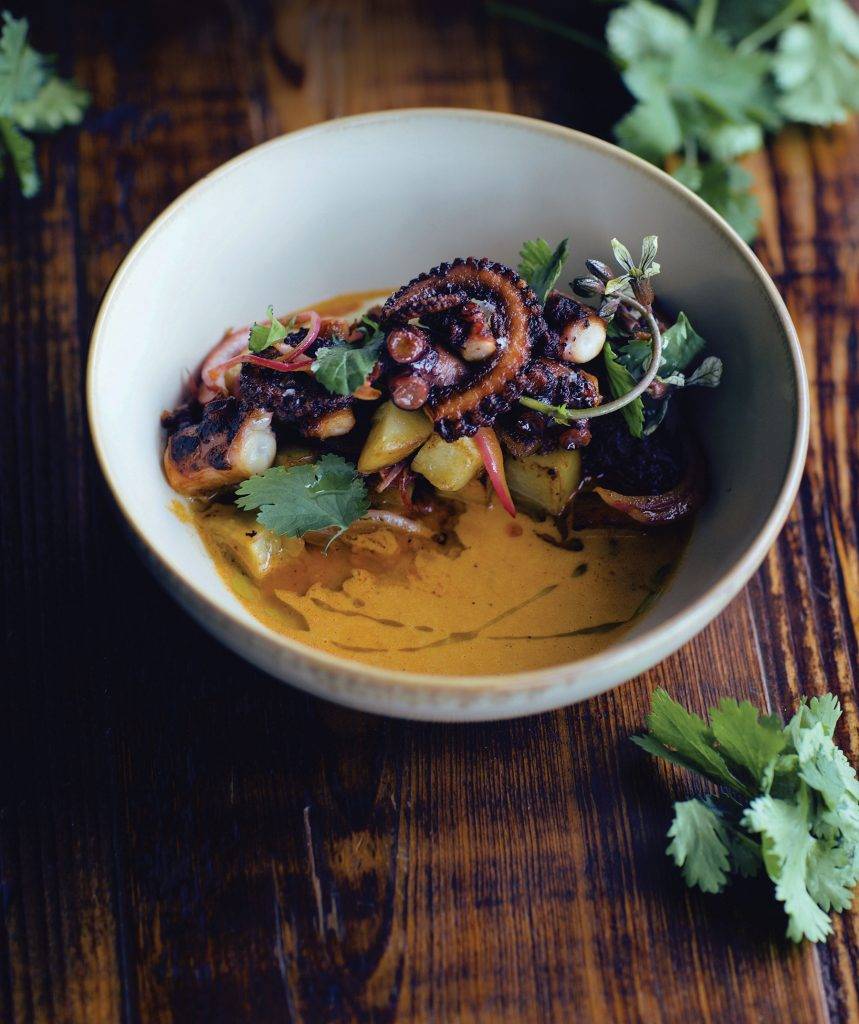 ---
BY CINDA CHAVICH
It's mid-afternoon in Porto Empedocle, Sicily, and the octopus that arrives as part of my antipasto lunch fills the plate, its bulbous head tilting jauntily above eight limbs and a swirl of tiny crimson suckers.
It's about the same size as the small specimen I photographed earlier in the fish market in Trapani, just pulled from local waters and still slithering in a wooden box alongside a cadre of calamari.
These are a diminutive species by our West Coast standards, where the giant Pacific octopus reigns, the behemoth of the cephalopod family. (Cephalopods are a family of molluscs that includes squid and cuttlefish, as well as octopus.) And although I love the sweet flavour of octopus, and have enjoyed it chopped in a salad, simmered in pasta sauce and served as tapas, I'll admit that coming face to face with a whole octopus gave me pause.
There are other reasons, too, why squeamish consumers might choose to avoid eating octopus, especially because of its perceived intelligence, as illustrated by movies such as My Octopus Teacher and Finding Nemo.
But octopus is a local seafood choice that gets the sustainability green light in British Columbia — in fact, for millennia, Indigenous people on this coast created octopus "houses" to trap them for food or bait — and I'm keen to learn how to cook and serve it at home.
Octopus on the menu
The thing about octopus is that it's short-lived, plentiful and has no negative impact on its environment, making it a poster child for sustainable seafood choices. It's not part of any commercial fishery here, but is landed as bycatch that would otherwise be discarded, which is why so many chefs like to include it on their locally inspired menus.
For instance, Bodega's tapas menu features a grilled octopus salad made with baby potatoes, crumbled serrano chilies and a nutty red pepper romesco sauce with preserved lemon aioli. At Boom + Batten, chef Matt Cusano serves a similar appetizer combination — grilled octopus with chickpeas, spicy romesco and preserved lemon. At Agrius, meanwhile, octopus is prepared with tomato, cucumber and dill.
At Aura Waterfront Restaurant + Patio, chef Ken Nakano serves tender charred octopus with spicy Thai nam prik chili sauce and crisp cubes of confit potato. Octopus (a.k.a. tako) is also featured on the Japanese tapas menu at Nubo, where it is diced and marinated with wasabi and seaweed.
And at Niche Grocerant, a local grocer/restaurant in Broadmead Village, the Mediterranean octopus salad with sweet cherry tomatoes, white beans and olives is a delicious and beautiful dish to behold.
So, you see where I'm going with this — octopus is a local delicacy that translates to a world of cooking styles and recipes.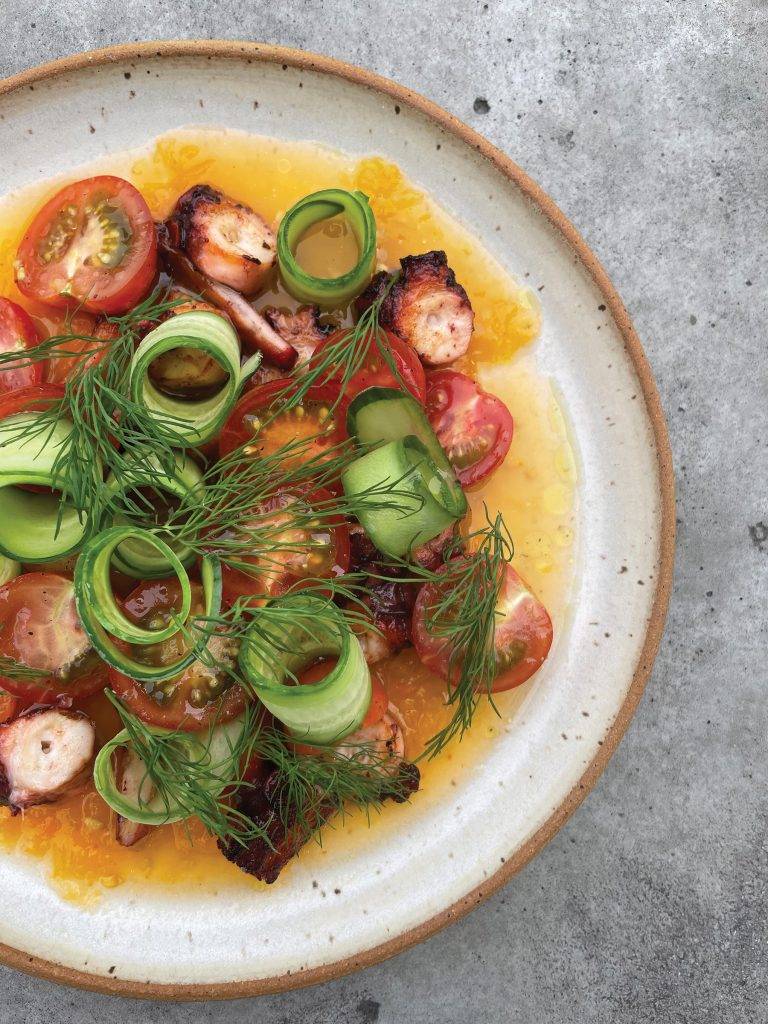 ---
In the kitchen
At just around $20 a kilo, octopus seems inexpensive compared with other seafood at the local fishmonger. That's true, but the cost comes in the time it takes to prepare. To create a truly tender, delicious octopus dish requires care and attention.
Chef Nick Nutting at Tofino's Wolf in the Fog serves giant Pacific octopus in a variety of ways (currently it's charred with Szechuan pepper, sesame and soy), and when I visited him in the kitchen, it was prep day.
There are two 20-pound specimens in the deep sink, the thick arms already removed from the head (mantle). The octopus is then doused with plenty of salt, vigorously scrubbed to remove the gelatinous coating and rinsed well.
Big pots of boiling water await on the stove, and the octopus is quickly blanched, for just a minute or so. It is then placed in a braising pan, covered with court bouillon (a lightly seasoned broth), and cooked, covered, for one to two hours in the oven, until the meat is fork tender. Cooled in the braising liquid and chilled, it's ready for salads, marinades or a quick char on the grill.
"The key is to keep the temperature of the braising liquid between 65° and 72°C [150° and 160°F]," says Nutting. "You don't want it to be boiling — too hot and the suckers will fall off."
At Aura, located at the Inn at Laurel Point, Nakano serves octopus on his small-plates menu. "I love the texture, subtle flavour and versatility of it," says Nakano. "It has really gained in popularity over the years — it's one of our top sellers."
Nakano's octopus arrives whole and frozen from the Victoria fishmonger Finest At Sea. It needs to be "thoroughly scrubbed with salt and washed to remove all of its protective slime" and then can be blanched or braised, depending on the particular dish.
After cleaning, Nakano uses an overnight brine with salt and aromatics to "plump up" the meat, then cooks it sous vide at 77°F for seven hours, until very tender. Braising octopus for two hours in a 300°F oven gets similar results, he says.
After cooling the octopus in its braising liquid, a quick char on a hot grill adds another layer of flavour.
"Octopus is very textural, juicy and meaty," he says, "and takes on any flavour you use with it." Nakano also recommends classic Japanese dishes with octopus, including takoyaki and okonomiyaki pancakes, or fresh cucumber sunomono salad. For the latter, simply blanch the octopus in boiling salted water for three to five minutes, then cool and slice into thin pieces.
"I like it many ways," he says. "In the hot summer, I like the classic sunomono with cucumbers, wakame and sanbaizu; super delicious and refreshing, izakaya style."
Niche Grocerant's chef Andrea Mackenzie serves octopus in a salad, too, but in a dish with a little Italian inspiration. The tender braised octopus is combined with white beans in a lemony vinaigrette and served with fresh local greens and cherry tomatoes. (See below for the recipe.)
Mackenzie has the advantage of a commercial oven in her kitchen at Niche — a computerized cooker that comes with an "octopus button" to steam the octopus to tender perfection. Without this expensive gadget, she recommends simmering the octopus with aromatics until tender, rubbing off the skin, then chilling before adding to salads or other dishes.
At Wild Mountain Food & Drink chef Oliver Kienast gives octopus "the spa treatment" before cooking — it is bathed and soaked with local seaweed, massaged and scrubbed in Island sea salt and braised in red wine to serve as an appetizer.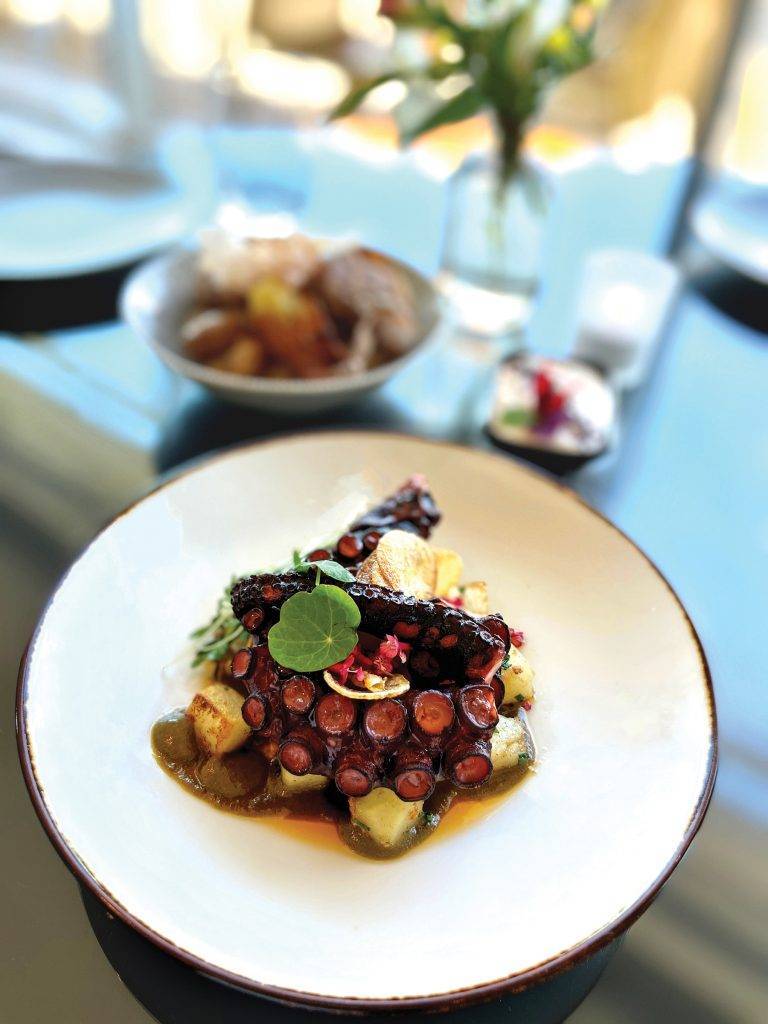 ---
At the source
Octopus species vary tremendously in size: as small as an inch (2.5 cm) or up to 30 feet (nine metres) long.
The giant Pacific octopus is the largest in the world, and the average size caught in local waters weighs in at about 15 to 20 pounds, says Anne Best of Oak Bay Seafood and Better Seafood Supply. As fishers, retailers and wholesalers, the Bests source sustainable seafood, and the Pacific octopus in their freezers is bycatch from the B.C. prawn fishery. (They also make a lovely smoked octopus that's perfect for "seacuterie" platters.)
It's the same story at Finest At Sea, where they can tell you exactly who caught the fish they are selling, when and where it was landed.
That's the main consideration for co-chef and sommelier Brooke Fader of Wild Mountain in Sooke, who is a founding member of Slow Fish Canada and a community leader for Slow Food Vancouver Island & Gulf Islands. "In Slow Fish, we're always looking for traceability," says Fader. "In B.C., octopus is a bycatch, so if it's not sold for food, it's discarded or ground up for bait."
Although octopus isn't fished commercially here, local prawn and crab fishers will often catch one by chance — hungry octopuses love to climb into their traps in search of food. Serving and eating octopus support the fishers as well. "It does help the fishers when we can buy it and use it," Fader says. "I think we should eat it versus throwing it away."
Slow Food's mandate of sourcing "good, clean and fair" foods extends to knowing the source of ingredients and supporting local communities. "It's a reminder that we need to eat biodiversely, eat what's in season and eat in sustainable ways," Fader says. She suggests shopping and dining in places where staff know whether the seafood on offer is a traceable choice.
On the plate (or not)
And so, to the elephant, or octopus, in the room. If you watched the Oscar-winning documentary My Octopus Teacher, you may be wondering if it's wise to be eating the world's smartest cephalopod. That's the omnivore's dilemma. Like pigs, sheep and even squid, there are lots of animals we consume that are highly intelligent. So, if we choose to eat food of both plant and animal origins, it's important to understand the provenance of that food to make ethical choices.
I asked Dr. Jennifer Mather, a Canadian scientist and one of the world's top experts in octopus behaviour, consciousness and cognition, about the ethics of eating octopus. Mather, who studied marine biology at the University of Victoria and is now a professor at the University of Lethbridge, travelled to South Africa to consult with the filmmakers of My Octopus Teacher and has lots to say about this endlessly fascinating animal.
Because it has no skeleton, an octopus can squeeze through a tiny opening, so there's plenty of urban lore around clever octopuses and their daring escapes from aquariums. Their eight arms contain two-thirds of their neurons, so an octopus can "taste" via touch, and change colour and texture in an instant to mimic its surroundings and escape detection. Scientists have also observed individual personalities in captive octopuses that solve problems, play and recognize their keepers.
Mather's work studying octopuses has given her so much insight into their behaviour, she has a special soft spot for these unique molluscs. But she's pragmatic when it comes to eating them. Mather is not a vegan and admits to a weakness for calamari, but "for very obvious reasons, I don't eat octopus," she says, adding, "In terms of being a carnivore, I have come to the conclusion that it's not whether we eat particular species, but whether they are kept well and killed humanely."
Mather emphasizes that animal welfare must go beyond more familiar mammals to include all animals, including cephalopods. The latest plan to farm octopus in countries like Japan and Spain is not an ethical choice — wild octopus from sustainable fisheries is preferable.
Eating octopus is something I've mulled for years, ever since I watched a Vancouver spot prawn fisherman pull a big ruddy creature from one of his traps and toss it back to live another day, noting that the octopus is one of the smartest animals in the sea.
But the octopus is a carnivore, too, dining on a diet of clams, lobsters, shrimp and even birds. In fact, it's only because the giant Pacific octopus has a penchant for prawns that they get into fishermen's traps — and so on our plates — in the first place.
So, I will continue to eat octopus while marveling at its ingenuity and abilities, and enjoy a healthy, local, sustainable seafood choice, fresh from our local fishers.
Preparing octopus
Most octopus will be cleaned and portioned by the fishmonger, but if you get a whole octopus, you will need to remove and discard the interior organs, eyes, beak and ink sac. (You can retain this if you want
to use the ink in pasta or risotto.)
If you are using frozen octopus, remove it from the package and defrost in cold water. Cut off the tentacles. Cut the mantle (head) into large pieces.
Place the raw octopus into the sink, sprinkle generously with sea salt and scrub until all of the "soapy" residue is removed. Rinse. Repeat.
Bring a large pot of salted water to a rolling boil, add the octopus and blanch for 1 minute. Drain well and set aside to cool. Remove any gelatinous bits from the tentacles.
Meanwhile, make a court bouillon with water, onions, fennel tops, carrot and celery.
Place the blanched octopus into a large, deep ovenproof pan and pour boiling bouillon over top to submerge. Cover and braise in a 275°F oven for 45 minutes to 1 hour, until the octopus is fork tender.
You want to keep the braising liquid about 150°F — too hot, and the suction cups will fall off. When the octopus is tender (easily pierced with a fork), let it cool in the braising liquid, then remove and chill. If desired (though not necessary), rub off the purplish skin.
Cooked octopus can then be sealed in a bag with marinade or seasoning, chopped to use
in salads or other recipes, or simply charred on a hot grill for 5 minutes before serving.
---
NICHE'S OCTOPUS SALAD
Chef Andrea Mackenzie shares this great recipe from the menu at Niche Grocerant — a Mediterranean-inspired salad of white beans and octopus in an herbal lemon vinaigrette.
•1 can (398 mL) white beans, drained and rinsed well
•1/2 cup mixed olives
•1/4 cup finely chopped parsley
•1 clove garlic, finely chopped
•3 tablespoons finely chopped green onion
•1 teaspoon dried thyme
•1 teaspoon dried oregano
•1/2 teaspoon chili flakes
•1 tablespoon olive oil
•1 tablespoon vegetable oil
•Juice and finely grated zest of 2 lemons
•1/2 cup halved cherry tomatoes
•salt and pepper to taste
•2 lb octopus tentacles, washed well
Garnish:
• good olive oil, lemon wedges
In a medium-sized bowl, mix together all the ingredients except the octopus. Chill until ready to serve.
Meanwhile, rinse the octopus well, then steam (or braise) it for 90 minutes or until tender. Chill for at least 1 hour, then peel off the skin and slice the flesh thinly.
To serve: Divide bean salad between 4 plates. Top with chilled, sliced octopus. Drizzle with good olive oil and garnish with a fresh lemon wedge.
Serves 4.
Octopus is landed as bycatch that would otherwise be discarded, which is why so many chefs like to include it on their locally inspired menus.
Ken Nakano, executive chef at Aura, prepares local, sustainable octopus in a variety of ways.
---
OCTOPUS OKONOMIYAKI
This homestyle recipe for a Japanese octopus pancake comes from Aura Waterfront Restaurant + Patio executive chef Ken Nakano. Find precooked octopus and other ingredients for this recipe at Japanese grocers like Fujiya.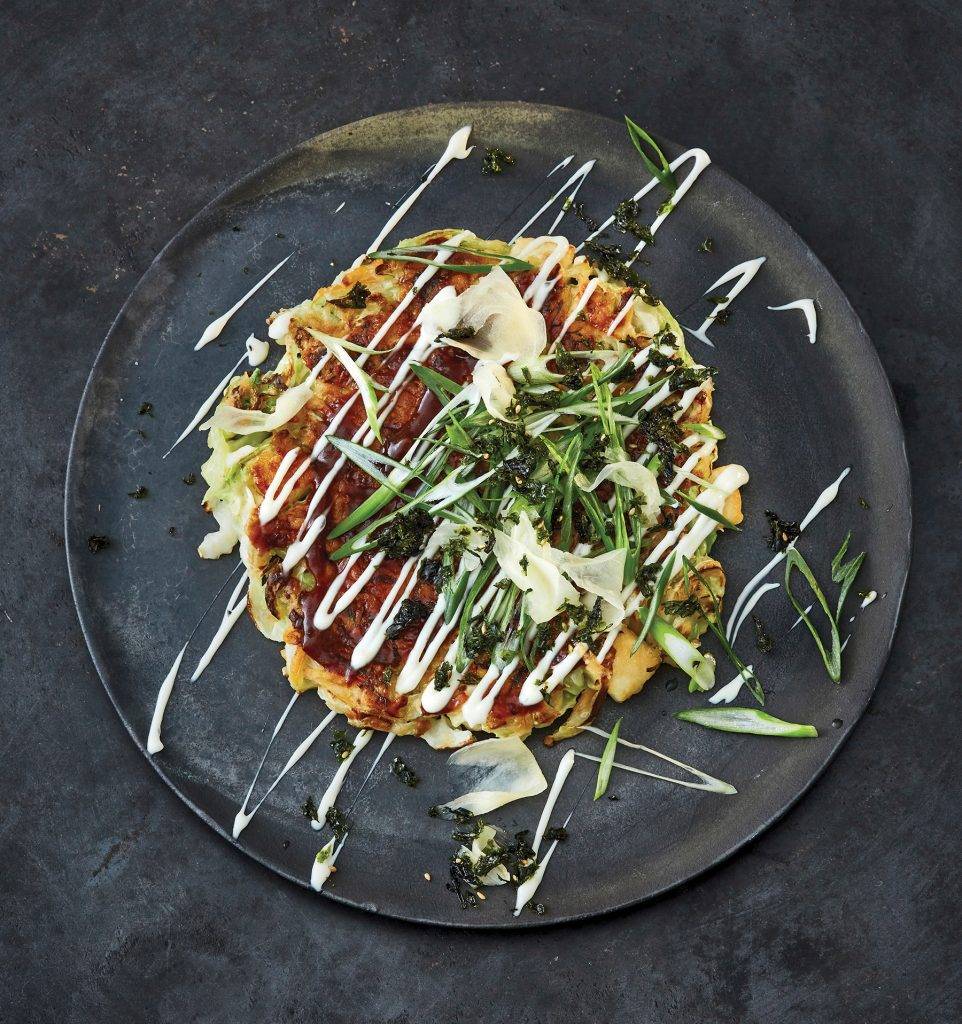 Batter:
•4 oz piece of precooked octopus, cut into small, bite-sized pieces
•1 cup dashi broth or 1 cup water mixed with 1/2 teaspoon dashi powder (Shimaya brand recommended)
•1 cup all-purpose flour
•1 egg
•1 cup chopped green cabbage
•1 teaspoon beni shoga (red pickled ginger), chopped
•1 teaspoon soy sauce
•1/2 teaspoon sea salt
•3 green onions, finely chopped, plus a few extra chopped green ends for garnish
•1 tablespoon vegetable oil
Garnish:
•okonomiyaki sauce (Otafuku brand recommended)
•Japanese mayonnaise (QP brand recommended)
•ao nori (dried green seaweed)
•katsuobushi flakes (shaved bonito flakes)
Preheat a 10-inch cast-iron pan over medium heat.
Combine all the ingredients (except vegetable oil and garnish) in a bowl and mix well. This will make enough batter for one large okonomiyaki.
Add oil to the hot frying pan and pour in the batter to form a large pancake. When the edges are cooked and the bottom is browned, flip it over. Continue to cook until both sides are nicely browned and an inserted toothpick comes out clean.
Transfer onto a serving plate and drizzle some okonomiyaki sauce and Japanese mayonnaise all over it, sprinkle with ao nori, katsuobushi and chopped spring onion to finish.
Serves 2.