By Athena McKenzie | Photo by Jeffrey Bosdet
Smoking Lily founder Trish Tacoma shares her favourite space to think, create and live: the cozy kitchen in her Fernwood home.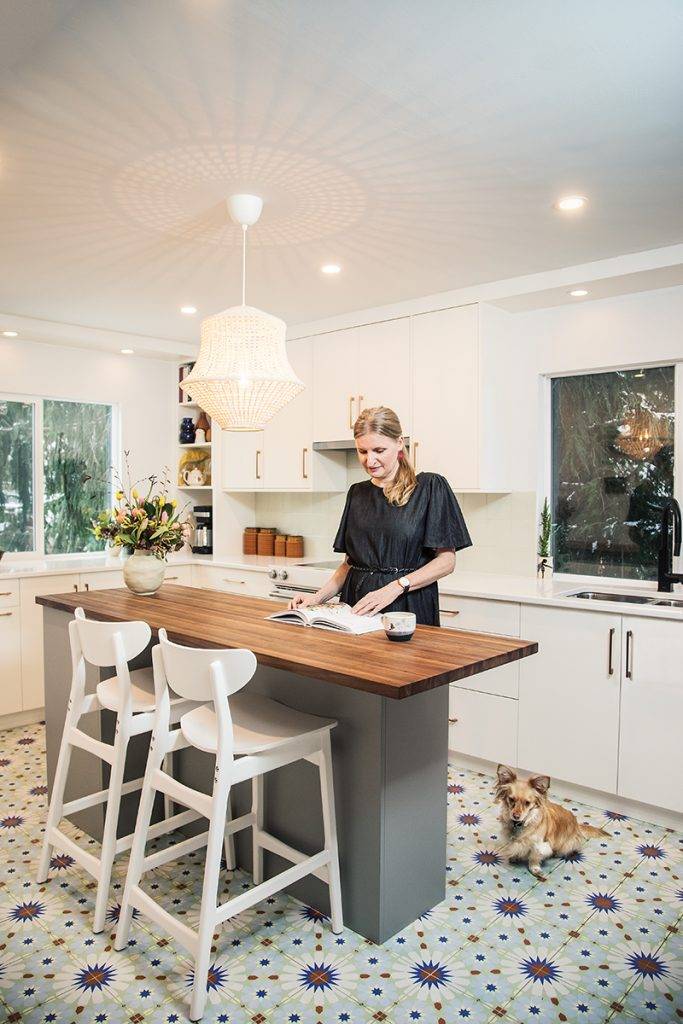 When Trish Tacoma bought her 1970s-era Fernwood area home 16 years ago, the kitchen had been upgraded — to the 1980s.
"The cabinets were in that orangey heavy oak and it had the worst layout, so it was like a corral when two people were trying to work in there — it was awful," Tacoma says, with a laugh. "It had a border of duck wallpaper around the very top."
The wallpaper and the upper cabinets came out right away, but the room didn't get a serious overhaul until two years ago, when Tacoma decided it was time: "I was just getting so frustrated with that kitchen and trying to do anything in it," she says.
Working with designer Janice Jefferson, Tacoma set out to create her dream kitchen. Existing windows were dropped to counter height to let in more light, which makes the new white cabinetry, with its soft brass pulls, glow. And they added an island to increase mobility through the space.
---
"I feel like it's like a breath of fresh air walking in there now. My kitchen is up on the second floor, and there are big windows, so you're up in the trees." — Trish Tacoma
---
"We can actually eat in the kitchen, which is a wonderful feature," Tacoma says. "And it's great for parties because, like all parties, everyone ends up in the kitchen — the way it was before, everybody would be trapped. Now there's a better flow with the rest of the house, and people actually mingle in all the other rooms too."
A favoured element is the patterned tile floor, which Tacoma choose to go with the 1970s feel of the rest of the house. It draws the eye, and she considers it the statement piece of the room.
There are also personal touches that add colour and character.
"It always takes me the longest time to hang anything up on the walls — like, years," Tacoma says. "But I finally put up my mother's embroidery, and it adds a really warming touch."
---
This article is from the March/April 2020 issue of YAM