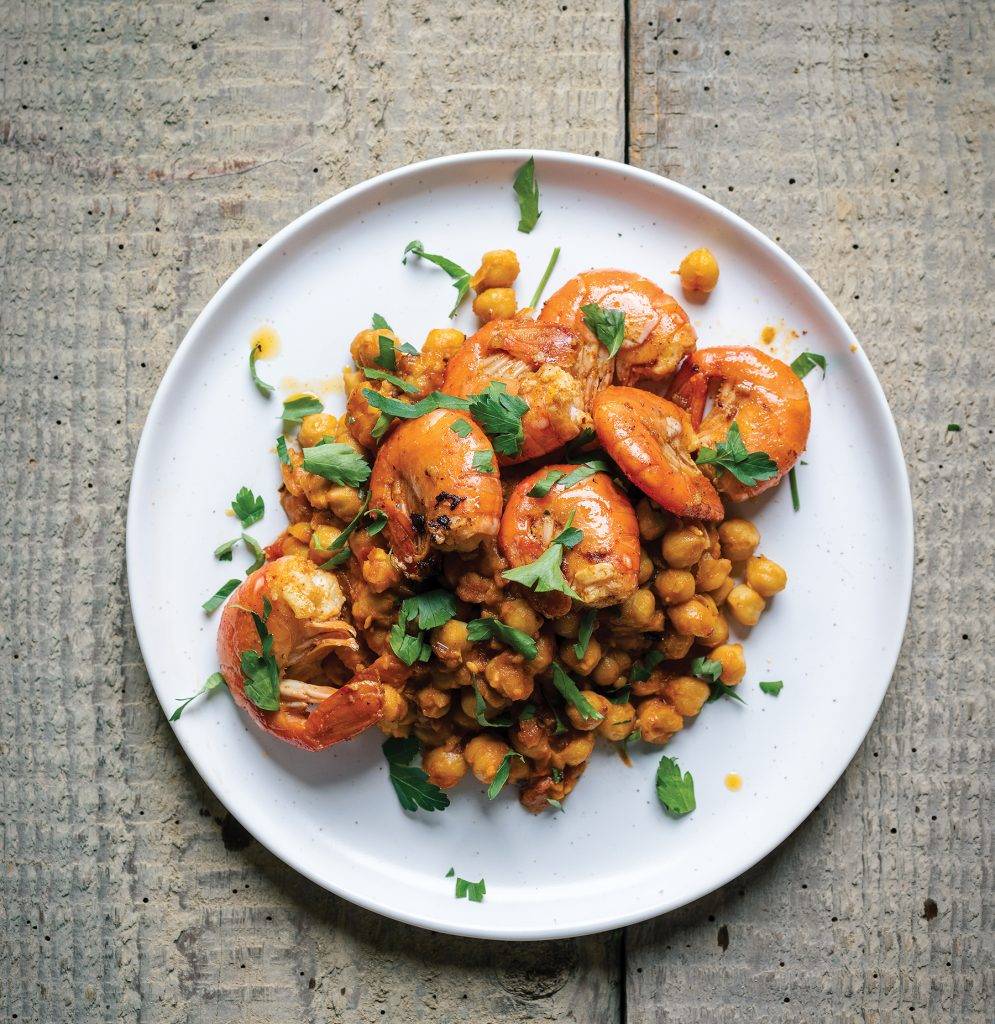 BY CINDA CHAVICH
This dish reminds me of traveling in Spain and the small, savoury dishes I enjoyed at the tapas bars in San Sebastian. I served this with roasted spaghetti squash and leeks for dinner, but crispy roasted potatoes or toasted baguette, brushed with olive oil, make classic sides, too. You can substitute a can of white beans for the garbanzos (a.k.a. chickpeas) for equally delicious results.
Shrimp:
•10 ounces large shrimp or prawns, shelled and deveined, if you prefer
•2 tablespoons olive oil
•1 teaspoon smoked paprika
•2 garlic cloves, crushed in a garlic press
Garbanzos (Chickpeas):
•3 tablespoons olive oil
•2 cloves garlic, chopped fine
•1/2 teaspoon crushed dried chilies or Aleppo red pepper flakes (or more to taste)
•1 fresh bay leaf
•1 1/2 cups chopped fresh or canned tomatoes
•1 tablespoon tomato paste
•1 (540 mL) tin chickpeas (or white beans), rinsed and drained
•1/2 cup chicken broth
•Salt and pepper, to taste
•1 tablespoon chopped Italian parsley
In a bowl, combine the shrimp, olive oil, smoked paprika and garlic and set aside.
In a small ovenproof sauté pan, heat the oil over medium high heat. When it's sizzling, add the garlic and chilies and cook for 30 seconds.
Add bay leaf and tomatoes to the pan and cook until the tomatoes break down, about 5 minutes.
Add the tomato paste and stir until it starts to darken, then stir in the chickpeas.
Add the broth, bring to a boil and simmer until the liquid has reduced and the mixture is thickened. (Crush some of the beans slightly for a thicker sauce.) Season with salt, pepper and more chilies, to taste.
Arrange the marinated shrimp in a single layer over the hot chickpeas. Place the pan under a preheated broiler and cook the shrimp for 3 to 4 minutes, until just pink.
Remove and sprinkle with chopped parsley.
Serves 4 as a starter, 2 as a main dish.