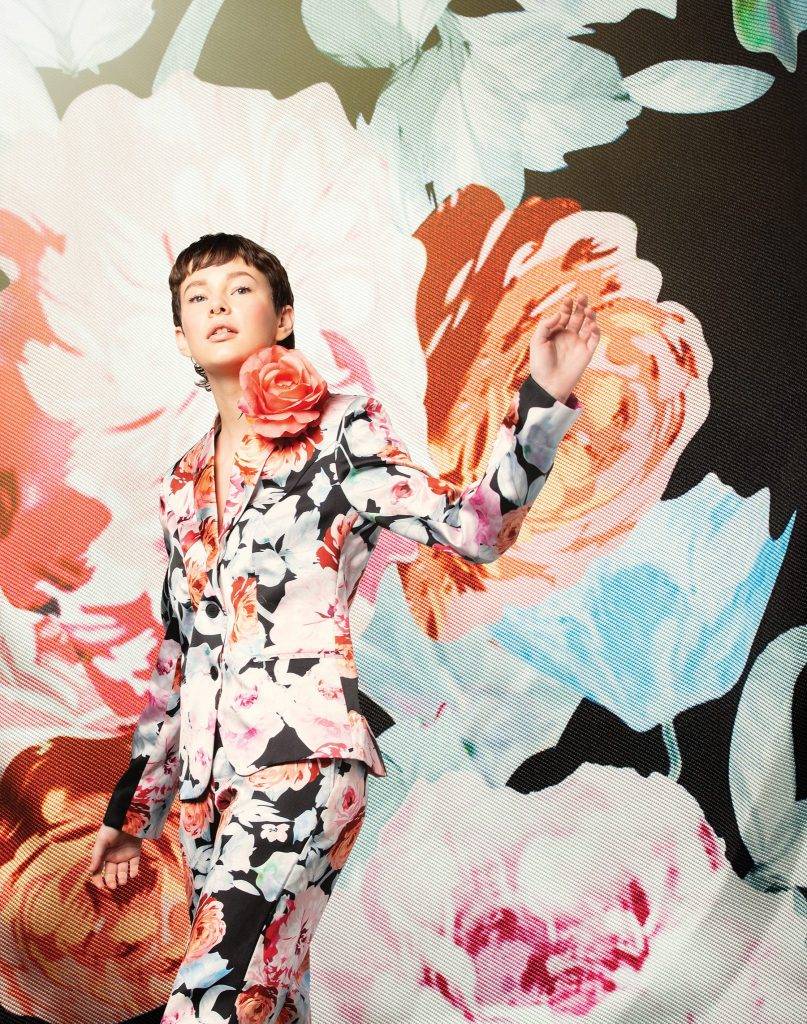 Seasoned stylist Janine Metcalfe has been the Fashion Editor and Stylist at YAM since 2015. For the last 20 years, she has worked with major national fashion publications, including Flair, Quebec Elle, Western Living and the Globe & Mail. Janine also has considerable experience in the film and commercial industry, directing wardrobe for numerous commercials.
You may be surprised to know that among her many creative talents, Janine is also a gifted clothing designer; she designed the floral pantsuit above that appeared in the latest Spring photoshoot.
YAM spoke to Janine about the Spring themed photoshoot, designing clothes and what she loves the most about Spring fashion. Here is a snippet of our conversation.
What do you love about designing clothes?
I love designing clothes, because I can get exactly what I want as far as fit, style and fabric. I'm trying not to buy fast fashion anymore, so being able to design and get it made locally makes me feel like I'm trying to do my small part.
Can you tell me about the pantsuit you designed for the shoot?
I designed this outfit when I couldn't find the perfect pantsuit for fit, fabric and or price. I've always been obsessed with flowers, so that was how it started. I wanted the perfect jacket length, something I could wear for years to come. The pants had to have pockets and not too high of a waist and of course the length had to be just right. I found the fabric while travelling Vietnam and then got it made. I wear the pieces separately as well as together, the jacket with some great jeans and the pants with a white t- shirt and maybe a jean jacket. From now on I will only design my own pantsuit.
What fabrics are you drawn to?
Mostly natural fabrics, like silks, wools and cotton. Then finding the perfect print or colour.
What did you love the most about the Spring shoot?
I loved how it all just came together. What I mean by that, is that you start off with a concept and then pitch it to the team. The concept was to have flowers in most of the clothing and then also the backdrops. This one was tricky, because we were shooting in studio and weren't sure how the backgrounds would translate on film. With all of us working together we figured out the pattern on the fashion would make amazing backdrops and this is the part I love.
What was your favourite shot?
My favourite shot was the sweet little dress by "Leisure The Brand". I loved the movement of the model, she knows how to dance and it just made the shot. So pretty.
What are you the most excited about in terms of Spring fashion?
Spring is about renewal. It's that glimmer of hope we've all been craving. We're all looking forward to getting dressed up again, so I'm excited for all the bright colours, floral patterns and wearing things that spark joy.