By Carolyn Heiman  |  Photos by Jeffrey Bosdet
A Gulf Island escape doesn't get any dreamier than Ani and Daniel Feuermann's Pender Island home. On a warm summer day the scent and temperate breeze from the ocean touch you the moment you enter the home. Accordion doors are flung open and stay that way for most of the day, sweeping aside visual obstructions to the dimpled bay beyond. It's near lunch and the aroma of grilled salmon and chicken wafts through the much-used al fresco kitchen designed for big, warm and casual family gatherings.
---
Inside, the white-on-white interior creates a gallery for the couple's objects d'art collected on world travels. "I have a lot of trinkets," Ani acknowledges. She likes to showcase these objects because each one evokes a memory — and it is memories that make a home. To keep the spaces tidy, she rotates the pieces, putting some away for a short time and putting others on display when she is tired of what's currently on view.
Some of those objects are made by Ani and Daniel themselves. Since moving from Vancouver, where they had the luxury-goods Cartier store, they have been working on artistic pursuits. Ani is an accomplished photographer, capturing painterly images with her shutter, while Daniel has been honing his sketching and watercolour skills.
Often during the couple's travels, Ani will wander solo around a new city, looking for great photographic possibilities, while Daniel will unfold a portable painter's stool where he can sit for hours interpreting the scene in front of him with pen and paint. They will meet over lunch and share each other's observations and accomplishments.
At 2,000 square feet, the couple's new home is considerably smaller than their previous one — and for designer Jack Ferguson of J.D. Ferguson Design this was the biggest challenge. Nonetheless, the home creates a big statement, and Ferguson applauds the Feuermanns for making the commitment to keep the home's footprint small. Doing so meant restricting the size of things like the walk in-closet, the couple's bedroom and guest room, and there is no powder room, just a guest bathroom that doubles as the bathroom for all visitors — but it's all worth it.
The one-level home is essentially a long rectangle with two bedrooms bookending a combined kitchen, dining and living-room area. But that simplistic description does a disservice to the intricate balance of form and function that came about over months and months of careful planning and reviewing all the details.
Ani and Daniel capitalized on unexpected developments that arose during construction. For instance, when a structural engineer told them that a retaining wall would be needed on the east side of the property, Ani had a eureka moment. That wall, she thought, could be the perfect backdrop for an outdoor kitchen. And so, with an engineer's blessing, the roof line was extended over the area and retractable rolling awnings installed for shelter from wind or rain. The space now augments the functional living area with a very comfortable al fresco dining area made for a large number of people.
The Feuermanns made a significant investment by installing an infinity pool that wasn't originally in the plans. It proved to be an elegant solution to a building-code requirement for railings around the patio, which would have impeded their view of the water. The infinity pool meant railings were no longer required, and an unexpected bonus is that the pool has become a play, fitness and family-gathering mecca.
It's been the best investment ever, says Ani, who regularly uses the pool, which is equipped with a swimming machine for lap swimming. Adds Daniel: "When the grandkids are here and get up in the morning and come down to the house for breakfast, they are already in their bathing suits, ready for the pool."
And everyone swims more in the cool ocean now because the pool is handy for getting warm after a brisk saltwater splash.
This artistically designed home is Gulf Island living at its best, drawing its inspiration from the natural world and inspiring its owners and their friends and family in turn, just like a great house should.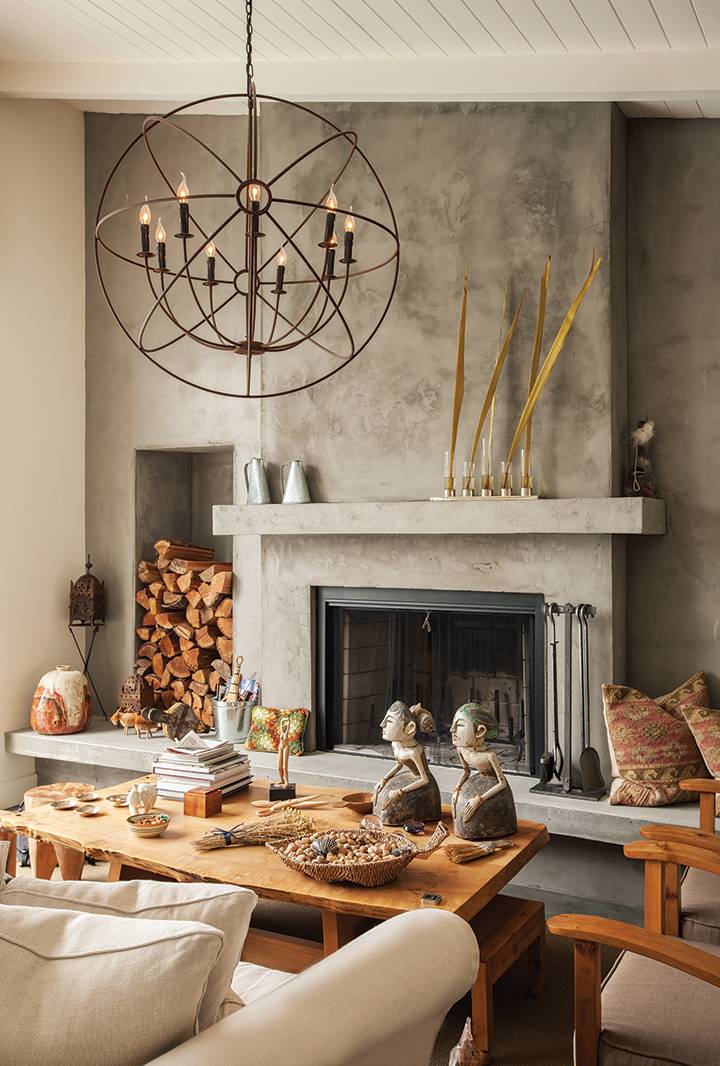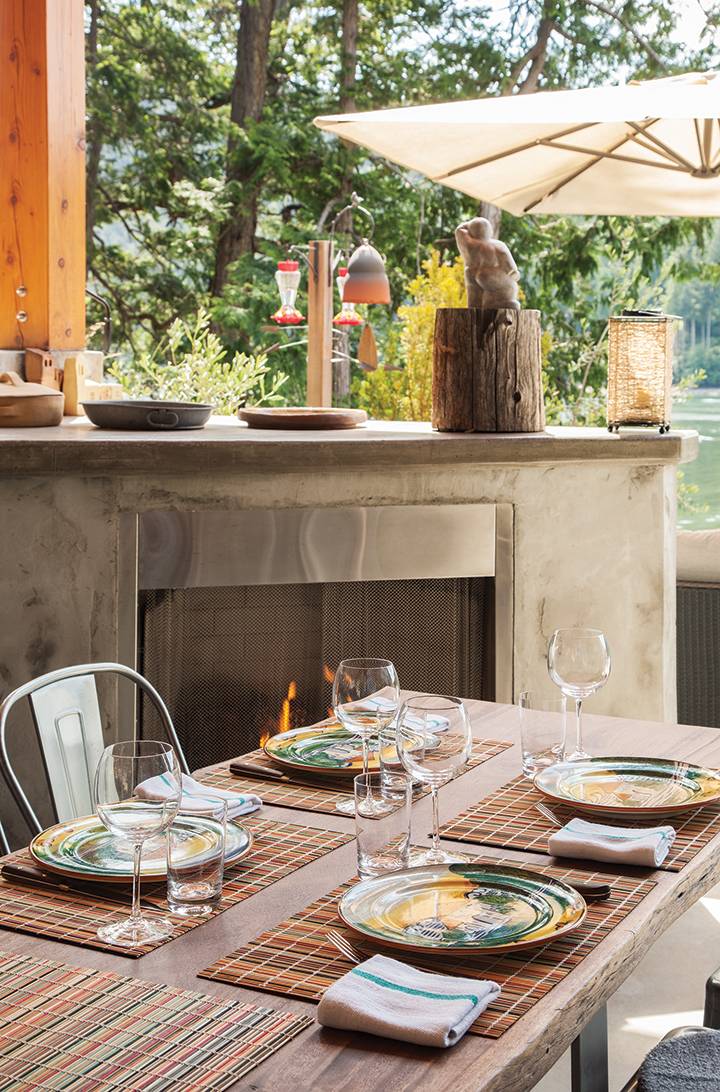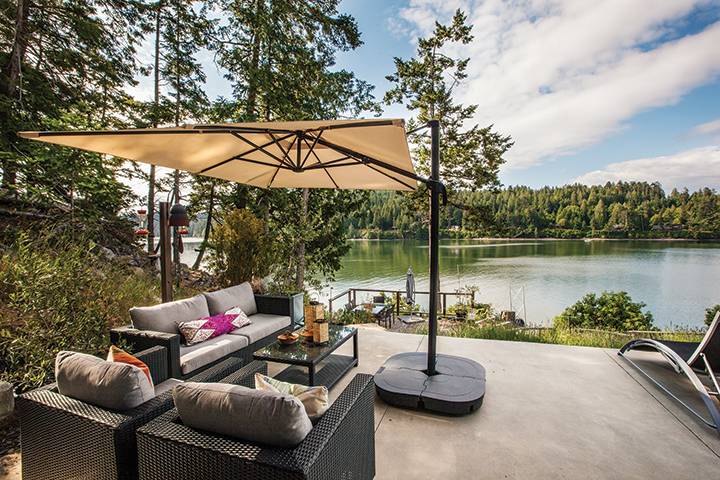 RESOURCES
Home designer: Jack Ferguson, J.D. Ferguson Design
General contractor: Steve Wright, South Island Woodworks
Electrical contractor: Jay E Electric
Plumbing, gas and heating: Scott Elliot
Roofing: Skytech
Sliding doors: LaCantina Doors
Windows and glazing: Walnut Grove Glass & Aluminum
Entry door: K.W. Doors & Windows
Cabinets: Summerhill Kitchens
Swimming pool: Aloha Pools
Awnings: Jeune Bros. Tent & Awning
Hardware: Victoria Speciality Hardware
Kitchen and bathroom fixtures: The Ensuite Bath & Kitchen Showroom
Sound: Atlas Audio Video Unlimited
Roller shades: Ruffell & Brown Window Fashions
Appliances: Coast Appliances
Site preparation: Ron Henshaw
Landscape architects: Nori and Sandra Pope
Landscaping: Gulf Islands Greenscapes