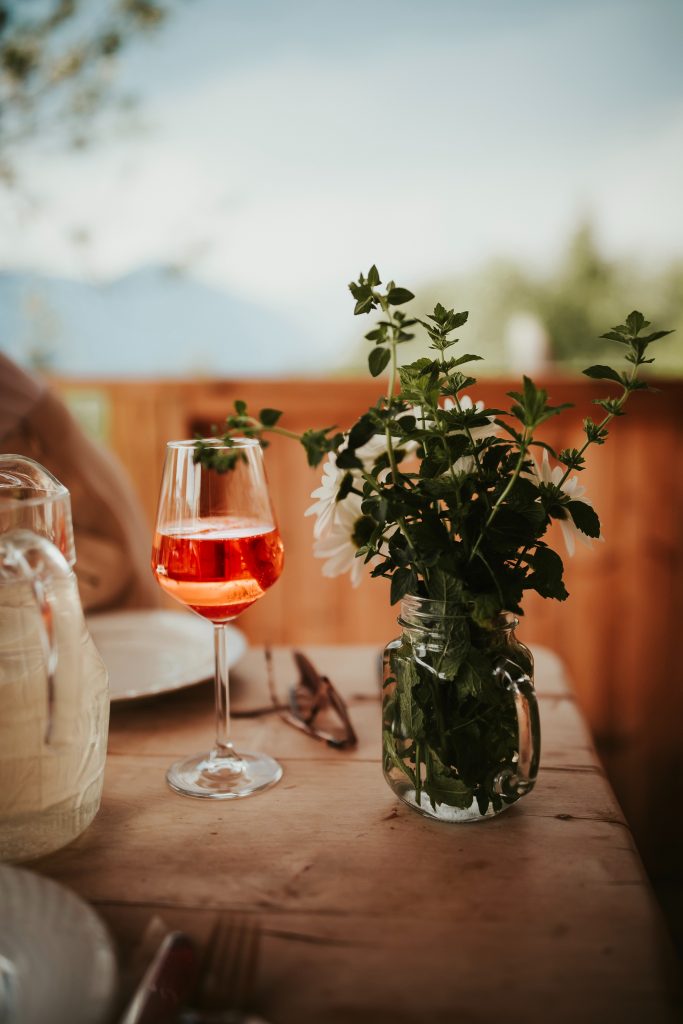 2020 Volcanic Hills Gamay Noir
It's been so long since Friday patio sessions were common that the idea of leaving work a bit early for an off-site client meeting (wink wink!) to meet your buddies for a cold one and some salty snacks seems like a distant fantasy. What if that fantasy's cold one was red wine? Well, this red is just that patio sipper! Throw it in the fridge or plunge it in an ice bucket, cool it down and then enjoy the crispness of the delightful fruitiness of this gulpable wine. Perfect with spicy charcuterie and some fresh bread, but best enjoyed with laughter and rocking tunes. There is a now, not-so-secret, stash in the fridge at Fiamo Italian Kitchen. So book that "meeting", order a couple of bottles, some pizza and live out your fantasy Friday afternoon. Nothing like chillin' with a chilled red.
The Other Colours
It's the perennial question, would you like a glass of red or white? With a distinctly easy response. The question of a glass of pink or a glass of orange might have been one never asked, or certainly not commonly enough to have a ready answer, but it's a thing. Most grape juice is goldenish in colour. Grape skins can be green red or purple-black. Soak the darker skins in their juice for a short time and it turns the wine pink. It's called rosé. Soak them for longer and it goes red! White wine grapes have green skins. Soak the skins in their juice for a period of time and it turns the wine orangey. That's it, no rocket science here. So now you can create a new question: white, orange, pink or red? You just became a closet wine expert, you can explain it to your family and friends.
2020 Orofino Cabernet Franc Rose
This is one of those bottles of wine that just oozes refinement. It's like the guest that comes to a party as someone's plus one, talks to everyone, and gets along splendidly, leaving all the people feeling as if they've just made a special new friend. A yummy, yes, that's a technical term, easy to drink rosé that's an even better idea in a magnum than it is in a regular bottle. Have it with barbecued chicken skewers, grilled hot dogs with the works or even with watermelon. When your friends come over for that first post-Covid dinner in their best duds, you can elevate it with that chicken liver mousse and fancy crackers you picked up at the store. Find it as a part of the giant rosé rack at Vintage Spirits in the Hotel Rialto ($24). Ask really nicely, and one of those limited magnums will make a small backyard gathering feel like a raging party.
2020 Plot Orange
Remember when the best thing about early summer was lying on freshly cut grass in the backyard and staring up at the sky being entranced with the fluffy white clouds sauntering by, daydreaming of all the best ways of spending time, like holidays in a tropical oasis, wandering in a wildflower meadow or mountain biking through a cool, dense forest This wine is that scenario in a bottle. Orange popsicle in colour pulled cold from the fridge and so great on its own, with garden flowers and a hint of tropical vacation. Interesting and complex, just like those lazy, daydreamy chats, with your best friend laying beside you, about everything and nothing. Order up some delicious lunch at Spinnakers Brew pub ($60) and share a bottle and that summertime feeling with that favourite pal.
2020 Grachies Cotes de Gascogne Blanc
There are some wines that should be on endless rotation in your fridge ensuring there's always a bottle for a cold afternoon sip, whether for drop-in guests or a spontaneous afternoon picnic on a delightfully sunny day. Westcoast living means there is always hope your fisherman neighbour has a good day on the water and shares the bounty of a fresh halibut to make some ceviche. Or your partner launches the boat and returns with a whole cooler full of spot prawns or crab, this is the wine of choice, not just what happens to be on hand. An easy wine, well not the names of the grapes that make it up, but really that doesn't matter, it's refreshing and delicious and only $13.99 at Cork and Barrel in Oak Bay. Thirst quenched and no complaints from anyone! It's a patio crusher.
2019 CC Jentsch Syrah
Family is coming over for a backyard barbecue, throw some rib eyes on. Need a wine that matches and impresses? Time to splurge a little for this one. Stands up to the smokey char on the steak, but says, I love my family so much and have missed seeing them, at the same time. Supple and intriguing, delicious and spicy bold satisfying to parents who love big reds and want something easy to drink that is smooth. Everyone will smile, everyone will be happy. Now if only the wine could cook that steak perfectly for you too! The fab people at Café Brio know just how to cook a steak and have some of this delightful juice at the ready to pair for you, for a special dinner experience.
Stag's Hollow Muscat Frizzante in a can
Canned wine – what? Grabbing a six pack used to imply, beer, but now wine comes canned too, and it's bubbly! That means, beach wine, boat wine, picnic wine, cabin wine or maybe even cheese and charcuterie date in the park wine. Move over Lucky Lager there's a new show in town and it's so much more…sophisticated! Elevate the late bacon and egg breakfast to brunch status by popping one of these cans. Who doesn't love a summer fruit salad with peaches, apricots, cherries and berries with bubbly. Or pack it with potato chips and a towel for an afternoon at the lake. Slide a couple in a purse for pairing with a waffle cone, local ice cream and a walk in the park. Four packs of 250mL are about $30 at Vessel, a reasonable price to pay for the convenience of having a glass of bubbly at the ready, anytime.