Since prehistoric times, humans have derived meaning from patterns, seeking them out, creating them and curating them. Jackie Tahara, a rising star in the world of surface pattern design, makes them beautiful.
By Linda Barnard // Photo by Jeffrey Bosdet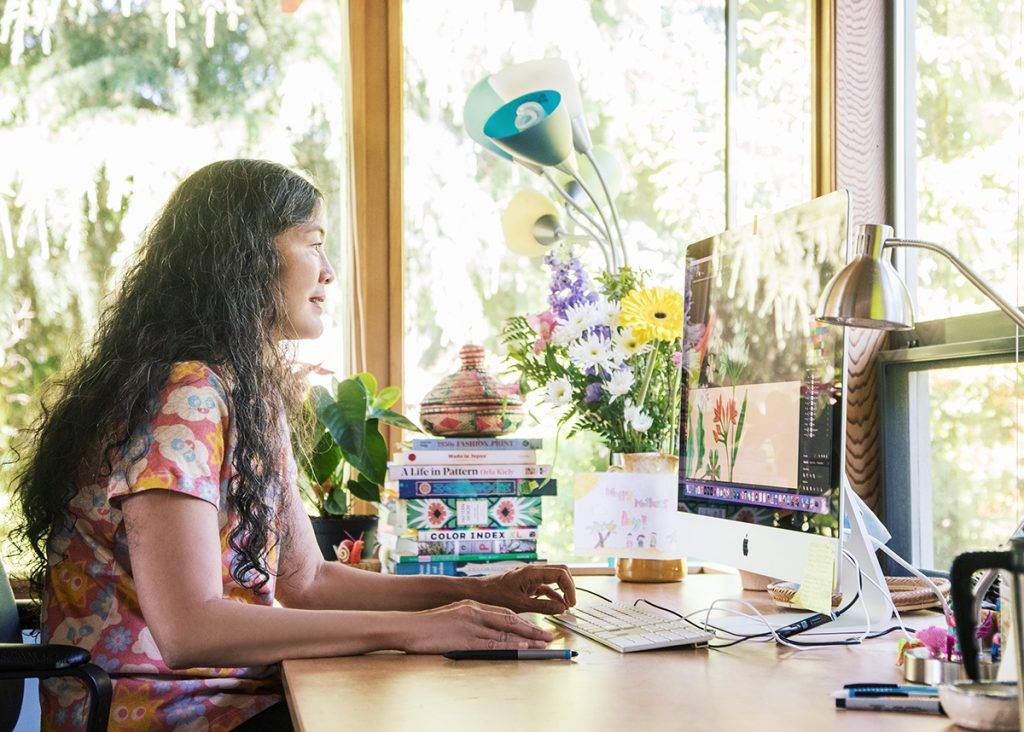 ---
Victoria surface pattern designer Jackie Tahara may change the way you see the world.
Look around. Notice the patterned upholstery on a chair, the colourful design on your socks, the motif on your smart phone case?
They all have original artwork, created by surface pattern designers like Tahara.
You'll recognize surface patterns instantly, although you've likely never heard the term. They've been a part of your life since you were snapped into your first nursery-print onesie.
"Someone has designed this pattern, someone has designed that rug. It's everywhere," says Tahara over a mug of green tea in the lush garden behind her Gordon Head home that includes her UnBlink Studio workspace.
"And that's what really floors me," she adds. "There's a need for it everywhere."
Around the World in Patterns
UnBlink Studio designs are flowing and colourful, ranging from exotic to whimsical and are often humorous. They're inspired by the natural world, Tahara's travels, her background as an artist and her imagination. It's impossible to look at them without smiling.
Married to physician Rob Edmonds (her high-school boyfriend; they reconnected years later) and mother of two teens, Tahara has been gaining notice in the crowded world of surface pattern design.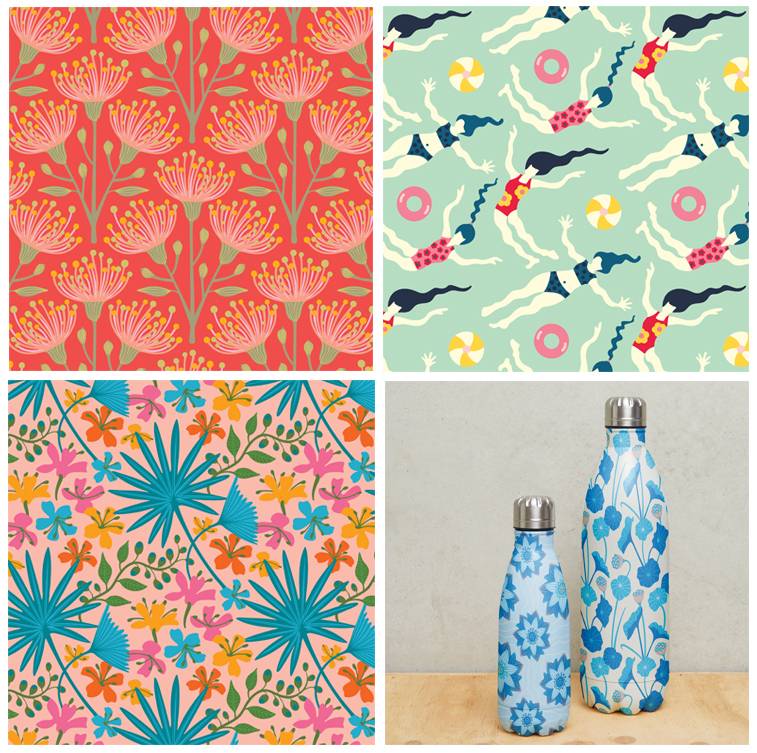 ---
You can't find her work in a Victoria shop. It's only available online. Tahara would love to change that and would like to partner with Victoria creatives and companies to produce surface pattern designs for packaging or retail here.
"So much of what we do is on the computer. You're sending stuff all over the world. But I'd love to work face to face with local people," she says.
Her reputation is growing. Tahara was recently named one of the best up-and-comers in Uppercase magazine's Surface Pattern Design Guide. MOYO magazine has also featured her work, and she showed her designs last year at Surtex, the massive annual B2B art and design show in New York.
She's been shortlisted for international competitions and has signed agreements to license her work in Israel and Italy.
Licensing agent Iris Parizer of Ginja Licensing & Marketing in Tel Aviv bought the rights to some of Tahara's designs for lines of note cards. She discovered Tahara through social media (no surprise, this art form is an Instagram and Pinterest darling). Tahara is one of a handful of Canadian designers Parizer has worked with over the years.
In an email interview with YAM, she called Tahara's designs unique, standing out with their use of colour, eye-catching images and sense of fun. "Jackie's beautiful and colourful designs attract me and also her way [of] expressing the designs on products and mock-ups in a very beautiful and professional manner."
She plans to keep licencing Tahara's designs for the Israeli market.
Patterns, Past and Present
This everyday art has a long history. Think of British textile designer William Morris and the 19th-century Arts and Crafts movement or Emilio Pucci's swirling 60s psychedelic designs. Perhaps your grandmother had dishware with bold designs from Finland's Marimekko. All sparked pattern design trends that continue to inspire.
Today, Japandi or Scandinese is hot, a coming together of Japanese and Nordic design influences. It's among Tahara's contemporary favourites, although she's also inspired by retro designs of the 1950s to the '70s.
A world traveller since she was in her 20s, when she waited tables to fund her explorations in between school, Tahara is influenced by patterns she's seen around the globe, from block printing and saris in India, to Indonesian batik and Mexican folk art. Her Gordon Head garden also provides daily inspiration.
She studied art history at Queens University in Ontario and South Asian studies, Indian mythology, religion and folklore at the University of British Columbia. She also studied at the Ontario College of Art and Design University in Toronto, as well as the University of California, Berkeley, where she earned a Master's degree in South Asian mythology, folklore and Sanskrit. (Yes, she can read it.) It's easy once you learn the characters, she says.
And then she went to law school, joining a firm as a tax lawyer.
"If you look at the line of what I've done, that's definitely the odd man out," Tahara says with a smile.
Artist, lawyer, designer, stay-at-home mom, marathon runner and creator, it's hard to figure out how Tahara has fit it all in.
"It just happened, I don't know. There was never a grand plan. I was just, 'What shall I do next?" she says.
She and her husband have lived in many different places, inspired by location rather than job offers. As a physician, Edmonds is always in demand. During their stint in Nelson, B.C., Tahara picked up a magazine stand from a shuttered bookstore. It now covers one wall of her Unblink Studio workroom and is filled with art, travel, photography and lots of design books.
"Don't let me loose in a bookstore," she jokes.
Tahara and her family lived on the Big Island of Hawaii, which inspired many of Tahara's garden designs. That's where she started learning Adobe Illustrator. She uses the powerful computer software to turn ideas drawn freehand in oversized sketchbooks into surface patterns that flow to tell a story, or fill a space with repeating patterns.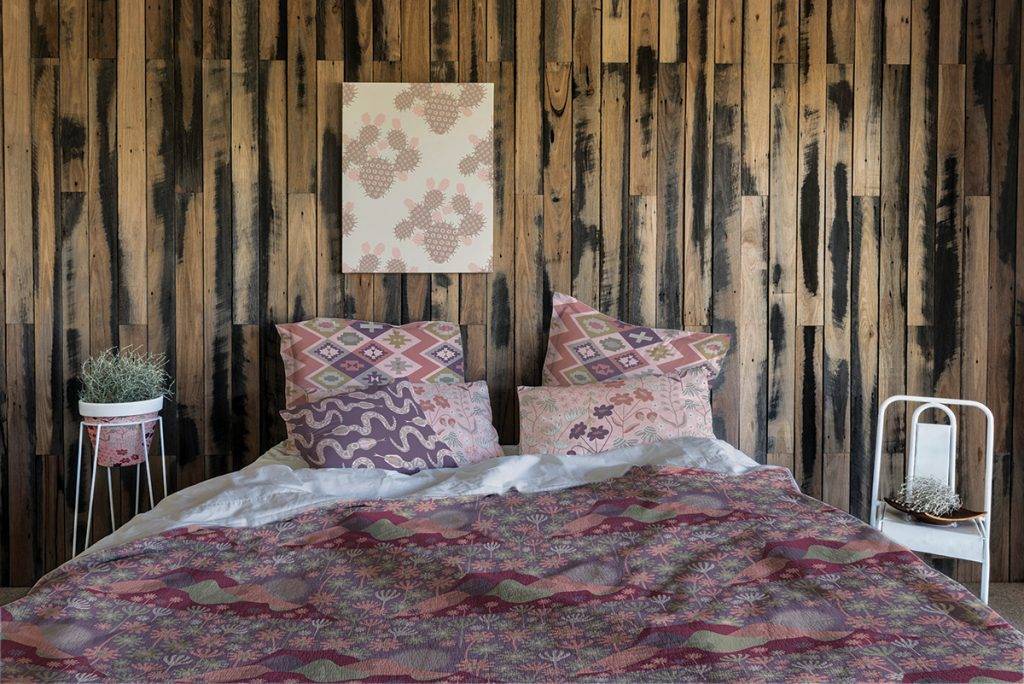 ---
Two years after coming to Victoria in 2014, Tahara began working her way through online surface pattern design learning modules through the Make It In Design website.
She just happened on the site. "I didn't even know surface pattern design was a thing," she says.
Her work also meant learning the business side of surface pattern design and how to effectively pitch her designs to be licensed for one-time use or sold outright.
As with many creative areas, the internet has brought democratization and easy access to the world of surface pattern design and sales. UnBlink is on a variety of print-on-demand websites, like Spoonflower, Roostery, Doc Cotton and Society6, where clients around the world can order one of Tahara's designs online and have it custom-printed on everything from metres of fabric, to finished goods and wallpaper.
"Do I make a living? Not quite," she says. Selling a design outright nets $600 to $700 U.S., although Tahara prefers to keep ownership and licences a surface pattern for fees that range from about $50 U.S.
"I love making the patterns. That's the art side of it," Tahara says, as she flips through the pages in her sketchbook, words scribbled in the margins about themes or subjects.
She always begins with a shape and envisions how it will flow, or pleasingly repeat on a surface, from flip-flops to tote bags. The design grows from that. There's a slithering snake, tropical fruit, West Coast sea creatures, bugs, happy trucks, desert birds, lush flowers, Halloween images and comical critters.
She turns to a drawing of a curvaceous vase. "That became a pattern," she says.
"If you want to be your own artist, you're always striving to be within your own look, so that people will start to get to know your stuff," she says.
Themes can vary widely, like Tahara's cactus super-bloom, Mexican folk art or the Japanese-inspired tea ceremony collection, but her style has to be recognizable throughout.
It takes years to develop a recognizable style, she says. "You're always honing."
What's her style? "Very clean, but very lush and organic."
As Tahara makes her mark in a competitive industry, does she feel like she's a success?
"How do you define success?" she asks. "It's not a monetary thing for me. I get to work at home in my favourite space with my garden, my kids are healthy and happy. What more could you ask?"