In a season that traditionally involves excess, it's time to embrace more environmentally friendly alternatives. One place to start? Getting inspired with sustainable holiday decor.
By Athena McKenzie | Sourced Imagery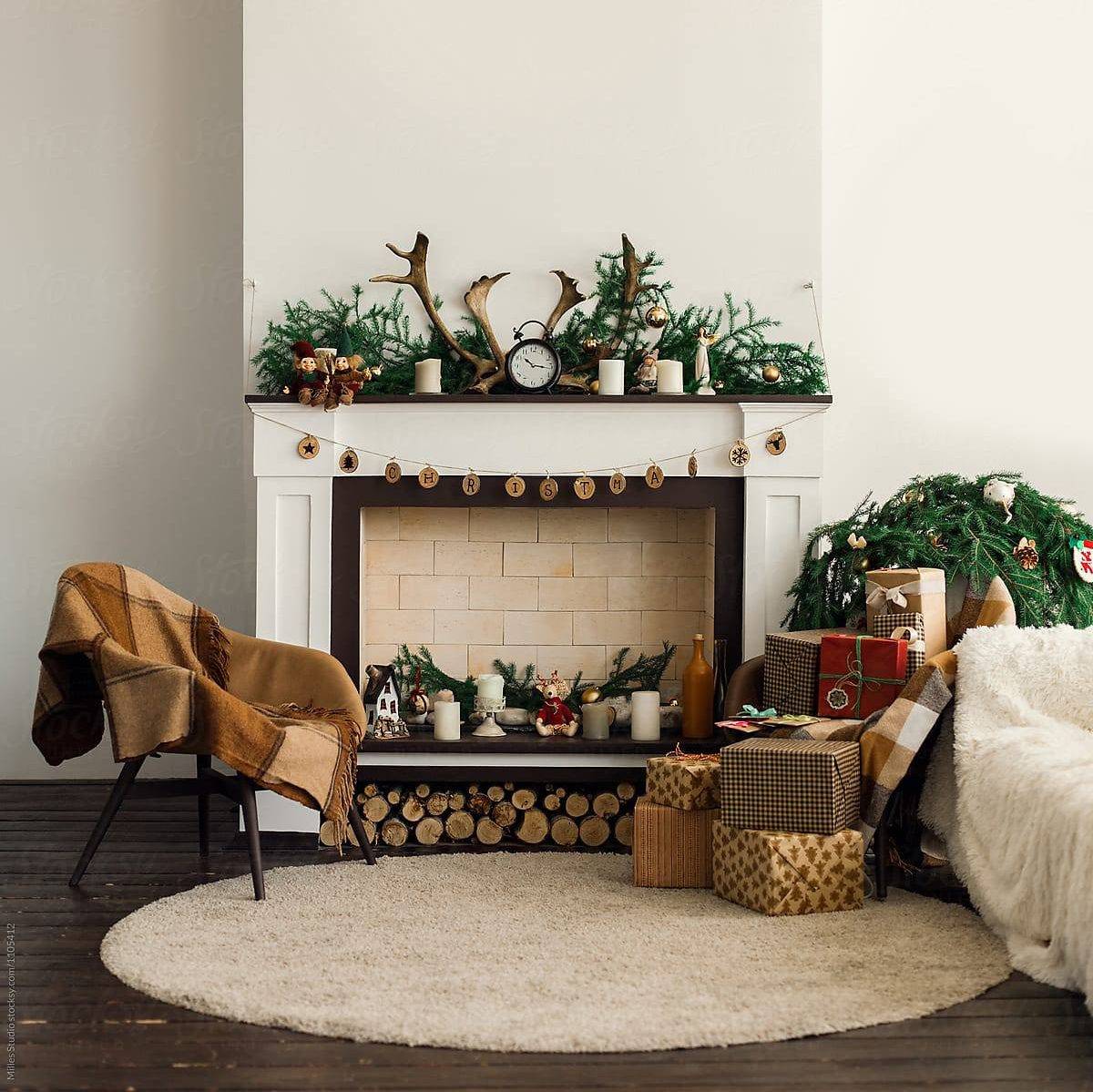 Looking to sustainable holiday decor options for adding a festive feel doesn't mean missing out on the seasonal magic. From floral arrangements to DIY garlands and replantable Christmas trees, there are plenty of ways to make this holiday better for the planet.
When looking to make the holidays more environmentally friendly, there are important considerations when it comes to choosing any sustainable holiday decorations.
"I try to stay away from anything with sparkles," says Tasha Medve of The Purposeful You, a website that shares her family's zero-waste journey. "Sparkles are essentially microplastics; they end up flaking off from production to your home and get into our oceans along the way."
It's also important to appraise how long decorations will last. Items shouldn't only be attractive, they should also be reusable. Designer Josée Lalonde recommends you check out resale shops.
"Go to a secondhand or vintage store for pre-loved Christmas decorations," she says.
If you have items from previous years that have lost their charm to you, also consider donating, not trashing, them. A socially-distanced holiday decorations swap can benefit several households.
"To avoid throwing décor out that doesn't bring you joy, host a décor swap, just like a clothing swap," Medve says. "Fall in love with used pieces that will feel new to you! Sustainability is all about a full circle."
All About the Tree
As Medve points out, a big debate is whether a real tree or a reusable artificial option is better for the environment.
"There's pros and cons to both," she says. Luckily, there are lots of other options than the traditional tree.
The Living Tree
This year, Medve and her family are going to purchase a four- to five-foot potted tree that they can plant in their yard after the holiday season.
"It looks elegant, and you can put it in a decorative basket to make it festive," Medve says. "If you don't have a place to plant the tree after, you can always resell or donate it."
A Striking Stand In
For Paula and Nairn McPhee, co-owners of Zero Waste Emporium, a Christmas tree to put the presents under is their holiday "must-have" item.
"We have made it a family tradition to have a Christmas Ladder," says Paula. "We have an antique ladder that we decorate with different items every year.
We have gone into the forest to collect cedar bows, ferns and other branches that we tie with twine to the ladder and then add Christmas decorations. Other times we have just done lights and popcorn strings, dried orange and lemon ornaments and crocheted snowflakes."
Salvaged Beauty
Another striking way to make a statement is with a driftwood tree. Kristine Letson, co- owner of Stonefields Farm in North Saanich, gathers the building pieces for her "tree puzzles" while beachcombing.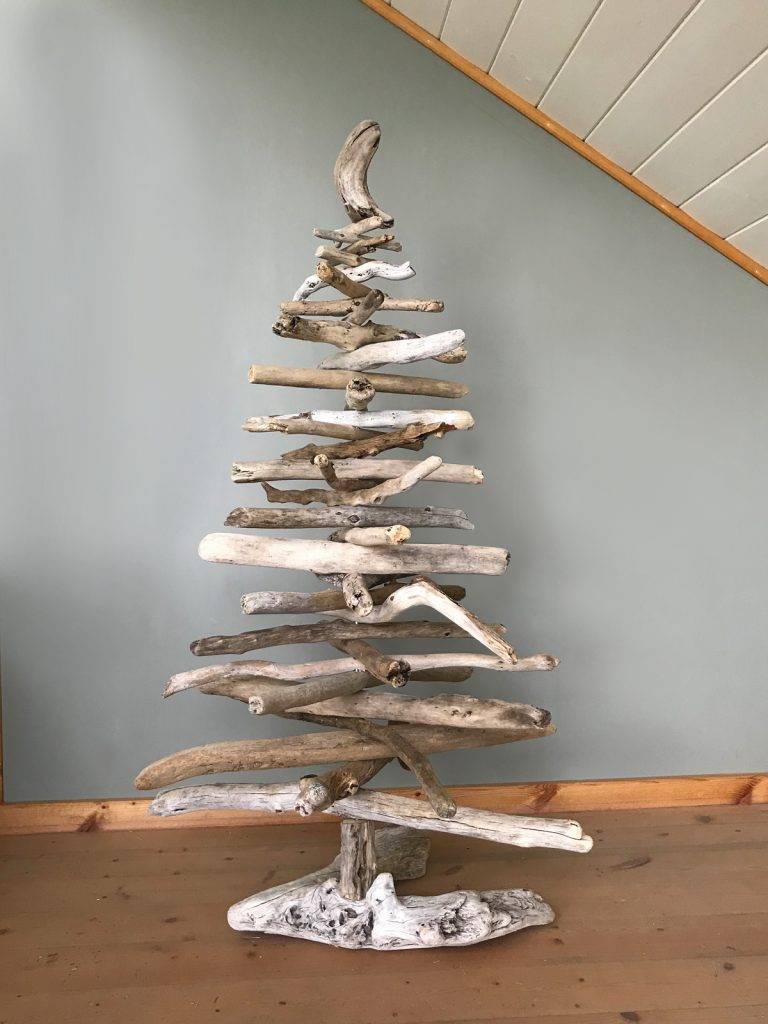 "They are just little bits of magic to me," she says. "I love the grey, weatherbeaten aspect of driftwood … I really love how it does no harm to the environment when it no longer functions as a driftwood tree."
The Festive Touch
Beyond the tree, there are numerous ways to decorate and make the season feel special — and it doesn't mean you have to become a DIY master.
"There are also companies local and worldwide that focus on sustainable new home goods that source ethically, fair trade and promote diversity," Medve says. "I always read the about section on a website before I purchase anything. Some new sustainable seasonal holiday décor items could be clay pottery, a natural soy candle or a throw blanket that is made with recycled materials."
Nor does it mean you're stuck with a rustic feel, if your style runs toward a more contemporary or polished esthetic.
"My 'look' is not very rustic to start with," Lalonde says. "My go-tos are magnolia garlands, glass baubles, black feather wreaths and lots of candles. I use them year after year in different ways, so they feel new."
Some stylish household items can also be used as holiday décor.
"I also use my faux fur throw as a tree skirt," shares Lalonde.
Bring the Outdoors In
In her own home, Medve focuses on sustainable holiday décor that she can compost after the holidays, such as garlands and dried oranges, so things don't end up in the landfill. "You can make it look modern or rustic," she says.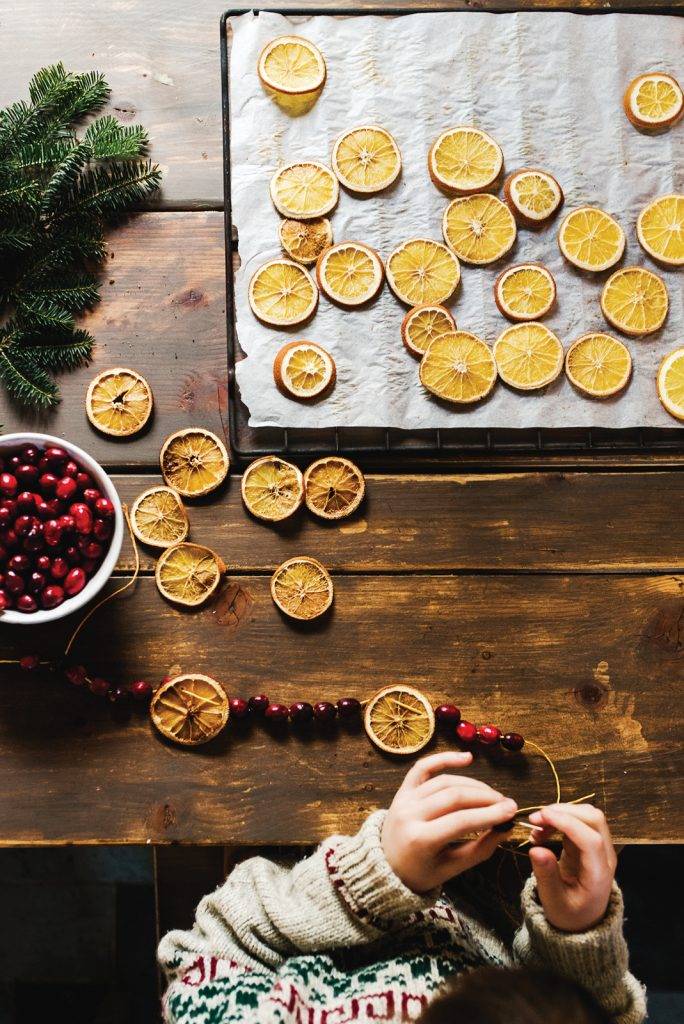 "My essential decorations are cedar garlands that I cut from my hedge in the yard — it doesn't hurt to ask someone to cut some of their cedar in your neighbourhood to create your own," she says. "I love adding cedar garland to the mantel, with a few pine cones, or down the staircase."
For a more of-the-moment look, Medve suggests adding a few fir or cedar branches to a large vase for a real statement centrepiece.
"Bringing the outdoors in makes a home feel cozy and festive," she says.
Beyond DIY
While there are countless YouTube tutorials and Pinterest boards on making your own sustainable holiday decor, not everyone wants to break out the scissors and glue gun.
"If someone is not up for DIY, there are quite a few things they can do to decorate and make Christmas special," Paula McPhee says.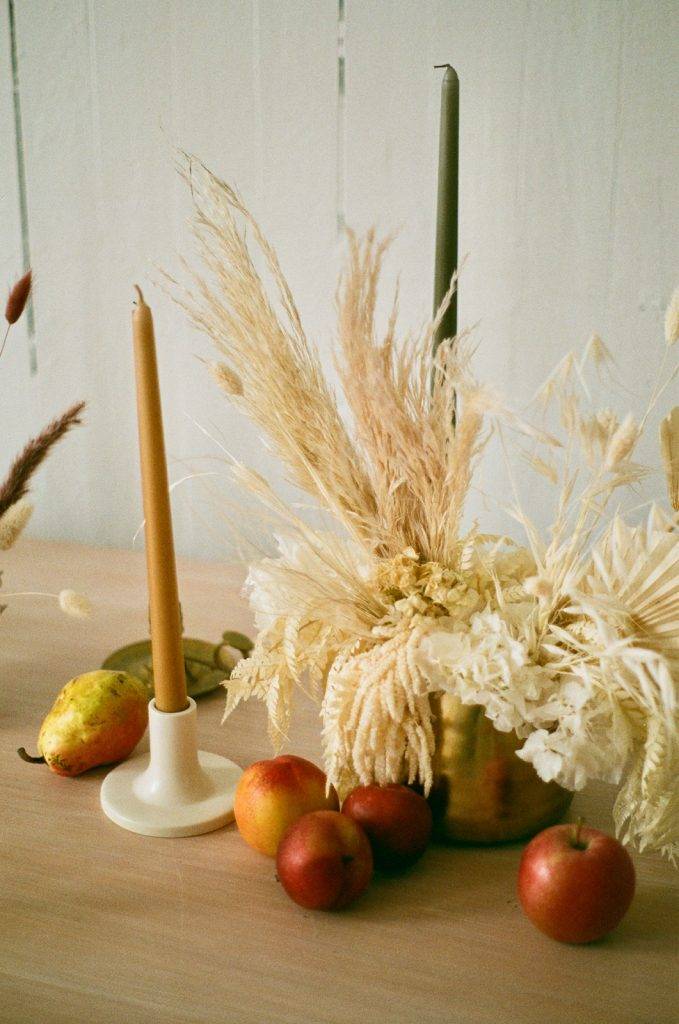 "We recommend buying reusable cookie tins with Christmas designs on them, and place them around the house together with Christmas lights and/or candles. A long time ago, we purchased wooden snowflakes that hang from our ceiling, and we have slowly added to the collection over the years. We always look for decorations that are timeless and made of natural materials."
Seasonal Blooms
While buying seasonal bouquets and centrepieces from a local shop is a sustainable holiday decor alternative that can end up in the compost as opposed to the landfill, dried flowers are even more sustainable in their production (not requiring refrigeration or water).
Rook & Rose uses a combination of imported and house-dried stems in its designs. "Our dried arrangements can be carefully packed away or rearranged into bud vases around the house to keep year round," says Erica Smolders, owner of Rook & Rose.
That's a Wrap
The other area where a lot of waste is created during the holidays is wrapping paper.
"Ninety-seven per cent of wrapping paper can't actually be recycled because of the film that it has to give it that shine," Medve says.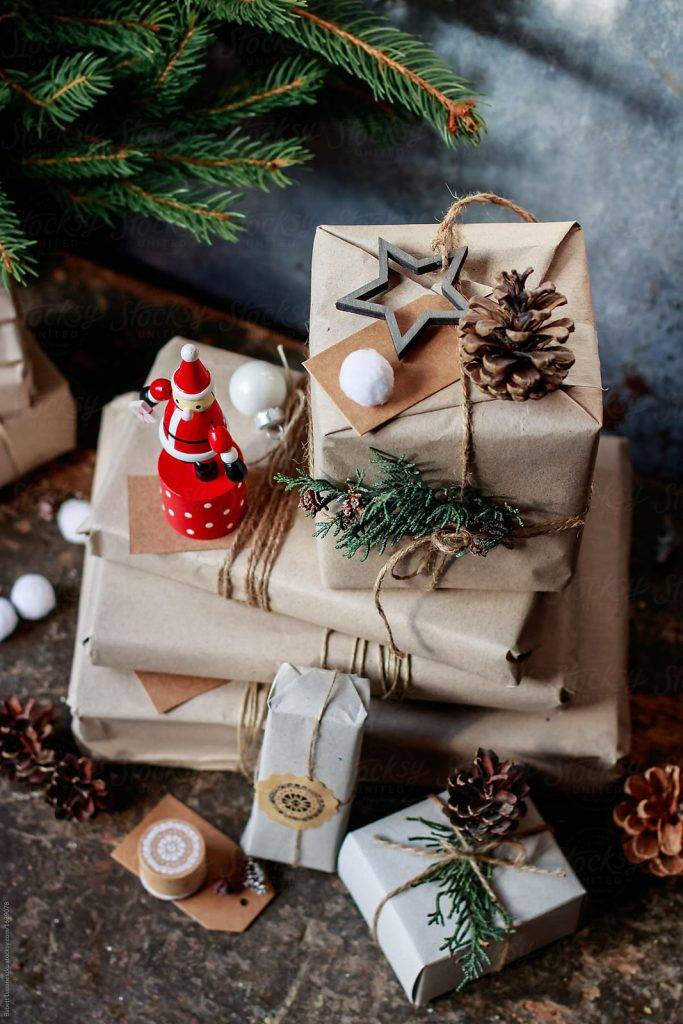 It does beg the question: Is it still a gift without wrapping? Luckily, there's no need to skip the wrap, and there are ways to create beautiful, tempting packages in an environmentally sensitive fashion.
"My favourite thing is to collect paper bags over the year," Medve says. "I wrap my presents with it and add some twine or a piece of fir to bring a more sustainable and natural element to my gifts. Everything can be recycled or composted, and it looks wonderful under the tree too!"
Woven Wonders
Decorative pieces of fabric also make for striking and reusable gift wrap.
"Another way to wrap presents is by doing furoshiki," Medve says. "It's a type of traditional Japanese wrapping cloth, traditionally used to transport clothes, gifts or other goods."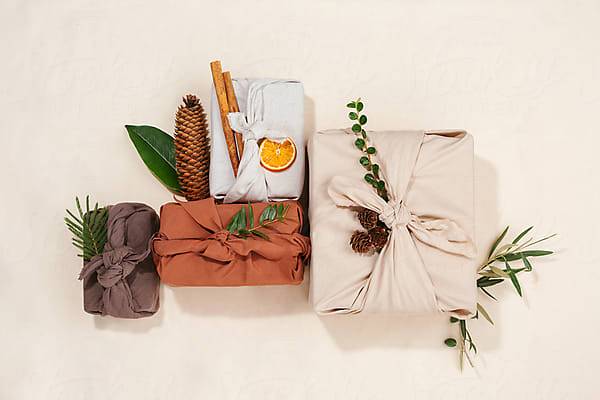 Furoshiki is a square piece of cloth or fabric, and the name refers to the craft and to the cloth itself, which usually has a decorative design. It does come in a variety of sizes, and the wrapping technique depends on the gift being given.
While not square like traditional furoshiki wraps, tea towels are a fun way to conceal gifts and add an extra element to your gifting. Smoking Lily's whimsical hand-printed designs allow you to truly personalize a gift for the recipient.
Sustainable Holiday Decor For the Bees
The beeswax wrap that has reduced your plastic wrap can also be used for wrapping presents. Locally, Goldilocks Wraps is partnering with designers to create beautiful patterned wraps. Each reusable beeswax wrap is made individually by hand in small batches — from the washing and cutting of the cotton, to waxing, to folding and packaging.
"Quite possibly the fastest way to wrap presents, beeswax wraps make an amazing gift-wrap," says Goldilocks founder Amy Hall. "Especially if the gift you are giving is some kind of food-related item. Another gift within a gift."