Dining al fresco, at a picnic site or sprawled on a beach blanket, is one of the joys of island life. When you take it outside, even the simplest meal is an event.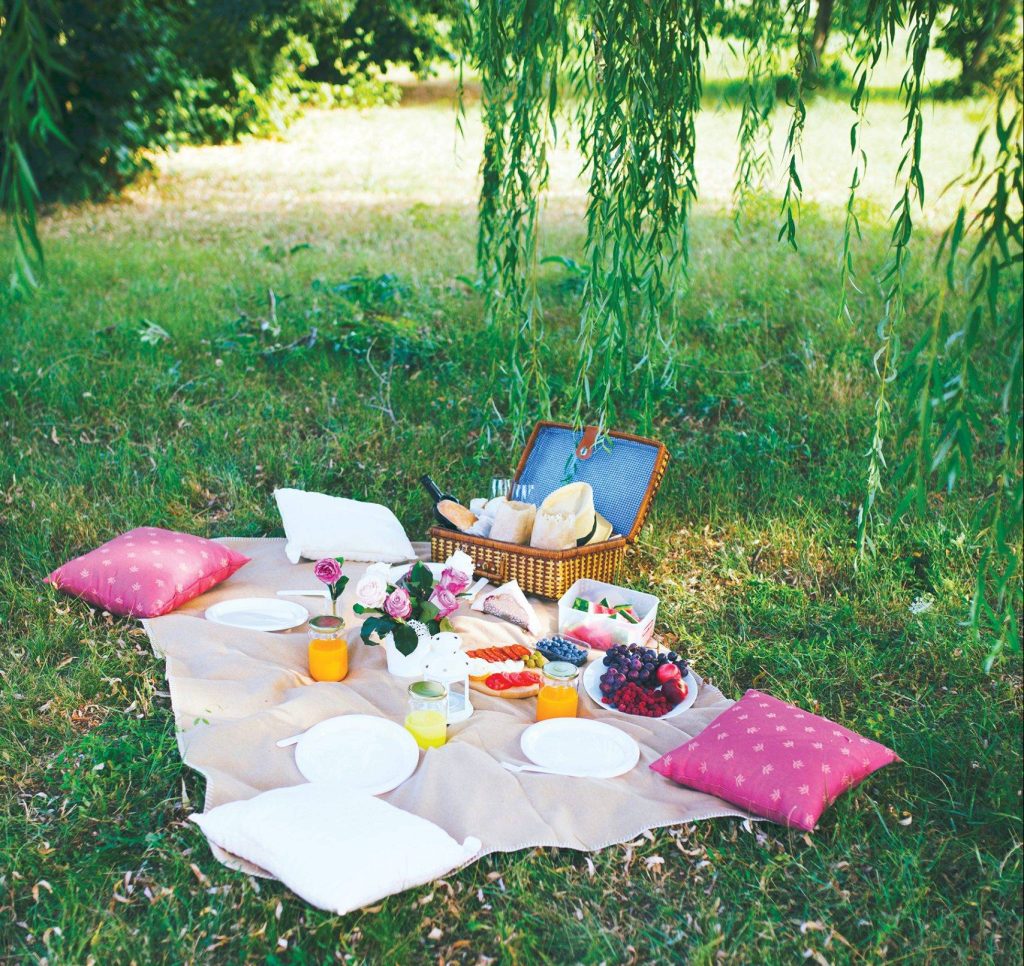 BY CINDA CHAVICH
When I think of picnics, it's usually family gatherings by a lake, everyone hauling coolers filled with chilled potato salad and cold fried chicken, or smoky sausages to grill over the fire.
A picnic can be a big portable potluck, or a simpler collection of noshes, pulled from your backpack and eaten while perched on a rocky outcrop at a day hike destination. Planning a private picnic for two, in a secluded spot, is always a romantic gesture.
What you pack depends on the occasion, where you're going, and how far you need to carry your picnic lunch. But it should be something that's easy to eat (preferably out of hand) and travels well. Your menu may be simple — a great sandwich or wrap, with a bag of crunchy vegetables and a cookie — or an elaborate al fresco tapas feast of frittata, stuffed peppers, garlicky shrimp and ceviche.
You may opt for a charcuterie board selection of artisan cheeses and cured meats — the classic antipasto platter — or a full meal, complete with a starter, salad, entrée and dessert, pulled from a wicker basket, with proper plates, cutlery and a bottle of bubbly.
But a great picnic is all about simplicity and fun — good food enjoyed in the great outdoors with good people.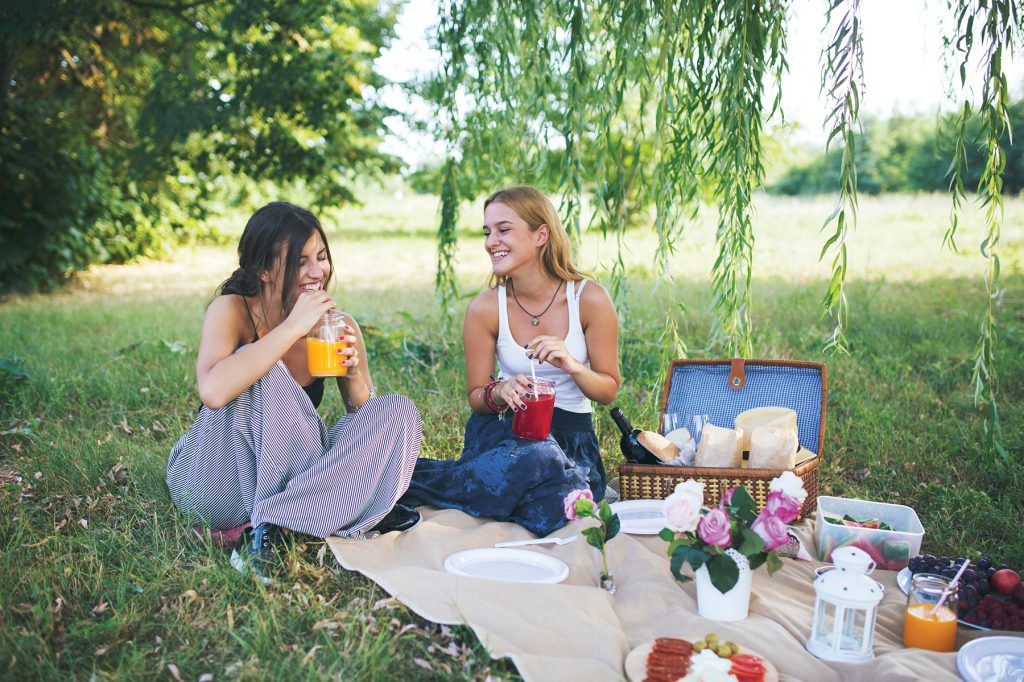 Movable feasts
Whatever your choice, picnic food should be portable, the kind that can be made ahead without losing its appeal, and tasty when served cold.
I'm always up for an eclectic selection of flavours, especially the kind of thing that you can slather on a bit of baguette or pile onto a cracker, whether it's a smoky, canned sardine; a schmear of creamy, herbed cheese; a bit of meaty pâté or a scoop of garlicky hummus.
Finger food is picnic food for me, a grazing buffet of easy appetizers, hard-cooked eggs, a selection of cheese and charcuterie with olives, crisp radishes and celery, crusty bread, grapes or dried fruit.
Anything hand-held is a good choice for a picnic. I love to bake calzones filled with cheese, spicy chorizo or roasted vegetables, or make a big muffuletta sandwich to slice into individual servings at the park. For the latter, split a baguette or crusty round loaf and remove some of the bread inside before spreading with olive tapenade and mayo, and layering with sliced ham or grilled eggplant, roasted peppers and cheese. Use focaccia bread for a sturdy sandwich made with similar fillings, or stuff split pita bread and roll it up. All will stand up to some jostling without getting squished and soggy.
You can stick with a simple sandwich for a family hike (think peanut butter and banana) or pull out the stops with cold smoked salmon or tuna, herbed cream cheese and watercress; hummus with roasted vegetables or a bahn mi of grilled chicken, pickled carrots and cilantro on baguettes.
For a gluten-free picnic nosh, pack classic chicken or salmon salad, with lettuce leaves for wrapping.
Plan a more substantial picnic menu around fried chicken or cold roast beef, a vegetable frittata and hearty portable salads — pasta, quinoa and potatoes are the perfect base for a salad that goes anywhere without going limp, and a kale salad just gets better over time.
Drizzle your grain or pasta salads with assertive dressings made with garlic and chopped herbs, add roasted peppers and cauliflower and finish with grilled shrimp or chunks of smoked salmon for gourmet flair.
Fresh seasonal fruit makes a refreshing finale, whether you tote along a watermelon or simply snack on local berries. A brownie or lemon square is never out of place at a picnic.
Fill your basket
If you have the time, you can prepare an elaborate picnic menu at home, but it's more fun to be spontaneous with some good grab-and-go picnic fare.
Cherry picking local goodies, or turning to the experts to pack your picnic, is always a smart solution.
Cheryl's Gourmet Pantry in Oak Bay is one go-to spot for a variety of takeout salads, appetizers and desserts to build an impromptu picnic. Or call ahead for one of her themed picnic baskets, with everything you need for an outdoor feast, from napkins and glassware to dishes.
This experienced caterer has several selections, whether it's the popular For Lovers Only picnic with smoked salmon and cream cheese, raspberry-glazed chicken and fresh fruit; the Summer Classic with fried chicken, potato salad, coleslaw and cookies; or The Tailgater, featuring grilled beef tenderloin
with horseradish cream.
Tea lovers will be impressed by the Elizabeth, a 26-morsel afternoon picnic tea box from the White Heather Tea Room, a selection of tiny sandwiches, scones (both savoury and sweet), tea cakes, madeleines, tarts and traditional Scottish shortbread, beautifully arranged in a portable box with your choice of tea.
Order a portable feast from Wild Mountain Food & Drink in Sooke, and let the chefs wow you with their picnic (a.k.a. party) box, complete with house-cured meats, duck liver mousse, artisan cheeses, Castelvetrano olives, quince mostarda, crostini and cookies.
Delis, bakeries and cheesemongers are ground zero for portable picnic fare, too.
Visit Ottavio Italian Bakery & Deli for their fresh loaves and pastries, a great selection of fine cheeses, olives, imported grissini and crackers. Or order a curated antipasti platter, a selection of crostini or a savoury ricotta Torta Salata to share. Then head up Oak Bay Avenue to The Whole Beast for artisan-cured meats, from salami and dried pepperoni to creamy chicken liver parfait.
Charelli' Shop & Deli does beautiful snack boxes, too, complete with a variety of perfectly aged cheeses, crackers and spreads. This well-stocked cheesemonger carries everything you need for packing a gourmet's picnic — think olive and artichoke tapenade, cornichons, tins of Spanish seafood conservas and caviar.
Look for creative charcuterie, imported cheeses, housemade ferments and picnics for two (or lunch boxes to go) at Bull & Sons Deli on Fort Street. Or stop at Fol Epi's downtown bakery on Yates, for their own pâté en croûte, cured meats, pickled vegetables and artisan baked goods.
For a mezze-style meal, get tabouli, muhammara, feta, olives and baklava at Fig Deli. Or have a cold Japanese picnic with takeout sushi, seaweed salad and fried chicken karaage from Fujiya.
Think local when filling your basket at city grocers — Jenny Marie's crackers, Justo's hummus, Haltwhistle cheese and Four Quarters charcuterie, with fresh vegetables to dip into the Root Cellar's famous Green Sauce, and a Phillips Soda, Babe's Sparkling Bee Line or Cultured Kombucha to sip.
And if a picnic isn't a picnic without cold fried chicken, you can always get takeaway chicken, whether you opt for Korean fried from Chicken 649 or lemon rosemary from Roast.
Keep it cold and leave it clean
Whatever you bring, plan to make it (or buy it) the day before your picnic and keep it in the refrigerator overnight to make sure everything is well chilled. Use a cooler or insulated cooler bag and add some ice packs to keep perishable foods, including salads and meats, cold. Get an insulated bottle or thermos for drinks and dressings.
Keep your insulated bag or cooler closed as much as possible to retain its cool temperature, and to guard your food from curious critters.
Don't forget a blanket to spread on the ground (if you're not heading to a picnic site with tables), or camp chairs and an umbrella for shade. Avoid disposable plastic utensils, glasses or containers — you can easily bring dishes, cutlery and napkins from home to create a stylish spread. Vintage Melmac or enameled tin plates are perfect for picnics.
And haul out everything that you hauled into your picnic spot. Leave nature as you found it.
A picnic can be a meticulously orchestrated outdoor meal, the fuel for an athletic outdoor adventure, or just an impromptu lunch shared on a park bench. But wherever you are, there's a secret garden, a hidden cove or a sunny spot to spread out the blanket, recline and dine.
Looking for ideas on what to pack in your picnic bag? Try my calzones, quinoa salad and pecan brownies. They are all easy to make and travel well. Enjoy!
---
Hand Pies (Calzones) Recipe
This is my version of a classic Italian calzone. You can make your own bread dough or start with frozen dough from the supermarket. (I used Knead to Bake frozen bread dough, from Armstrong, B.C., and found their frozen rolls perfectly sized for making individual calzones.)
This recipe is flexible — carnivores can augment these vegetarian pies with cooked chicken, slivered prosciutto, Italian sausage, chopped ham or salami. Calzones are delicious cold (like cold pizza) and make great portable lunches for hiking or cycling because they don't get squished in your pack.
•1 tablespoon olive oil
•1 large onion, halved lengthwise and thinly sliced
•1 large red pepper, seeded and slivered
•1 small chili pepper, minced
•3 garlic cloves, minced
•2 tablespoons chopped fresh basil
•1 teaspoon oregano
•salt and freshly ground black pepper
•6 sun-dried tomatoes, soaked in warm water to rehydrate, then drained and chopped
•2 ounces crumbled feta or 2 ounces shredded Parmesan
•1 cup ricotta (or cottage cheese)
•1/2 cup shredded mozzarella or 3 Cheese Italian Blend
•14-ounce (398-ml) can artichokes, drained and chopped
•1/3 cup chopped black olives
•2 loaves frozen bread dough, or frozen bread rolls, thawed
Heat the olive oil in a nonstick pan over medium-low heat and slowly cook the onions until caramelized and golden, about 30 minutes.
Add the red pepper and chili pepper and cook for about 5 more minutes or until tender. Stir in the garlic and cook 3 minutes longer. Remove the sautéed vegetables from heat and stir in the basil, oregano, salt, pepper, and sun-dried tomatoes. Set aside the filling to cool slightly, then stir in the feta or Parmesan, ricotta, artichokes and olives.
Preheat oven to 400°F. Cut each loaf of bread dough into 6–8 equal pieces. On a floured board, roll each piece into a 5-inch (12-cm) circle or alternatively use individual, thawed frozen rolls). Wet the edges. Fill with 2–3 tablespoons of filling, fold the dough over top and press well to seal, then roll edge over and crimp again. Brush the calzones with milk and poke them with a fork to allow steam to escape during baking.
Set the calzones on a parchment-lined baking sheet that has been sprinkled with cornmeal. Bake for 20 minutes, until brown. Cool on a rack. Refrigerate or freeze. Makes 12–16.
Quinoa Salad
A new take on tabouli — with protein-rich quinoa and added chickpeas — this portable salad makes a cool summer meal.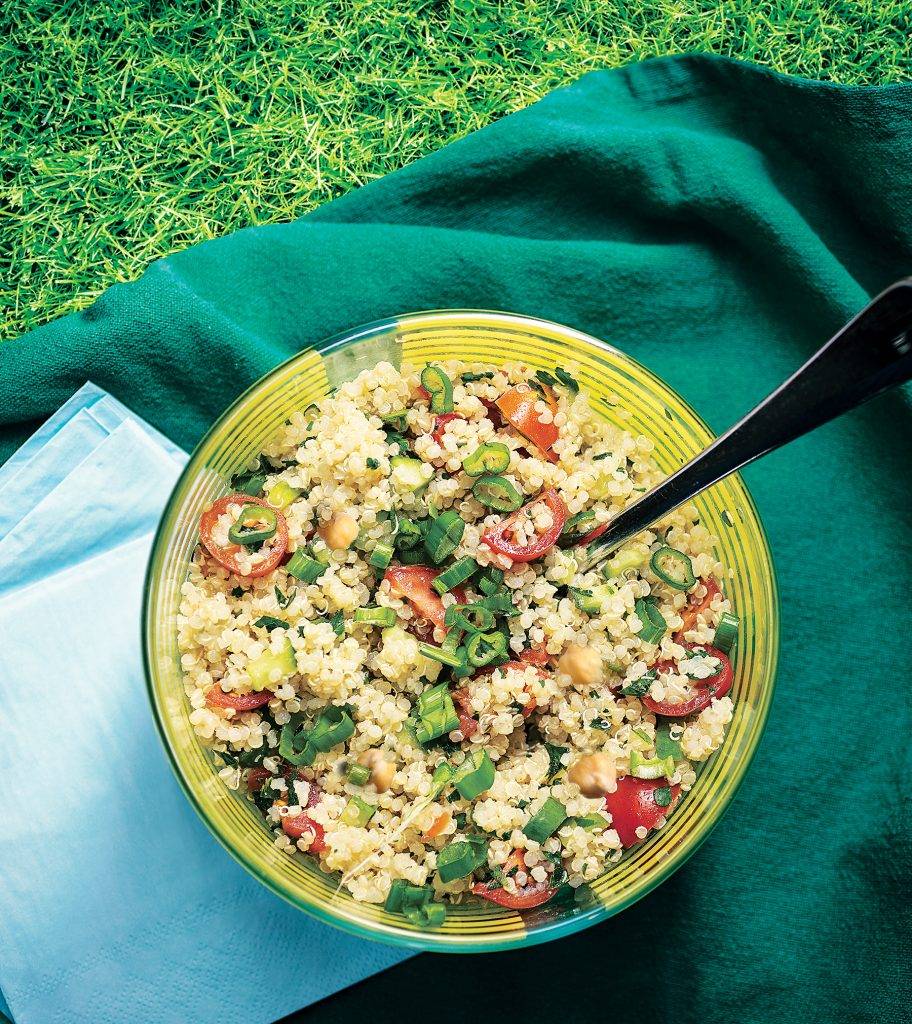 •3 cups water or broth
•1 1/2 cups quinoa
•1 cup chopped grape tomatoes
•1 cup finely diced baby (mini) cucumbers
•1/2 cup finely chopped Italian parsley
•1/4 cup finely chopped fresh mint (optional)
•2–3 green onions, finely chopped
•14-oz (398-mL) can chickpeas, rinsed and drained (optional)
Dressing:
•1/4 cup olive oil
•1/4 cup fresh lemon juice
•1 large garlic clove, minced or pressed
•1/2 teaspoon salt
You can make this salad extra portable by packing it in small glass jars.
In a saucepan, combine water (or broth) and quinoa and bring to a boil over high heat. Reduce heat to low, cover and simmer for 10–15 minutes. Remove from heat and let stand, covered, for another 5 minutes (the quinoa will be al dente). For softer quinoa, leave it covered for 10 minutes before you remove the lid and fluff with a fork to separate the grains. Transfer to a bowl.
For dressing, whisk together the olive oil, lemon juice, garlic and salt and pour over the warm quinoa, tossing to season the grain.
Add the chopped tomatoes, cucumbers, parsley, mint (if using), green onions and chickpeas
(if using). Toss to combine. Cover salad and chill. Serves 4.
Pecan Brownies
This is your classic homestyle brownie — chewy, nutty and addictive. I like to use a silicon mini muffin or square mould for individual brownies, but you can also make these in a regular 9 x 13-inch (3.5-L) baking pan.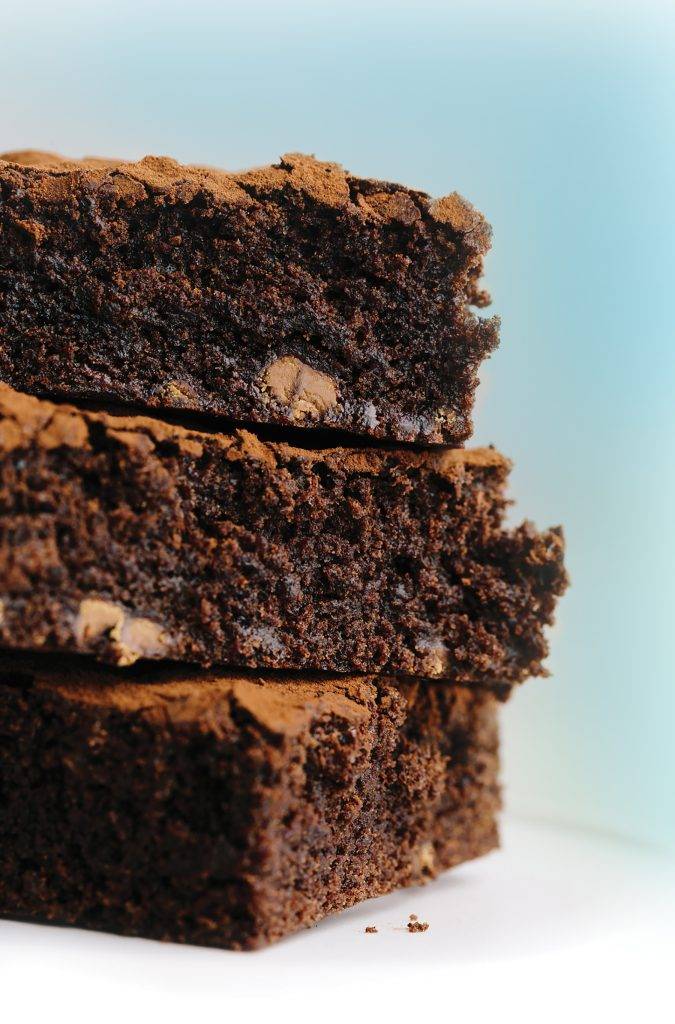 •1 cup unsalted butter
•4 oz unsweetened chocolate, chopped
•2 cups granulated sugar
•4 large eggs
•1 teaspoon pure vanilla extract
•1 cup all-purpose flour
•1/2 teaspoon salt
•3/4 cup chopped pecans (or walnuts)
Preheat oven to 350°. Grease a 9 x 13-inch baking pan with butter, or use a silicon mini-muffin pan.
In a medium saucepan, heat the butter over low heat until it's half melted. Add the chocolate and stir until both are completely melted. Remove from heat and stir in the sugar. Let the mixture cool (should be warm, not hot). Add the eggs, one at a time, beating with a whisk until the mixture is shiny. Stir in the vanilla, flour, salt, and chopped nuts to make a thick batter.
Pour into the prepared pan and bake for 20–25 minutes (about 12–15 minutes if using a mini muffin pan). A cake tester inserted in the middle of the pan should come out almost clean but with moist crumbs (you want to underbake brownies slightly for a chewy interior). Cool completely in the pan before cutting into small squares. Makes 36–42 pieces.