By David Alexander
There are some very interesting things happening in menswear right here in our capital city. Not only do we have a host of clothing stores now catering to just about every man you want to be, but we also have some talented designers who have set up shop and are putting Victoria on the map for casual menswear.
---
This is important for a bunch of reasons. Victoria is a unique place where climate, location, architecture and people all come together to create a gentle yet edgy creative vibe that translates to our fashion preferences. Clothes designed here make sense for here. Designers who live right next door understand what the men who live here need, how the clothes have to fit, protect from the elements and quickly go from fancy to hardy as you head from office to beach.
Fostering a community of designers — and that means trying out their wares — makes us a more vibrant city and adds to our economy and diversity of choices. A thriving creative class also makes for a richer city. And in the end, why wouldn't you want to wear something made locally instead of designed across the country or made in a far-flung metropolis that has little connection to our coastal cachet?
Alex Davies of Dangerfield began experimenting with design by tailoring clothes he already owned. This eventually led him to design his own pieces from scratch. "The brand originated from never really being satisfied with the way things fit and how tailoring can entirely change how something looks on a body," says Davies. From pattern making to sewing, Dangerfield's clothing line is 100-per-cent handmade in Victoria. "I buy many of the materials from local shops, right down to the labels, which are made in Rock Bay," he adds.
Davies is all about investing in essential pieces for your wardrobe, items that are going to last an especially long time. "A piece of clothing might be something that you have to save up for," he says, "but you'll wear it all the time and know it'll look new for years."
SURF MEETS STYLE
In a cedar-sided, solar-powered and totally off-the-grid shop at 516 Discovery Street, you'll find ANIÁN, a design shop built of 100-per-cent recycled materials by owners Paul Long and Nick Van Buren. Unlike some design businesses that emerge out of the need to create, this one began out of the owners' driving need "to surf every swell that hit Vancouver Island."
"We need wool shirts, blankets and toques to go surfing," says Long, "but with the waves being an hour-plus away, we often leave straight from work to surf, or vice versa. This means that the clothing we wear has to keep us warm in January on the beach but also must be fitted for the city."
Now branching out beyond Victoria, ANIÁN is starting to distribute its melton wool shirts around B.C. and into Alberta. These shirts, says Long, are wind resistant, water resistant but still 100-per-cent breathable. "Typically you would see this weight of wool used for a coat. The design is based on a dress shirt; hardy enough for the woods but also fit for downtown living." And if you think it's just surfers who love ANIÁN, think again. "The city loves local," Long adds. "We have a wide range of customers: 14-year-olds coming in with their allowance, surfers living in a van on the beach — and then we have lawyers, bankers and government officials."
FORM MEETS FUNCTION
At 1014 Meares Street, you'll find the Bauhaus-inspired space of a man with a passion for great design. Iain Russell is the talent behind the clothing line Is this Menswear? and he co-owns the retail shop of the same name.
Russell says his line is founded on a love for the creative process, deriving inspiration from West Coast modernism, taking the best of the world and refining it for the coast environment with materials like Dintex, melton wool, Oxford cottons and ballistic nylon, which allow form and function to meet. All items are designed in Victoria and handmade in Vancouver. "Design is and always will be about people," says Russell. "Form and function have a direct relation to space and time. Great design is love. It makes you laugh, it makes you cry, it makes you feel special and brings out the best in you."
Russell's customers reflect the city, he says. University profs, students, writers, the person who just served you lunch, the developer of your favourite app. From 15 to 60. And then there's the brand's online following. "Style is more about how you treat others than it is about the clothing you have on," says Russell. "I grew up making things with my dad, so when it comes to design and seeing it come to life, it's just kind of a natural progression. I love that clothing is something that stays with me. It collects the stories of life."
ISLAND STYLE
What's exciting about these guys is they are designing clothes for Victoria. While clothes manufactured elsewhere might be cheaper and offer more choice, clothes designed here capture that distinct Vancouver Island sense of style.
Things are happening here, and these designers are just the start. Next time you want to spruce up your wardrobe, give the locals a look first. You'll be prepared for Victoria's unique clime, and you'll look damned good doing so.
WHAT WE'RE COVETING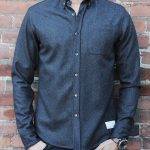 The Melton Wool Shirt ($110)
ANIÁN's melton shirt is bread and butter for obvious reasons: it's nicely tailored, dense enough to withstand wind and rain, but breathable. In navy or grey, it's made for the coast — from a weekend of camping to drinks on the patio. (anianmfg.com)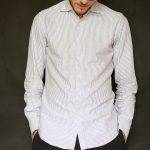 Japanese Cotton Oxford ($155)
Iain Russell's shirts in solids and stripes are exquisite. Made from soft cotton and milled in Japan, they can be worn with a loose tie or untucked and free. Joe Dandy is partial to the purple stripe. (isthismenswear.com)