By Cinda Chavich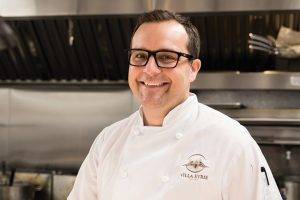 PERSON: Chef Terry Pichor
Executive Chef Terry Pichor comes to the Villa Eyrie Resort and its new Summit Restaurant from the posh Sonora Resort, one of only three Relais & Châteaux properties in B.C. Now he's overseeing a dining room atop the Malahat, with stunning vistas of the Saanich Inlet. It's part of a $2-million renovation of the former Aerie Resort by its new proprietors, owners of the Vancouver Island Motorsport Circuit. In keeping with the resort's Mediterranean architecture, Chef Pichor's menu melds a farm-to-table focus with modern, Italian-inspired dishes. Just after Summit's opening, we enjoyed an exceptional lunch: a medley of roasted winter vegetables, sunchoke chips and dried beets, handmade tortellini filled with wild boar, a fillet of crisp-skinned Lois Lake steelhead with spaetzle and charred leeks, and an ethereal vanilla panna cotta. With just 29 rooms and suites, the Eyrie makes for a luxurious, secluded weekend getaway. But the new chef is sure to attract foodie fans from the city for breakfast, lunch and dinner too. His Sunday brunch is already a hit with locals — definitely worth a drive.
---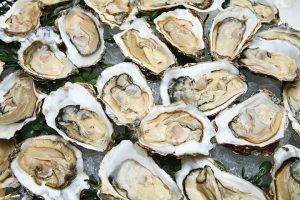 PLACE: Oak Bay Seafood
There's a new fresh seafood market joining the food revolution in Oak Bay. Anne and Gregg Best of Cowichan Bay Seafood (formerly in the Victoria Public Market) recently renovated a building next door to the Whole Beast and the Village Butcher, and rebranded as Oak Bay Seafood. With a full slate of local Ocean Wise fish, it's the perfect addition to this meaty enclave. Look for fresh Island oysters, salmon, halibut, spot prawns and other sustainable seafood, along with a deli case and takeout counter featuring their famous fish and chips, served up in a light, gluten-free batter, salmon burgers, chowder and more. "We even have a parking lot," says Anne. "So we're planning spot-prawn festivals, salmon barbecues, crab boils …" There won't be a restaurant in the market, but there are three chefs on staff who'll be making ready-to-cook and ready-to-eat specialties on-site, from tuna tataki to stuffed fillets and brochettes.
---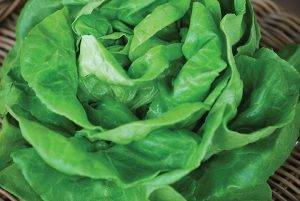 THING: Bright Ideas
I'm a big fan of root vegetables in winter, but if you're missing your fresh, local greens, never fear. There's a new, innovative player in the local lettuce biz, and it's growing crisp greens year round in a super sustainable "farm." Bright Greens Canada is the brainchild of West Saanich couple Tamara and Bruce Knott.
Their "Leafy Green Machine" is a high-tech hydroponics system that captures humidity from the air and purifies it with reverse osmosis and uses low-energy LED grow lights. They are producing 4,000 plants in six vertical towers — that yields 100+ pounds of fresh greens every week for local chefs and retail shops.
"Our farm is all packed into a repurposed 40-foot shipping container that yields as much food as would typically require 1.5 acres of land, while using 90 per cent less water," says Tamara.
Find their fresh greens at Ingredients, the Root Cellar and Carnivore Meats; enjoy them at restaurants like Artisan Bistro and Part and Parcel; or get your own weekly share of the crop at the farm. Bright ideas, indeed!