Craftsman architecture merges with West Coast artistry in a custom oceanfront home whose beauty is the result of a balance of opposites.
By Danielle Pope
Edged into the rock of a pie-shaped property at Ten Mile Point, this home showcases winning West Coast views. Although the house is located on the seafront, it maintains its privacy from the front and back with strategically preserved foliage, stone and tree features. ALL PHOTOGRAPHS: GARY MCKINSTRY.
---
Walking into one of Ten Mile Point's most unique and beautiful homes is like stepping into a heightened reality of what it means to live on the West Coast. A great chiselled wood door draws you into a spectacular entry featuring tall, edge-grained Douglas fir beams and a wooded interior that's as grand as it is cozy. This is a home whose ocean views never let you forget how near to the water you are — and when temptation to actually be on the ocean calls, kayaks are stowed within easy access in a custom garage. On stormy days, the great room offers front-row seating to any weather event.
This custom home is the brainchild of Dennis Moore, principal at D.H. Moore Architect, in collaboration with a team of experts and two passionate homeowners. It's a home that took time to come together, and the remarkable result is that it blends a contemporary sensibility with the feeling that it has existed in its coastal surroundings forever.
The home represents the "next chapter" for two empty nesters who wanted to create a space that was "more than a house," says Moore.
"This space was more than a house," says Moore. "It was designed carefully and deliberately to capture an environment that would be comfortable and intimate for two people, but could easily host great gatherings. It would be a place for their family to evolve."
In order to work with the unusual pie-shaped property line, Moore and the homeowners met countless times in the former house on the site to shore up their ideas for transforming the property. Their solution was to turn the house slightly counterclockwise from the angle of the old home. This gave a splayed-wing shape to the house, says Moore, but in the confines of the land, it looks perfectly at ease.
Yin and Yang
The 6,500-square-foot home was designed with the goal of bringing a craftsman approach to the modern West Coast theme, and the home features a balance of spaciousness and coziness to meet the needs of the homeowners. Locally sourced materials were a prerequisite, but the homeowners wanted to go one step further and include local and Indigenous art, including a custom wall hanging by Indigenous artist Corrine Hunt, to reflect the heritage of the region.
"Just as photographer Ansel Adams said, 'An image is perfectly composed when it captures a spot of pure black and pure white," explains Moore. "I've found a house is successful when it has these elements too. So we aimed to bring in that yin and yang."
White oak flooring is contrasted by charcoal porcelain tile, and sleek glass panelling is juxtaposed against a granite hearth wall. A repetition of angular sightlines is found throughout the home.
Hugh Owen, principal of Owen Contracting, says it's rare to see a project where the homeowners honoured so many of the ideas of people who contributed to the project. Craftsmen, fine tradesmen and three interior designers were brought in for special projects. They included custom millworker Douglas Grant, who helped build a sliding peek-a-boo wall for the TV display, along with the custom single-slab Oregon walnut dining table.
"The beauty of a house like this," says Owen, "is that, even with the challenges, it's that high attention to detail and great craftsmanship that makes everything look clean and simple."
The Biggest Voice
One of the most striking features of the home is the view of tiny Flower Island, which can be seen through two sets of windows at the front of the home. In fact, almost every square foot of the home offers strategic views, though this one is especially telling of Moore's understanding of the space.
"The natural environment was the biggest voice in influencing the schematics of the design," says Moore. "The property presented some interesting challenges but, as with nature, you have to work with them. A lot of time and thought was put into how we'd do that.
"The end result is a place where you can experience life."
Look Inside the Home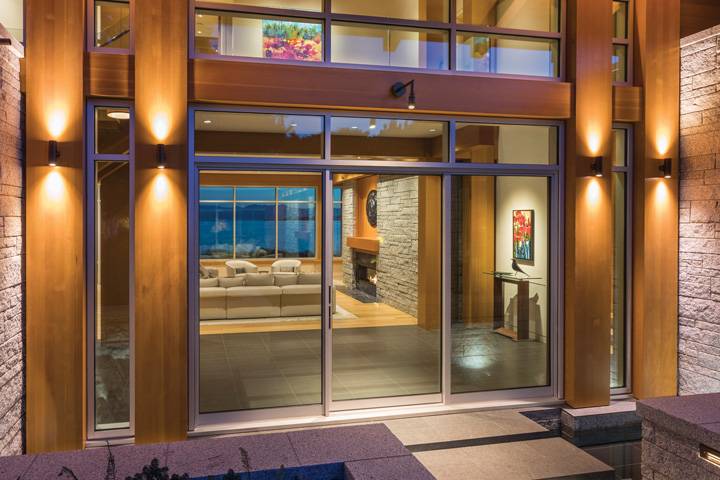 ---
The open-concept living/dining room showcases the home's connection to its environment. Window walls frame Flower Island, Douglas fir beams mimic the trunks of trees and a granite wall hearth ties in the rock outside. Architect Dennis Moore focused on creating spaces that could shift from large and welcoming to small and cozy. While the living room can host a large gathering, it also features a pair of chairs, perfect for intimate conversations.
---
Over the mantel, a sliding wall opens to a robust entertainment centre, or closes to showcase a wall hanging, custom made for the owners by Indigenous artist Corrine Hunt. The fireplace face stone, in Carmanah Black marble, acts as a beautiful offset for this artwork.
---
Natural stone, on which the house is built, plays a core role in this home's motifs. From the kitchen counters and the hallway tile flooring, to the fireplace's hearth and the feature wall in the master bedroom and bathroom, these elements of stonework draw in the sturdiness of the home's foundation.
---
The kitchen is about balance, bringing in elements of light counters and dark cabinets to contrast the white oak flooring and glass tile backsplash. The dining room chandelier, custom designed by Bocci Lighting Co.,
brings dynamic light to the room. Intimate spaces are also created here, with a clever nook inviting guests to enjoy a quiet view over morning coffee.
---
The high-quality craftsmanship of the house is perhaps best showcased in the staircase and the ceiling above. While very minimal, both are highly detailed, and the ceiling shows the classic post and beam nature of the design, which is executed with a clean modern esthetic. A gallery wall of work from local artists completes the space.
---
From the second floor, the Juliet balcony in the master bedroom captures views of Flower, Chatham and Discovery islands. The homeowners marvel at how the scene changes every day, yet, even in storms, the house maintains its peaceful and cozy feel.
---

The homeowners were strategic with their artwork, and even the bathroom features its own showcase wall.
---
The bathroom has a clean, contemporary look with a glass-wall shower, pedestal bathtub and heated Island White marble flooring. The fir ceiling and granite feature wall play up the natural elements of the house, while pendant lamps bring elegance to the small room.
---
Resources
Architect: D.H.Moore / Architect (Dennis Moore M.A.I.B.C.)
Construction manager: Owen Contracting
Interior design: Christa Kueber, Adrianna Wooten, Delores Dixon, Dennis Moore M.A.I.B.C.
Engineers: Hoel Engineering (Ritchie Smith P.Eng)
Plumber: Dave Turner Plumbing & Heating
Electrician: VI Electric (Luke Tarr)
Doors and hardware: Victoria Speciality Hardware
Roofing: Flynn Canada Inc.
Drywall: Definitive Drywall
Tile: Decora Ceramic Tile and Natural Stone (suppliers), Ivan Gospodinov (installer)
Painting: Tony's Painting and Decorating (Tony Moric and Joe Petrowski)
Kitchen/bathroom millwork and custom millwork: Douglas Grant Cabinetmakers
Finishing carpentry: Owen Contracting Inc.
Floor refinishing: RM Wood Floor Specialties
Custom beamwork supplier: Fraserwood Industries Inc.
Glass: Excalabor Glass & Aluminum
Countertops: Stone Age Marble and Granite, Matrix Marble and Stone
Custom Furniture: Douglas Grant Cabinetmakers
Upholstery and fabrics: Running with Scissors Studio (Delores Dixon)
Lighting consultant and supplier: Illuminations Lighting Solutions
Landscape: Jonathan Craggs Garden Design, Bric Loc (installers)
Pavers: Bric-Loc (installers)
Mechanical/geothermal heating: Magnum Plumbing and Heating J.B.Sheetmetal
House controls: Grohovac Installations Ltd.
Hardy Island Granite: Bedrock Granite (suppliers), King John Masonry (mason)
This article is from the March/April 2018 issue of YAM.