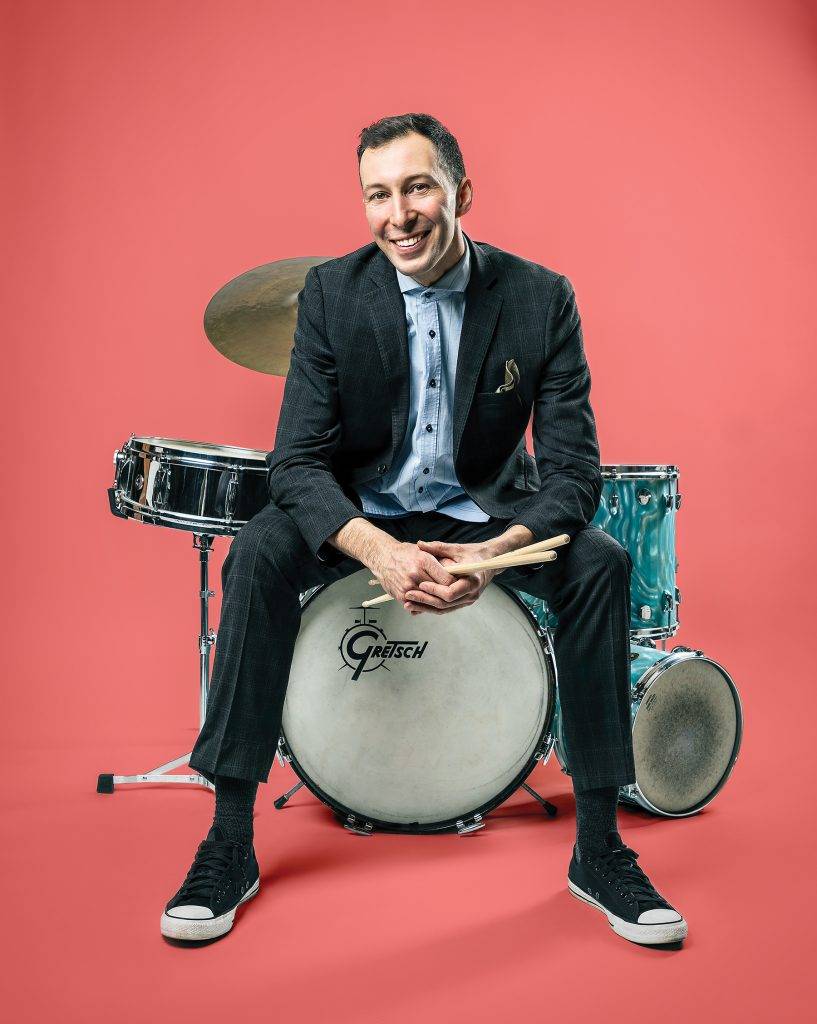 BY DAVID LENNAM
Drummer Kelby MacNayr lets the Zen of rhythm take him where he wants to go.
I am in the audience at a memorable gig at Hermann's Jazz Club. New York City pianist Misha Piatigorsky and our gone-to-NYC vocalist Emily Braden. Packed house, full of other musicians. In the middle of one of the numbers, drummer Kelby MacNayr begins a solo. From the crowd, Victoria's first lady of jazz, Louise Rose, shouts out, "Tell the story, Kelby!"
I thought that was so cool but also odd that it was the drummer she was urging on.
And then MacNayr did tell the story, using the kit like it was full of notes and phrases, improvising a melody, not just beating the toms or whispering brushes.
That's just essential jazz drumming, isn't it? Creating, rather than just keeping the time?
Rose, who has played with MacNayr more times than she can remember, has observed that drummers don't necessarily know the tune. "So if it's a 32-bar tune, what they do is play 32 bars, but they're not playing text, they're not doing colour, they're just playing time. One of the joys for me is Kelby plays a tune. He plays tunes he knows, and sometimes when he's playing a tune he doesn't know, I watch him listen, and then I hear him play."
Balance and flow
If you've been a regular at a jazz club like Hermann's (or even if you've been there only once), you've probably seen MacNayr telling those stories and being the bandleader, often on tunes of his own composition.
Asked about his drumming style, which Rose says is nuanced, sophisticated, complicated and with a variety of energies, the 42-year-old MacNayr says it's most important when the drum set is a whole little orchestra. "I get interested when I get drawn into something that has surprise, story, drama and suspense," he says.
MacNayr was studying violin at the same time he began drumming. The melody and beauty and lilt of the strings influenced his work as much as the rat-a-tat of the rhythm section.
"I also skateboarded a lot in those days, so that same sort of balance. I'm thinking of tai chi and this yin yang and understanding the natural flow. It's the same with drumming — it has to have both elements present to balance."
MacNayr started out on a Radio Shack digital drum set he got for Christmas when he was 11, jamming in the basement of the family's Fairfield home with a punk rocker older brother. But maybe he really started when he discovered the Zen of the art of the skins. That would have been during his scholarship tenure studying jazz at the University of Toronto.
He had wandered into the music school basement and came across these "Zen monks of percussion," who turned out to be one of Canada's foremost percussion ensembles, Nexus.
"They were wild. They did tai chi," recalls MacNayr. "And during my first snare drum lesson with them, they said, 'I bet you think you play snare drum from your wrists,' and I said, 'Yes, I do.' They went on, 'Some people think you play from your elbow. Some people think you play from your shoulder or maybe your back.' "
Then the bombshell.
"They told me you actually play snare drum from your heels."
Finding his voice
This Jedi moment lifted MacNayr onto a path of awareness that bolstered, maybe even regenerated, his performances. He began practising tai chi and incorporating it into his drumming, admitting that, for him, it all still exists somewhere in the realm of magic.
A place where he can get out of his own way and be free in the moment. A place where a tai chi-applied balance can give the drummer an ability to become innately more aware of the balance of the sticks, the balance of his physicality, his emotions and the busyness of his mind — which, he adds, are a few of the enemies drummers can encounter.
"Sometimes you have to practise your paradiddles and double paradiddles and the kind of form that you're doing, and then sometimes you have to practise getting your mind out of the way."
Influenced early by Art Blakey, then, as he worked across the continent, by other great musicians he watched or sat in with, a philosophical MacNayr has nurtured a fascination of the history and the culture of the music and how it all combines in the practice of his instrument.
He recorded an album of his own compositions, The Measure of Light, with his all-star quintet (mixed by one-time pop star Gino Vannelli). He appears on more than 50 recordings by others, including local singers Anne Schaefer and Sara Marreiros. His scope includes teaching and working with dance, opera and theatre companies. He scored a play for Theatre SKAM last fall.
He'll tell you there's no great jazz drummer who couldn't sing you all the melodies they play. Without straying from behind the kit, MacNayr is moving into frontman territory as a vocalist. Typically, he's approached singing almost clinically — studying timing, tuning, working his distinctive baritone for two or three weeks on perfecting just the first word of a song (wrestling with the diphthong of "smile") — and presenting the results with two of his bands, Tiny Rhythm Kings and Swing Rhythm Kings.
Rose has been working with MacNayr on his voice for a number of years, watching how it has enhanced his musicality. "As a result of learning the text of tunes, his playing has changed," she says. "It's become more melodic, more musical, more than, quote, drumming."
We talk for a couple of hours. Conversation bounces from tai chi to Chick Webb to Miles Davis to Sinatra's alchemical ability to phrase a song so that it belonged to him. Someone interrupts to tell MacNayr how much she loves his drumming.
He smiles, leans close and almost whispers to me some Zen koan of drumming.
"You don't have to create the wave, you just get up onto it and then balance. You do your thing, and the wave will take you where to go."