Alright, we don't know if these are really the very best salsa recipes but they sure are close! Try Chef Israel Alvarez's spicy, smoky salsa as a taco topping and use the corn, avocado, and black bean salsa as a vegetarian taco filler.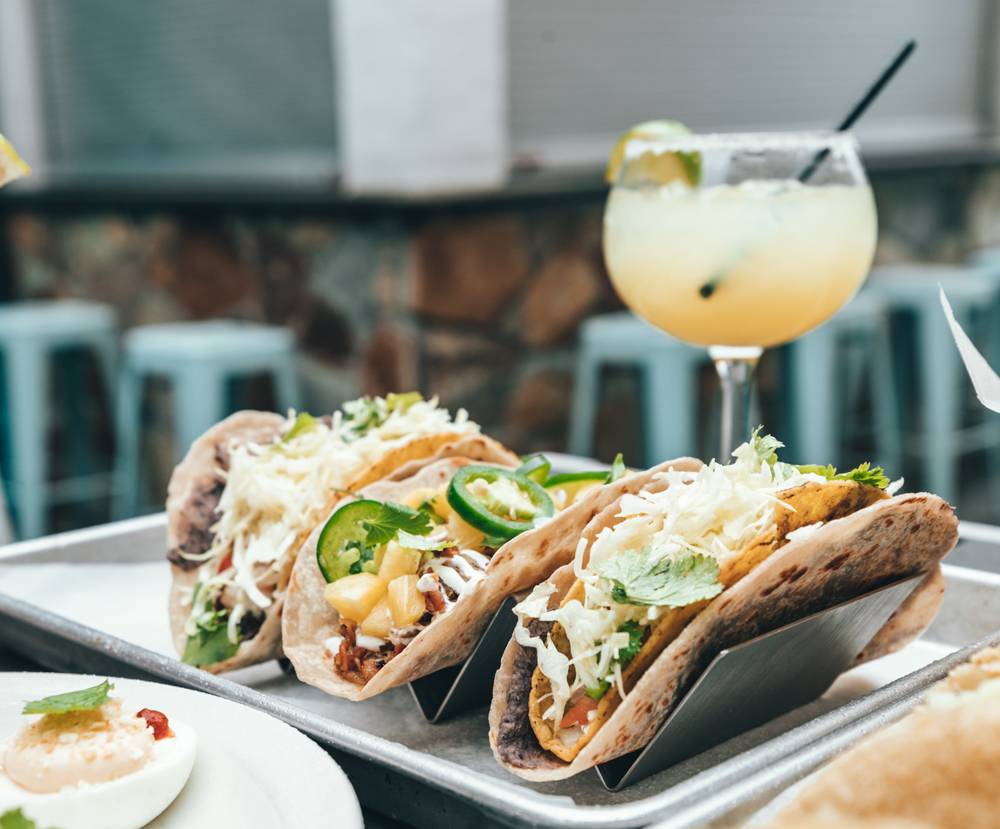 Roasted Spicy Salsa Recipe
Chef Israel Alvarez's tomato salsa gets its charred, smoky notes notes from a traditional roasting technique.
• 3 medium ripe whole tomatoes (350 grams)
• 1/4 pound green tomatillos whole, no husk, washed (100 grams)
• 4 jalapeños peppers, stemmed
• 1 or 2 habanero peppers, stemmed
• 1 large white or yellow onion (150 grams) • 5 cloves garlic, peeled
• 1 tsp. kosher salt
• 1 fresh lime, juiced
• 1/4 cup finely chopped cilantro
Roast all of the vegetables on the barbecue or on a baking sheet lined with foil in a 450 ̊F oven for 10 minutes until lightly charred on all sides.
Remove garlic and peppers when you see blistered and charred spots. Tomatoes and tomatillos will take longer — keep roasting them until they become soft.
Combine roasted vegetables in a food processor (for a chunky texture) or in the blender (for a smooth texture) and blitz until the desired texture is achieved.
Transfer the salsa to a bowl and stir in salt, lime juice and chopped cilantro. Serve salsa with tacos, quesadillas or tamales.
Corn, Avocado, and Black Bean Salsa Recipe
Make this chunky salsa when sweet fresh corn is in season, to scoop up with tortilla chips as a hearty taco party appetizer, or as a vegetarian taco filling. It also makes a portable summer salad to serve alongside any grilled meats.
3 ears fresh sweet corn (about 1 1/2 cups/375 ml), or use thawed frozen or canned corn
1 large ripe avocado, peeled, pitted and cubed
2 Tbsp (30 ml) fresh lime juice
2 or 3 Roma tomatoes, seeded and chopped
1 19-ounce (540-ml) can black beans, drained and rinsed
1 jalapeño pepper, seeded and minced
2 green onions, chopped
4 Tbsp (60 ml) chopped cilantro
1 Tbsp (15 ml) olive oil
1/2 tsp (2 ml) cumin
Salt
Make sure to start with very fresh sweet corn — picked the same day, if possible. To remove the kernels from the corn, first remove the husks and the silks and discard. Rinse the cobs well and cut the end off each cob. Stand a cob on a cutting board or in a large bowl, and using a sharp knife, start at the top and cut down to the base, removing a strip of kernels. Continue around the cob. Remove kernels from the other cobs.
In a bowl, combine the corn, avocado cubes, lime juice, chopped tomatoes, beans, jalapeño pepper, green onions, cilantro, olive oil, cumin and salt, and mix gently to combine.
Cover the salsa, and chill for several hours to meld the flavours.
Fresh Tomato Salsa
This is a simple salsa but it adds a burst of fresh flavor and spice to the fajita wraps and tacos. It's easy to make any time to scoop with tortilla chips for an instant appetizer.
1 cup (250 ml) fresh, ripe, Roma tomatoes, seeded and finely diced 
1/3 cup (75 ml) minced white onion 
1 jalapeno or serrano chili, stemmed and minced (remove the seeds for milder salsa) 
3 Tbsp (45 ml) minced fresh cilantro 
1 Tbsp (15 ml) fresh lime or lemon juice 
Salt to taste
Combine all the ingredients in a bowl and set aside in the refrigerator for at least 30 minutes to allow the flavors to meld. Makes 1 1/4 cups (300 ml).
Continue reading: Recipe: Raspberry Travel Cake