Once a downtrodden part of the inner city, Fernwood has become a stylishly creative urban hub, home to designer street fairs, renovated heritage homes next to modern builds, hip boutiques, design studios, busy eateries and some of Victoria's most fascinating people. This is the story of the evolving neighbourhood — told by the neighbourhood.
As told to Julia Dilworth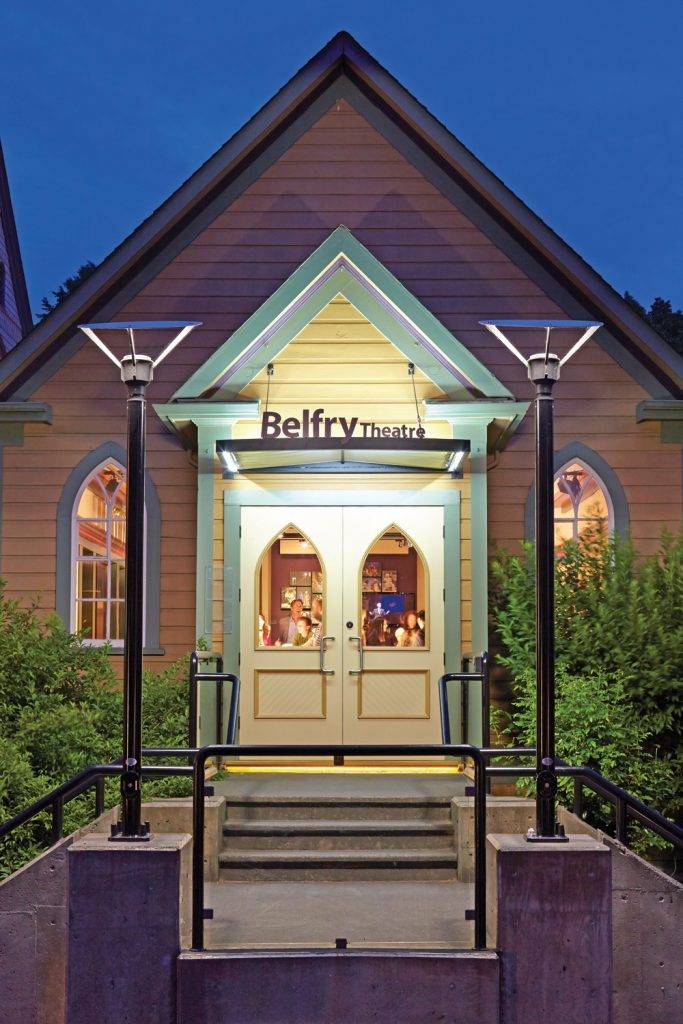 Danger, drama and a stabbing at the Belfry
MARK DUSSEAULT, director of marketing and communications,
The Belfry Theatre
"When The Belfry, then the Emmanuel Baptist Church, was first built in 1887, it was way out in the country, in what was known then as Spring Ridge … Over the years the congregation grew, and it added a sanctuary, gymnasium and a dining hall before moving out in 1970. Then the building just sat there. Some enterprising folks decided they were going to open a youth hostel, which slowly transitioned into a homeless shelter.
If you want to consider any part of Victoria a rough part, this was the rougher part. Fernwood, for a long time, was kind of the dumping grounds for the city … The Belfry Theatre started off as the Spring Ridge cultural centre in about 1974, and that was just a group of people who rented a space inside the homeless shelter.
One night while a show was on, a guy got stabbed in the Fernwood Square outside and stumbled into our tiny makeshift lobby. Our box office manager called the ambulance, but meanwhile the man was bleeding all over the carpets. Paramedics came and he was taken to the hospital and was fine, but as the audience came out at intermission, we just had to say, 'Somebody spilled red wine, watch out for the wine!'
In those early days, you weren't taking your life into your hands, but you never knew what you were going to find when you showed up at the theatre."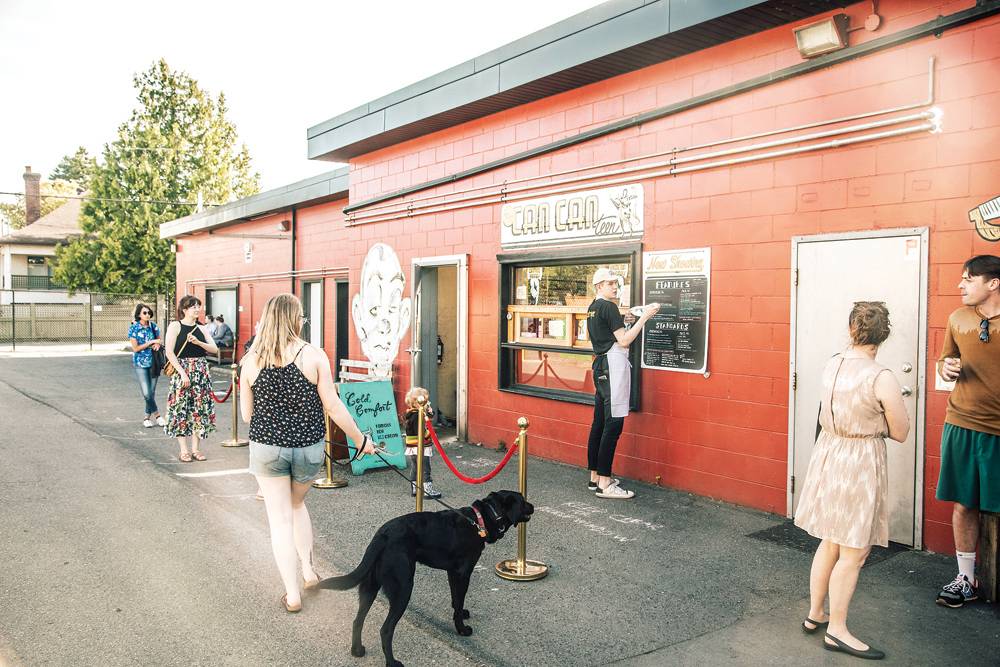 Happily surrounded by weirdos
AUTUMN MAXWELL, owner, Cold Comfort
"I wasn't seeking a storefront for my ice cream when I saw the for lease sign on this place, but Fernwood is sort of my hood.
The first place I moved to from my mom's house in Brentwood Bay at age 18 was just above where Stage is now. I paid $200 a month for a room in this shared rooming house situation. I shared a kitchen and a bathroom with these weirdo artist people down the hall, who later turned out to be my friends — they're actually responsible for these three characters I just had painted on the side of my shop.
The other sort of ghoulish face mural on the wall is by artist Hans Fear. He was very well respected in the graffiti world. He's no longer with us, but that piece of art over there, no one touches it. I'm guessing it's been there for 20 to 30 years … I'm just kind of adding to the wall in the hopes that it will develop and grow and be regarded one day as an untouchable collage of individual arts. I want my neighbourhood to be the kind of place that I want someone to fill me in on if I'm going to a new city, like, 'You have to go to this area, and you have to go to this spot and see this thing."
GLITTER poles And Terry the Bubble Man
CATE WEBB, owner, Black Cat Tattoo
"I have lived in and out of Fernwood for the last seven or eight years. Currently, I live upstairs above the [former location of my tattoo shop]. This space used to be a throughway for horse carriages to get to the stables, you can still see the brick archway is cut in half.
Before I took over, it was a methadone clinic. Almost all of the business owners in this square are women, which is awesome. The first time I ever saw Fernwood, I stumbled upon it by accident with some friends on a bike ride, and I was like, 'What is this place?' I had been living here for 12 years already and I remember thinking it just didn't look like the rest of Victoria. I didn't see it again until I started working in the Cornerstone coffee shop (now Little June) years later.
What makes Fernwood super special is the people that find themselves here are very artsy people, very community-minded people, and there are a ton of characters around — like Terry, the bubble man. Terry is Fernwood. If Fernwood had a heart, it would be Terry. He is bizarre, but wonderful and kind. Every day he gets up and he goes and gets his espresso and he stands outside, rain or shine, and he blows bubbles for people. Not just children, but for people.
The yearly pole painting is another thing you don't really see in other neighbourhoods … There's this one on Pembroke Street. It's a beautiful cream colour with glitter spread all over it — that's the best one."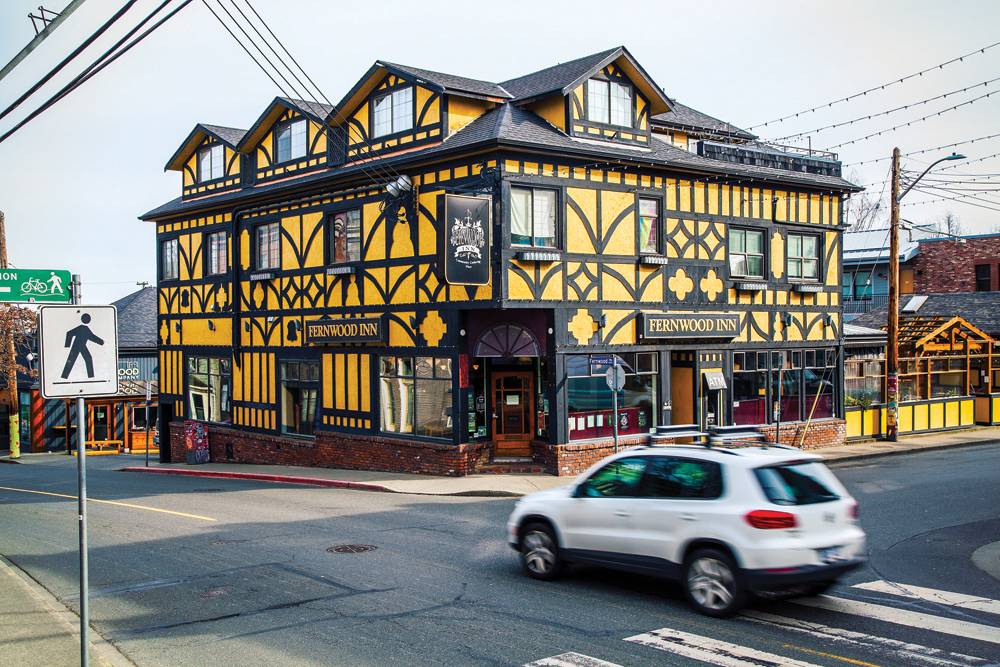 Welcome to a Gulf Island on the Island
MIKE COLWILL, general manager and landlord, the Fernwood Inn
"We bought the whole building 13 years ago, and the first thing I would do in the morning for the first year that we owned the place was walk around the property and sweep up needles. Sometimes two or three, sometimes a dozen. It was a restaurant previously, called the George & Dragon, a real dump. Our group that bought the building is made up of people who've grown up in Victoria, and we all saw the potential for the Fernwood Inn, and how we had an opportunity to turn this pub into a real cornerstone of the neighbourhood. You can bring your family in here, your sports team, grab food before a show at The Belfry, it's young people, old people, all kind of meshed together.
I think a lot of Fernwood's cache comes down to how accepting everybody is of everybody else. Fernwood has its own culture that's unique to Victoria, but it's got a kind of laissez-faire, Gulf-Island vibe."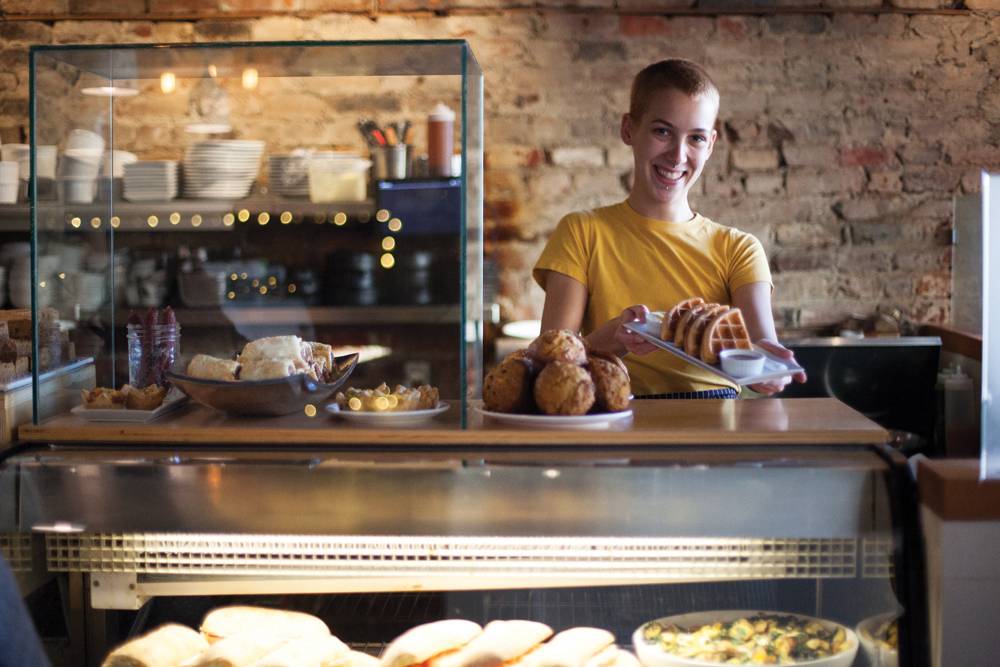 Preserving Connections to the Past
BEN CRAM, Fernwood resident and owner, Fernwood Coffee Company and Parsonage Cafe and co-owner, Little June.
"Fernwood's a lot like a village. A lot of the faces that I see day-to-day are the same people I've been seeing for the last two decades. And
it's a place where, when my kids were younger, I always felt like if they did wander out of the yard, the first person they'd encounter would probably be someone they knew. There's a neighbourly vibe where people are quick to help each other out. When it snowed in January, I went outside and my neighbour Paul was already shovelling my sidewalk.
I think Fernwood's really developed in a cool way where it hasn't just been completely torn down and rebuilt. The Thompson family sold us this building when we really needed a home for our cafe, after we lost our lease in the last building, one street over. Stan built the building in 1970, and his son Steve had worked there his entire life. He offered to sell it to us that day, and it was done over a handshake. Those kinds of connections are so important to us. The original sign for Stan Thompson's Auto Upholstery is still out front.
The building where our other cafe is, Little June, on the corner of Gladstone and Fernwood, is 114 years old. I lived on that block back when it was boarded up and the upstairs was a crackhouse. We got a tour when the Fernwood Neighbourhood Resource Group took over, and if you hired the best Hollywood set designer and told them to make the craziest slum crack house you could, they could not have done better. Every square inch of the place was covered in graffiti inside. There was no furniture to speak of, no working bathrooms — it was pretty shocking. The NRG completely turned it around."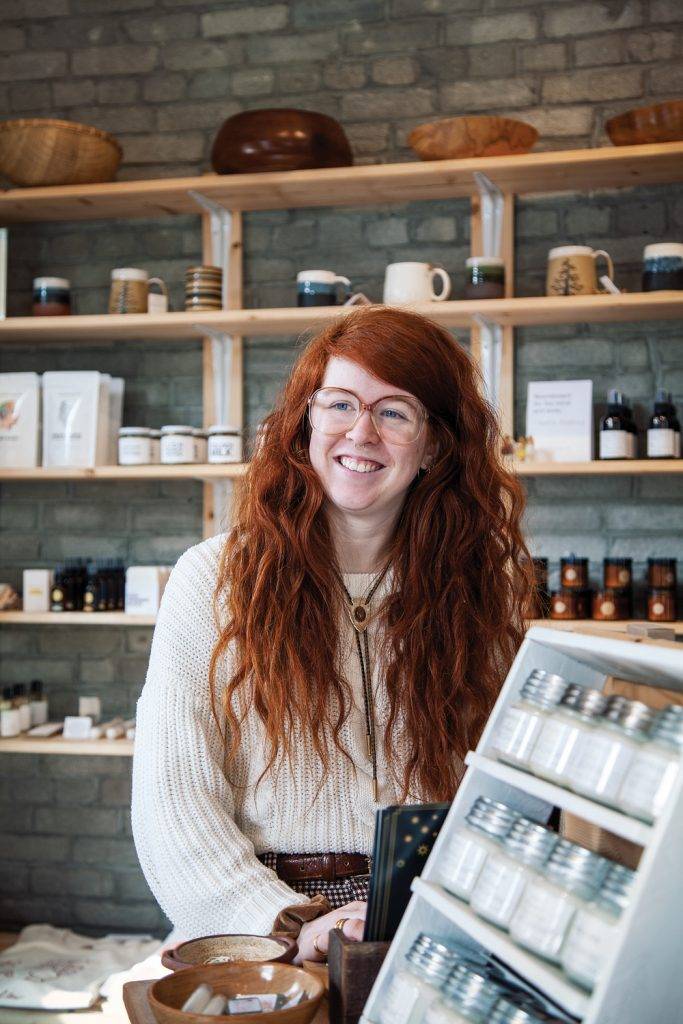 You're never in Fernwood by accident
ERYN BEATTIE, owner, Luna Collective
"I had no idea what I was doing, I didn't save up a bunch of money. I just went for it, because this space in Fernwood became available. I took possession September 1, 2017, and I opened my shop Luna Collective
10 days later. My favourite thing about my space is that it's in Fernwood. I love being here. I love this community — the feeling of being in a neighbourhood. There's a small part of me that feels I could use a bigger space, but I don't want to leave Fernwood.
Since opening, I've hosted a few workshops at the community centre, with Vic High students, teaching them about sustainability and upcycling clothing. There are a lot of younger people here who are really passionate about their community, and that has a big impact.
Getting here, in terms of location, you're not necessarily passing through Fernwood, so I feel like a lot of people who are in Fernwood are here because they want to be. I think people go out of their way for things that they love."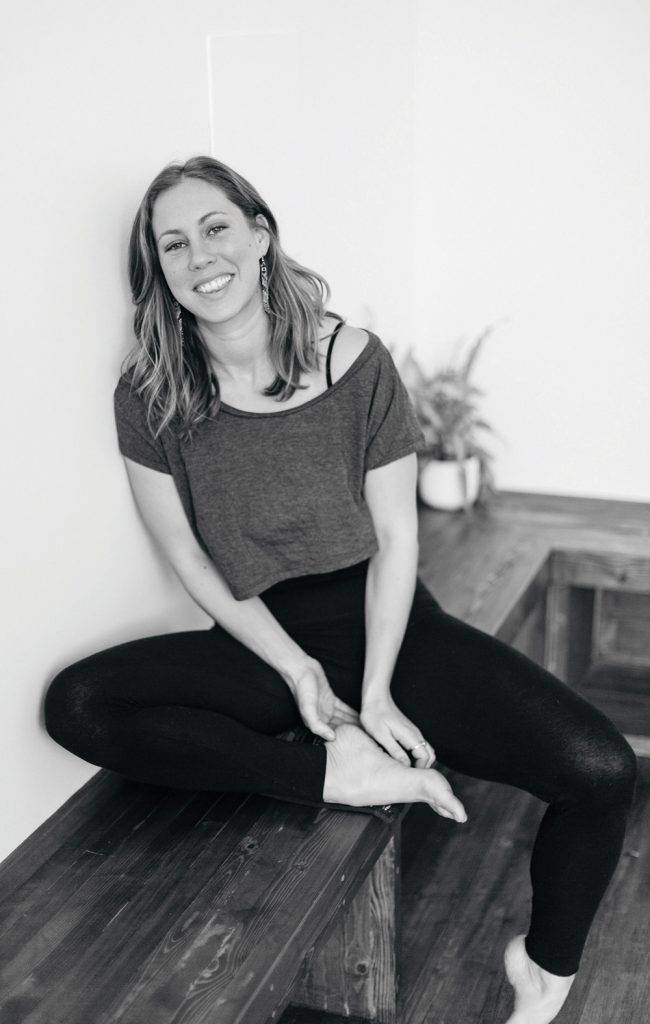 A neighbourhood built for humans
EMILY DESLAURIER, yoga teacher and Fernwood resident
"My first apartment here was a house with a group of girls on Denman Street; we called it the Denman Disco Den. I moved into my own studio space above the Fernwood Inn two years ago this May, and I love it.
I feel like I'm on vacation in an Airbnb. I just walk down and get my coffee at Little June, like I'm in Europe and you get to look out onto this quaint little square. Here you have everything you need access to right in your vicinity. A good-vibes coffee spot to hang out; tacos, which you have at Mesa Familiar, wine and fancy cocktails, if you want a nice spot for fine- dining-ish at Stage; the pub if you want to get a beer — and it's all really walkable.
There's so much foot traffic, and it's a place where people can stop and acknowledge each other. I feel like modern cities, since we invented cars, are so divided. It's hard to actually have face-to-face connections. Back in the day, people built things around the church, around the community, around hanging out in these public places, and so here it just feels right. It feels human.
I'm shifting out of yoga, but inspired by the connectedness of Fernwood, I'm looking at other ways to bring wellness to the community."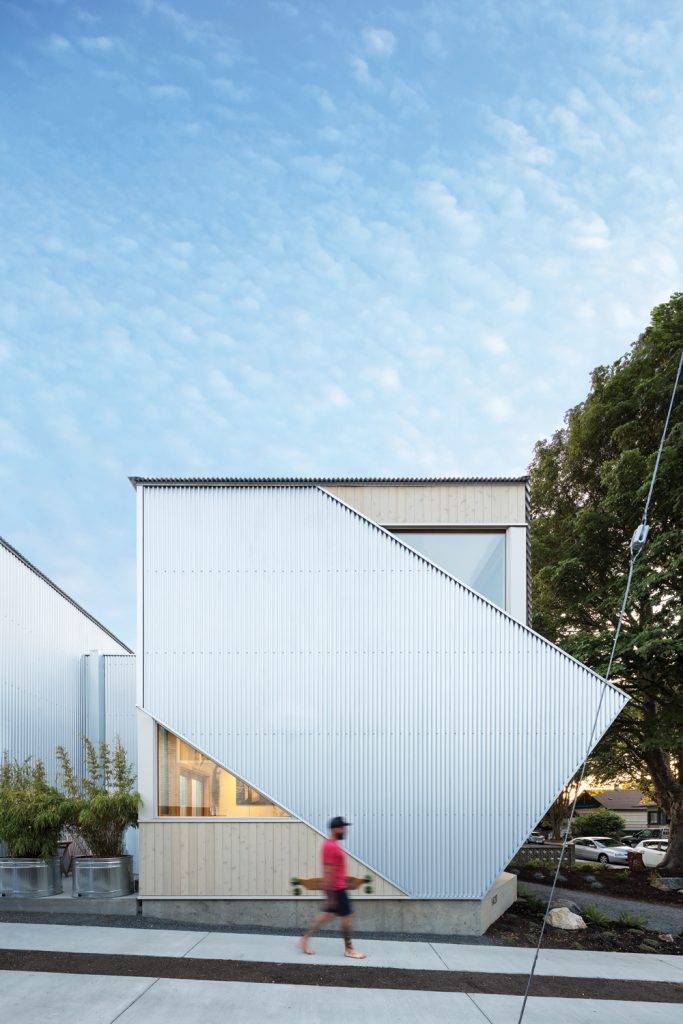 Multi-generational living in a spaceship house
ANNE HEINL, Fernwood resident
"My son and daughter-in-law bought a pre-1912 house on Walnut Street 13 years ago in Fernwood after years of living and renting in the neighbourhood — they loved that community feel. Prices were more affordable than other areas in Victoria too.
When I retired from my job at UVic, my next job was looking after the grandkids, so I was coming down from Sidney in the morning, getting them off to school, picking them up and staying at their house. They had outgrown the small house and were going to renovate, but it was falling apart and couldn't be fixed. My grandson said, 'Well, we can move, but we can't move more than six blocks from where the house is now.'
He was 12 at the time. So we thought, 'OK, how can we solve this thing?' They needed a bigger house. I was driving in every day and getting older, so we came up with the idea to tear the old house down and build a three-generation house, with a separate suite for my husband and I.
The best thing about my house is the multi-generational living together and how my grandchildren can come over anytime they want ice cream. I also love the natural light: how the windows are placed, it catches light from every angle. We had a tight budget, and Ryan Goodman and Matt Jardine at Aryze Developments were amazing. They're not just builders who are building to make something beautiful or big, they're looking at ways to build houses that are more energy efficient, and thinking of the neighbourhood, the impact.
One little girl down the street found out where I lived and said, 'Oh, you live in the spaceship house.'
Our home caused a lot of stir in the neighbourhood when it was built. Probably some people would say it's too modern or too different, but now that it's up, we get a lot of compliments on it. Although it's different, it's blending in."
Continue reading: Start a Vegetable Garden in Victoria