By Athena McKenzie  |  Photography by Jeffrey Bosdet 
"Third time's the charm" might seem an odd expression when it comes to home building, but it perfectly describes how two long-time Salt Spring Island residents realized their dream home. Having already built two homes on the Island, the pair turned to an architect and an interior designer for help when they found the perfect wooded site overlooking Samson Narrows.
"The esthetic is West Coast Modern, which to me means that the design acknowledges the climate, our nuanced light and the site, and uses indigenous materials," says architect Michael Geary.
---
"When standing in the kitchen, dining room or living room, or indeed any of the key living spaces, one sees and feels the grass slope, the oak trees and, of course, the water and all the stunning changes of light. I wanted this house to capture all of this. I wanted the house to appear, from all angles, as though it was meant to be there."
In building the house, the homeowners and Geary wanted to preserve as much of the original beauty of the unique southwest-facing site as possible, leaving many of the rock formations, arbutus and oak trees.
To achieve this, Geary designed the home in three parts: the main house, a studio and guest wing to the west and the master bedroom and ensuite to the east.
"Dividing the building into three pavilions minimized the level changes and achieved other key goals," Geary says. "[The homeowners] wanted to see the broken-rock formation from this studio and have the master bedroom — particularly the ensuite bathtub — to be private while surrounded by arbutus and Garry oak trees."
The homeowners also wanted to bring a modern feel into their décor and found designer Trish Puckett, then consulting through Gabriel Ross, to push them out of their comfort zone.
"They had this beautiful crafted wood furniture that looked more traditional and they wanted to mix it with a more modern, edgy look and that was where the challenge was for them," Puckett says.
As the project was on Salt Spring and Puckett is based in Victoria, much of the consultation was done through email, photographs and texts, with an occasional site visit.
A major way that Puckett assisted with achieving the final look is through the lighting, particularly the striking Bocci lights seen above the dining table and over the day bed.
The end result is something Puckett calls "a comfortable, West Coast, beachy modern.
"There are a lot of soft blues and greys and lots of light. And there are many spaces that invite curling up and soaking in the views."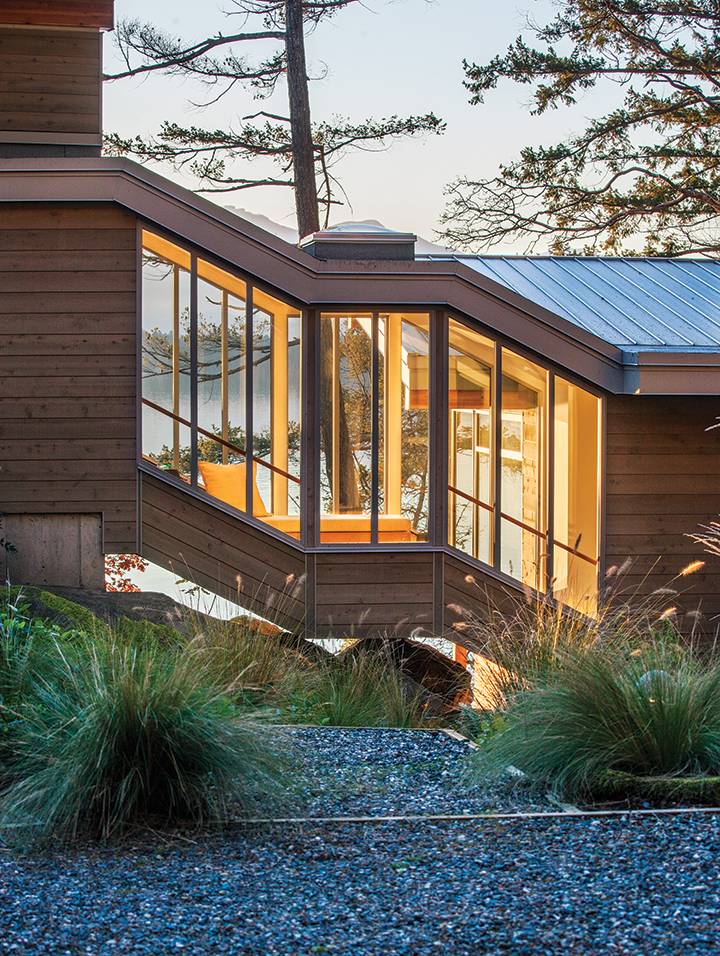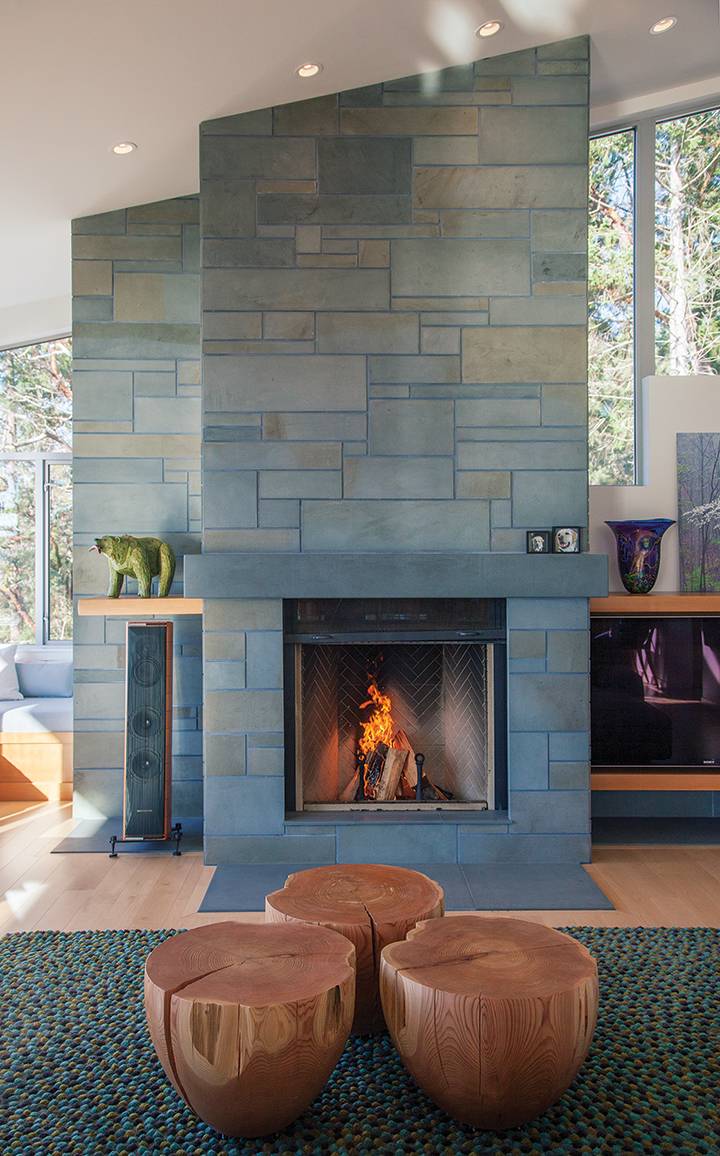 ---
RESOURCE LIST
Architect: Michael Geary of Geary Design
General Contractor: Hans Hazenboom of the Hazenboom Construction
Designer: Trish Puckett through Gabriel Ross Inc. and Puckett Design & Construction
Landscaping: Wendy Mullan Gardens
Cabinetry & Wood Furniture: Jesse Fisher Fine Woodworks
Kitchen and Bathroom Fixtures: Victoria Speciality Hardware
Granite and Marble: Margranite and Stone Age Marble & Granite
Tile: Stone Tile
Appliances: Y. Franks Appliances
Sofa: Cassina, Gabriel Ross
Area Rugs: Nanimarquina, Gabriel Ross and Inform Interiors