Mushroom lovers consider the fall one of the most delicious times of the year. Among the fruiting bodies of forest fungi, there may be none as elegant as the golden chanterelle.
By Cinda Chavich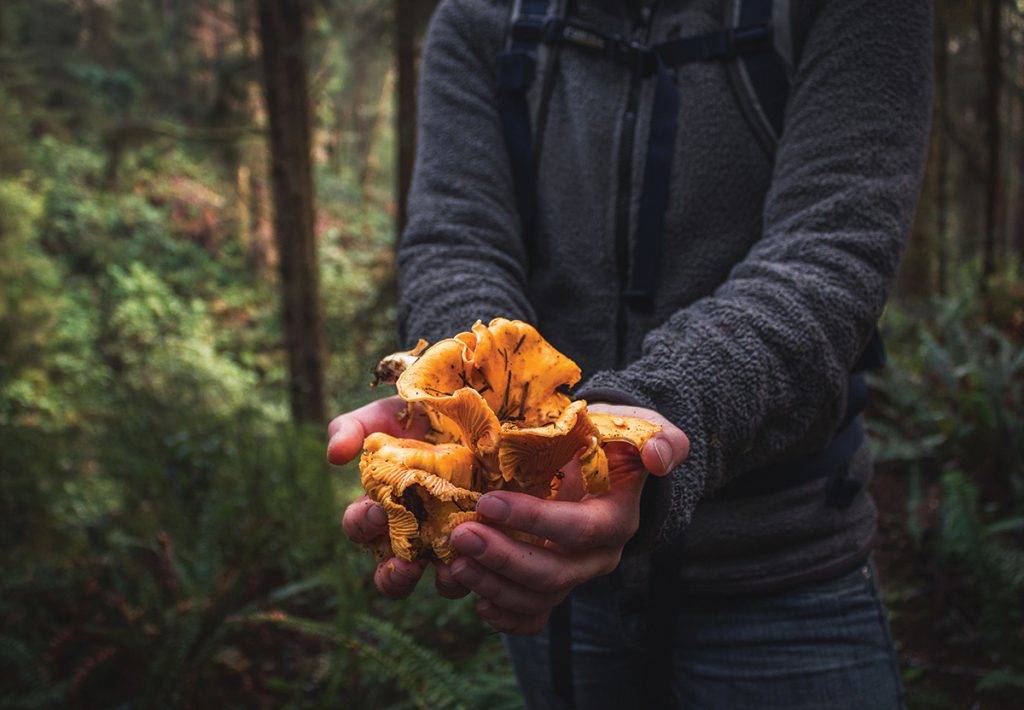 ---
A special cohabitant of the Douglas fir, the indigenous chanterelle pops up on the mossy forest floor as soon as the fall rains begin. And that means a tasty windfall for mycologists, foragers and chefs alike.
"Lance and I went out and found over 100 pounds last year in one epic, long day," says OLO chef/owner Brad Holmes, describing an outing with his favourite professional forager Lance Staples picking the abundant mushroom.
Back at Holmes' restaurant, those chanterelles turned up in a variety of dishes, married with barbecued pork belly, corn, tomatillos and poblano chilies, fried crisp to serve with chanterelle mayo, and pickled to float, with nasturtium leaves, atop a creamy corn purée.
It's the same story whenever local chefs have a chance to serve chanterelles.
At Spinnakers Gastro Brewpub, chef Ali Ryan folds chanterelles into her breakfast frittatas, and at Sunday's Child, chef Susannah Ruth Bryan does a classic French duxelles of sautéed wild mushrooms to pile on toasts, topped with eggs, or perched over rustic endive and arugula salads.
At Zambri's, chef Peter Zambri riffs on his Italian roots, waxing poetic about the local chanterelles.
"The chanterelle is unbeatable — firm, dense and not too assertive in flavour," says Zambri, who puts these indigenous mushrooms on the menu as soon as they start to emerge in the coastal forest.
"We always have polenta with sautéed chanterelles and taleggio. We have to do that every year when the chanterelles start."
That might be any time in early September, as chanterelles pop up in the warm fall days, just after the first late summer rains. Zambri says chanterelles collected during fairly dry spells are firmer and drier, best to sauté with butter and garlic, then finish with cream, while in wetter weather the mushrooms take up a lot of moisture and are better for soups.
"Chanterelle mushroom soup is the ultimate mushroom soup, and chanterelles and salmon are a match made in heaven," he says.
"If I'm making risotto, I will cook them slower, then put them in at the end. I like to bread them and deep fry them too."
Chanterelles are considered one of the most delicious mushrooms, exuding an apricot aroma when fresh, and a sweet, nutty flavour when cooked, and they always look gorgeous on the plate. Simply sauté them in butter, to serve over grilled steak or halibut, fold into an omelet or toss with pasta.
Don't want to hunt for chanterelles yourself? You'll easily find them at local grocery stores and farmers markets throughout the fall.
But the chanterelle is the perfect mushroom for new foragers; it's prolific in coastal forests, there are no deadly look-alikes and the bright yellow/orange colour makes the mushroom easy to spot on the mossy forest floor.
Zambri likens it to "an Easter egg hunt for adults."
"You'll find them up and down the coast from here to Port Renfrew," he says. "Just go for a walk in the woods."
---
This article is from the September/October 2019 issue of YAM.