By David Lennam
Photographs by Jeffrey Bosdet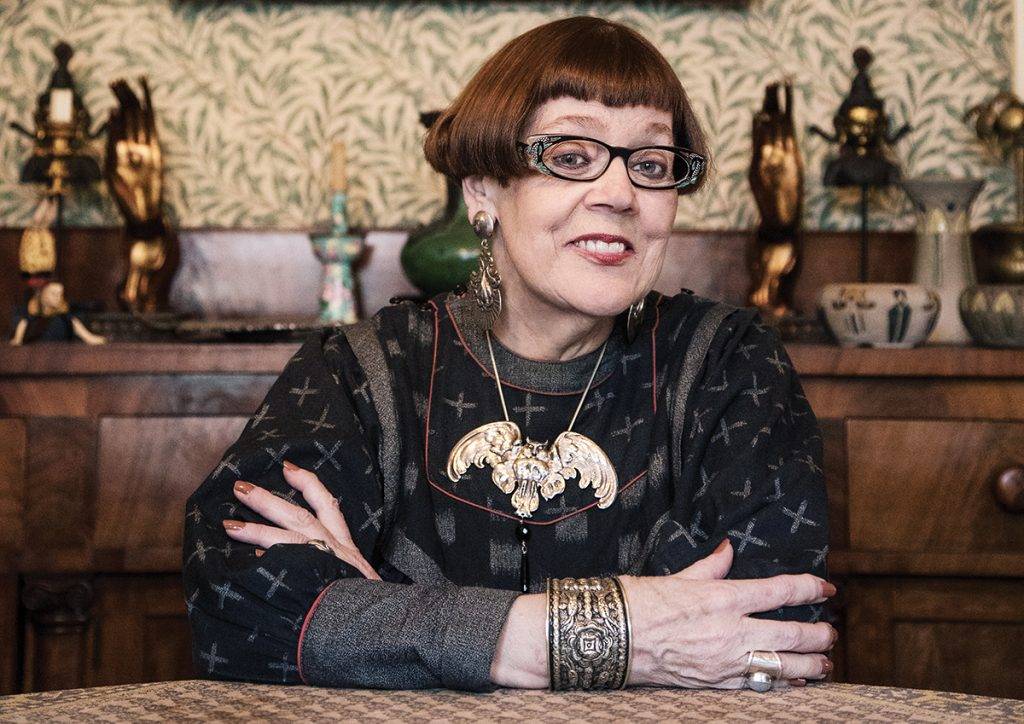 Three or four years ago, Pam Madoff had guests from Paris staying in the bed and breakfast she runs in her historic James Bay home. They'd visited Victoria 10 years earlier and let the longtime city councillor know that our city was very much a case of then and now.
As the couple were leaving and thanking her for her hospitality, Madoff recalls that they paused.
"One of them hesitated on the front steps, and she looked at me and said, 'But what have you done to your city? You're starting to look like everywhere else, and you used to be so special.'"
Madoff, fierce defender of an "authentic Victoria," has told the story many times. She says there are people who want to make you feel like an apologist for saying Victoria is special, because they think that means a city doesn't change — picket-fence and gables quaint, mired in some Kipling-meets-Churchill, don't-spare-the-good-china past.
"I say no. Cities are always changing, but they should change based on their own DNA, not another city's DNA."
Madoff illustrates how dramatically Victoria has changed. Although the rush of development was all specified in City plans, she notes that the "expectation was that we would see that built out over 20 or 25 years — and we've seen a huge chunk of it in less than seven years."
That means homogeny. Same architecture, demographics, all the same pro formas.
"I don't think we're going to look back in 30 years and say that was a great period for Victoria," warns Madoff, a stern advocate of anything-but-boring, especially now that, in a sense, she's redesigning herself.
Back to her Roots
A casualty of the Together Victoria tidal wave last November, Madoff's 25 years on council concluded with a legacy of heritage, planning and the arts. Over the years, she became a hero for protecting the city's look and feel, with an emphasis on keeping our Old Town intact.
Gene Miller refers to her as "our conscience in matters of land use, urban design and built form."
It's Not Hyperbole.
With her eclectic (by Victoria standards, anyway) wardrobe, funky glasses and that's-gotta-be-Pamela hairstyle all intact, she's moving on, disappointed, but sticking close to the portfolio that made her a six-time councillor.
She'll continue work on the City's Advisory Design and Heritage Advisory panels, and will offer passionate knowledge of land-use issues with several neighbourhoods scrambling to meet City Hall's new expectations for growth. Getting back to her community activist roots, there's genuine concern that her departure from council has left a void. Who'll take up the mantle of heritage protection and steward development?
Madoff figures how the Northern Junk proposal is handled might provide an answer.
"It's going to be a watermark in the city's history in terms of how it's considered," she says. "All we need to do is uphold our existing policies when it comes to the heritage portfolio." She catches herself. "I have to stop saying 'we.' It's been so long."
It's funny how Madoff almost becomes saddled by mention of heritage, as though she solely exists in some grainy, sepia-toned newsreel — when Sir John A. Macdonald wasn't yet a statue to be squabbled over.
"I think what people might find surprising is my interest is as deep in contemporary architecture as it is in heritage buildings." She'd quickly move from her James Bay heritage house to one designed by modernists John Di Castri or Richard Neutra.
She bemoans the lack of good contemporary architecture in town, but suggests as long as developers are leading the conversation, it's a case of you see one building approved, you get six more all designed from the elevator out to maximize the number of units.
"When I was new to council a developer said to me, 'A developer makes sheep look like free thinkers.'"
This Old House
Madoff lives in a museum — an 1893 Queen Anne cottage in James Bay designed by Alexander Maxwell Muir, the Scotsman who lost the competition to design our Parliament Buildings to Rattenbury, then feuded with him for a decade.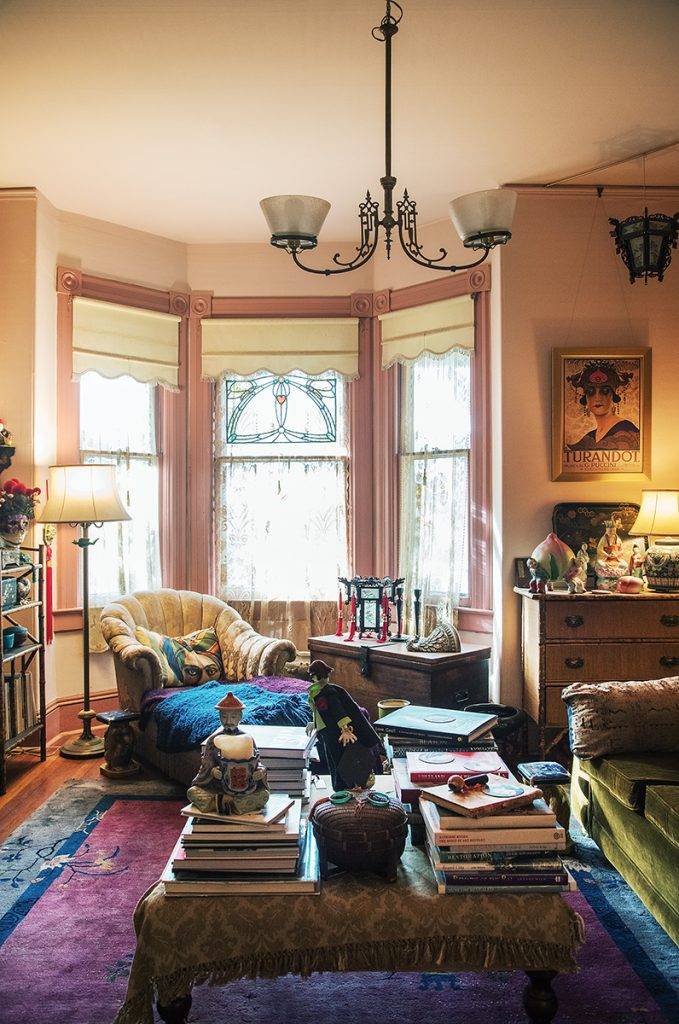 Madoff and her late husband Mark (a one-time president of the Hallmark Society who passed away suddenly in 1990 at the age of 41) rented the house in 1984, buying it two years later.
It's madly decorative and would have to have its contents catalogued to be adequately described. A large coffee table in the sitting room sums it up. It's piled high, corner to corner, with immense coffee table books on art, style, fashion and architecture. They're like their own coffee table upon the coffee table. It's Seinfeld's Kramer's dream.
The room is cluttered but curated. Not quite Victorian. More Qing Dynasty, with dozens of Chinese figurines, silk robes, vases, lanterns, bamboo and a chaise lounge she says channels Gloria Swanson more than Hunan chic — and was driven here from Portland, strapped to the roof of the Madoff's Ford Fiesta.
"I don't think of my house as decorated in a Victorian style. I don't want the tassels hanging off the mantlepiece and the lace and all of that," Madoff explains (admitting quietly that her decoration says she's both a visual person and one unafraid of dust).
And don't tell her its bohemian. She can't stand that word.
"I think maybe eclectic because I'm not looking for any particular period."
Behind her is a Miao wedding crown, a large, clangy alloy of silver, copper and nickel. "I couldn't believe when I found it in a consignment store. I said, 'Oh my god, I've always wanted one of these.' They looked at me and said, 'Really?'"
Madoff began honing that collector's eye as a teenager at the Tillicum Drive-In flea market. It's been consignment and junk stores ever since. And rooms of stuff that matter more to the imagination than the pocketbook. There's a Poul Henningsen classic Scandinavian light fixture in the kitchen and Kaare Klint safari chairs.
She sits in a chair that belonged to the mother of her longtime partner, the architect and artist Nick Bawlf who passed away five years ago. Some of his West Coast First Nations-style masks hang in the hall.
She laments local architecture that's dull and similar outside and in. "I'm interested in dwellings that are an extension of the people who live in them. It's telling the story of the people who live there, and I don't think we see that much."
Madoff's sitting room alone would be a thick novel. Or a set of encyclopedias.
Designing MS. Madoff
Madoff's personal style is a bit like her house: fun and playful, but artfully assembled. "If you dress yourself in a way that you dress a room, you're looking at things through the same eyes, and that's what's going to attract you."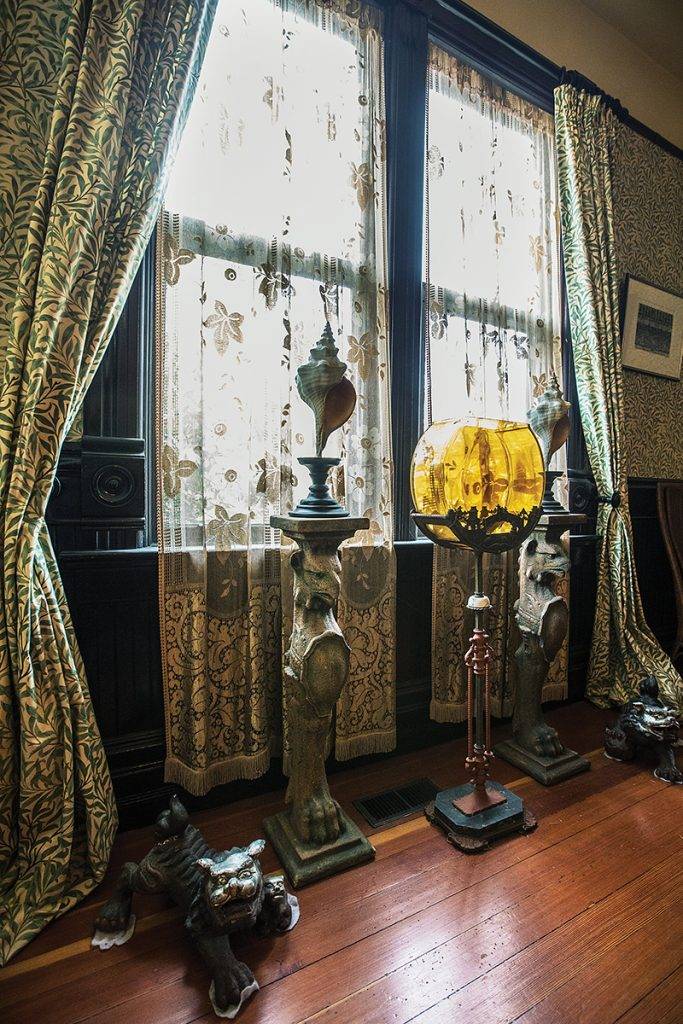 An early influence was P.K. Page. Madoff favours the big silver bracelet and silver pin that the poet and writer was never without.
Another was Diana Vreeland. There's an old interview with Madoff where she counts the legendary editor of Vogue as her top fantasy dinner guest.
"For me, as a slightly pre-teen and teen, the greatest influence on me at that point was Vogue. You look back at those issues now and you really understand the subliminal seduction that goes on. I'm actually quite shocked sometimes to see how literal my response might have been to some of the things in the magazine."
Madoff describes herself as a bit of a raven — she likes to pick things up from others and incorporate them, like the friend who had a dress made out of an Indian bedspread. Madoff was soon making dresses out of those bedspreads. She used to make all her own clothes, but is saddened by the lack of fabric shops in town.
"I started sewing in Grade 8 and never stopped. In junior high I used to go downtown on a Saturday and buy a pattern and fabric and spend all day Sunday making whatever it was and then wear it to school the next week."
I suggest she's a moderate trailblazer in Victoria. "Moderate?" she laughs, with mock surprise, then admits that all those early days squirrelled away with a copy of Vogue had her thinking she looked like the 60s model Veruschka.
"I still have to convince myself that I'm not 6'4″ with cheekbones for days." Her style, inventive and never boring, is certainly her own. "I can't look at somebody else and say, I can do that. I need to look at me and say, I can do that."
Oh, and the ubiquitous earrings. "If I go out without them I come home and get them because I can't think without them."
The conversation — and Madoff really likes great conversation — always seems to return to Victoria's urban design.
"There's no value in becoming what looks like a movie set where you just have to glue on a remnant of the facade onto a new building and you're done," she says in frustration.
Madoff might find solace in the words of Rudyard Kipling, who once applauded Victoria: "Amongst all the beautiful places in the world, and I think I have seen the most beautiful of them, Victoria ranks the highest," the author of The Jungle Book wrote.
"I think we are denying its inherent beauty and not responding architecturally to that," says Madoff. "Kipling talked about it as a perfect Eden. We've got this incredible bowl of oceans and mountains, and we're doing our best to obliterate that in terms of views and view corridors. It seems with urban planning for the most part it doesn't go beyond the lot line, and that does a real disservice."
---
This article is from the March/April 2019 issue of YAM.