By Shannon Moneo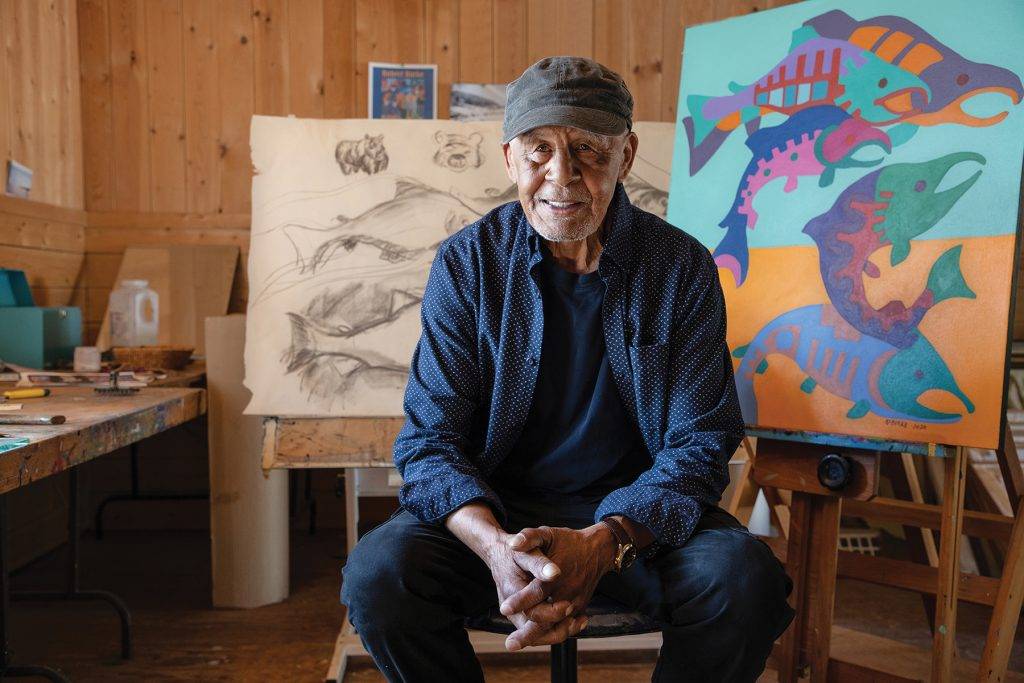 Robert Burke, 77, did not start his art career until he was 53, as a student at the Victoria College of Art. Before that he was a heavy-duty mechanic and a logging contractor, a father and a seeker. His vivid and daring art has been heavily influenced by his early years. Burke's mother was Métis and his father was a Black American who, as part of the U.S. Army Corps of Engineers, arrived in the Northwest Territories to build road and pipeline infrastructure in the mid-1940s. Burke did not know his father and at the age of four, Burke's mother sent him to a residential school.
"The Indians hated me; the Negros hated me," Burke explains. "I didn't understand who I was. I was crushed so much in my life. I had a lot of anger. I was a hellraiser, but I had the power to educate myself. I had to fight for what I got. By the time I got married, I learned to be reasonable. I am a decent person. I'm a pretty powerful person. I know who I am."
As the residential school experience continues to shape the news and the Canadian consciousness, Burke speaks with unflinching emotions about his early years.
"My mother had 11 kids. She abandoned me. No one looked after me," he recalls. "The nuns were vicious. They tried to depersonalize us. You were considered a savage, considered a well-trained dog. I used to work, wasn't fed."
Burke became a heavy-duty mechanic and a logging contractor, focused on the cedar-salvaging business.
"I lived an exciting life," he says, "but I didn't walk away with the wealth. When I was a boss, I should've been just a boss, but I wanted to be the guy who took that big tree out."
Burke had always been fascinated by art and enjoyed being a casual artist. When he left the hard grind of the cedar business, he decided to take up a less dangerous career and become an artist with something of a mission.
"I decided to explore Indian life," he says. "I got an $80,000 Canada Council grant. When I started painting, I did lots of research."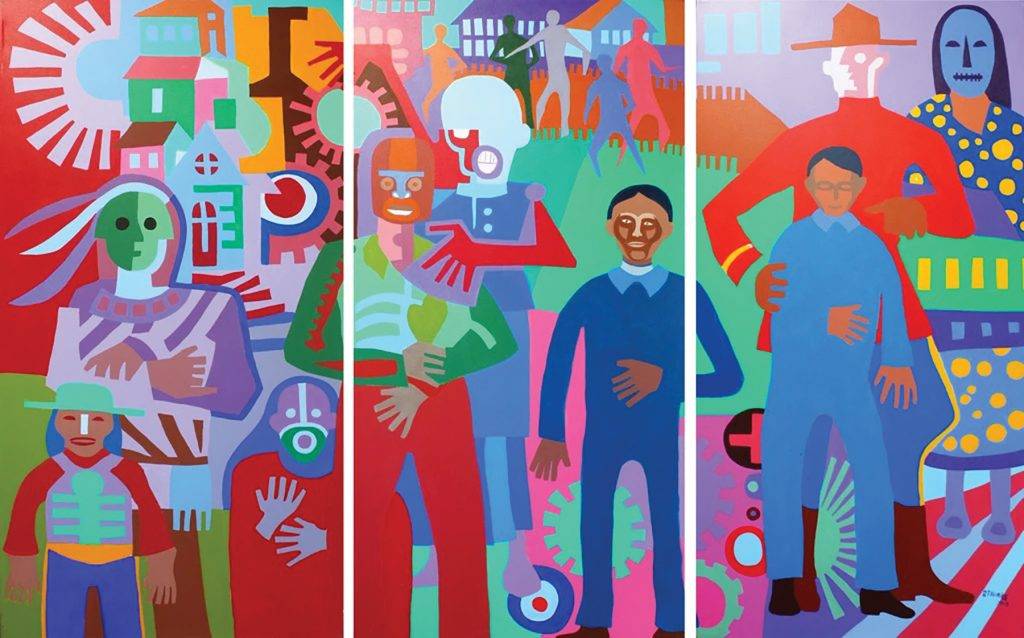 His rich art is both a visual exorcism and an honouring of his bloodlines. Burke has painted at a studio, at a farm outside of Duncan, but lately he has been creating downstairs at his Lake Cowichan home, where he lives with wife, Debora.
"I paint during the day," he says. "I'll go upstairs, do gardening, go back to painting. I go for walks, kayak."
He and Debora have three children (Kevin, Sheila and Ryan) and four grandchildren who all live close by. A fourth child, Shawn, died in 2020.
Each side of his heritage has recognized his work. In 2018, Burke's art was featured in Big Dreamers: The Canadian Black History Activity Book for Kids. And in 2016, Burke had one of his first exhibits. It was in Yellowknife, NWT: "My Residential School Experience."
In October, Oak Bay's Winchester Galleries will display Burke's creations at Art Toronto.
"His story was very touching," says Anahita Ranjbar, an art curator at Winchester Galleries, who initially documented Burke's work over two years ago. "He was a solo artist who developed all his symbols by himself. He creates a narrative based on his own life stories and discusses social issues and personal challenges as Black and Indigenous. His art is about how he couldn't fit into any Indigenous community. He's always been a solo soul. He's a renegade artist."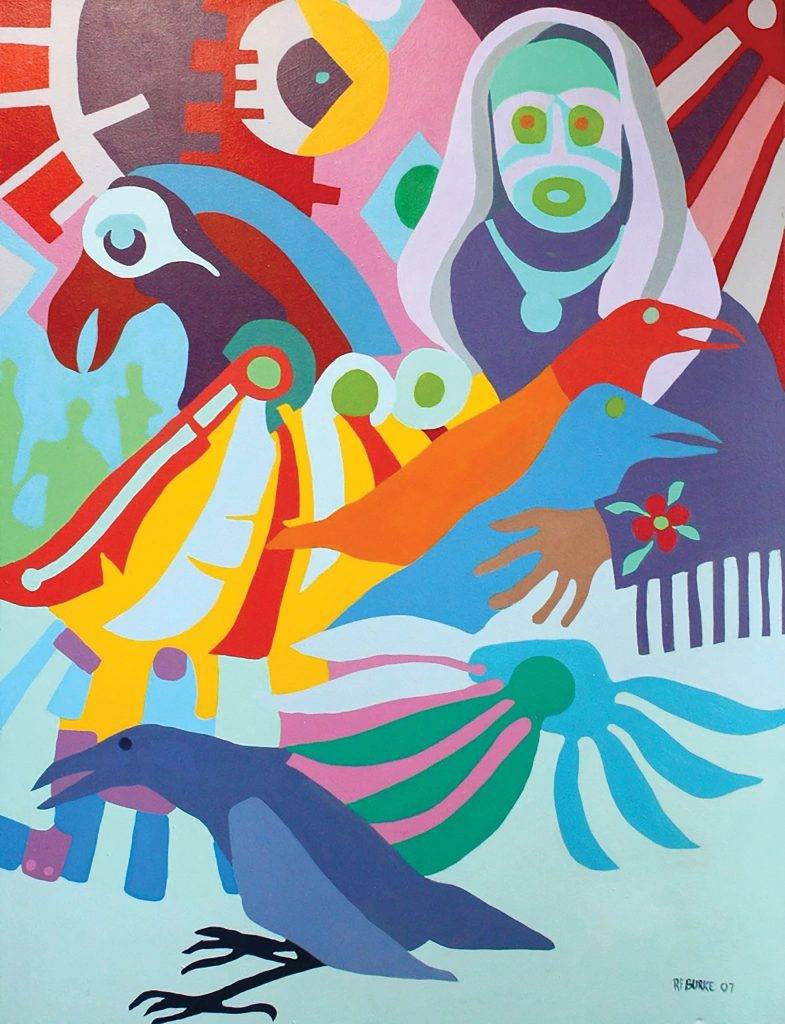 Ranjbar notes that while Burke has the skills and training to do landscape and portrait art, he decided to create two-dimensional pieces that may seem to lack perspective, yet possess many symbols.
"It's what he calls primitive art," she says. "He was never trained by his ancestors. He has learned how to improvise in his own style."
Ranjbar is keen to have the West Coast art community view Burke's works, not only for the quality but for the timely messages portrayed.
"It's been fascinating to see Robert's process and how he's trying to find reconciliation in his art," Ranjbar says. "His story is worth telling."
Burke wasn't certain what would be in the show. He planned on working on three triptychs, some featuring nuns but other images from his memory may evolve.
"I was going to do a painting of bones six or seven years ago. I started it last year," he says. "My show will have some emphasis on residential schools … social issues. I'm a shamanist when I tell the story."
But he's beginning to wonder which path he should follow.
"I'm the outsider. I'm beginning to feel, with the residential school story, that it's the Indians' story. The group's attitude is more important than mine," Burke says. "I'm talking to the whites. White people see the potential in my work."