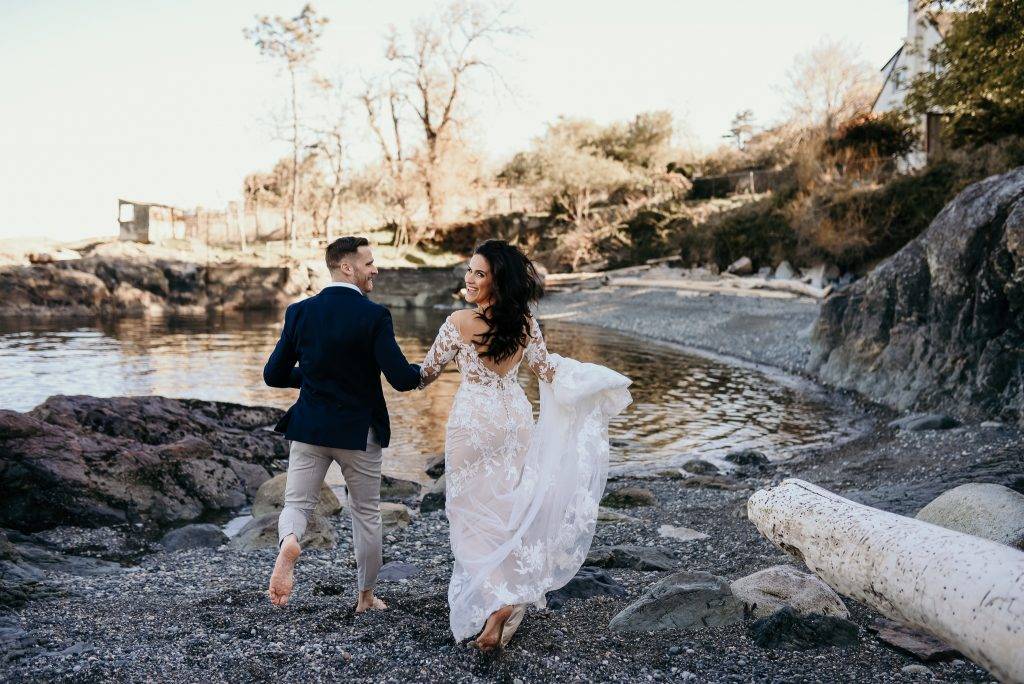 Photos by Julia Loglisci
When the pandemic disrupted the world last year, large gatherings were put on hold for an indefinite period; many couples had to postpone their dream wedding, transition to a small ceremony and plan a party for down the road, or forego their original plans altogether.
The wedding industry has taken an immense hit; wedding vendors have been forced to adjust their businesses to better suit the current times.
Local photographer Julia Loglisci – who is accustomed to working ten hour days when shooting a wedding – and her business partner, pivoted their business towards offering elopement weddings (weddings for under ten people). Their business is called Pop Up Wedding Victoria, and offers all inclusive elopement style weddings, which respect all current COVID safety rules.
"We book a popular wedding venue, and open up five, back to back, one hour time slots. Couples get to have a beautiful, carefully curated, all inclusive wedding, for a fraction of the cost, simply because they are sharing the cost with five other couples on that same day. It's a win-win business model. Couples still get to be married, and vendors still get to work a full day, " says Julia.
Their weddings include the basics: venue, photography, officiant, marriage license, flowers, cake, champagne, music, chairs, tables, decorations, and day of coordination. It's a smart and safe way to operate weddings, and these days, it's the only way.
"I think there truly is a beauty about eloping. Just you, your partner, an outdoor, West Coast venue and the chance to celebrate your love the way it was intended, selfishly. It's a form of beauty that tends to get lost in translation."
Large weddings require a lot of money, stress, responsibility, and it's currently a lost art, but not forever.
"Big weddings will definitely return at some point, but for now, if you're smart, you've pivoted your business to fit within the current rules, and for some of us, business is booming!"
The pandemic has been a blessing in disguise for many couples. "They LOVE the fact that they can just elope, and not have to worry about organizing a wedding of 250 people."
Before COVID-19, the average Canadian would spend roughly $35,000 on their wedding day, but right now, the average cost for an elopement wedding is around $6,000.
"Instead of spending all of that money on their wedding, they can now put it towards a down payment on a home, or support themselves and their families in other ways."
Since both Julia and the Oak Bay Beach Hotel offer elopement packages, Julia connected with the marketing team at the hotel and began a collaboration on an elopement wedding themed photoshoot.
Elopement Photoshoot
Anneke Feurmann, Marketing Manager at the Oak Bay Beach Hotel, had an idea to collaborate on an elopement wedding themed photoshoot. She reached out to Julia to organize the shoot, location (Faro Lane – a pop-up indoor patio at the Oak Bay Beach Hotel) and secure the other wedding vendors. It took about a month to plan and the shoot eventually took place on in mid-April of 2021.
Working with local companies Platinum Floral Designs and Designer Weddings, FARO Lane's décor has been curated with dried hop bines from micro hop grower Cobble Hill Hops, Edison lights, an abundance of indoor plants and a feature hedge surrounded by locally sourced pampas grass, faux tropical plants and dried florals.
"We collaborated with talented local vendors such as Platinum Floral Designs and Designer Weddings to create our beautiful FARO Lane, and wanted to highlight our new space with an aspirational photoshoot with Julia. This shoot allowed us to showcase even more collaboration in a creative way, partnering with Violette Boutique, Outlooks For Men, Blush Bridal, etc. Weddings take place at the hotel in our oceanfront venues, so it was wonderful to feature different areas of the hotel, such as our beach access and FARO Lane, that couples can enjoy during their celebrations," says Anneke.
With the closure of indoor dining, Anneke and Julia were able to put together an effortlessly elegant shoot at the hotel.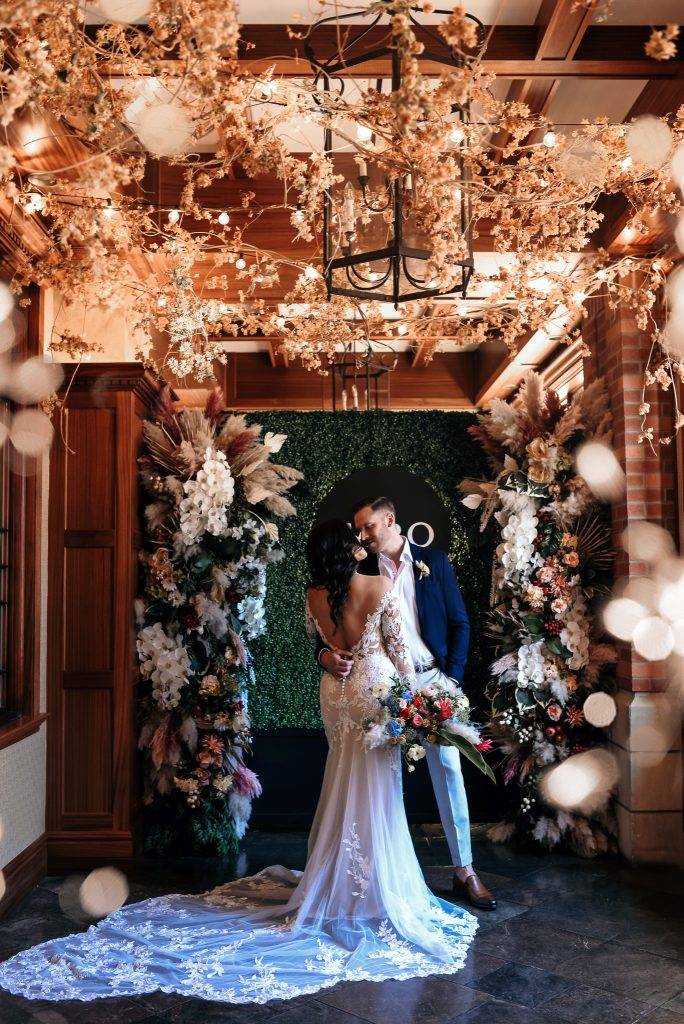 The shoot was a perfect opportunity to capture the magic of Julia's photography, a picturesque, stunning location and the elegant elopement packages offered by the OBBH.
The Hotel's elopement package includes the services of wedding coordinators to plan and oversee your ceremony, two nights in an ocean view guest room, couples massage at the Boathouse Spa, use of the Seaside Gardens and Beachfront for your intimate ceremony with up to eight guests, a five-course dinner for two put together by their Executive Chef to be enjoyed in the Dining Room, wedding florals by Platinum Floral Designs – bridal bouquet and boutonniere, among several other white glove services.
"I strongly believe in the saying, 'Love Isn't Cancelled.' Just because you can't have your big "dream" wedding, does not mean you can't still marry the love of your life. I'm so fortunate to be able to photograph love stories throughout this pandemic, because at the end of the day, LOVE is our bread and butter. It's what keeps us sane, keeps us safe, it's what drives us to succeed and what keeps our sanity clear during these foggy times," says Julia.