Tacos in Victoria… with an ice cold beverage and friends to share the meal. Sounds like the perfect summer day. Summer is all about easy living, outdoor dining and casual style — and there's no food more deliciously suited for the season than tacos.
By Cinda Chavich // YAM Magazine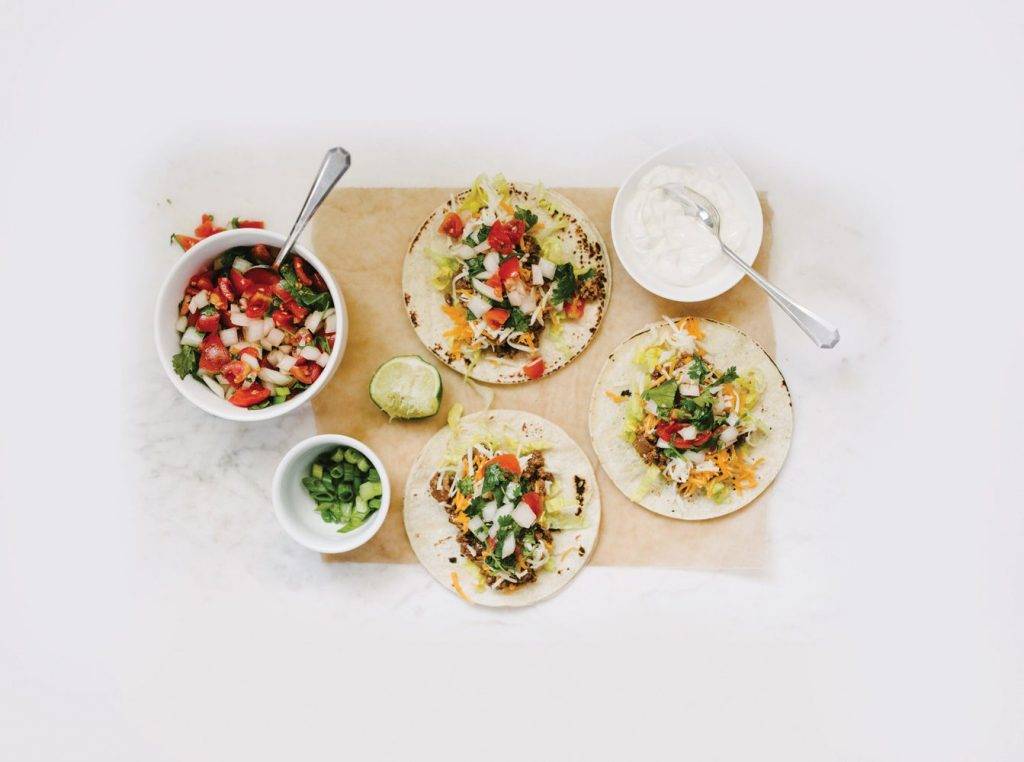 There's something about tacos that evokes memories of sunny summer days. Maybe it's that first crispy fish taco you tried under a shady palapa in a Mexican seaside town. Or our own Island-inspired versions, cooked up near the wild beaches of Tofino or served from a funky shipping container on a Victoria pier.
Tacos in Victoria are a common takeout meal. Tacos are part of our coastal culinary landscape, and a taco feast is easy to enjoy at home too.
A bit of grilled food, spicy salsa and crunchy vegetables wrapped in a corn or flour tortilla makes for a fun, portable and endlessly adaptable meal. It's something to enjoy with a beer on the patio — whether you're starting with seared steak and grilled peppers for a fajita feast, or simply folding a corn tortilla around leftover grilled chicken or pulled pork.
A taco menu is easy on the cook too — just fire up the barbecue and grill your preferred protein, then provide tortillas, salsas and other toppings so diners can design their own dinner.
For home-style fish tacos, dip some ling cod or halibut strips in milk and then dredge in seasoned flour, fry until crisp, and roll it up with spicy salsa and a shredded cabbage slaw. Or rub a pork shoulder with chilies, then smoke it to tender perfection (with tomatoes and onions) for an Al Pastor taco feast.
Grilled steak, chicken and vegetables are always options, or cook up a pot
of beans to top your vegetarian tacos. Just provide your guests with a stack of warm corn or flour tortillas and a variety of spicy salsas, creamy guacamole, crunchy cabbage slaw, shredded cheese and sour cream — and let the wrapping and rolling begin.
Let's Talk Tortillas
Tex-Mex-style tacos and flour tortillas are ubiquitous in North American restaurants, but flour is not commonly used to make tortillas in Mexico.
Flour tortillas trace their roots to Mexican border towns and communities with large Hispanic populations in the American South. And though not traditional, a good flour tortilla makes a convenient wrap for your favourite fillings. Flour tortillas are also great for grilled quesadillas. For a high-fibre, whole grain wrap, try the Low Carb Whole Wheat Tortillas from La Tortilla Factory, made in California, and available at The Root Cellar.
Corn tortillas are more delicate, better for small tacos and tostadas and add real Mexican flavour. Adriana's The Whole Enchilada makes fresh corn tortillas in Saanichton and you'll find them at several local grocers. Or look for Abuelo's corn tortillas, made in the Comox Valley, in the freezer section of some grocery stores.
Many supermarkets also sell imported corn and wheat flour tortillas, or buy a bag of masa harina (corn flour) and try making your own from scratch.
But there's a difference between a corn tortilla made with corn flour and the traditional Nixtamal tortilla, a more complex process that starts with whole heirloom corn.
Nixtamal Tacos in Victoria
Chef Israel Alvarez has made it his mission to introduce Canadian diners to the true, traditional Mexican tortilla, created by cooking, soaking and grinding a masa (dough) from whole kernel dried corn, then forming and grilling each toothsome tortilla to order.
A recent transplant from Mexico City, Alvarez started his Canadian cooking journey in Edmonton, then brought his hand-made Nixtamal tortillas to Victoria diners, where they became legendary to regulars at Victoria's Breakwater Grill and Tasting Room.
Post pandemic, Alvarez will continue his authentic Mexican taco explorations with direct sales of his Nixtamal tortillas, and a series of pop-up dinners this summer and fall at local restaurants ranging from Nowhere, Saveur, Wild Mountain and Harvest Road, to Pluvio in Ucluelet.
Though most diners, even in Mexico, now eat corn tortillas made with masa harina flour, Alvarez says this type of tortilla is a result of industrial farming and food processing, and bears little resemblance to a traditional tortilla made with non-GMO, landrace varieties of whole corn.
Like the artisan breads from bakers who mill whole grains for their loaves, grinding whole, heirloom corn is the healthy way to make Mexico's traditional daily bread, he says.
The nixtamalization process — cooking and soaking the whole corn in an alkaline (lime) solution before grinding it — also improves the flavour and nutritional value, a process developed by ancient Mayan and Aztec civilizations.
The flavour and texture of Alvarez's Nixtamal tortilla is remarkable — a rustic flat disk that puffs on the hot griddle. It's toothsome yet pliable enough to hold the kind of robust fillings featuring local ingredients that he likes to offer alongside — from bison short rib, braised with pasilla, ancho and morito chilies to tender duck confit carnitas flavoured with chilies and orange, or wild, foraged mushrooms and Island feta cheese. His own salsas add another dimension, whether it's a creamy salsa verde or a smoky, charred tomato salsa, created from scratch.
The Secret Sauce
Eating tacos in Victoria has become quite the trend. And a good fresh salsa will elevate your meal — the traditional pico de gallo of finely chopped tomatoes, white onion and jalapeños is a good place to start. Or make a green tomatillo or chimichurri sauce with plenty of garlic, cilantro and Italian parsley to brighten a fajita or wrap.
The Root Cellar's creamy Green Sauce or the Peruvian Green Sauce made in-house at Pepper's grocery, both loaded with cilantro and green chilies, make great additions too.
Then gather your friends, shake up the margaritas and soak up that summer sunshine!
Continue reading: 25 Best Eats in Victoria