By Danielle Pope
Hosting a summer party to remember begins with setting the stage for celebration, from lighting and furniture to sound systems and all the extras. These expert tips will make your party the event of the season.
---
There's something magical about an outdoor summer party on southern Vancouver Island. Imagine a light ocean breeze drifting across the patio and, as the sun sets, guests laughing over signature cocktails while a fire adds ambiance. Friends chatter on comfortable sofas, their silhouettes outlined by the romantic glow of bistro lights. The intoxicating scent of barbecue and fresh pie fills the air.
---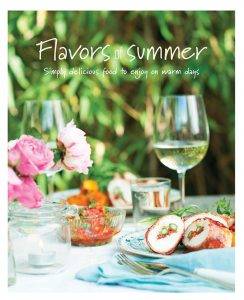 For seasonal creativity, look to Flavors of Summer from publisher Ryland Peters & Small. It brings together ideas from around the world to celebrate the distinctive joy of summer entertaining. From recipes like the baked chicken stuffed with asparagus, goats' cheese and sun-dried tomatoes shown below to tempting appetizers and cocktails, it makes a useful companion when planning a party — and is filled with inspiring décor visuals.
---
It's the time of year when almost any gathering worth having is held outside. Whether you're planning a casual barbecue, a themed celebration or an elegant dinner party, throwing the perfect outdoor party is all about setting the mood.
---
Find Your Flow
Before you start picking out candles and choosing your outdoor colour schemes, assessing your space is the single-most important step in preparing your outdoor party, says interior designer and event stylist Marika Beise.
Beise, owner and creative director of Rock Paper Square, says playing off the cues of the environment around you will not only enhance the creative direction of your party, it will help you design your theme.
"Start by looking for any defining areas of interest; maybe a pergola you can outfit with flowers, or a water feature you will accent with lights," says Beise. "You want to use this flow to naturally draw people into the spaces you want them to end up."
Of course, you will likely want a different motif depending on whether you are planning a girlfriends' luncheon, a family barbecue or an after-hours cocktail event. The design philosophy, however, remains the same: focus on the guest experience.
Where possible, Beise suggests creating "conversation pockets" where guests will naturally cluster. This might look like a collection of chairs, a bench with blankets, or a few standing tables with alluring candles.
The next step is to spot your goal posts. Knowing what you want your party to achieve is essential in crafting your design and décor, says Heidi Barlow-Lee, event producer and owner of HBL Events. These goals should account for the five senses — what do you want your guest to see, smell, taste, touch and hear? Once you sense your way through your event, you're ready to begin.
Inside Influences
Creating the ideal atmosphere relies heavily on how well you can combine comfort with creativity. Guests want to feel at ease in the space, says Beise, but they want to be wooed with a sense of wonderment, too.
Bringing the indoors out is one of the best ways to achieve both.
Outdoor living rooms, kitchens and patio spaces hold a naturally pleasing juxtaposition, but the more you design your outdoor party space as you would your indoor space, the more your guests will have the opportunity to enjoy this thrill.
This doesn't mean you have to sacrifice the china. Options abound for classy or playful outdoor dinnerware in a quality material with patterns anyone would be proud to display. Kate Spade's new "Raise a Glass" line of dinnerware, specific to outdoor events, is fabulous. Or go for authentic Italian Majolica dinnerware from The Tuscan Kitchen. Williams-Sonoma's Veracruz collection combines shatterproof melamine-bamboo fibre plates with a classic, old-country design. Giving guests eco-friendly and compostable options is another popular take on the old plastic plates.
Shalene Clermont believes stand-out style comes from simply complementing your usual indoor dinnerware with themed placemats or accessories. Clermont, co-owner and buyer for Penna & Co Kitchen and Giftware, is an advocate of pop-out colour, especially for outdoor events. She says even neutral-lovers can play this up.
"It could be as simple as adding brightly coloured napkins or napkin rings, or a set of coasters," says Clermont. "Accent pieces will go a long way in setting your scene."
Outdoor style can also be achieved by overlaying area rugs. "The outdoor rug is where I encourage people to have a little fun," says Beise. "You want to involve pattern here because it cuts down on debris visibility, and it can tie the area together."
Be sure the rug is big enough to encompass all furniture pieces, however. Beise says nothing is worse than accidentally disconnecting your space by creating "outlier" chairs or items that won't fit within the rug's parameters.
---
Bring on the Cozy
The right outdoor furnishings help set the stage for success. Whether you need a precise number of upright chairs for a formal dinner, or a loose mix of casual lounges, benches or stools for an informal affair, the key is to ensure all options are comfy enough that guests will want to linger — not be forced to spend the evening in a quiet battle of musical chair avoidance.
Curved sectionals have become increasingly popular, compared to their squared counterparts, says Jerod MacDonald, outdoor lifestyle sales associate at Capital Iron. These long-lasting, polypropylene wicker-style pieces are built for comfort and are easy to accessorize.
"We're seeing a lot of grey-on-grey right now, with toned cushions complementing mottled grey wicker," MacDonald says. "This is a great opportunity to pop it up with colourful pillows or throws."
In fact, creating that cuddly atmosphere is key for weathering West Coast functions.
"Set out a few beautiful blankets, and you'll never get rid of me," says Barlow-Lee, who recently won the national Canadian Special Events award for Events Producer of the Year. "You don't have to spend a lot to have a phenomenal event, but those cozy details matter."
---
Inspire with Fire — and Sound
Lighting is one of the most crucial characters at your party.
Soft ambient additions, like strings of rounded bistro lights with Edison bulbs, add a romantic atmosphere, and Beise says candles are a must for every outdoor patio event. Whether you hang these flickering beauties from tree lanterns or perch them in mason jars on small tables, they'll emit conversational warmth — and can double as bug control.
Unusual accent lighting can bring funk to your space, adds Beise. Furniture-size LED light cubes add a modern twist, with customizable colour, and these shapes also act as playful seats. Backlight furniture is another popular trend, allowing hosts to emphasize special points of interest with flexible coloured LED strips. Add in a few illuminating lamps for additional style.
Don't underestimate the power of fire. A built-in hearth will act as the centrepiece to your party, while a stylized firepit or freestanding glass accent fire can help to build flow — expect your guests to be drawn towards the flame.
Focusing on sound will also make your event glow with magic. A good speaker system should be heard and not seen. Keep sound loud enough to make it a presence but soft enough so your guests don't have to shout to be heard.
For events where you want to make a big impression, Barlow-Lee urges hosts to spend the money on sound, and on sound support — something many events hinge upon. "There's nothing more powerful than sound for setting the tone and controlling mood. If you walk into an event that's already hopping, it's going to get you going. I like to layer events, so the music, for example, builds along with the night," she says. "It really creates a 'wow' factor."
You might even consider live music: from a classical guitarist to a string quartet.
DIY Details
Creative types need only look as far as Pinterest to find ideas for handcrafted driftwood centrepieces, shell candles and chalk-painted anything to accent your theme.
The DIY element doesn't just cut down on cost, but gives you personalized pride in your event. Yet this is, ironically, where hiring a professional designer can come in handy, says Beise.
"A designer will help you tie in all the elements of your party, and can move you from that popular mason-jar-and-burlap craft to something really groundbreaking," she says.
"We all know how it feels to walk into a well-designed space, even if we can't express why," says Beise. "It's like that magical element you can't quite put your finger on, but you love being there. These are the details that take your event from a 'good' party to one your guests will never forget." 
---
RECIPE: Baked chicken stuffed with asparagus, goats' cheese and sun-dried tomatoes
Chicken kiev for the landed gentry, this looks quite incredible when you slice it down the middle and reveal the cross-section of vibrant asparagus and sun-dried tomatoes. All the hard work can be done well in advance, leaving you free to sip a glass of chilled white wine with your guests.
• 4 asparagus stems
• 2 chicken breasts, skin removed and butterflied (cut in half lengthways but not all the way through; if you're unsure, ask your butcher to help)
• 4 sun-dried tomatoes
• 4 slices Parma ham
• 100 g/31⁄2 oz. goats' cheese
• Olive oil, for cooking
Sauce
• 4 tablespoons pesto sauce
• 2 tablespoons crème fraîche or sour cream
• 10 cherry tomatoes on the vine
• Fresh basil leaves, to decorate
• Rocket/arugula leaves, to serve
Preheat the oven to 220°C (425°F) or Gas 7.
Bring a pan of salted water to the boil, add the asparagus and cook for 3 minutes. Remove and refresh it under cold running water (or a bowl of iced water if you're a really dedicated pro). Once cooled, leave to dry.
Stuff each butterflied chicken breast with two asparagus stems placed lengthwise, two sun-dried tomatoes and half the goats' cheese, and season with salt and pepper. Close it up and wrap it in two slices of Parma ham. Secure with a cocktail stick/toothpick if necessary.
Warm an ovenproof pan over high heat. For anyone who's wondering, ovenproof basically means that the handle is made of metal, not plastic.
Add a splash of olive oil to the pan and add the chicken breasts, skin-side down. Fry them until one side has crisped up a little. Flip them over and put the pan in the oven for a 15-20 minutes, or until the juices run clear. Put the cherry tomatoes in a small roasting pan and roast for 10-15 minutes, until the skins start to crack.
While it's cooking, mix together the pesto and crème fraîche, loosening it with a dash of hot water if it's too thick. It should be a thick but pourable sauce.
Chicken Stuffed with Asparagus, Goat's Cheese and Sun-dried Tomatoes by Acland Gedded and Pedro Da Silva from Flavors of Summer, Ryland Peters & Small, CDN$28.95; http://www.rylandpeters.com