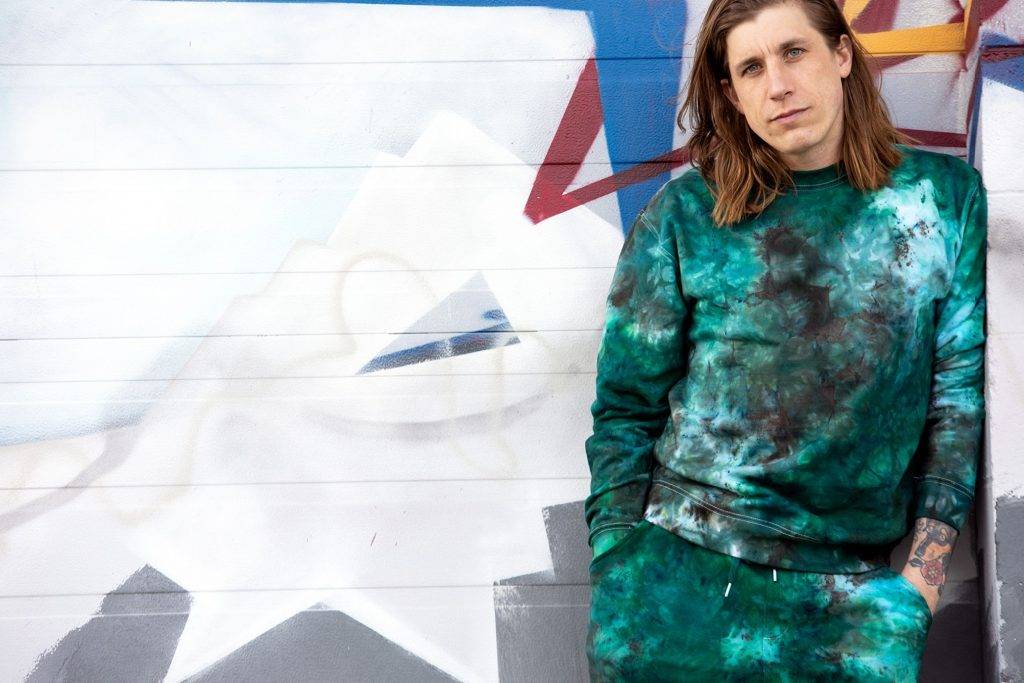 BY EMILY DOBBY
Tie-dye has become one of the main sartorial motifs of the pandemic. Many collections have featured this look for spring/summer 2021. Proenza Schouler has elevated this pattern, and it's been integrated into classic tracksuits (trackies) and athleisure looks combined.
Tie-dye, imbued with 60s and 90s nostalgia, has brought a lot of joy to many during a colourless year of quarantine and has become associated with the WFH (Work from Home) look.
Valerie Montgomery, local designer and owner of Wildflower Dyes, has been refining her craft and practice of dyeing garments and home goods (duvets, sheet sets, pillows, blankets) for eighteen years. Her focus is on creating timeless, quality slow fashion pieces and her latest foray into athleisure has been met with an overwhelmingly positive response.
"2020 was my best year financially so far. Which is weird but I think a lot of people had to start shopping online more than ever. Also, my clothing has a fun vibe and I think people needed that this past year."
Tie Dye 
"My journey into tie dying began with an intense fascination in the 1969 Woodstock music Festival along with the incredible levels of self expression, expressed in the hippie movement of the sixties and seventies. I loved the music, the mind expansion and of course the clothing. Everything felt authentic," she says.
Fast forward into young adulthood, Valerie lived on Gabriola Island, grew veggies, supported the arts and began experimenting with tie dye. "Before I knew it I had regular gigs selling my clothing at music festivals and art fairs. I was thrilled to be expressing my art in the same vein as many of my hero's from the sixties."
"It's truly been an incredible journey that has kept me searching for new and beautiful methods to apply to my craft. I have begun developing different clothing lines from high fashion and elegant pieces to more traditional soul warming lines that can fit all genres and tastes."
Striving for Slow Fashion 
Slow fashion has been an ideology to strive for in this industry.
"As a small clothing business, I am constantly looking for ethical and eco-friendly methods to apply to my practice. I work with low impact, cold water dyes and natural fabrics including cotton, bamboo, hemp and silk. Also, every piece of clothing that comes from my studio has been hand dyed, hand picked and envisioned by me. There isn't one article of clothing I didn't make."
Going with the Athleisure trend
Valerie started dying tracksuits in January 2021.
"We've been spending a lot of time at home during the pandemic so I wanted to create a comfortable but colorful set that could be enjoyed at home but also worn to do errands or even to camp in this summer. I've even been taking orders for custom colorways so each set can truly represent the person and make them feel their best by wearing colors they love."
Since Valerie works with small batch dyeing, it's easy for her to adapt to fashion trends and colours with no waste as she grows her business, so she remains a nimble creative. She'd love to start teaching. "I'm a firm believer that colour is healing and I love seeing how people use it, which colours they choose to work with."
At the end of the day, Valerie is always touched by the love she receives from her adoring clients.
"Nothing warms my heart more than seeing the countless beautiful photos and feedback from the thousands of people who have and continue to wear my clothes world wide."