The colour choices you make in your home can help boost or mellow your mood. Say goodbye to grey on grey — 2023 is all about escaping into bright, vivid, glorious hues.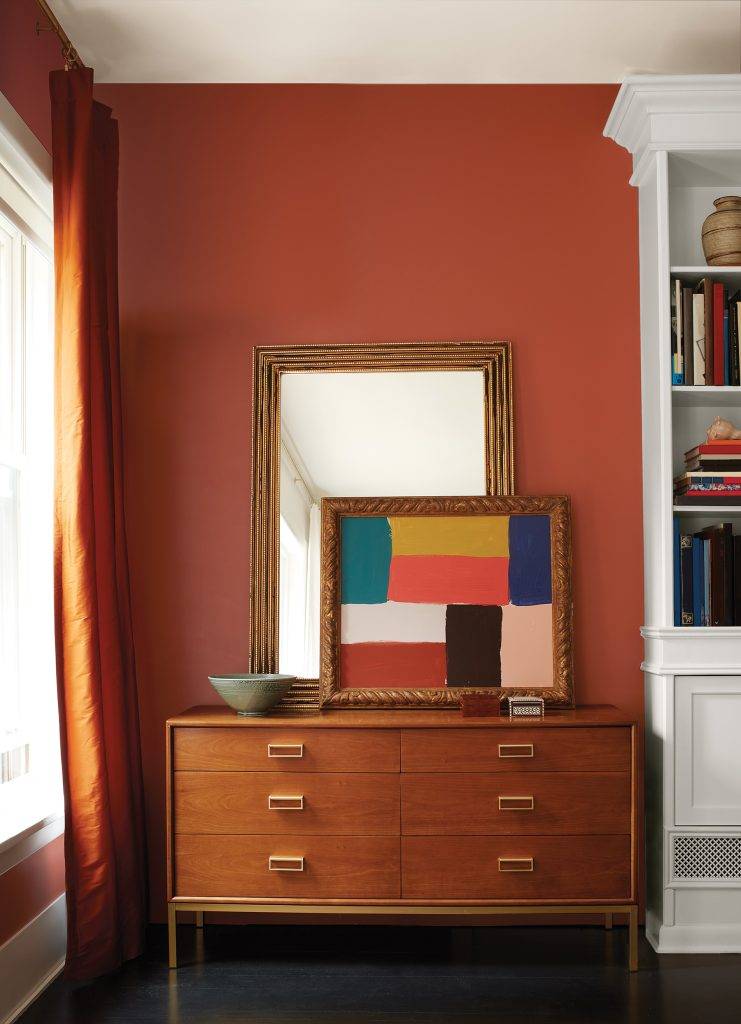 BY SUSAN HOLLIS
Long before Pantone and Benjamin Moore's colours of the year started trending, the ancient Greek philosopher Aristotle developed the first theory of colour, believing it came from celestial rays sent from the heavens to Earth.
Some 2,000 years later, in the 1660s, the mathematician Sir Isaac Newton isolated and identified the ROYGBIV (red, orange, yellow, green, blue, indigo, violet) spectrum we are now familiar with. Then and now, humans have always been, and will always be, fascinated and influenced by the variety of hues found on this planet.
Few things can simultaneously express an individual's internal and external world the way colour choices can. I once painted an entire townhouse in Nelson, B.C., in oranges, pinks and reds (with the landlord's consent, of course), and the outcome was a terrific sensory blast of warmth and chaos that was perfect for that stage of my life.
Anyone who came through the front door would take a minute to rock back on their heels and take it all in. It was an unusual colour palette for any space, especially a home, and it somehow came across as both startling and inviting. In the throes of youth and a first real job, it was a really good spot to host, learn how to cook (sorry 'bout that paella, friends!) and snuggle with Druuna, my roommate's dog.
If I had to live there today I might run for the hills — life has become too chaotic in all other aspects for me to live in a permanent sunset palette, but it's still fun to keep elements from those days alive through other means.
Building Colour
"I think the use of colour is specific to the job — sometimes the house suits being monochromatic and you bring colour into the space with artwork, pillows, et cetera," says interior designer Sandy Nygaard of Nygaard Interior Design, who prefers to use art for bold colour statements. "Often one wall with a hit of colour makes the right statement. It can expand the space and define a space, bringing it all together."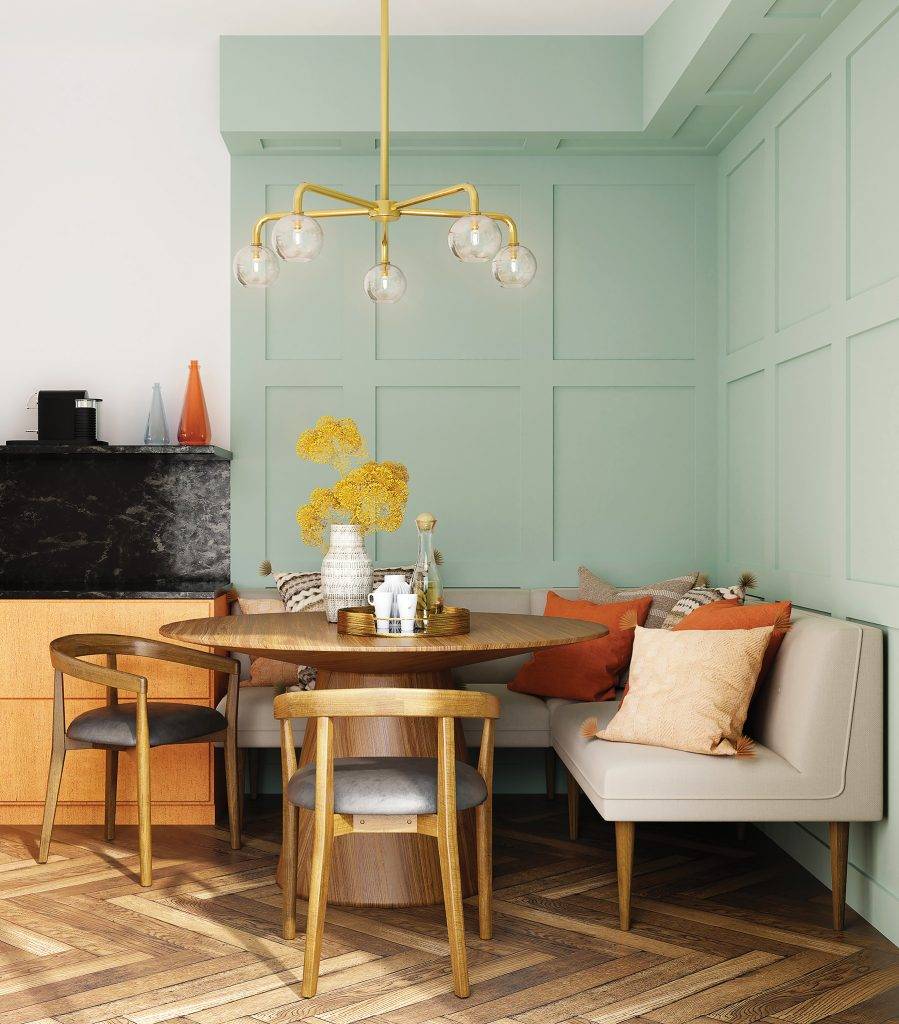 As adults, we know what we want to see in our homes, but knowing how to get there can be one more task we don't have time for — I'm likely not alone in feeling resentful when faced with a choice of accent pillows in varying colours and textures — because how exactly does one choose the best one for the space?
Building colour into a room doesn't have to end with pillows. Quirky heirlooms, travel pieces and art are excellent additions to a home because, whether choosing a bold or muted tone for an interior space, a mood is set and an outcome achieved, often through the smallest of details.
The forecast calls for …
According to Benjamin Moore's Colour Trends, 2023 will be a year of inspiration and creativity, as seen in its palette of eight sumptuous, confident hues.
Colour swatches from left: Wenge, a warm, deep chocolate; Cinnamon, a spicy take on neutral brown (pictured on the walls, opposite page); the soft pink of Tofino Sunset; the bold, charismatic colour of the year, Raspberry Blush; North Sea Green, a soothing teal; Starry Night Blue, a dusky, dark indigo; Savannah Green, a lustrous ochre; and New Age, a dreamy tint between palest grey and lavender.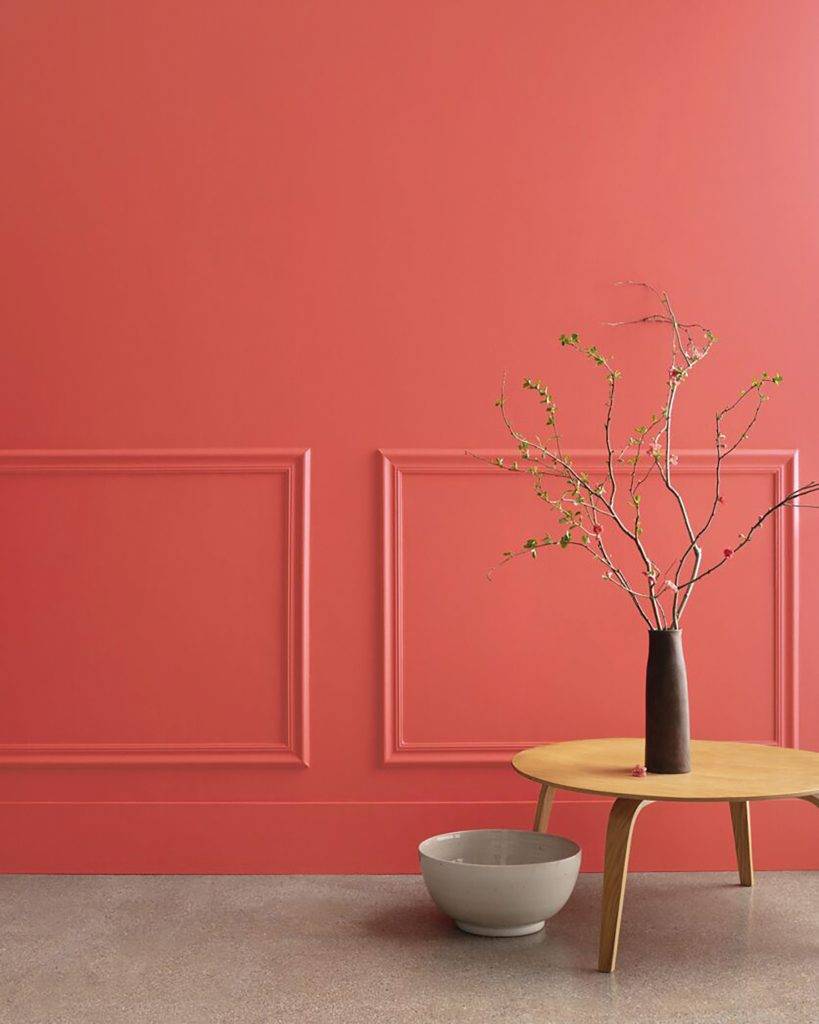 Add some colour: Fun accessories
Express your unique sense of style with colourfully quirky finds that combine usefulness with ornamentation. Vitra dolls by American artist Alexander Girard (left) are a classic of mid-20th-century design. Below, Blu Dot metal trays, which come in a variety of colours, are a handy way to serve drinks and snacks. And the Muuto Kink vase from GR Shop (right) is as pretty as the flowers it holds.

Bringing Drama
If throw pillows aren't enough, floor coverings add drama and depth, and help equalize a room's existing colours and textures.
"I like to splurge on colour with an area rug, which can truly be art — they infuse a layer of texture and warmth to any space," says Kristine Hageland, principal interior designer for Jason Good Custom Cabinets. "Rugs are really worth the splurge, so I try to tell folks that it is important to seek out a premium 100 per cent wool selection that will stand up to wear."
If your home has wall-to-wall carpeting, don't hesitate to layer an area rug on top for an extra cozy, eclectic look.
Hageland adds that a room painted entirely in a bold colour can work when it's meant to be intimate, such as a bedroom, powder room or den, but for those wanting flexibility, bringing colour to a main living space is best done through accents like plants and planters, or even inexpensive, simply framed art prints.
"A couple of key items I reach for when adding colour are dining chairs and bedding. Often these are paired with a timeless wood table or a clean and simple bed frame so they are the perfect opportunity to have fun with," she says.
"I would be careful when choosing colours for large furniture items as they can really set the tone for a room," she adds. "I am conscious of large spaces and avoid painting big rooms with bold colour as the volume can become quite dominant. In that scenario I lean toward neutrals and, more often, I find clients are seeking neutral palettes, something they can come home and relax in while still infusing the space with personality."
Add some colour: Art
There's no need to overspend on art when you can hang lovely prints with simple frames to brighten up the place.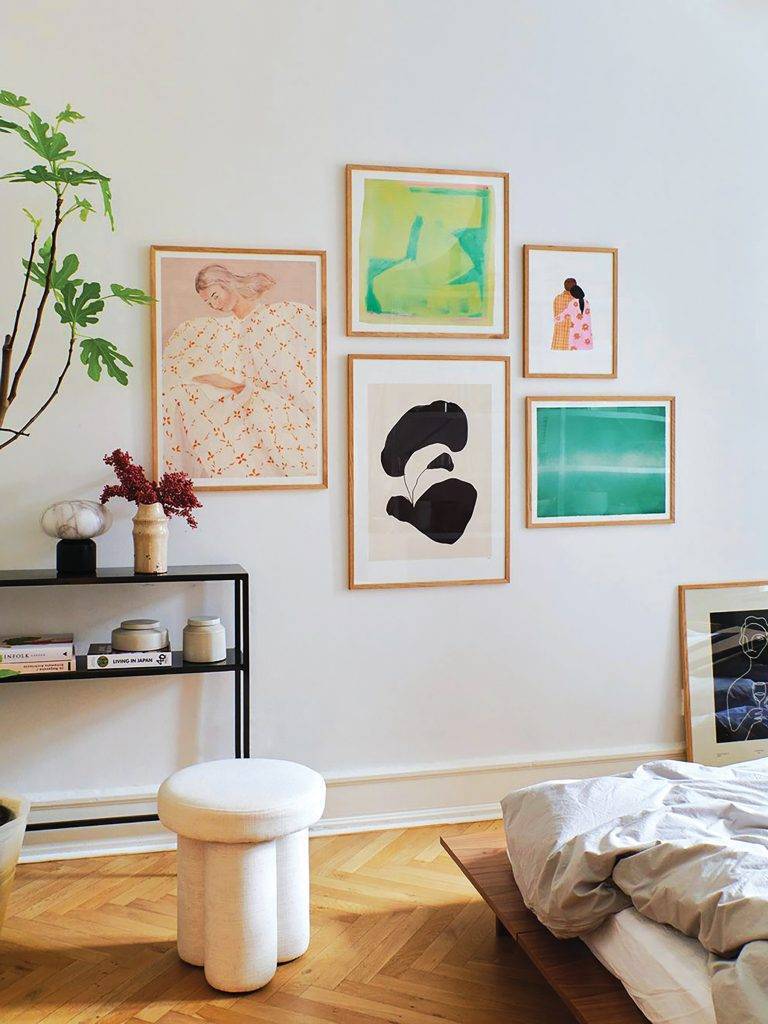 Add some colour: Rugs
Area rugs are easy and versatile and can even be layered over wall-to-wall carpeting. Interior designer Kristine Hageland loves the contemporary Vancouver artist Zoë Pawlak's collaboration with Burritt Bros Carpet & Floors (right).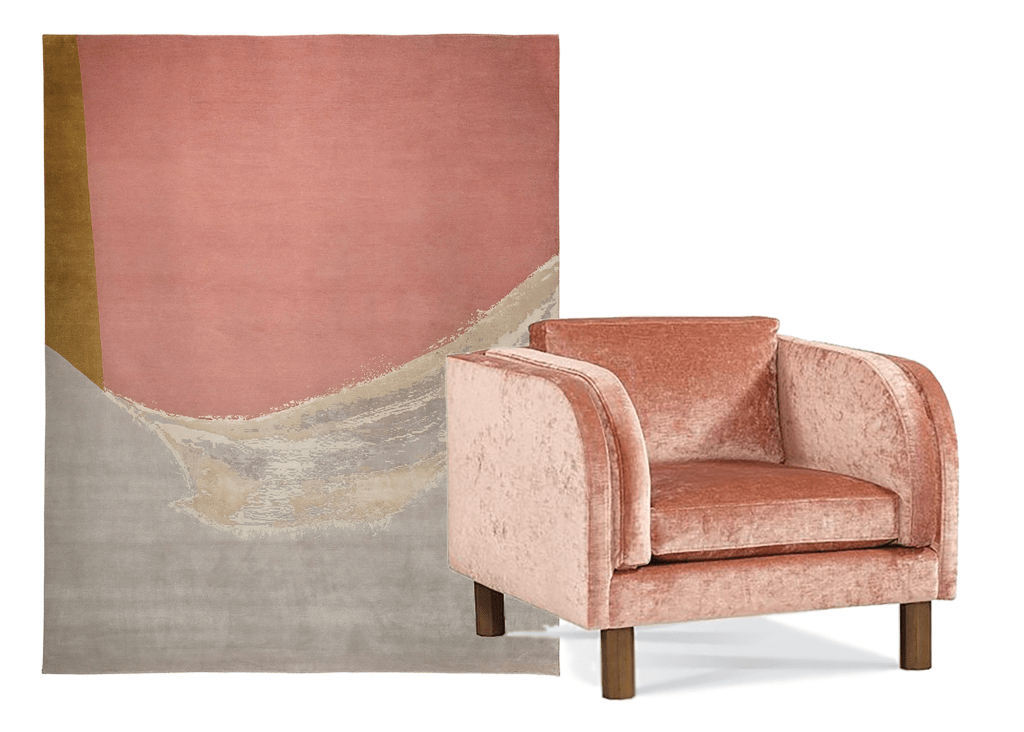 An accent chair
A sofa in a bold colour could overwhelm a room. But an accent chair like the textured Nollet Chair from Luxe Home Interiors, can add the perfect pop of colour.
Going Bolder
Today's paint colours are rich and vibrant, with names good enough to eat — Benjamin Moore's colour of the year, Raspberry Blush, sounds like it belongs in a cone on a beach in Corsica. And while they can work well as the nucleus of the room, they can be added to kitchen islands or even the interior lining of a bookshelf.
A pop of colour can also work beautifully on a traditional accent wall; however, some designers prefer incorporating it throughout a space. "We like to keep a space cohesive and, if you want to add colour, go bold and use it on all walls in a particular room," says interior designer Jenny Martin, of Jenny Martin Design. "We find this is more memorable, dramatic and lets a space really have its moment."
Paint or pillows, before adding any new items to your collection, consider what you already have to determine the best colour additions for your home. Sort pillows and blankets by colour, then identify what options mesh well and can enhance the look you're hoping to achieve. Have photos ready on your phone to make comparisons if the right pillow or accessory comes up when you're out and about.
"Over the past several years we have seen people becoming more comfortable with using bolder colours in their homes and being more expressive in their designs," says Arianna Cessa, associate manager of colour marketing for Benjamin Moore & Co.
"If you prefer a smaller dose of colour, try it on an accent wall, ceiling or painted furniture," she adds. "We also love the idea of using it on the walls, trim and ceilings in a smaller space like a powder room to create an unexpected and impactful design. We know it can be intimidating using more saturated hues so we hope our Colour Trends 2023 palette will inspire and show people the endless possibilities of expressive colour and design."
After all, in our misty West Coast climate, finding warm and inviting colours to keep everyone's moods up through the winter and spring could almost be considered a necessity.
Add some colour: An accent wall
One of the most exciting, low-risk ways to introduce a bold hit of colour is by applying a contrasting hue to a single accent wall, like the Benjamin Moore North Sea Green seen here.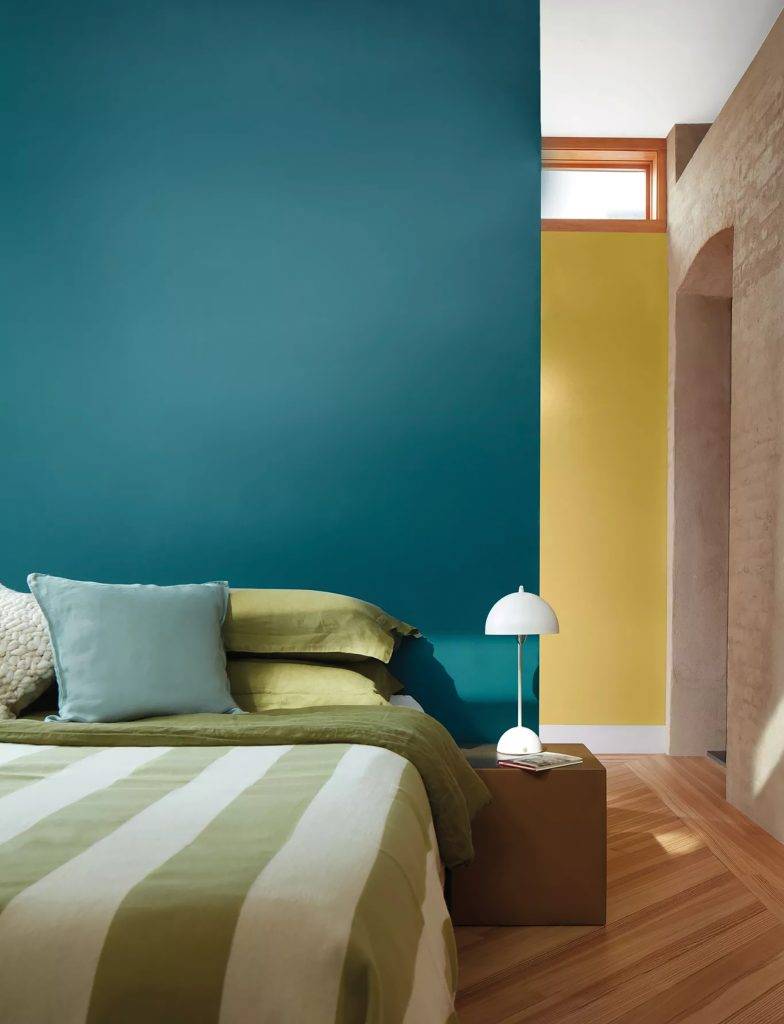 Add some colour: Bedding
Who says sheets and duvets always have to come in white or neutrals? At Flax Home, pure linen bedding is available in pretty pastels (blush, mint, dove grey) as well as bold tones of terracotta, juniper and azure. Each year, the Vancouver company adds new colours, too, so you can mix, match or swap out your linens as the mood takes you.