By Cormac O'Brien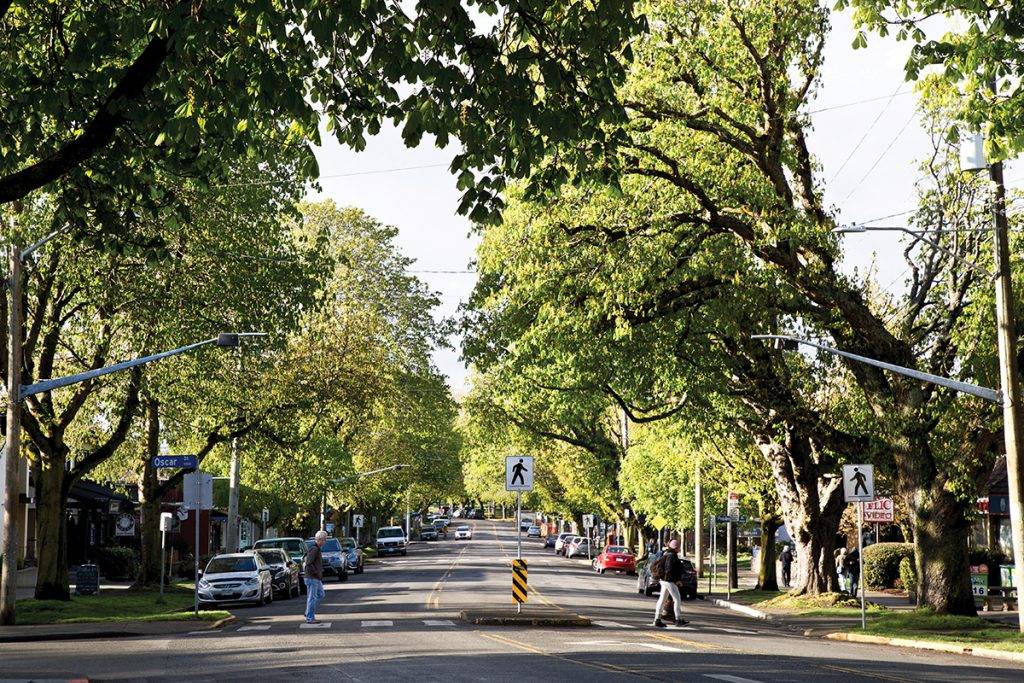 A well-loved Garry Oak tree on a Saanichton farm is knocked down in a storm. A sewage pipe threatens the fate of 50 trees in Saanich before they are saved by public outcry and some innovative thinking. Twitter turns furious about a rumour that unhealthy non-native cherry trees will eventually be replaced by native trees.
Victoria does love its trees, and they have dominated the local news cycle in recent months, with the most notorious and captivating example being the Humboldt Tree — a birch tree on the corner of Humboldt and Government Streets that was recently felled to accommodate bike lane construction on the street.
Citizens were outraged at the removal, and it reignited a conversation about how Victoria manages its trees. For some, the sudden outpouring of love and affection about a single birch may have been surprising. For others, it was only right.
"It was no surprise that people came out in support of trees," says Victoria Mayor Lisa Helps. "Victorians love trees."
At the heart of the conversation around the Humboldt Tree lies the topic of urban forestry, the study of trees and their associated ecosystems within city environs. At the forefront of this field is Dr. Cecil Konijnendijk, a professor who has worked in the Netherlands, Finland and Hong Kong, and who now teaches at the University of British Columbia.
Urban forestry has exploded in popularity over the past decade, says Konijnendijk, but that surge is bittersweet. Yes, people are talking more about urban forests, but it's because trees are disappearing. People are finally realizing just how important our trees are.
"We've lost a lot of nature, [and] we're challenged by climate change and crises in public health," Konijnendijk says. "But I think on the positive side, we know much more today about the role of trees and the benefits they provide."
Those benefits are as diverse and bountiful as Victoria's trees. Trees provide shelter for animals and protection from extreme weather, and they filter toxins from the air and reduce stress for people around them. Studies show that communities with a high number of trees have happier citizens, and even that the higher number of green spaces in a city, the lower its crime rate and the higher its general sense of safety.
There are financial benefits too. Trees reduce energy bills by providing houses with shade. They increase the value of residential properties and they soak up stormwater, which saves the city an estimated $2 million a year on water management.
"All trees have more than one reason for being there," Konijnendijk says. "To lose a tree is more than just losing one specimen. It's about losing all these benefits.
Victoria values the trees on city land at $80 million (at least $2,000 per tree), and considering that two-thirds of Victoria's urban forest is on private land, the total value of trees around the city is considerably higher.
As a result, the City has a plan in place for how it protects Victoria's urban forest. Currently, Victoria operates a $1-million urban forest program. Starting in 2009, the City began developing its Urban Forest
Master Plan (UFMP), a lengthy document that took stock of Victoria's urban forest and gave plenty of recommendations for preserving and growing Victoria's urban canopy (about 20 per cent of the city is covered by trees).
The plan was finished in 2013, and some of its recommendations are complex. The UFMP recommends a computer-based tree inventory system for city trees and an overall leadership position of Urban Forester for the City of Victoria.
It also recommends the review and revision of the Tree Preservation Bylaw, which, in part, details how big a tree must be before it is too big to cut down and the penalties for improperly cutting one down.
In the six years since the completion of the UFMP though, the City has only followed through with a few recommendations. Concerned with a lack of movement and spurred by more high-profile tree losses, Victorians recently took to lobbying City Council for changes.
Throwing Shade
Frances Litman is one such citizen. A photographer and former Green Party candidate, Litman is a member of the Community Trees Matter Network, a local activist group dedicated to protecting and enhancing Victoria's urban forest. The group approached City Council after the recent municipal election to request more action be taken on the UFMP.
"We've been putting the pressure on the City since the new council came in," Litman explains. "We're requesting that [they] enforce this Urban Forest Master Plan, and we've been giving recommendations and going to council meetings and growing our conversations with people all over the city who also feel this way."
Their pressure paid off. In late February, Victoria's city councillors approved the 2019 Operating Budget, which allocated more money for city staff to look after the urban forest and for a revamp of 2005's Tree Preservation Bylaw.
Thomas Soulliere, Victoria's director of Parks, Recreation and Facilities, says the most obvious thing to focus on in the bylaw is lowering the size a tree must be in order for it to be protected. Under Saanich's tree preservation bylaw, for instance, any tree with a 60-centimetre diameter trunk at chest height is protected. Under Victoria's bylaw, that same tree would need to be 80 centimetres wide at chest height before it's considered too big to cut down.
The laws around cutting down Douglas firs, Arbutus, Garry oaks and other native species are far more stringent in order to better protect them, and Soulliere says the City will look at adding more tree species to that list.
But it's not as simple as rewriting the bylaw, Soulliere explains. The department plans on spending about a year engaging with the community and their counterparts in other jurisdictions.
"We expect that in this community it will take a decent amount of time to get that right," he says, "to really socialize what we're trying to do and understand the various perspectives that are involved, and actually get to a bylaw that can get approved."
"The City is such an important player … in terms of overall stewardship, but we are going to be looking to expend more effort in reaching out into the community to build those partnerships."
Litman and the Community Trees Matter Network will also continue their work of educating Victorians. It's not just about replacing trees, Litman explains, but protecting the ones that are there as well and rewarding people for keeping their trees healthy and alive.
Mature trees provide far more benefits than young trees, which is why replanting a 50-year-old tree with a new sapling often isn't a fair trade-off. When a mature tree goes, a lot goes with it.
"These trees are working 24/7, 365 days of the year. They're the hardest working, unpaid employees in the city!" Litman laughs.
Talking With Trees
It's hard to gauge just what we lose when we lose a tree, since most people don't fully understand how trees behave. However, research into the topic is slowly opening our eyes to forest behaviour.
Peter Wohlleben is a German forester and author of The Hidden Life of Trees, a bestselling book exploring the parts of forests that most humans either overlook or don't know about.
Unfortunately, Wohlleben says, trees find life difficult in cities. The air is dry and warm, an unhealthy combination for trees, and salt and urine negatively affect their roots. City soil is hard and compact, which stops trees from connecting with one another via roots.
"We should admire every tree that manages to persevere in a city despite these challenges!" he says.
Many people would argue that Victorians understand and admire their city's nature more than citizens of nearly any other city in Canada. We take a great deal of pride in (and use a lot of advertising dollars for) our title of Garden City, and we're more than happy to share hundreds of photos of cherry blossoms in February to taunt other snow-stricken Canadians.
Yet while we're happy to talk about the trees in our neighbourhoods or on our front lawns, most people don't realize just how crucial those trees are to the city's ability to thrive.
As the Tree Preservation Bylaw is updated and work on the UFMP begins, Victorians will no doubt be hearing more and more about the city's trees and the roles they play in the city. And with two-thirds of our urban canopy situated on private land, the fate of Victoria's urban forest really is in the hands of citizens.
"The overall long-term success of the urban forest depends on having interested, passionate and well-informed residents," says Soulliere.
Wohlleben describes trees as "the contact point between us and the natural world." With society's connection to nature growing increasingly fragile and threatened, perhaps we could all take notice of our trees a little more.
Let's mourn the loss of the Humboldt Tree, yes, but let's also celebrate and take care of the shady fir that drops its needles onto the sidewalk, or the Garry Oak that towers above its forest neighbours, or the Arbutus tree that twists its way around the park bench. Let's find our favourite trees and be thankful for them.
In today's world, it's important to hug our trees a little tighter than we have before.
With thanks to Jess Duncan for research assistance, and Lars Hansen, Stephen Franke and Anna Franziska for translation expertise.
---
This article is from the May/June 2019 issue of YAM.