By Cinda Chavich
Savour the bright, sun-soaked cuisine imported by Victorians from New Zealand and Australia.
---
At this time of year, when the Earth's axis tilts us away from the sun, I yearn for the land Down Under. It may be winter here in Victoria, but it's full-on summer in the Southern Hemisphere, and the sunny South Pacific calls, with its coral reefs, surfing beaches and fresh, tropical flavours.
Australia is one of the last places I visited before we were all locked in place, courtesy of a press trip to Brisbane and environs to explore Australian cuisine. At the annual Noosa Food Festival on the Sunshine Coast, we feasted on wild foods foraged by Aboriginal elders and paddock-to-plate creations from top chefs, featuring exotic fruits such as bubbly finger limes and local seafood including giant barramundi, sweet Spanner crab and Moreton Bay bugs, the lobster-like crustaceans that are fried and served in Bug Roll sandwiches.
Aussies love their meat pies, barbecues on the beach (there are literally hundreds of free gas and electric barbecues in public parks), Lamingtons (little sponge cakes rolled in chocolate and coconut) and oddball ingredients — think yeasty Vegemite to spread on toast, Pigface fruit, kangaroo, green ants and other "bush tucker."
The antipodes might be far away, but there are strong local connections, too. Victoria's sister city is Napier, New Zealand, while Cairns, Australia, the gateway to Queensland's Barrier Reef, is paired with Sidney here on Vancouver Island. And, of course, some of our favourite local food people hail from their sunny shores.
COFFEE CULTURE
At Bear & Joey Café, Peter Wood is serving up a sunny taste of his childhood home, a bit of Australia's famous coffee culture in the middle of a Victoria winter.
Even on a drizzly day, the place feels lush and light. A brunch of electric green avocado toast with smashed peas and a soft poached egg, alongside a pale blue Butterfly Latte, is as fresh as the surroundings, where mid-century chartreuse seating and tropical palms pop against a soft pink and mint palette.
Wood and his wife Stephanie (the Canadian "bear" of the family business) designed their café with brunch in mind. While coffee is key — from the iconic Aussie "flat white" to other espresso-based drinks made with imported Australian beans — the menu is original. The fluffy ricotta pikelets (a.k.a. pancakes) arrive with poached rhubarb, lemon curd and fresh berries, and the golden corn fritters are served on bitter greens with smoked salmon and a hit of heat from kasundi, a spicy Asian tomato and mustard sauce. House-made blue pea flower concentrate colours the creamy lavender latte, shot with vanilla mint syrup, dusted with beet powder and garnished with edible 24-karat gold.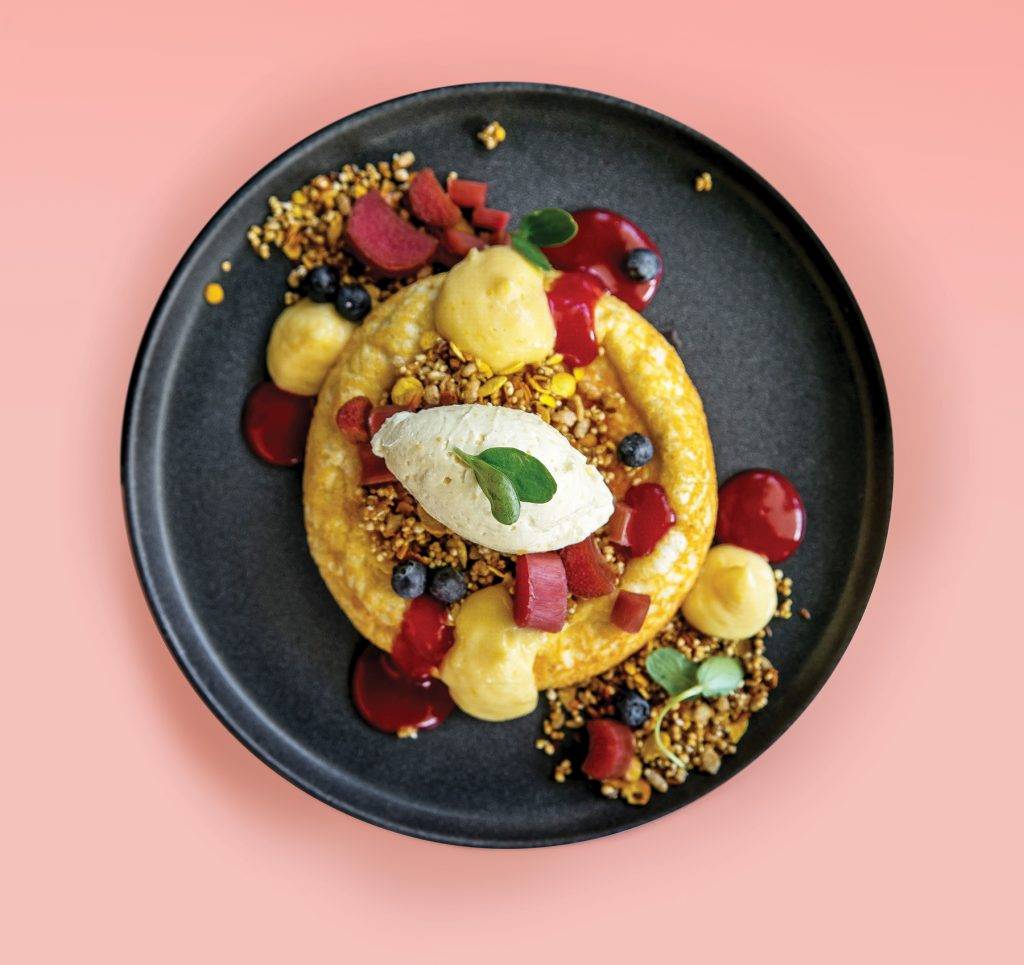 ---
The café also offers fresh salads, sandwiches and breakfast bowls to go, including their granola with coconut panna cotta and mango coulis or bruléed banana.
"The café is a place to slip in for coffee and something to eat, refuelling for the day and recharging, or for a catch-up and a little relaxation," says Wood. "Brunch for us isn't a grand event or a big boozy affair. The menu is very produce-forward, with a lot of salads, bowls and healthy options."
It's a similar scene at Iluka Espresso on the west shore, where Salina Salter is channeling a tropical, beachy vibe and colour palette in her waterfront café, hidden within a rental apartment complex along The Gorge waterway. Salter spent a decade working in cafés and coffee shops along Australia's Gold Coast and opened her pretty space in April, inspired by the coffee culture there.
---
"I wanted colourful things on the menu," she says, pointing to her quinoa Iluka Bowl, topped with beets, carrot and greens and the electric green smashed Avo Toast, topped with fuchsia pink pickled red cabbage and arugula.
Her lattes and smoothie bowls arrive in an array of pretty pastels — the grassy green, soft blue, pale pink and vibrant yellows of her milky brews come from matcha tea, spirulina and beet or turmeric functional food powders — while the Iluka Bun is her Down Under take on a classic cinnamon roll, with the addition of coconut and macadamia nuts.
THE PIE MAN
Often described as the Australian national dish, individual meat pies are served hot at football games and gas stations, usually filled with saucy ground or chopped beef.
But at Victoria's Saltchuck Pie Company, Nick Crooks takes traditional Kiwi/Aussie-style pies into Canadian territory, with flavours ranging from classic steak and mushroom to rabbit with ham hock, local fallow deer or pork tourtière. The pie menu changes daily, based on seasonal ingredients, and all pies are available to eat in or take out, frozen or hot from the case in their Rock Bay bakery café, or from their roving vintage turquoise pie truck.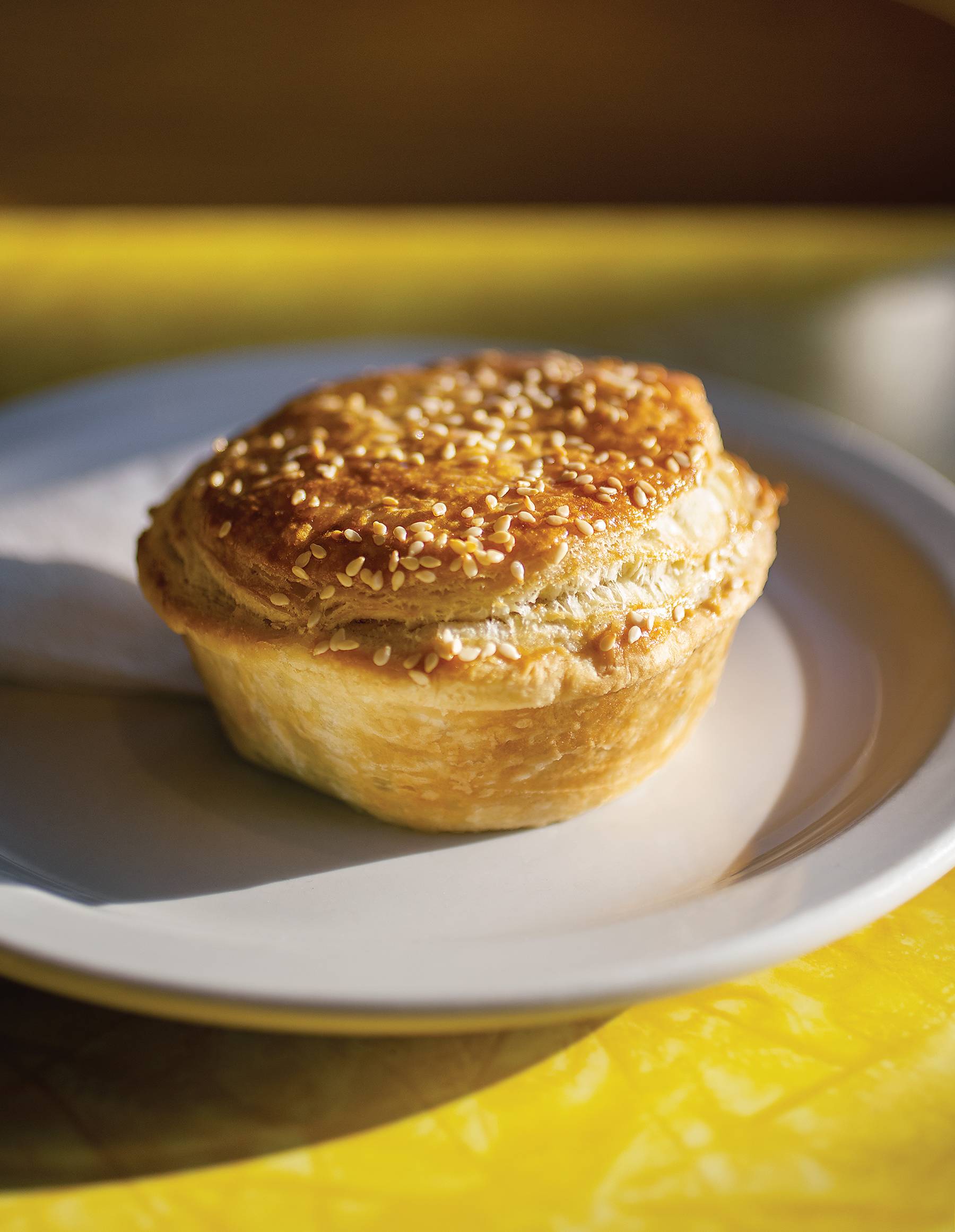 ---
"A meat pie is really just a stew in a pie, but a traditional Kiwi or Aussie pie is meat and gravy, no veg," says Crooks, whose savoury pies also include butter chicken, Korean lamb curry, chicken and kimchi, and vegetarian fillings.
The key to an authentic meat pie is the crust, he adds, always made with laminated puff pastry.
"Short crust pastry is fine for a fruit pie, but for a meat pie, it has to be laminated puff pastry," says Crooks, who also sells his buttery puff pastry to home cooks. "It's comfort food, a humble dish that should be warm and inviting."

IN YOUR GLASS
While chugging a can of Fosters is the Australian cliché, there's a sophisticated drink scene Down Under. Australia is home to some of the world's iconic red wines (think big Shiraz like Penfolds Grange) and is known for craft brewing (and its intense Galaxy hops), artisan spirits and unique tipples.
Barman Shawn Soole brought Aussie cocktail culture to our shores and is still mixing up spirited drinks at Clive's Classic Lounge. With access to so much fresh tropical fruit, Soole says Australian mixologists love to muddle, but also take their cocktail cues from exotic Asian ingredients.
"The Japanese Slipper Cocktail comes to mind," he says. The fruity, electric green classic was created in Melbourne in 1984 and is made with equal parts of Midori melon liqueur, Triple Sec and fresh lemon juice.
Soole says iced coffee outsells Coca-Cola in Oz, and flavoured milk — strawberry, banana, choccy, toffee, pineapple — was his childhood treat, while the soft drink of choice for adults is lemon, lime and bitters, a combination of sparkling lemon soda (Sprite, Fever-Tree lemonade, Sparkmouth lemon), with lime juice (or Rose's Lime Cordial) and a few dashes of Angostura bitters.
AUSSIE RULES
While Australia and New Zealand share many of Victoria's British roots and food traditions, their locally grown ingredients veer into the tropical and exotic.
Tom Moore, the Australian-born baker and co-owner of Victoria's Crust Bakery, specializes in crusty sourdough loaves, cakes and pretty pastries, serving up blueberry, lychee and rosewater danishes, crunchy pavlova filled with passion fruit curd, and a dense orange cake, made with whole, slow-cooked oranges and almonds.
Hazelnuts grow in both locales, but in Oz there's the richer macadamia nut, too. And though berries cross cultures and continents, their fruit bowl includes tropical mangoes, feijoa, guava, passion fruit, Buddha's hand and kiwi fruit.
Salmon berries and mushrooms flourish in our coastal rainforest, but you'll need to travel to taste "bush" foods such as Davidson (Ooray) plum, lemon aspen (rainforest citrus), lilly pilly berries and Boonjie (wild tamarind).
A signpost in Centennial Square points to our Aussie and Kiwi sister cities and, like the humpback whales that migrate from our coast to theirs each season, Victorians have deep connections with our neighbours in the Southern Hemisphere.
So, celebrate winter by dining Down Under, and enjoy a ray of summer sunshine on a cloudy day.
---
RECIPES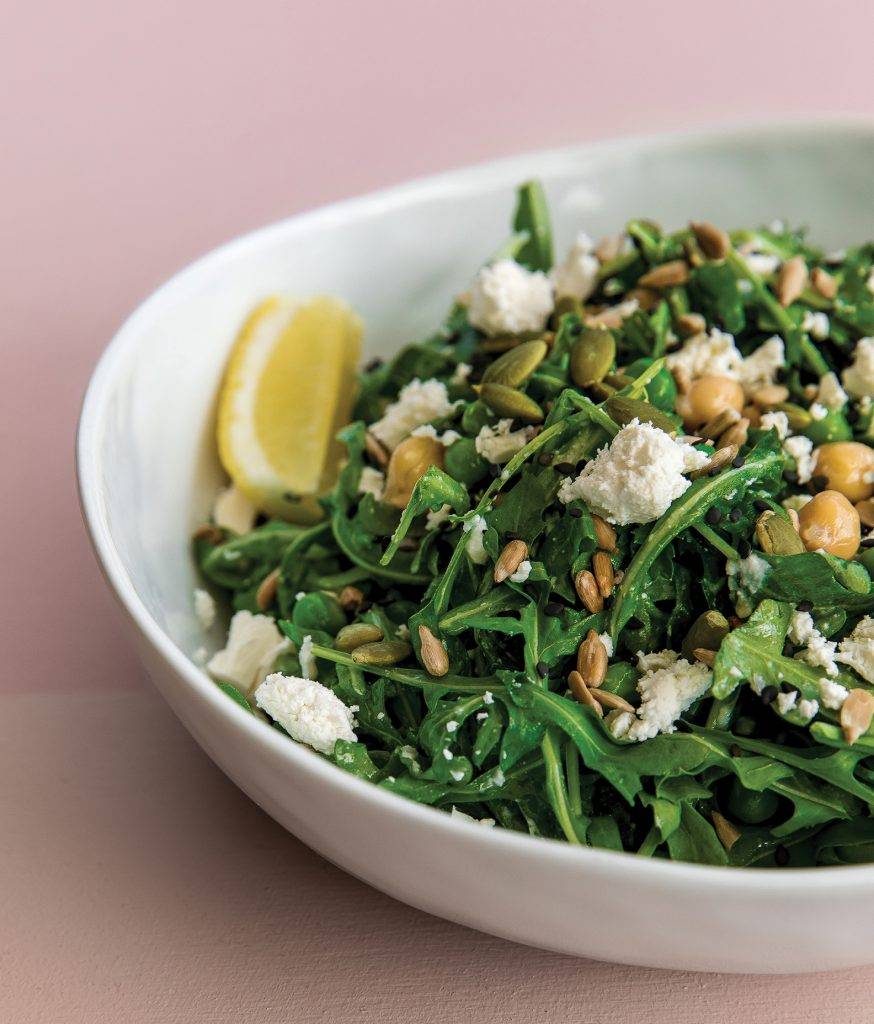 Paul & Lincoln's Salad
This healthy green bowl from Bear & Joey is named for two of Peter Wood's former culinary colleagues in Sydney. Enjoy it as a starter, a vegetarian lunch or topped with chicken, smoked salmon or a poached egg for dinner.
Salad:
• 4 cups arugula or mixed baby greens
• 1/2 cup cooked chickpeas
• 1/2 cup diced cucumber
• 1/2 cup fresh green peas (or frozen, thawed)
• 1 avocado, peeled and cubed
• 1/4 cup Italian parsley leaves, picked from stems
• 2/3 cup crumbled feta, divided
Lemon Vinaigrette:
• 1/2 cup olive oil
• 1/4 cup fresh lemon juice
• 1 1/2 tablespoons sugar
• 1 shallot, peeled and chopped
• 1 clove garlic, peeled and chopped
• Salt to taste
Garnish:
• 1 tablespoon each: toasted pumpkin, sunflower, black sesame seeds
• Lemon wedges
Place salad ingredients in a bowl and toss with 1/2 cup of the crumbled feta.
Place vinaigrette ingredients into a blender and blend until emulsified.
Add enough dressing to the salad to lightly dress the vegetables and toss well. Divide salad between two individual serving plates. Top each salad with seeds and remaining crumbled feta. Serve with a lemon wedge on the side.
Serves 2 for lunch; 4 as a starter.
---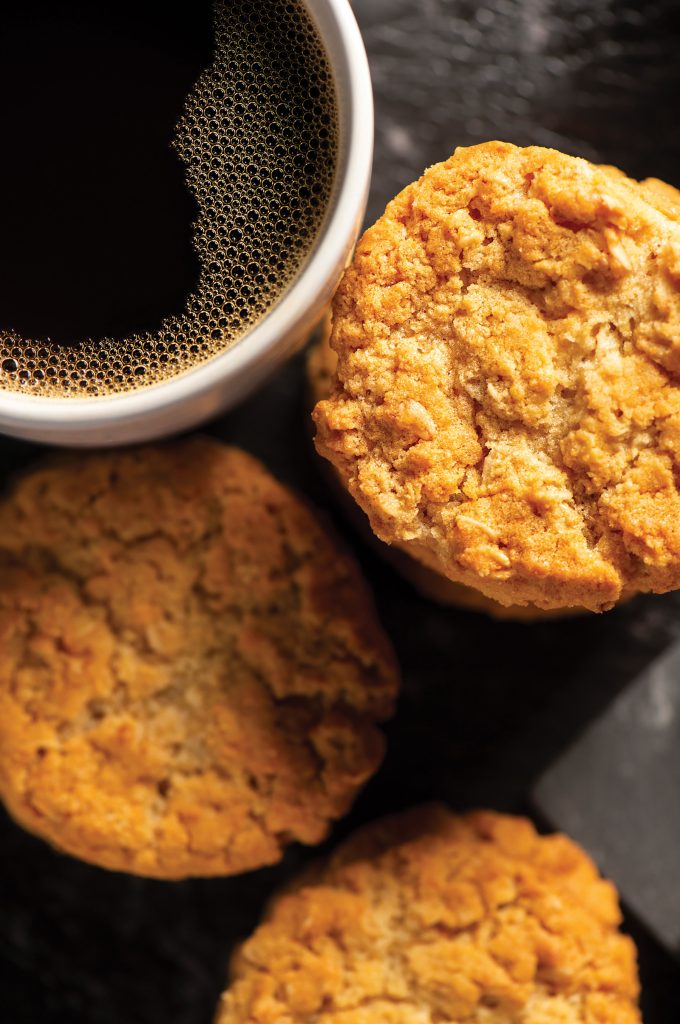 Anzac Biscuits
Anzac biscuits are crispy oatmeal and coconut cookies, named for the Australian New Zealand Army Corps. Designed to send to overseas troops during the First World War, these buttery cookies are sturdy travellers and great keepers.
• 1 cup all-purpose flour
• 1 cup rolled oats
• 1 cup unsweetened coconut
• 3/4 cup sugar
• 10 tablespoons (5 oz.) unsalted butter
• 4 tablespoons golden syrup
• 1 teaspoon baking soda
Preheat the oven to 350°F and line baking sheets with parchment paper.
In a large bowl, combine the flour, oats, coconut and sugar. In a small saucepan, heat butter and syrup over medium high heat, stirring, until butter is melted. Stir in the baking soda (it will fizz up), then remove from heat and pour into the flour mixture, stirring to combine. The dough should be pliable and firm enough to roll, but not sticky or crumbly — adjust the flour or butter slightly if your oats absorb more (or less) liquid.
Roll dough into small balls, each about 1 tablespoon, and set on the prepared baking sheets, about 1 inch apart. Press lightly to slightly flatten each cookie, then bake for 15 minutes, or until golden brown and crisp. (For chewier cookies, reduce baking time to 12 minutes.)
Cool cookies on a rack. Makes 16-18 cookies.
---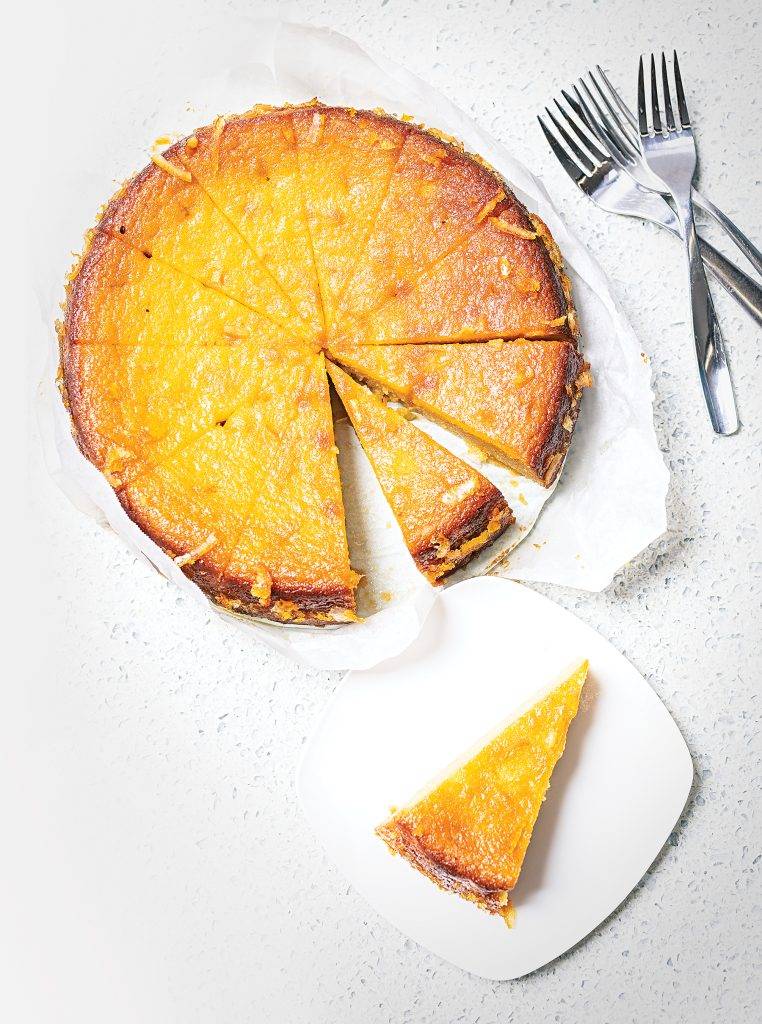 Flourless Orange Cake
Tom Moore of Crust Bakery shares this recipe for a dense, gluten-free cake that's loaded with sunny orange flavour and colour. Moore likes to serve it "with plenty of whipped cream and warm, runny, dark chocolate ganache."
Cake:
• 3 large navel oranges, scrubbed
• 1 cup sugar
• 6 large eggs, lightly whisked together
• 1 cup almond flour (ground almonds)
• 2 teaspoons baking powder
Syrup:
• 1/2 cup marmalade
• 1/2 cup orange juice
• 1/2 cup sugar
• 1/4 cup corn syrup
Place the oranges in a large pot and cover with plenty of water. Bring to a boil and boil for 2 to 3 hours, until oranges are very soft (or until they start to crack). Check regularly, adding more water as needed. Remove from heat and drain.
Place oranges in a colander set over a bowl and break them open carefully, using tongs, to release excess juices. Cool to room temperature.
Preheat the oven to 350°F.
In a blender or food processor, blitz the oranges and sugar in batches (each orange with about one-third of the sugar), to create a smooth, creamy purée (like a smoothie).
Add the almond flour and baking powder to the orange purée, then add the eggs, whisking to combine well.
(For a slightly lighter cake, separate the eggs and beat the egg whites until stiff. Add the yolks to the batter, whisking to combine, then fold in the beaten egg whites.)
Grease an 8- or 9-inch springform pan and line the bottom with parchment. Pour the batter into the pan and smooth the top. Bake in the middle of preheated oven for about 60 minutes, until brown and pulling away from the pan. (Check the cake using a skewer after 45 minutes.)
Meanwhile, prepare the syrup. Bring all ingredients to a boil and cook for 5 to 10 minutes until fairly thick. Test the viscosity by drizzling a teaspoon of the syrup on a cool plate — it should be sticky, like honey, when cool. If not, continue cooking.
When the cake is done, remove from the oven, and carefully pour the boiling syrup over the cake while it is still in the pan, ensuring that the syrup gets into and around the sides of the cake. Let the cake cool thoroughly, and then refrigerate for 2 to 3 hours (preferably overnight) before removing from the cake ring and serving.
Serves 8 to 12.