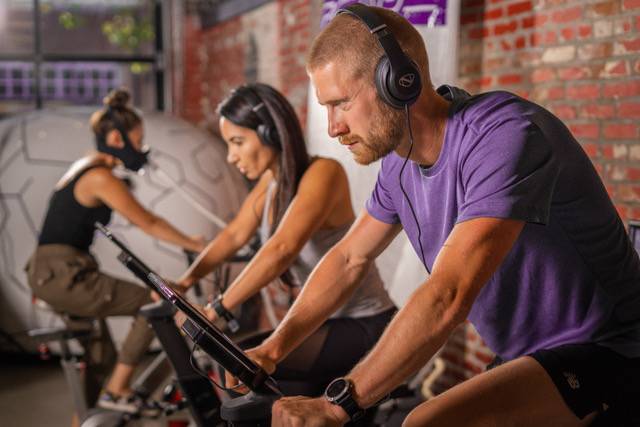 Upgrade Labs and Café is Canada's first Biohacking facility, and is the brainchild of Dave Asprey, a four-time New York Times bestselling author who is also known as the 'father of Biohacking.'
This state-of-the-art facility is located at 516 Fisgard Street, nestled in the heart of historic Chinatown in Downtown Victoria. Labs uses cutting-edge technology to exponentially improve your health at the cellular level, while the Café provides healthy, keto-friendly dishes using locally sourced ingredients.
The decades, even centuries, of science behind all of the technology at Upgrade Labs is intended to improve the longevity of their guests. Upgrading your performance and recovery health just got easier with technology such as:
The Cheat Machine
Patented, motorized resistance and computer software adaptive resistance technology. The Cheat Machine pushes you harder than you could ever push yourself, giving you a week's worth of weightlifting in under fifteen minutes.
The Ozone Sauna
The Ozone Sauna hyper-oxygenates the body while surrounding you with Ozone from the neck down. Ozone is great for combating viruses and bacteria, strengthening the immune system, and helping muscular and arthritic tension through circulation.
A major contributing factor of longevity is cell health, specifically mitochondrial health. Upgrade Labs CEO, Dave Asprey, is determined to use his knowledge and expertise of optimal cell health to the masses.
"Mitochondria are the parts of your cells that make energy, determine how you feel, what you want, and how you think right now," says Asprey. "Well-fueled, plentiful mitochondria keep you energized and happy, while mitochondria that don't have what they need distract you, make you feel hungry, and keep you looking for something to satisfy what you're missing instead of doing the things you need to do.
The key to strong cells and the energy for daily life is having lots of strong mitochondria. Preserving the mitochondria you have, and signaling your cells to make more of them, may lengthen your lifespan. Researchers can link mitochondrial dysfunction with nearly every age-related disease, including Alzheimer's and cardiovascular disease." (Dave Asprey's Blog, 'Hack Your Longevity to Look Younger, Feel Stronger, and Think Clearly').
The technology doesn't just stop at the performance and recovery, the Upgrade Victoria facility has built-in features to support cell health. All the air inside Upgrade Labs and Cafe is ionized and specially filtered to duplicate the benefits of being in nature. The special air filtration technology is proven to remove 99.99% of airborne mold, germs, odors, chemicals, and aeroallergens. Additionally, in the Cafe, the perimeter lighting mimics natural circadian rhythm, duplicating the natural lighting outdoors. The lighting changes in brightness and color depending on the time of day, which helps restore the natural function of many major bodily processes. Circadian rhythms keep us happy and healthy. They play a major role in sleep, cognitive performance, and the immune system.
Why not support local while supporting your cell health? The menu at Upgrade Cafe has been carefully crafted to be packed with good fats, sustainably sourced proteins, and nutrient dense carbohydrates provided by local farms. Pair any delicious breakfast or lunch dish with the perfect beverage. Enjoy a variety of coffee based drinks, blended with grass-fed butter and MCT oil for the caffeine and energy boost you need to power your day.
Upgrade Victoria is intended to cater to all your biohacking and health needs. During your visit you can push yourself to perform better than you previously thought possible, aid your body in recovery and detoxification, and fuel your body with mindfully created dishes featuring locally-sourced, sustainable ingredients.