From the Food Eco District's experimental plant boxes to Mason Street City Farm and individual homeowners planting food, not grass, urban gardening has grown beyond a trend in Victoria, B.C.
By Cinda Chavich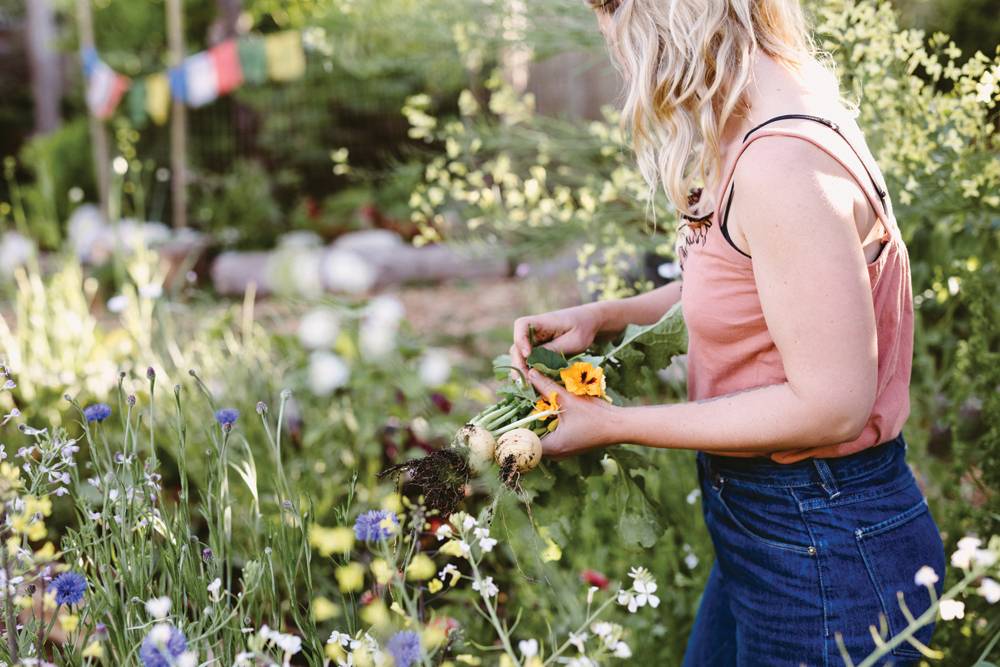 Famed for its florals, Victoria has long been known as the City of Gardens, but these days food may be edging out flowers in the urban landscape.
Whether it's an interest in eating healthy local food or doing their bit to fight climate change, Victorians are tapping into a budding urban agriculture movement.
The City of Victoria encourages urban food production with its Growing in the City initiative, which sets out guidelines for everything from how and where to grow a boulevard garden and planting fruit trees in green spaces to how many bees or hens you can keep.
There's also an Urban Food Table food policy advisory group, which helps inform and guide City Council to make decisions which encourage food production, pollinators, community gardens, food- related celebrations and more.
Which may be one reason why Victoria is such a hotbed of garden- to-table green thumbs. A recent Urban Food Table survey found some 300 Victoria gardeners growing food on two acres of urban land. Most of them were new to the gardening game — gardening for less than five years — and yet they grew nearly 2,400 grocery bags full of food.
And the City wants more urbanites to pick up shovels and get growing on public and private land, with a bunch of progressive policies to turn yards into gardens of eating.
GROW WHAT YOU EAT
There's no doubt growing your own food, even if it's a pot of herbs on your balcony, makes for fresher flavours on the plate. Chefs have long known the value of the potager (kitchen garden), and more locals, especially those who love good food, are replacing their grass with greens.
"My yard is a project," says Toni Desrosiers, who has been slowly turning a former flower garden into a very productive food garden.
"We started in the back, replacing the ornamental grasses and rhodos with herbs and tomatoes and a raspberry patch," she says, stepping around the tidy raised beds that run from the front door to the street. "Last year, we moved into the front yard, adding blueberries and strawberries, garlic, cucumbers, peas and carrots. I think front yards need to be front farms."
The mother and small business owner (Desrosiers is the founder and CEO of Abeego beeswax food wraps) says she's busy, but gardening is "not as much work as people think." It's a hobby with benefits. "Last year we grew at least 40 pounds of tomatoes, 200 bulbs of garlic and I ate bowls of strawberries every day."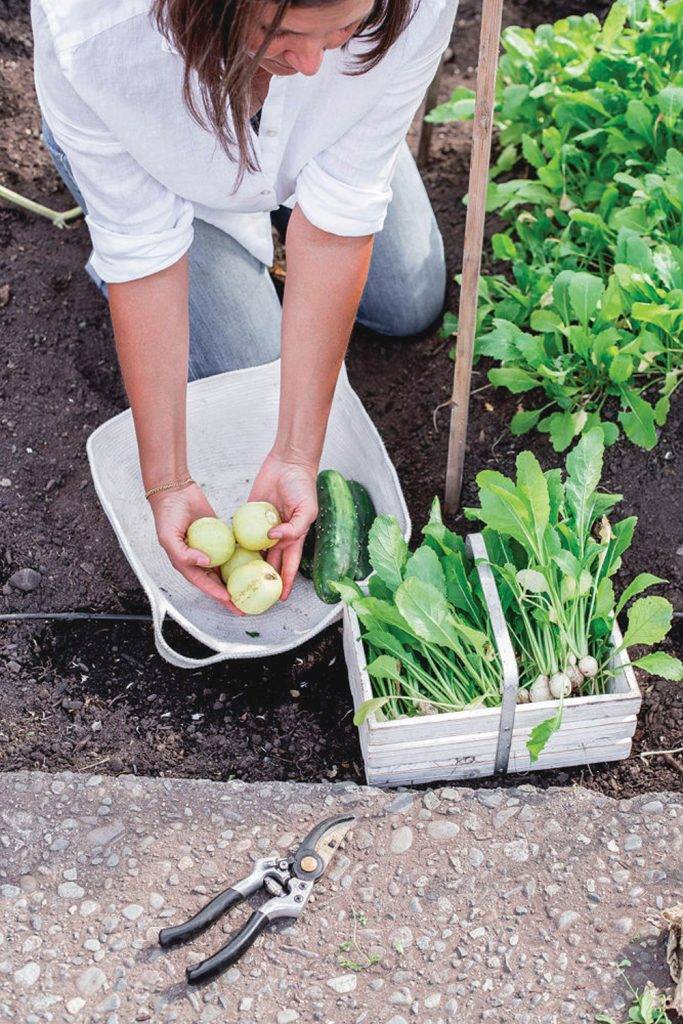 With trellises covered in scarlet runner beans and cucumbers, giant pumpkins and colourful chard, Desrosiers says her food garden is also a magnet for curious neighbours, a connection to her community and a way to teach her young daughter about the value of fresh, local food.
"In summer we save a ton of money — we don't buy produce," she says. "The biggest challenge is using all of the food we grow."
IF THEY BUILD IT
These Instagrammable gardens are part of the urban homesteading movement, a return to a self-sufficient, DIY lifestyle that includes backyard chickens, beekeeping, cheesemaking and food preservation.
Desrosiers hired Hatchet & Seed to help her transform her city lot into a food farm.
The company, run by Solara Goldwynn and her husband Tayler Krawczyk, specializes in both small- and large-scale edible landscapes, and has designed many such urban food gardens, including the productive pots and planters outside Nourish Kitchen & Cafe in James Bay.
"Every garden is different," Goldwynn says of both the process and the price. "We ask people to do a survey online to assess their goals,
how much time they want to spend, what's the esthetic — and we hear all kinds of different things."
Hatchet & Seed can construct stone rain gardens to capture and divert water, create permaculture landscapes and food forests and set up self-watering "wicking bed" planters to keep vegetables hydrated.
Many of these sustainable ideas are showcased in their own home garden, a productive collection of raised beds filled with perennial and annual edibles, a compact greenhouse, a wriggling worm compost bin and a clever chicken coop that lets their hens recycle food scraps and garden waste on site. It's a tidy, closed system that provides their small family with food for most of the year.
But not all of their projects are entirely food focused. Goldwynn says edible landscapes can be both stylish spots to sit in on a summer day and productive places to grow healthy food.
"A lot of people just want to spend more time in their yards," she says, "and they want their gardens to feed them in different ways."
You can plant what you like to eat and things that you can't easily buy, whether it's an heirloom tomato, a rare fingerling potato or a unique wild edible. Desrosiers chooses vegetables "that don't really taste good from the supermarket," and Goldwynn cultivates unusual ingredients, including miner's lettuce, nodding onions, goji berries and medicinal herbs.
Working outdoors in a garden offers physical and mental benefits, but many gardeners are driven by larger issues. Growing your food is a way to fight global warming and to protect local food sovereignty, genetic biodiversity and bees.
"Gardening is something tangible that people can do," says Goldwynn. "A garden produces food but also inspires and feeds the spirit."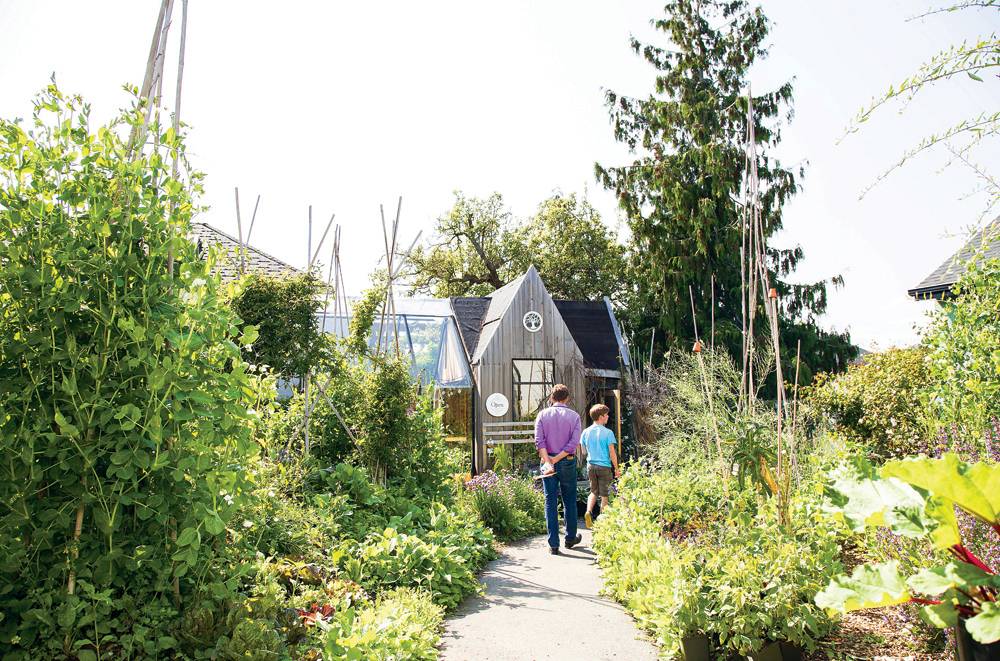 THE BUSINESS OF URBAN GARDENS
Growing food in the city is also a sustainable business model.
Look up beyond the new lobby at the Fairmont Empress Hotel, and you'll see a rooftop garden filled with healthy herbs and vegetables for the hotel chefs. Step behind The Market Garden, a stylish green grocer in Vic West, and you'll find an organic vegetable plot that fills the store shelves with beautiful food.
In Fernwood, there's Mason Street City Farm, a longtime model of small-scale, urban agriculture in the inner city. It's a quarter-acre Fernwood food farm and edible nursery that feeds a local CSA program and a number of local restaurants with a variety of fresh vegetables, herbs, greens and berries. It's also a great source of vegetable transplants for home gardeners.
TOPSOIL is another example of how urban farming can work. At his 20,000 square-foot Dockside Green garden, Chris Hildreth grows vegetables in portable, above-ground geo- textile pots, for sale to city restaurants and at a seasonal market stand. Hildreth is now sharing his vision — hosting workshops to encourage
commercial property owners to invest in his system for their own grow spaces, and training a new generation of urban farmers at city schools.
Meanwhile, the non-profit Food Eco District (FED) celebrates the city's obsession with local, sustainable food purveyors with a collection of mini food gardens, many set up in front of the green-certified restaurants under the FED umbrella. Whether it's native plants like sea thrift and coastal sage, or herbs and vegetables more specific to the restaurants that harvest them (think curry leaves, shiso, basil, garlic, chives, beets and bok choy), the FED street-side garden boxes are educational and showcase what can be produced in a small space.
"The community boxes are for everyone to use," says FED project manager Holly Dumbarton of the 31 planters that will soon have signage describing
the edible plants being grown and how they can be enjoyed.
Dumbarton says she's hopeful locals will simply "slow down for a moment" to learn more about the food that's growing on the street, snip what they need for supper and be inspired.
"It's not meant to feed everyone," she says, "but it's just nice to see something growing in the middle of the city, and hopefully get people hooked into growing their own food."
GARDEN-SAVVY CITY
Demand is fierce for urban gardening plots — many neighbourhood allotment gardens have waiting lists of up to 10 years.
The City wants developers to build rooftop gardens and green spaces, with the goal of doubling community garden space, but it's all voluntary.
"It's a lofty idea but there's no mechanism, no way of doing it," Dumbarton admits, adding FED is working with the City to map downtown to identify "the top 10 or 15 sites for urban agriculture," likely on existing rooftops.
Still, those in the gardening trenches are hopeful. Leah Seltzer, LifeCycles' Growing Schools manager, ran a six- week Seed the City project last summer with TOPSOIL, teaching high school students how to build and run a successful urban food farm.
"This project gave these teenagers ideas about how you can have a solution-oriented livelihood, and create the kind of world you want to live in," says Seltzer. "Growing food — it gives you hope. It's an example of the difference you can make in the world."
Find a list of resources to sharpen your gardening skills: Grow Your Vegetable Garden