Since 2001 Vancouver Fashion Week has nurtured the careers of both established designers and award-winning emerging designers by championing a global perspective and multicultural approach.
It has grown into the second largest fashion week in North America and is currently the fastest growing fashion week in the world.
Founded by entrepreneur and fashion enthusiast Jamal Abdourahman, it was called 'International Fashion Week' for its first season. Jamal made it his ongoing mission to travel to fashion capitals to connect with industry leaders and keep Vancouver on the top of the fashion radar.
This year, the shows were live streamed to audiences worldwide. YAM staff writer Emily Dobby provides her review.
HARUMIHIYAMA, Japan
This collection is about showcasing love. Harumihiyama's atelier designs clothes with the intention of spreading love and peace. I love the beautiful intricate embroidery and textiles – which are all handmade in Japan. Think soft, feminine pastel palettes, natural fabrics, sweet nature inspired patterns, romantic ruffles and sleeves. A feminine, yet slightly bohemian look.
UUIN x AETER, Taiwan
The Gardener Collection sets the stage for a beautiful metaphor: Taiwan, representing a green ark in the post-pandemic era; the people, gardeners cultivating their verdant homeland. Inspired by gardening overalls, UUIN showcased pinks, greens, ginghams and checkered farmhouse charm in their colourful line.
UUIN consists of three designers. Andrea Liu has 30-year experience in the industry as an haute fashion designer, Tzutsao Liu is a well-known costume designer for a music concert, and VanLin specializes in innovative, functional garment design. Each design member's first name forms part of UUIN.
BLUE TAMBURIN, Korea
This FW21 VFW was the official launching event for Blue Tamburin. Their design philosophy is Against Every Discrimination, and this collection attempts to empower individuals to daringly express themselves.
The collection showcases classical, sophisticated tones and shapes reminiscent of the Victorian era as well as 40's fashion. The looks also highlight varying shades of blue and diverse patterns of denim, rich texture and pattern as well as fascinators.
Bomin Kim is a Korean designer who has already been recognized on the global stage through the collections of Seoul Fashion Week in Korea, Vancouver and New York.
CÉDELAR, France
The Movement Collection was inspired by the art and joy of dancing. The pieces are flowy with a lightweight texture. Delicate and feminine designs, muted pastel colors, sensuous satin and oversized wispy sleeves.
The collection fuses graceful ballet inspired clothing with contemporary active wear. The name of each piece is dedicated to a star in the dancing industry.
DANNY REINKE, Germany
This collection is an homage to sustainable fishing practices.
Inspired by the Baltic Sea and the work clothes of fishermen, the palette includes sand, grey, and various blue tones. A fusion of stripe and check patterns sharpen the collection like a refreshing sea breeze.
Tulle ruffles dance with lacquered textiles reminiscent of dynamic sea life. Waves are brought to life in lush tulle dresses.
Sophisticated and cozy down jackets represent the cocoon like feeling of home and belonging, while delicate beadwork featuring drips of genuine Swarovski crystals evoke the scintillating scales of fish, transforming the wearer into an elegant sea creature.
LA FEMME ROJE, Canada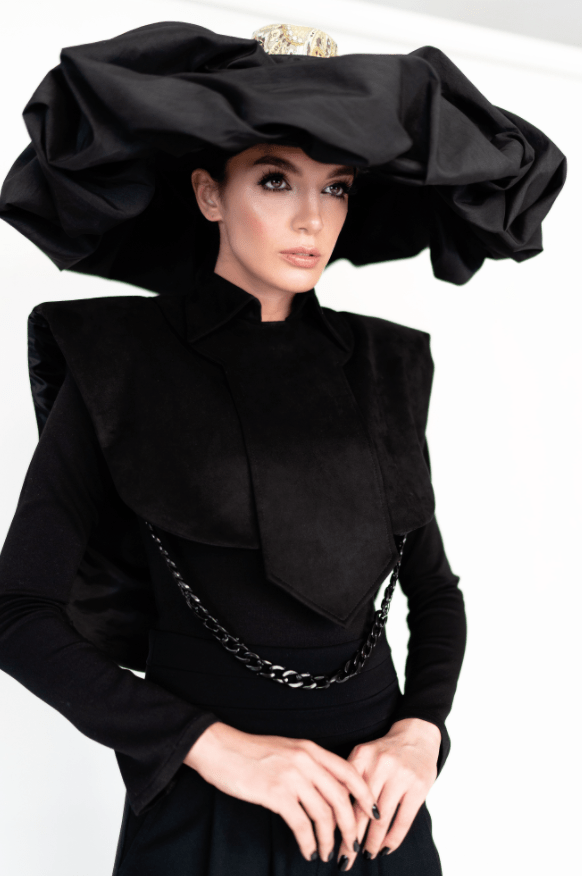 The Khatoon Collection is inspired by the power and audaciousness of silenced women."These women are mysterious sparks of life and hope. They long for freedom, venture, awareness, and love, yet won't give up any pieces of their true selves to please anyone around them."Says Rojan, the creative director and designer of La Femme Roje.
Rojan's work and brand have been featured in Harper's Bazaar, Lucy's, Creator's, among others and have also been part of fashion shows and events in Italy, Canada, and Iran.
Learn more about the event at https://www.vanfashionweek.com/.