This recipe, from chef Alain El Alaily at Venus Sophia Tea Room, uses no bacon but gets a similar smoky flavour from the smoked Lapsang Souchong tea used to season the filling. Make pastry from scratch, or use frozen mini tart shells.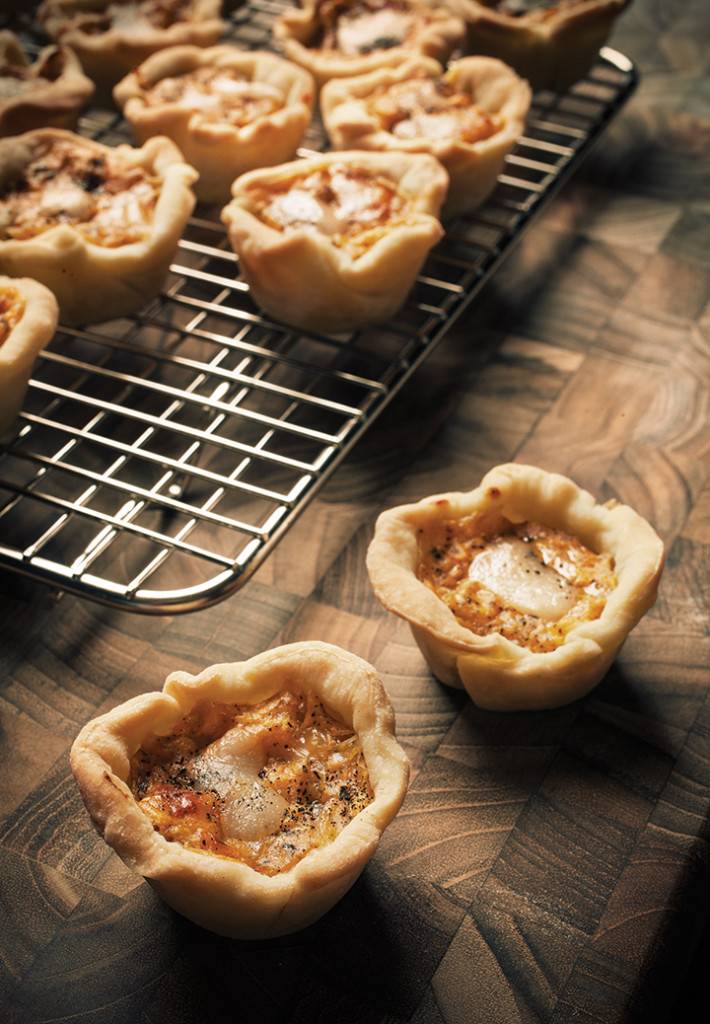 Filling:
• 2 tsp finely ground Lapsang Souchong tea, divided
• 1 medium yam, baked and cooled
• 1 egg
• 3 tbsp cream
• 1 tbsp flour
• 1/4 tsp salt
• 1 cup grated cheddar, divided
Pâte Brisée
• 1 1/4 cups flour
• 1/2 teaspoon salt
• 1/2 cup cold, unsalted butter, cut into cubes
• 3 tbsp ice water
To make the pâte brisée, place the flour, salt and butter into a large bowl. Using a pastry blender, cut the butter into the flour until the mixture is crumbly. The butter should be cut into pieces smaller than a pea. Add the water, a tablespoon at a time, and mix quickly with a fork, just until the pastry begins to come together. Dump it out onto a piece of plastic wrap and gather into a ball. Wrap well and flatten pastry into a thick disk. Refrigerate for an hour or two to chill the pastry before rolling.
Meanwhile, place the tea in a blender or spice grinder to create a fine powder. Set aside.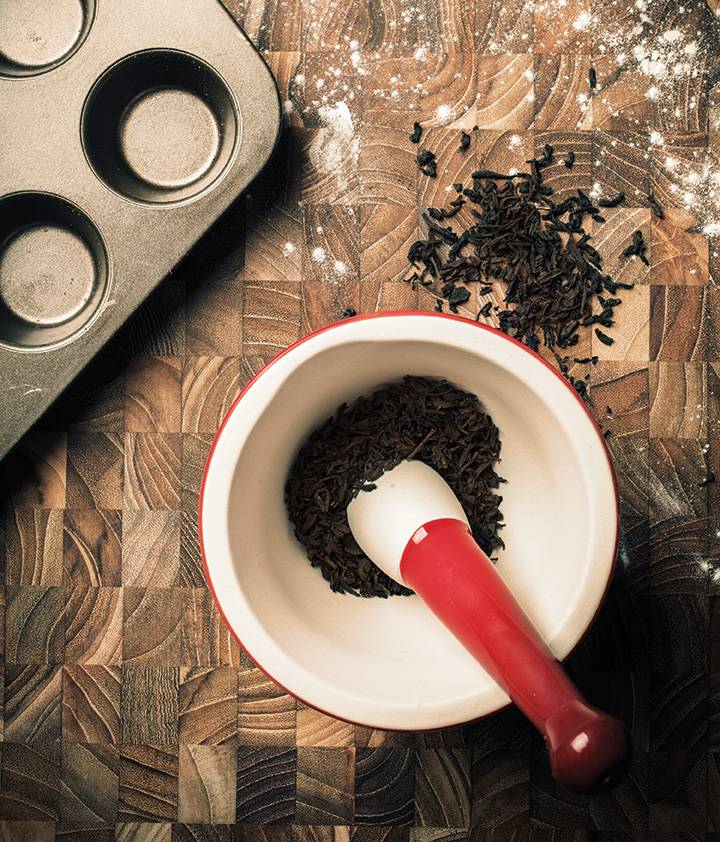 Cut the baked yam in half and spoon out the flesh. Discard the skin.
To make the filling, in a blender combine the cooked yam, egg, cream and flour. Add 1 teaspoon of ground Lapsang Souchong tea and the salt. Blend well to create a smooth base. Add 3/4 cup of cheese and pulse to combine. Don't purée.
Roll out the pastry on a floured surface until about 1/8 inch/3 mm thick and cut into three-inch rounds using a glass or cookie cutter. Press the pastry rounds into a mini muffin/quiche pan, and fill each three-quarters full of the prepared filling. Bake in a preheated 375°F oven for 15 minutes. Cool.
Just before serving, top each with a little of the remaining shredded cheddar and a sprinkling of the ground tea. Bake at 400°F for 3 to 4 minutes, just to heat through and melt the cheese. Serve warm. Makes 24 mini quiches.