By Julia Dilworth | Photo by Belle White
Jamie Owens and her husband Jesse Owens created Hide + Seek as a place for people to "hide out" or "seek friends" on Oak Bay Avenue. Jamie talks to YAM about the magic of timing, atmosphere and lattes.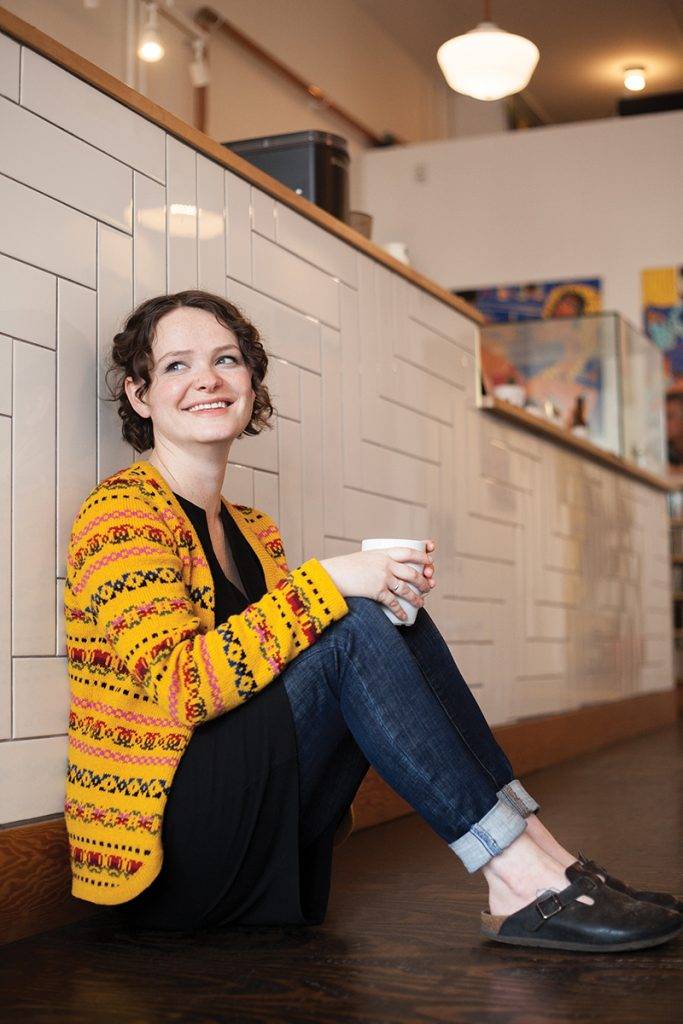 People say it all the time: Life is about timing. And if Jamie Owens and her husband Jesse Owens had opened their café Hide + Seek Coffee when the idea first came to them, "it would have been terrible," Jamie says.
The couple — both born-and-raised Victorians — met in high school, married shortly thereafter and at age 19 already had big plans about opening their dream business. But before taking the plunge, they decided to test the field. She got a job in a bakery and Jesse started working at Caffe Fantastico. "We were smart not to do it when we really wanted to, when we first got married," says Jamie. "So we gained the experience before stupidly opening a terrible café."
The next eight years or so leading up to opening Hide + Seek on Oak Bay Avenue were spent learning everything they could. From that grew their love for baked goods, customer service and the craft of coffee. "I love the coffee. It's just really exciting. Coffee's really about exploring and trying new things," she says.
Then, with the lease signed, they finally set about building their coffee shop, a place people could "hide out" and "seek friends."
"We wanted to create [the kind of] space we wanted to be in," says Jamie. "Like, we're from Victoria, but we'll never own a house in Victoria. It's not in the cards for us, at least for a long time."
So the duo asked themselves: If they could own a house, what would they want it to look like, how would they want to feel in it?
The answer? It would look a lot like Hide + Seek. Bright and airy, with pendant-light drops, wood-framed prints from local artists, shelves of florals and coffee-table books. Add in T-shirts and for-sale totes designed by friends hanging on the wall and cozy seating nooks with places for working, reading and talking. It's very "come in, stay a while."
"We like to bring drinks out to people, to engage as much as we can," says Jamie. "That's the hope, that it feels like a complete atmosphere as opposed to somewhere you're running into very quickly."
Hide + Seek also makes its own jam, almond milk, hemp milk and vanilla syrup. Jamie is always trying to add to the crafted-in-house roster. (It takes more time, "but it's worth it," she says.)
Hide + Seek is not a roaster, but they source coffee from their favourites, like Vancouver's Lüna and Creston's Lark. Even their tea is curated, from JagaSilk, a local company. 
"They think about tea the way we think about coffee, which is pretty exciting," Jamie says. The Earl Grey, for example, is a custom blend of cardamom and bergamot created by JagaSilk for Hide + Seek.
When Jamie's knitting instructor needed a place to teach, Jamie said, "I've got one." Now Hide + Seek hosts classes along with public knitting nights. "That's the beauty of owning your own space," she says.
It's hard to believe the couple, who have two young kids, also found time in 2018 to open a restaurant, Sunday's Child, with their friends from Ruth & Dean. "We're still in that first-year crunch at Sunday's Child, so life is stressful," Jamie laughs. She says she wouldn't mind if things were to settle down a bit. "I'd love to have weekends again, so I'm not thinking about starting any new things for a long time — my mental capacity is spent." 
Jamie's Trend Forecast
Engagement Isn't Dead
"I find there's a lot of reflection in this space and community building. We have a mix of people coming in here, and what I love is the intergenerational play that happens, that people are really open to chatting with people around them and learning from elders and youths. People are always on their phones, but they're still open to take a break from that."
Fashion Flashbacks
"It was a bit of a shock to come from being a 90s kid to seeing the 90s come back. That's a wild ride! Seeing things that I dreamed I could wear as a youth, but that I wasn't allowed to. Or men having mushroom cuts is a real thing! They're pulling it off though. They look cool."
An Emergence of Dialogue
"I feel like people are really open to having conversations that are trickier — conversations that make them feel a little uncomfortable. Those things, oddly enough, come up a lot in a café. For example, we've always closed on Indigenous Peoples' Day, June 21. The first few years we got a lot of push back. This year we stayed open, but we did a fundraiser for the Native Friendship Centre. The first year there was kind of anger associated with it. People approached us and were like, 'Why would you do this?' But what I found really striking was that I had a couple conversations with people the second year we did it, that weren't as standoffish. I was working on the bar and having real conversations about the realities of reconciliation. We were disagreeing, but discussion was happening still. Those people still come in, and I think that's pretty exciting."
A World Less Opaque
"There's a shift to more transparency, industry-wise. That is getting exponentially better," says Jamie. "It's a scary time and it's an exciting time to be a part of this industry."
For instance, she says, "Coffee is dying, climate change is killing coffee. And people aren't ready to pay what coffee is worth. Coffee is already grossly under-priced: A latte should cost $12. Someone hand-picked that one bean, and you need about 20 at least for a cup of coffee. And then somebody washed it, somebody dried it, somebody imported it, somebody exported it and roasted it and then shipped it to us, and then our baristas made it for you and presented it to you, plus all the other things like milk and cups. It's just that realization of the special quality that is this drink. Like, if it was wine you wouldn't blink an eye at paying $19 for a glass — and [those grapes are] grown in B.C."
Personal Drink of Choice
"I am a single cappuccino or latte person," she says. "I love the sweetness in a single drink, because you just get so much flavour from it. And I like milk. I'm not one of those people that likes alternatives. They exist and I'm happy people drink them, but I like dairy."
---
This article is from the January/February 2020 issue of YAM.