In our new series, locals share what they're doing during the COVID-19 pandemic and talk about their worries, habits and hopes.
Danica Jeffery, operations manager for Church & State wines, is isolating at home in downtown Victoria, with her four-and-a-half-year-old son, Asher, alongside their cats, Fred and Paul — "with the occasional foray outdoors for some socially distanced fresh air."
She shared with YAM what her new normal looks like.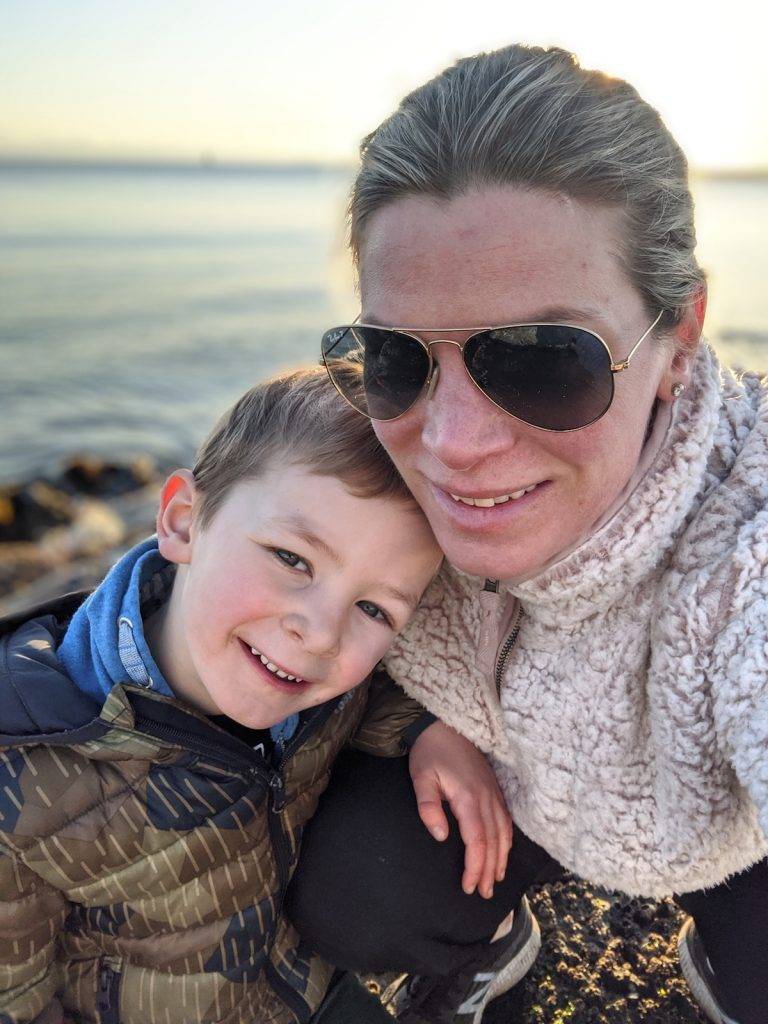 What has been the biggest change for you since Covid hit?
The biggest change has been having such a lack of routine at home and at work (given the effects of temporary closures due to Covid). I'm a 100 per-cent single working parent, so for me, having some sort of a schedule is truly important (and beneficial). Having no daily daycare drop-off (him) or settling into work mode (me) has proven to be a huge change to face. It's taken some time to figure out a good balance for the both of us that still allows enough time for fun — and productivity.
---
What does your typical day look like?
Admittedly, I've been a bit slower to get moving — taking time to actually enjoy a second cup of coffee, and not inhaling it on the way out the door. I'll make my son breakfast, try to get him to engage in some sort of semi-educational activity or be creative, and squeeze in a few emails or proposals for events clients. Then, we're generally packing up some snacks and heading out to one of our local secret spots that don't see a lot of other visitors, where Asher will explore endless tide-pools and catch crabs (which he releases).
I'll usually be on a few calls during this time trying to help pre-booked wedding and corporate events clients affected by Covid navigate next steps. But I have really been trying to focus on being present with my son as much as possible. We'll head home for some quiet time in the afternoon, and then play some soccer or do another home-school activity, modelled after his Montessori curriculum. I usually have to do a bit more work before breaking for the day, so I let him have free play or watch a show on the iPad. Then it's dinnertime. We've been getting really creative with trying out new recipes, and I get Asher involved as much as possible as my mini sous chef — he loves it!
---
What are you most worried about?
I know I'm not alone here when I share that I'm most worried about when things will go back to normal (or a new normal as it were). Given the depth to which Covid has struck such a blow to our local, and global economy, I am worried about our collective recovery – and of course, how things will function in the tourism and hospitality sector (within which my current position lies). I try to be optimistic, but am also planning for the more realistic scenario for this year ahead. Who knows what the future holds?
---
How do you de-stress?
For me, fitness has always been a means to manage stress, and so I've been trying to stay as active as possible while staying safe, and socially distanced. I'm keeping up with yoga, running and biking, and have also really gotten my son and I into doing puzzles together (we're currently tackling one of two 1000 piece puzzles!).
---
What have you been reading/watching/listening to?
I'm trying to keep reading or watching news to a minimum, but creating more space to read a few books that had been collecting dust on my bedside table: Help Me by Marianne Power, Weird Parenting Wins by Hillary Frank, and The Girl With No Name by Marina Chapman are on rotation. I'm watching lots of Disney movies with my son, as well as getting him into the Cosmic Kids Yoga app. After he's in bed, I'm usually catching up on unwatched Survivor episodes or an HBO favourite Westworld. [I'm] trying to get more into a few podcasts such as Curiosity and Armchair Expert with Dax Shepard.
---
Have you rediscovered any hobbies?
Yes — journaling/writing. I've always loved writing, have held editor positions with a few digital publications, and can script a decent press release. However, I don't really have the need to do any writing (aside from emails and proposals) these days. It's been refreshing to get back to fleshing out thoughts and stories on paper, for myself, these past few weeks.
---
Is there anything from this time you hope carries forward when this is over?
Yes. I am acutely aware of how quickly time passes, and how precious life is, and I knew even before this pandemic began to unfold that I was not truly always able to be present with my son (always answering emails, taking work-related calls, allowing work to bleed into my weekends and evenings). I hope to carry my efforts to be more present with Asher forward after this ends. In addition, I also hope we can all gain a better perspective as to what truly matters in life — the little things, being in nature, kindness. Not all the stuff we seem to think we need to accumulate in order to be happy. Not to sound cliché, but you can't take it all with you in the end.