Take a look at the Victoria Public Market's updated, extended hours for the Holiday Season! Offering Food by Delivery and Take out!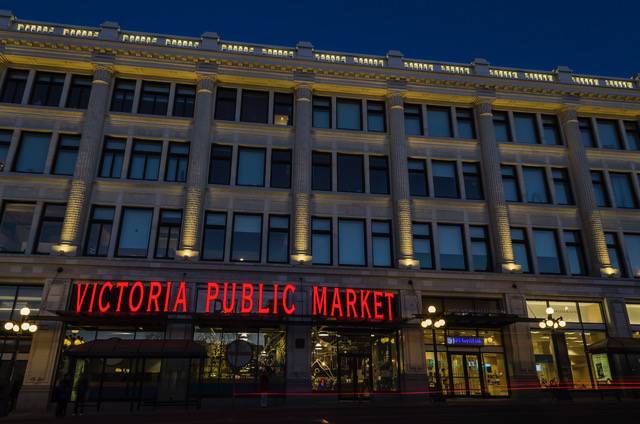 "Where do you want to go for lunch?" was hard enough to answer before the pandemic hit our shores, so it can seem even harder to answer now that we have to consider not just what's close by, delicious, and quick, but also where we can socially distance with ease.
Fortunately, the Victoria Public Market located at 1701 Douglas St. takes care of it all. Since opening in 2013 at the historic Hudson building in downtown Victoria, the Market continues to be a go-to stop for local workers looking for a delicious eat-in or to-go lunch from multiple vendors who offer not just take-away, curbside pickup, and delivery, but also the Market's spacious 18,000 square ft. open air design with high ceilings makes for a stress-free dine-in environment.
(You can check out page 38 and 39 of the Nov/Dec 2020 issue of YAM magazine to see photos and descriptions of these delectable options: https://issuu.com/page-one/docs/ynd20/38)
The Market is convenient not just for picking up lunch today, but also for grabbing those extra ingredients you need to make dinner tonight because it also features farm-fresh groceries (Fridays & Saturdays), handmade pies, fresh pasta & sauces, rotisserie chickens & sides, farm fresh eggs, vegan meals, sides & desserts, soups, sushi, chocolate, coffee and even fresh flowers. And, it's not too soon to start thinking about Holiday giving.
Fortunately, the Market also boasts several permanent and temporary day vendors – local artisans who sell beautiful offerings for under the tree, or for treating yourself! You can even take a moment to enjoy the new photo booth – designed by Rock Paper Square and Rook & Rose, available until the end of December 2020 and decorated with beautiful dried flowers – for selfies or taking fun snaps with friends or coworkers while you are there.
The Victoria Public Market is announcing new extended hours for the starting as of November 13th, 2020:
Monday to Thursday…………………..11AM to 6PM
Fridays…………………………………………11AM to 8PM
Saturdays…………………………………….11AM to 6PM
Sundays……………………………………….11AM to 5PM
And there's more exciting news: The Community Kitchen is ready to be rented again! The centrepiece of the Market is the Community Kitchen, a place for vendor product preparation, food and cooking demonstrations, lectures and seminars, private and public courses in cooking and sustainable living.
The Community Kitchen is a VIHA-approved, fully equipped commercial kitchen with rental costs that allow everyone to benefit from this amazing community asset. Events can range from a social-distanced get-together with a handful of friends making 20 quarts of tomato sauce, to teaching a public workshop or charging admission for a private class.
You can book your event here: https://victoriapublicmarket.com/opportunities/community-kitchen
Considering a new or second location to open up your own shop? New leasers are welcome. Space is available for a bakery, fitness facility, boutique pet store, grocer or personal aesthetic services, to name just a few. Contact Matt Fraleigh – Matt.Fraleigh@colliers.com – to learn more and to see if the Market is the right location for your business.
Whether you're lunching, shopping, or looking for a space out of the rain to have a hot coffee and read a good book, make the Victoria Public Market your all-in-one stop this Holiday season and beyond.