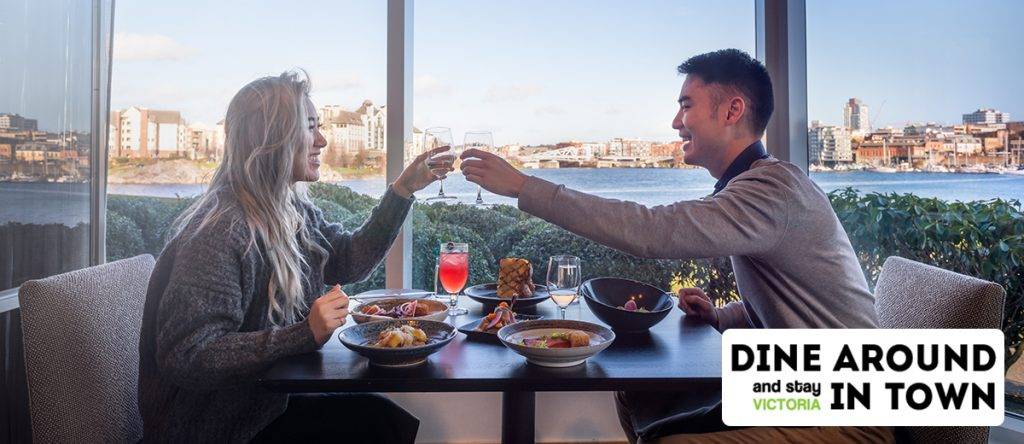 by Emily Dobby
An annual favorite is back – with a pandemic twist. Destination Greater Victoria and the BC Restaurant & Foodservices Association (Victoria Branch) have once again joined forces to organize and launch this year's Dine Around & Stay in Victoria. The Dine Around food program includes over 50 of Victoria's best restaurants offering set three-course menus at reasonable prices. Locals can savour a wide range of culinary experiences and world class accommodations in the Greater Victoria area.
Destination Greater Victoria and BCRFA are working with restaurants and catering suppliers to verify that proper protocols are in place and that food service is delivered within safety guidelines.
"Dine Around and Stay in Town Victoria has been an amazing event for many years" said Paul Nursey, CEO of Destination Greater Victoria. "This year, with the health restrictions we are truly focused on staycations and the local market. We want Greater Victoria residents to enjoy our amazing local fare, as well as showcase our talented restaurateurs and culinary scene, but all within the appropriate guidelines. It is important to stay within one's own bubble. Hopefully in the months ahead we will patronize these establishments with friends and extended family again."
In spite of the restrictions this year, Dine Around & Stay in Town has been well received. Restaurateur Mike Murphy has seen a great response to Dine Around this year: "I've seen a 40 percent increase in customer counts since Dine Around started. This is an emotionally draining time and Dine Around is uplifting – it's boosting spirits."
Dine Around is on from now until February 7. For a list of participating restaurants and menus, click on the link above or visit tastingvictoria.com.