For an under-the-radar dining experience, look no further.
By Cinda Chavich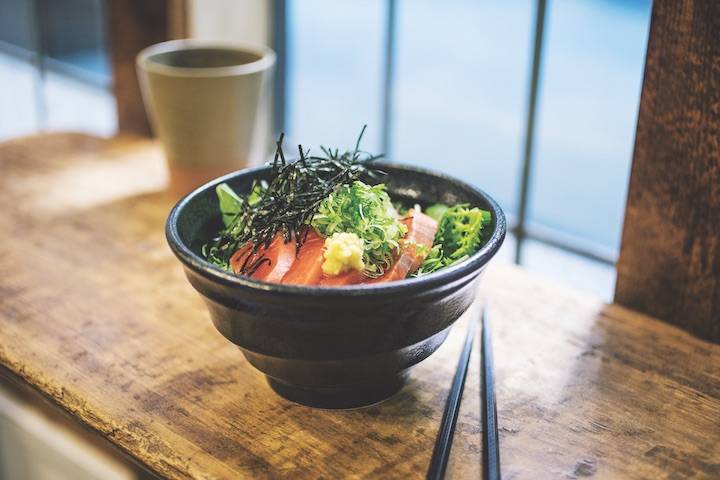 Uchida's Eatery's salmon donburi, with wild sockeye salmon and local organic greens served on house polished organic sushi rice. Photograph by Jeffrey Bosdet.
---
Uchida Eatery/Shokudo really defines the idea of a hidden gem — a tiny Japanese lunch-only spot, secreted off a downtown street, and offering pristinely fresh fish, miso soup, donburi and beautiful home cooking. Look for the daily specials on their Facebook page, but make sure you arrive early — this Monday-to-Friday diner opens at 11 a.m. and the popular daily dishes disappear quickly!
Uchida Eatery/Shokudo, A22-633 Courtney St., 250-388-7383, facebook.com
What you'll find at the Artisan Bistro in Broadmead Village is a noteworthy B.C.-centric wine list and an ambitious menu, from handmade gnocchi and tuna poke to sous vide tenderloin and prawns.
Artisan Bistro, 777 Royal Oak Dr., 250-590-9333, artisanbistro.ca
At Persimmon Tree, in a suburban mall in Langford, chef David Chung prepares beautiful Korean fusion food, offering a truly exotic dining experience in an unlikely locale.
Persimmon Tree, 193, 2401 Millstream Rd., 778-430-0355, persimmontreerestaurant.com
Honorable Mention: Le Petit Dakar
---
More Best Restaurants
The 2018 Best Restaurants were selected by a panel of judges. Meet the judges here.
---
This is from the July/August 2018 issue of YAM