In a city that loves its cheeses, we explore this delicious culture, one creamy nibble at a time.
By Cinda Chavich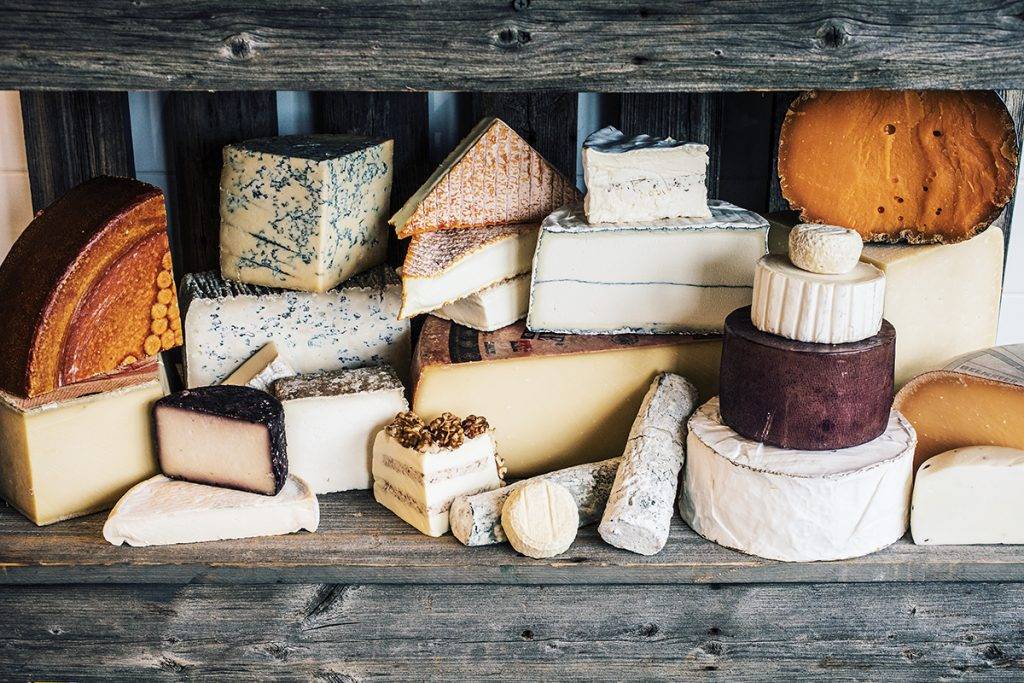 The woman sitting next to me wrinkles her nose in disapproval at the same time as her husband smiles, smacks his lips and sighs.
I'm with him. The piece of runny, bloomy Le Brebiou cheese we've just consumed, fresh from the Pyranées-Atlantiques region of southern France, is soft and milky, with a grassy aroma and a bit of tang on the finish. It's light, creamy and sublime.
I've already gobbled up the little morsel which had been oozing alongside bits of lovely Brie de Meaux, fresh chèvre, and Mozzarella di Bufala on my slate tasting board.
"It's a sheep cheese, ivory in colour, with a soft rind and can be runny," explains Guillaume Kieffer, walking us through his L'Apéro Cheese Experience, a chance to learn about 15 unique and memorable cheeses he's selected from B.C., Quebec, France, Spain and Holland.
We've gathered after hours at Ottavio Italian Bakery & Delicatessen on Oak Bay Avenue, and I'm seated in the darkened Italian deli next to the cheese case with a dozen others, while Kieffer, the shop's former cheesemonger, leads the tasting. Each of the three "slates" of cheese we try is designed to illustrate an important aspect of cheese knowledge — from the type of milk used to the effects of aging, and the cheesemaker's tool box of techniques.
Kieffer learned to taste cheese while growing up in France, and he schools us in the citrusy, fruity, nutty, earthy, mushroomy, sharp and tangy nuances to be discovered. From the aforementioned Brebiou to the almond aromas of Tomette de Chèvre, the caramel notes of aged Spanish Manchego and the honey and whisky profile of an old Beemster XO from Holland, tasting some of the 200 cheeses on offer at Ottavio is a revelation.
My takeaway? I should break my basic brie and Quebec gouda habit, and I resolve to try a new cheese every week.
A WORLD OF CHEESE
Like wine, learning about cheese is an education of the palate and the intellect. If you know something about how a cheese is made, you can speculate about the flavour and texture even before you taste it.
Making cheese is an ancient and almost universal process — milk coagulated with heat, bacterial cultures and rennet, pressed and preserved with salt and age.
There are styles specific to particular regions, local traditions and terroir, which relates to how a cheese's flavour and texture is characterized by the places that the milk-bearing animals graze. Some cheeses are protected by strict regional regulations. Some are made each morning and sold before noon, while others age for many months. Farmhouse cheeses are made on dairy farms, others are produced in huge facilities, from pooled milk, and shipped around the globe.
I've seen pungent bags of Formaggio di Fossa pulled from underground pits in the street in a village in Romagna, watched cheesemongers chisel apart massive wheels of Parmigiano Reggiano, and tasted the fresh balls of Buffalo Mozzarella and Buratta in Campania, right next to the farm where the water buffalo are milked.
Like a Chardonnay or a Cabernet, a cheese will reflect the place where it's made and the industrial or artisan process that brings it to life. A raw-milk, AOC Brie de Meaux from France is not the same cheese as a brie made in a factory in Brazil. But that's not to say large-scale producers can't make good cheese — even in France, 90 per cent of cheese is now made in factories or by large cooperatives.
Still, there's something special about tasting a farmhouse cheese, made with the milk from animals right on the farm by an artisan maker. And, luckily, there are some fine examples of these types of cheeses in Canada, and right here on Vancouver Island.
CHEESE CLOSE TO HOME
If you want to taste some exceptional local cheeses, start with the Haltwhistle cheeses from the Cowichan Valley. Made by hand, with milk from Cory Spencer and Kirsten Thorarinson's herd of "feisty and jovial goats" and Ayrshire cow's milk from nearby Balme Ayr Farm, these are local cheeses created using traditional methods. They include a Swiss Alpine-style Belmont for fondue, an earthy Thombury and Tomme de Vallée, a sharp Tadwick English-style cheddar, a tangy, crumbly Greengill blue, and a pungent Parsonby washed in beer from Spinnakers.
The farmstead cheeses from Little Qualicum Cheeseworks are made with milk from their own dairy cows too. If you get there on a cheese-making day, you can take home a bag of ultra-fresh, squeaky curds to go with their sharp Mt. Moriarty or meltworthy Raclette. Natural Pastures in Comox is known for the brie, mozzarella and paneer it makes from local buffalo milk, but also creates cow's milk Comox Brie and Camembert, flavoured Verdelait and Aged Farmhouse cheeses.
Salt Spring Island Cheese Company makes tangy goat cheeses, ranging from the beautiful molded chèvre, topped with aromatic herbs, spices and flowers, to the surface-ripened white and blue Juliette and washed rind Romelia.
Noteworthy artisan makers elsewhere in B.C. include Golden Ears Cheesecrafters in Maple Ridge, The Farm House Natural Cheeses in Agassiz and Poplar Grove in the Okanagan. Beyond B.C., many of Canada's exceptional artisan and raw-milk cheeses are made in Quebec.
Explore the domestic and imported cheeses at Ottavio, Charelli's, The Farmer's Daughter, Choux Choux Charcuterie and Whole Foods. Tell them what you like and ask for some recommendations — they'll always let you try before you buy.
KEEP ON TASTING
The beauty of a formal cheese tasting is that it fast-tracks your knowledge base and starts you on a journey of delicious, cheesy explorations. L'Apéro has ongoing workshops, and in Sidney, The Farmer's Daughter offers a variety of "cheese flights" paired expertly with wine in the bistro behind the well-stocked cheese case.
The Farmer's Daughter is the brainchild of wine and cheese experts Tom Dai and Jessica Sommers, a couple who have made sharing wine and cheese knowledge their business model. Sommers, who grew up on a dairy farm in Ontario and has studied cheese-making around the world, is the cheese "sommelier" while Dai selects the best wines to taste alongside your favourites.
Cheese flights are curated by region or country, and come with detailed tasting notes.
Sommers says tasting a wide variety of cheeses is the best way to hone your cheese palate. Like tasting wine, you need to look at the cheese, smell it and feel the texture before tasting, to lock the variety and style in your mind.
"We usually have about 75 different cheeses and six different cheese flights daily to try," she says, "or you can also design your own board."
And for $65 a month ($56/month if you sign up to a year), you can join The Farmer's Daughter Cheese of the Month Club to have three cheeses delivered to your door.
The Haltwhistle Cheese Club ($199) offers a 400-500g cheese delivered every month between April and September. Or, for an annual fee of $760, the Upper Bench Winery & Creamery Curds & Corks Club will deliver six bottles of their wine and three pieces of perfectly paired Upper Bench artisan cheeses every three months, including cheese recipes and tasting notes.
It's the perfect way to kick-start your own wine and cheese tasting tradition — and explore the wide world of fine cheese.