By David Lennam
"Look, Victoria has officially become fashionable," says Jen Wise, frothy pint in hand, taking in the happy hour scene on the sunny patio at The Commons on Humboldt Street. There's not a seat to be had. Typical. If we were solar powered, we'd be fully charged. And fresh oysters are buck-a-shuck.
Drinks? Well, I'm sure something's on special. Coupla beers for me. Same as always. But it's not the lure of cheap booze bringing me out. I came for the oysters and the scene. The happy hour scene-and-be-seen. A relatively new tradition in a town that's just had its mojo tweaked.
---
Wise's comment about Victoria's burgeoning brand of global "cool" has something to do with those articles in Vogue and the Toronto Star coinciding with Doogie Howser's Tofino Instagram love-in.
One of those guys who twists balloons into dachshunds and motorcycles stops by with some dachshunds and motorcycles. Another table converses in German, laughing loudly. (I thought Germans weren't supposed to laugh.) There's one guy in a Tilley hat who must be 80 amid the obligatory smattering of twentysomethings.
In this hour, I'm pretty happy. And since I live in Victoria, that hour is eternal. "Sitting right here facing southwest, overlooking the Legislature, with this lovely mix of tourists and cool locals," Wise continues, "this patio is the place."
She's right. But, it turns out, every place is the place. Every day has a happy hour, pretty well everywhere. My local. Someone else's local. Everyone else's local. The sushi place down the street. Even my mum's seniors' home has one. I'm just waiting until the neighbourhood weed store advertises half-price doobies from 4 to 5 p.m.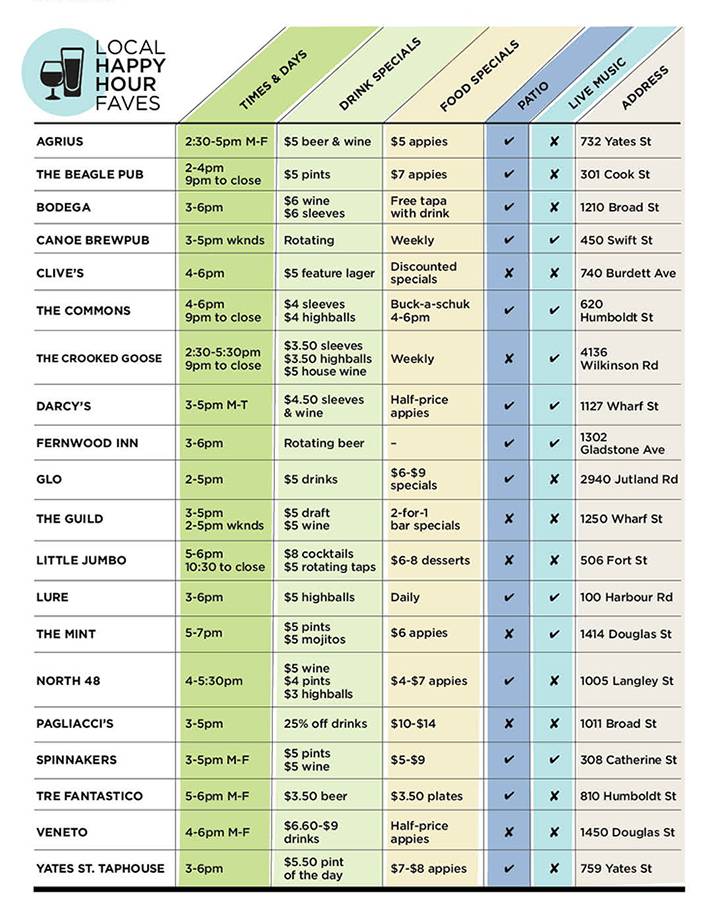 Everywhere and All the Time
Some are late-night happy hours. Most are 4 to 6. Is there a best? A worst? A more cold Phillips or spicier 50-cent wings? In true deep-digging journalistic fashion, I put the question out to Facebook. Twenty friends responded. With 20 different answers. The Crooked Goose, Yates Street Taphouse, Veneto, The Mint, N48, Bodega, Tre Fantastico, The Guild, Pag's, Lure. Someone even sent me a photo of a sidewalk sign out front of Brown's the Florist: "Happy Hour Thursday and Friday, 4 to Close. Bouquets, Arrangements, Cut flowers."
"The idea of [happy hour] never enters my realm," snarks one guy at our Commons table who works in the arts and fancies himself a bit of a Europhile. "It's too early," he says. "Maybe if you work in government and start at some ludicrous hour like 8:30, I can see the temptation when 4:30 comes around and you want to get away from your Liberal-slash-NDP masters. If you're driven by price, it becomes an attraction. And if you want to get hammered before 7, this is the way to do it."
Happy hours were always best appreciated elsewhere. On vacation was where I found them. On a Manhattan rooftop. Pupus on the lanai in Maui. Or beard-to-beard with 10 dozen hipsters at some pub-of-the-moment in Vancouver's Gastown.
Victoria had never identified as a happy-hour mecca. We were always $7 or $8 pints and some potato skins for a buck off while grousing about the weather. We were the only province in Canada not allowing bars and restaurants to alter liquor prices during the course of the day.
That all changed two years ago when our liquor board overlords relented. Happy hours started happening. We finally had the kind of fun other jurisdictions had been clinking glasses to since the first lunar landing. Or Prohibition.
Ready to Try Something New?
While binge drinkers may proliferate in other places, in the capital city it's more about seeking experiences than bacchanalian excess. Local bartending hero Shawn Soole, who currently runs an everything-about-liquor consultancy, S/Squared Hospitality Concepts, says, "It's not just cheap drinks for the sake of cheap drinks."
One of Soole's favourites is Bodega Bar, where happy hour is all about sherry. And who drinks sherry, anyway? Turns out enough of us to make Bodega have one of the biggest sherry accounts in the province.
Soole thinks success is having a focused happy hour that builds on the culture of a place, not just downing as many $5 pints of Canadian as your buddies. "Dropping $4 and trying a Negroni isn't going to break you," he says. "It's become like a mini Dine Around every day of the week." Solomon Siegel, GM at Pagliacci's, agrees. In fact, you might find the pair of them sipping five-buck sherries at Bodega, where, he says, happy hour works because they extend the core values of their establishment, attract a faithful crowd, as well as a new crowd, and turn them all on to something they might not normally order. In Bodega's case, sherry.
"And it spreads their gospel that makes their place great," says Siegel. "If you're a beer place, pick some weird beer you don't sell a lot of that you think is amazing to get people in for happy hour."
A Ritual Worth Having
Drinks and deals aside, the pull of a really great happy hour is following ritual. Like meeting up with the same pack of friends at the same place at the same time, at, maybe, the enormous (and packed) patio at Canoe Brewpub. That's where Emmy Marshall-Hill might be holding court.
"There's a familiarity of the hour you meet, the location, the price of drinks," she explains. "It's comfortable. It creates the conditions of possibility — and all you have to do is show up."
And, she continues, achieving critical mass along your preferred run of bar stools is less about what's on the menu, or the price of drinks but, during our notoriously off-and-on summers, than it is essentially returning to that spot where the late-afternoon sun makes you feel like you're on vacation. "Canoe [Brewpub]. I love the location," Marshall-Hill says. "Glo. Hey, the Fernwood Inn has a sunny patio."
Siegel introduced a happy hour to Pag's so he could fill some seats during the only time the Broad Street eatery isn't lineup busy. Now he gets a crowd at 4:30 that buys a bottle of wine and stays for dinner. "I know we have regular customers now who will specifically wait until 3 o'clock until they come in. They know it's 25 per cent off drinks, so they'll wait for it."
Benji Coey, co-owner of Northern Quarter, does not yet offer a happy hour, though he's thinking about starting up a late-night one when things are traditionally a bit quiet — maybe following the lead of The Beagle Pub in Cook Street Village, where 20-oz. pints of any craft beer are $5 from 9 until midnight. "That's brilliant," he says. "But how they can afford to do that, I don't know."
Coey is another industry veteran whose ideal happy hour is one that's all about the experience over dollar-off margaritas. His go-to is Spinnakers, his own local. Weekdays at 3, Spinnakers opens a new cask of beer they've brewed, puts it on the bar and serves $5 pints until it's done.
"They're offering something unique that isn't offered all the time," says Coey. "And it's offered at a special price. That's what I like about Spinnakers. I just don't know what (beer) it's going to be when I show up."
The Guild, notes Soole, is another where there's variety and surprise. "It's probably one of the best beer bars in town and their happy hour is based around showcasing local beers and their bar snacks. It's very curated…"
Happy, Whenever It Happens
Happy hour is more than an obligatory exercise in doing what the next guy does … only cheaper. It's an opportunity to do some R&D on your clientele, open the door to the curious and create the sort of memorable beer-advert backdrop that invites regulars.
"If you have a built-in audience it's almost like a perk for them," muses Coey. "Like a 'Thank you for supporting us; we'll give this back to you.' A bit like customer appreciation."
So here's wishing you a happy hour — whatever time it is.