The much-loved Rock Bay Square building that is home to many of the city's artisans and artists is for sale. But those who count on the cheap studio rent for everything from painting to carving, have their fingers crossed, wishing that this community, with its Brooklyn-esque creative vibe, will last and last.
By Linda Barnard  //  Photos by Belle White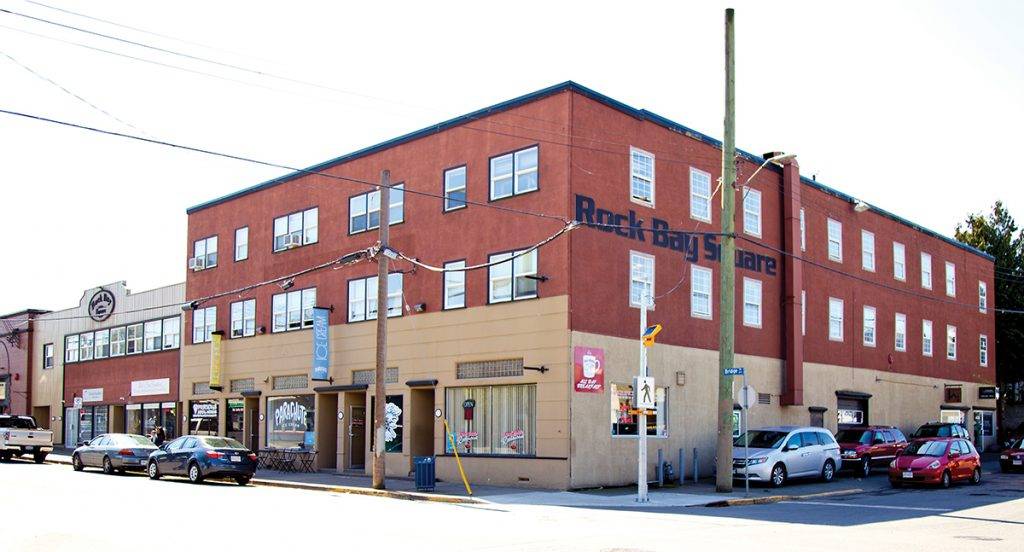 The walls in Brit's Fine Furniture are crowded with carpentry tools, all neatly hung according to size and purpose in the storefront studio space of furniture maker Andrew Charlton.
They create a mural of sorts, art springing from the utility that ensures a place for everything.
The same could be said for the artists, artisans and creatives, like Charlton, who work in 55 rented units in Rock Bay Square on the city's industrial edge where rents are still relatively cheap and high-rise condos are nowhere to be seen. As rental studios and workshops become harder to find and afford in Victoria, the three-storey building that fills a block at 2612–2630 Bridge Street is a productive arts incubator.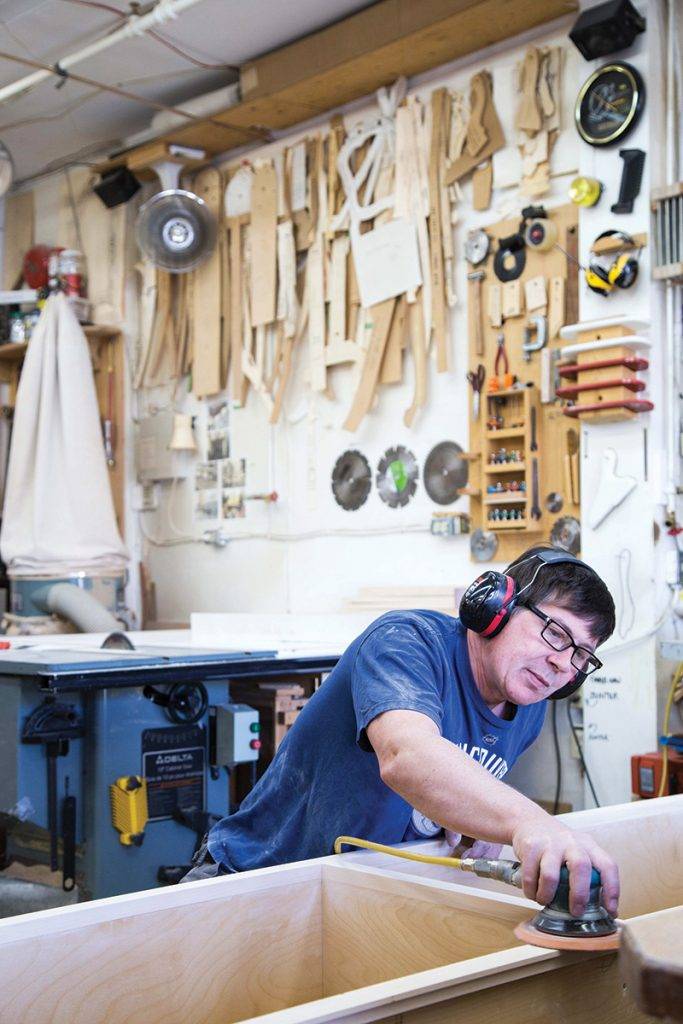 Charlton has been a tenant at Rock Bay Square for 22 of his 34 years in the craft. He has 1,800 names on his client list. Others leasing space here are emerging. They've found a place in the jumble of studios, offices and workspaces on the edge of Victoria's downtown.
"I think it's important," he says of Rock Bay Square's place in the community. "Otherwise, they'd be working out of homes. How does the client find his artisan?"
Their Creative Place
Perhaps you've never heard of Rock Bay Square, and that's not uncommon. But it is coming out of obscurity, thanks to a building open house held each November, where visitors can tour studios, meet artists and make purchases or arrange commissions. The tenants love it.
The rents here are jaw-droppingly cheap, utilities included. Charlton pays $1,800 for 880 square feet. And there is flexibility in the leases.
For the leatherworker, artists, writers, entrepreneurs, painters, small tech firms, coffee roasters, the ice cream maker and the shaving brush company, Rock Bay Square is their creative place in a rapidly gentrifying and increasingly expensive city.
These are the self-employed, who are occasionally noisy or messy in making and creating, people who can't tolerate high overhead. They don't want huge spaces. They need a warm, dry place where they can close the door, open a window, work as they please.
The three connected buildings that make up Rock Bay Square began as the Moore-Whittington Lumber Co., a planing mill and warehouse built in the early 20th century. A stream beneath the building carried wood up from the harbour.
First Nations multimedia artist Rande Cook moved his studio to Rock Bay Square seven years ago after he discovered the "unreal" building. He shares the space with his brother, jewelry artist and carver, William Cook Jr.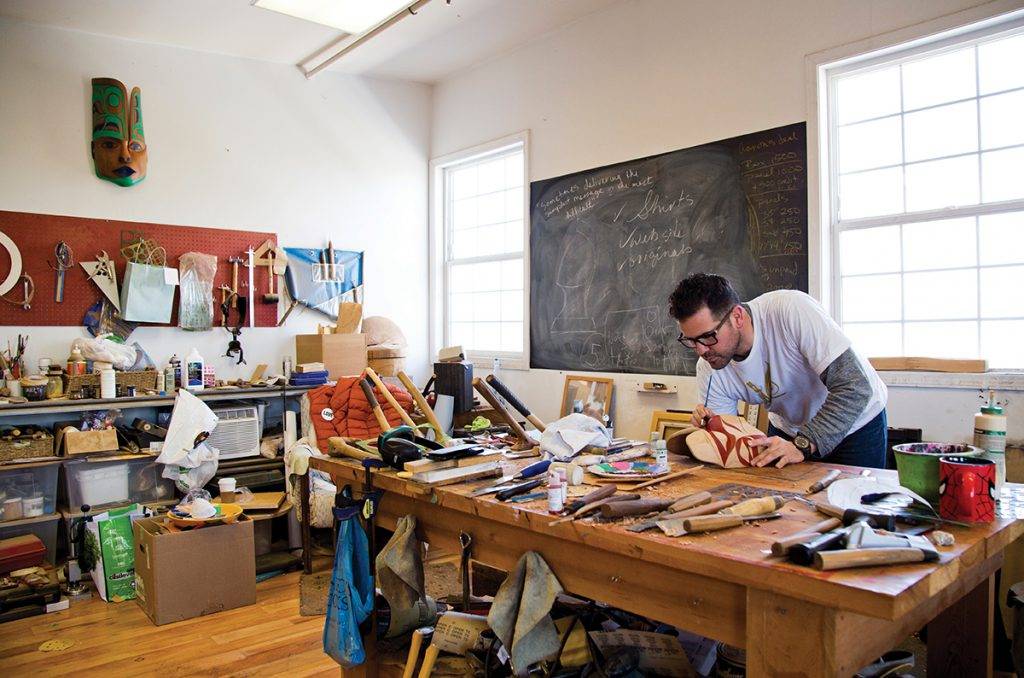 Rande Cook said he hounded a building manager to rent him a unit until one finally opened up. Word of mouth, persistence and luck seems to be the best way to find a studio at Rock Bay Square.
Cook's 950-square-foot, third-floor studio costs $1,044 a month. It's a big step up from the unheated garage he was working in previously, a shed crammed with junk that came with a rented house in Fernwood. He cleared it out and struggled to make it suitable.
Zoned In
Cook calls the Rock Bay neighbourhood "the new Brooklyn," seeing it as another unloved urban area on the brink of hip. He points to nearby craft beermakers, Hoyne Brewing Co. and Driftwood Brewery, the "really cool" Wheelies Motorcycles (which features a cafe), Saltchuck Pie Company and the popular Coffee Lab Rock Bay on the ground floor.
"I would live here if I was allowed to," Cook says, adding he has everything he needs nearby, from welders to entertainment.
He's not, of course, living there, and that is what keeps the area from becoming Williamsburg west. The area's M3 heavy industry zoning prevents the Rock Bay Square site from going condo, or even being reborn as rental apartments.
Even if the complex sells — and it is on the market with a party discussing a purchase — it can't become anything other than industrial space, says Carolynn Ablitt, who manages the family-owned building with her brother, Owen Skene.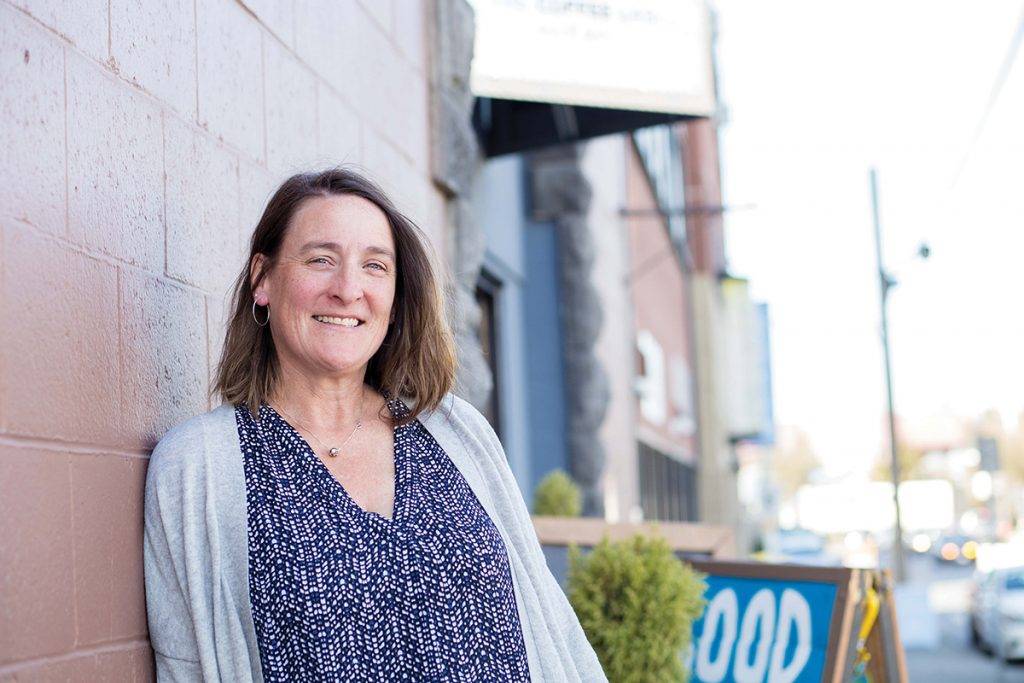 Skene Holdings bought and partially renovated Rock Bay Square in 2004. The company is helmed by their father, entrepreneur Bob Skene, former chancellor of Royal Roads University and one-time Greater Victoria Chamber of Commerce chair who was a founder of VIATEC, the local technology organization.
"He wanted to help out the little guy," said Ablitt as she sits on a bench in a corner of a landing off one of the long hallways in Rock Bay Square, where confusing passages and hidden stairways often confound new tenants.
"It didn't have to be artists. It's low rent, low overhead, small units, so they can afford them — and new businesses and artists [need] that."
Dozens of doors line the long, white hallways. Ablitt, who works as an administrative assistant for the Saanich School District, is here two days a week and on call 24/7. Her three adult kids and Owen's son and daughter help out, too. They paint woodwork, wash walls, make repairs and do runs to the landfill.
One step up from a broom closet, Ablitt's office holds a small desk and a tall filing cabinet jammed with leases of hundreds of former tenants and paperwork for the current crop.
Her desk is covered with door-lock assemblies. She taught herself locksmithing. Like her practical grandfather, Ablitt says she would rather fix something herself than pay to have it done.
That doesn't extend to the gorgeous relic of a freight elevator that's original to the building, a hand-operated beauty with horizontal wooden-slat gates that is a frequent star for product photo shoots.
One of the tenants takes responsibility for rarely required maintenance on the beast, but the elevator runs like a dream most of the time, Ablitt says, a bonus for tenants who need to bring in supplies or heavy machinery.
How else would I have gotten a 20-ton machine press into the building, wonders Amanda Bennett, who runs the custom leatherwork business Labyrinth Leather, with her husband, Campbell Orr.
Cook has also made good use of the elevator, bringing a thick, six-foot-square red cedar panel into his studio. He's carving it now for a gallery in Friday Harbor WA. There's a central motif of his ancestral Thunderbird, ringed with seven faces. "It's starting to evolve," says Cook of the piece. "It represents the human and the element of connection to ancestry."
The wood makes the studio smell like the forest on a warm afternoon.
Cook has signed a four-year-lease in an effort to ensure he can keep the studio. He installed plank flooring in what was once a storage space and painted the walls. There are windows on two sides and high ceilings. "It's perfect," he says.
"Victoria definitely needs it," Cook says of Rock Bay Square. He knows other artists who are desperate for affordable workspaces.
"I've been in Victoria for a long time now and a serious artist for 20 years now … and I've seen shifts in this city and how it's growing and how it's impossible to purchase a home for starting families," he says.
He's returning to school in the fall to begin work on his MFA at the University of Victoria and he'd like to make larger-scale pieces. The Rock Bay Square studio will get a lot of use.
"Let This Last"
Rock Bay Square is also an ideal rental for creatives like mixed-media artist Lisa Jackson, who fulfilled a promise to get back into painting after she retired from her government job.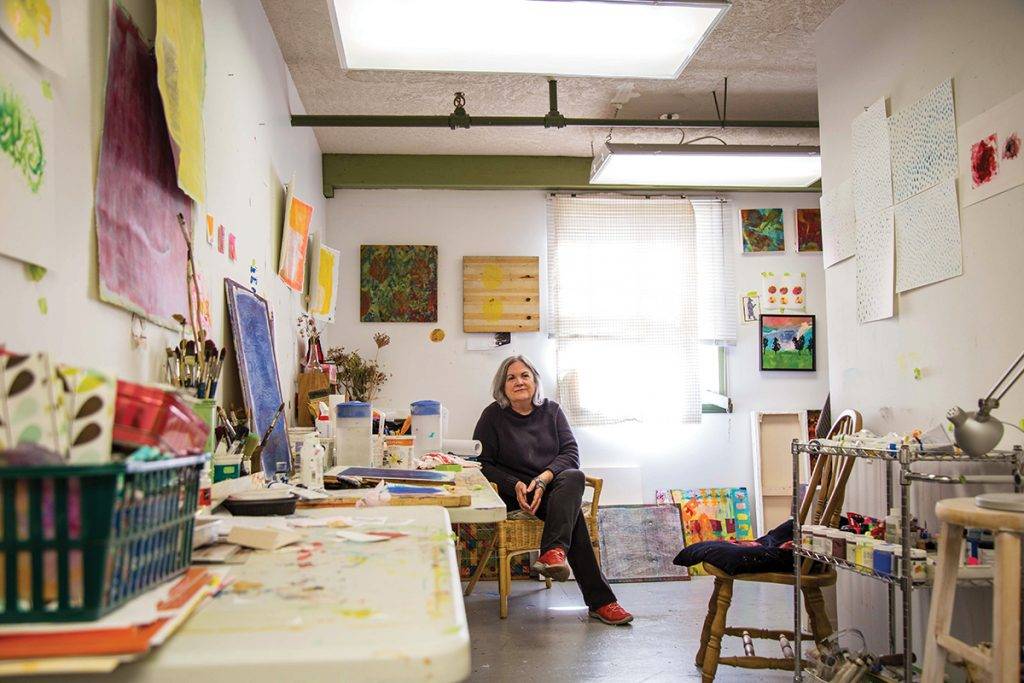 She rented a narrow, 173-square-foot room with southern exposure and a window at one end in 2015 after failing to find a suitable space elsewhere. She pays $293 a month and works in her studio most days.
"I can't even remember how I found it," Jackson says of Rock Bay Square. "It was just exactly right. Every month I think, 'Oh please, let this last.'"
Jackson likes Rock Bay Square's quiet. She may hear music playing behind a door, or the occasional thump of machinery, but the place seems quite soundproof to a visitor.
In Labyrinth Leather's 400-square-foot studio, rain runoff from the roof loudly courses through a pipe across the ceiling.
"It's quirky," Bennett says with a shrug.
She'd looked around Chinatown for studio space. Although most of her company's sales are online, it would have been handy to be near Labyrinth Leather's stall in Bastion Square during the warm months. But rents were "impossible." Other spaces she and her husband looked at were too large, too expensive and often impractically carpeted. Noise — hers, not other tenants — would have been an issue.
Here she can run the machine press, which Bennett calls her "industrial cookie cutter," stamping out pieces or using the hydraulics to hammer image dies, designed by her husband, into the leather. Nobody complains about the machine. The plywood floor is forgiving when she's airbrushing leather with vegetable dyes.
A Place to Focus
You'd think a building populated by creatives would have a communal vibe. Not so.
Jackson says the artists tend to be solitary workers. Bennett agrees. Some say hi to each other, but doors tend to stay closed.
There's no lounge or break room in the building. When a 1,000-square-foot space on the second floor was walled off into four units, the quartet of artists who rent the studios turned a patch of empty space into their own common area.
When people need a break, the Coffee Lab downstairs is a popular go-to. Jackson likes The Red Kettle restaurant downstairs on the Hillside Avenue corner of the building.
Now retired, 79-year-old Bob Skene, who bought the building as a way to champion those with bigger aspirations than budgets, still drops by occasionally.
"We call him the snoopervisor," Ablitt says with a smile. "He walks around and talks to tenants and sometimes he makes promises." Ablitt is used to hearing: "Your dad said I could."
She's strict about some things (no more rehearsal space for bands; too loud) and meets renters halfway when she can.
"We try and help our tenants. We want them to stay as tenants, and we're willing to work with them," says Ablitt.
"It's personal. You want to treat them well, and they treat your property well," she adds. In the 15 years Skene Holdings has owned the building, only four tenants have skipped out on their rent. It still vexes her to think about it.
As her family moves towards parting from Rock Bay Square, Ablitt knows there are rumours ricocheting around the building. She says the interested party "has advised us they do not plan on tearing it down in the near future. We are still signing leases."
Although selling Rock Bay Square would mean some coveted spare time for Ablitt, she will take good memories with her, like the time she and her sister-in-law, niece and nephew snuck onto the roof to watch the fireworks downtown.
"That was perfect."
To find out more about the Rock Bay Square community and open houses, check out the Facebook page
---
This article is from the May/June 2019 issue of YAM.