The Victoria Foundation has launched their 15th annual Vital Signs Report that highlights the value of community through 2020.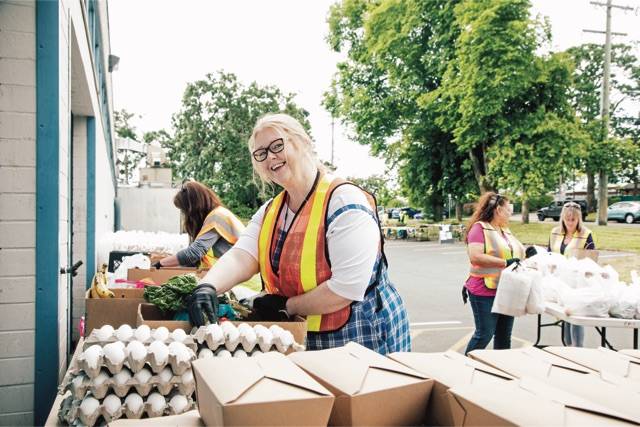 2020 has been a year unlike any other in living memory. From the COVID-19 pandemic, to the protests and rallies for racial justice, to the immense shifts and disruptions in our professional and personal lives…our community and its residents have been rattled to the core.
But how has our region really fared during these unprecedented times? What have been our successes? Our failures? And how will we continue to recover and grow from the events of this year?
These are the questions tackled by the 2020 Victoria's Vital Signs report, the 15th annual report from the Victoria Foundation. Vital Signs combines the results of a citizen opinion survey with a wide range of data to provide a snapshot of how our region is faring in a number of key issue areas. From arts and culture, to the economy, to the environment, and more, Vital Signs looks at what we're doing well and what needs improvement.
And just as 2020 hasn't been a normal year, the 2020 Victoria's Vital Signs isn't a normal report.
"We knew that to try and take a 'business as usual' approach to Vital Signs this year would not only be naive, it would be doing a disservice to the community," said Sandra Richardson, CEO of the Victoria Foundation. "Because often where there is hardship, there follows opportunity, and we have the opportunity in front of us to rebuild and recover from this pandemic stronger, more resilient, more kind, caring and sustainable than ever before."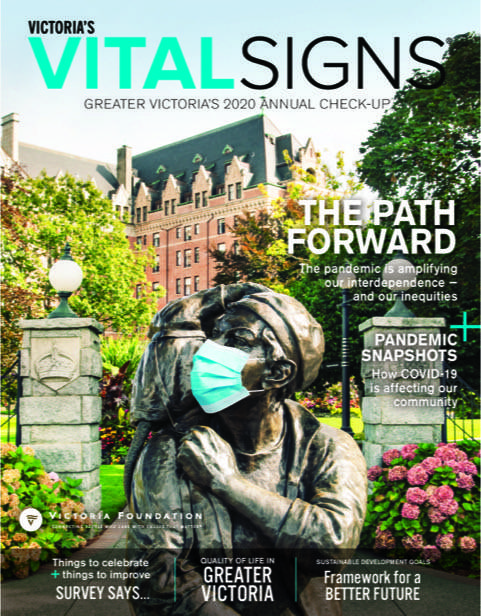 By amplifying our interdependence as well as inequities resulting from systemic barriers, COVID-19 is highlighting the best in us and the worst. How we continue to respond as a society will determine how well we get through the crisis and what kind of community we're all left with.
The 2020 Victoria's Vital Signs report shows us just how hard-hitting these events have been on our region and its residents. Of the nearly 1,800 people who took the 2020 Vital Signs survey earlier this year, 51 per cent said they have felt a decline in their mental health as a result of the pandemic. Of all respondents, 29 per cent have experienced a job or income loss. Youth unemployment has risen from 10 per cent in 2019 to 24 per cent during the pandemic in BC, with young women experiencing the worst of those loses: a 41 per cent drop, compared to 27 per cent for their male peers.
Of all survey respondents, 74 per cent said they feel the pandemic is a major threat to the local economy.
Yet, despite this, when it became clear how our vulnerable residents were the ones most impacted by this crisis, our community stepped up to help. The Rapid Relief Fund, launched by the Victoria Foundation, the Jawl family and the Times Colonist, offered an opportunity for our community to dig deep and help provide funding to charities in our region providing the most essential needs to our most vulnerable residents. And the community responded in a big way, donating over $6 million in just under two months…with the first million raised in just 36 hours.
In a year when the best and the worst in our community has been so unavoidably exposed, the 2020 Victoria's Vital Signs also looks at finding the right path forward, through a feature article exploring how our response to this crisis will determine the direction of our community in the years ahead. Pandemic Snapshots throughout the report also bring data and statistics, which when combined with resident opinions, offer a full picture of how this crisis has truly affected our community.
All this plus the report's lauded look at the best things and most important issues in Greater Victoria, its insights on how our community is faring in regards to the United Nations Sustainable Development Goals and a citizen grading of 12 key issue areas can be found in 2020 Victoria's Vital Signs.
Find the report today at victoriafoundation.ca. You can also look for the report at local businesses and libraries or contact the Victoria Foundation at 250.381.5532 to receive a hard copy by mail.