YAM's Italian ingredient primer will help you pack the pantry with Mediterranean flavours.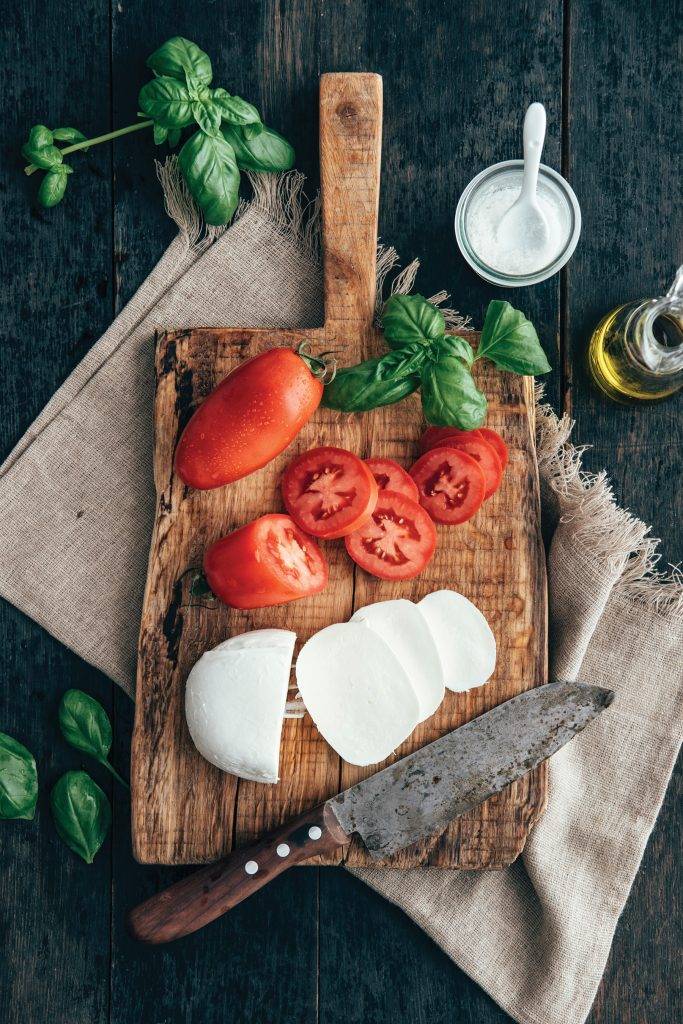 BY CINDA CHAVICH
Italians are passionate about sharing good food — the wine flows and the cooks pass platters of pasta with that motherly admonishment, "Mangia!" It's a convivial, relaxed way to dine.
No wonder Italian cuisine has spread around the globe, welcome in both restaurant and home kitchens. In fact, a recent survey of 25,000 people in 24 countries found that Italian food — especially pizza and pasta — is the most popular cuisine on the planet.
Italy is also ground zero for some of the world's most iconic ingredients. Giant wheels of aged Parmigiano Reggiano cheese, slivers of salty prosciutto, squeaky orbs of fresh buffalo mozzarella and toothsome semolina pasta in a myriad of wonderful shapes and sizes are the basic building blocks for a simple yet elegant Italian meal.
These pantry staples can help you up your own Italian cooking game. Here's what to look for when you go shopping.
The Italian Pantry
"Italians appreciate good food and they take time to make it," says Genna Purcell, owner of Gigi's Italian & Specialty Foods, a stylish new 2,000-square-foot space in Cordova Bay, where you'll find Italian products of all kinds.
It's Victoria's first specialty grocer dedicated to products from Italy; while you can find many of these ingredients at other stores, this is the first time you can find them all in one place.
Italians spawned the international Slow Food movement, a reaction to American fast food encroaching into their culinary landscape, and they don't compromise when it comes to Italian ingredients.
Italy holds the record for the number of protected local products, many of which come with official designations (such as DOP/PDO, IGP, DOC and DOCG) that certify their quality and origins.
"All Italian food is very simple. It's about having just a few really good quality ingredients," says Purcell, pointing to her selection of authentic tomatoes from the famous San Marzano growing region, the wall of imported olive oils and the specialty items like the jar of lupini beans that is one of her favourite snacks.
There's an array of imported Italian cheeses and cured meats for your antipasto boards, plus hard-to-find Italian specialties such as beautiful, twisted breadsticks and crunchy taralli, pickles, artisan dried fruits and bottles of bitter Crodino, a non-alcoholic Italian aperitivo, to enjoy alongside.
Purcell has Calabrian roots, so these are the kinds of foods she grew up eating at home. But finding the best Italian products in Victoria was challenging, often requiring family shopping trips to Vancouver. Gigi's was born to fill that niche, she says, and offers a range of products, including everyday choices and specialty splurges.
"We're getting new products every week and I always want to have more than one choice in any category," says Purcell, pointing to the 15 brands of pasta on offer, along with an aisle filled with balsamic vinegars and olive oils at several price points.
Researching and digging deep to find new and unique items is her mantra, with "20 or 30 different suppliers" and brands not usually found on city shelves, whether it's the canned tomatoes recommended by Bon Appétit magazine, or the Calabrian Tropea onion spread actor Stanley Tucci tasted on his television show Searching for Italy. Even the uninitiated can learn about the intricacies of balsamico tradizionale DOP (Denominazione d'Origine Protetta) and other balsamic vinegars of Modena, thanks to the many explanatory shelf talkers to assist shoppers.
Tomato, Tom-ahh-to
Tomatoes form the backbone of the Italian pantry and though canned tomatoes are standard, it really does make a difference which brand you choose to buy.
It's always enlightening to do a canned tomato tasting and compare different products side by side. When you're counting on the tomatoes to carry the dish, imported DOP Italian San Marzano tomatoes win out, offering both intensity and natural sweetness.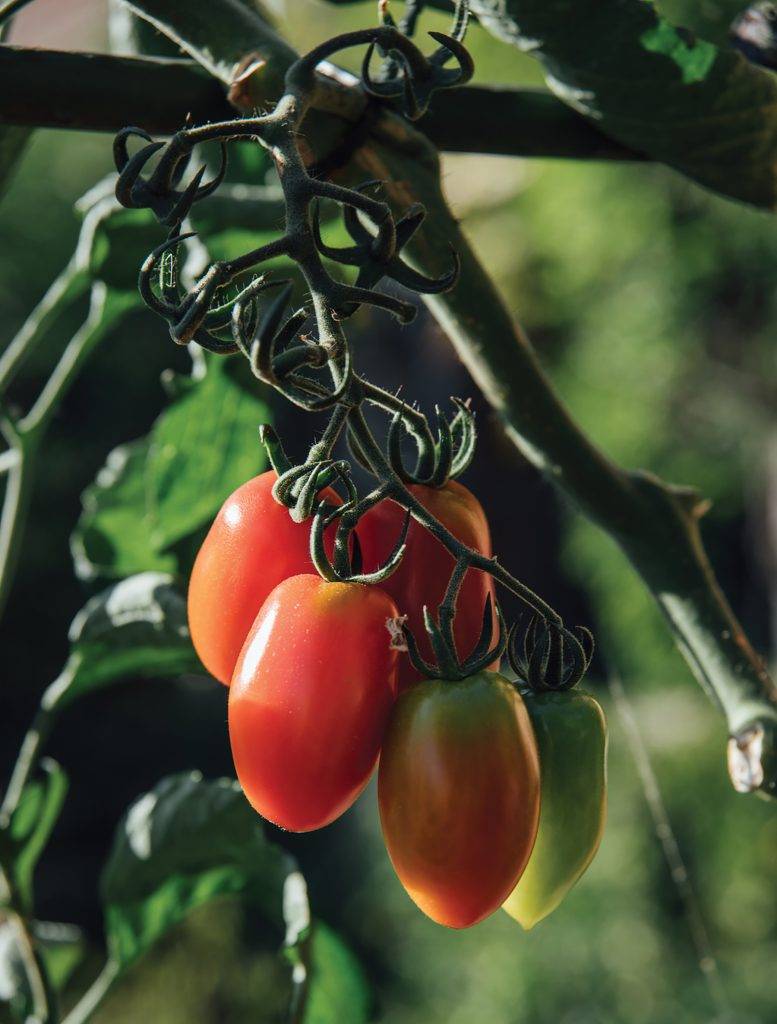 "The San Marzanos from Italy are a slightly higher price point, but we use them when making a simple tomato sauce or pizza sauce," says Purcell, who simply blends these sweet, meaty tomatoes with olive oil and salt for her basic tomato sauce.
There are good-tasting domestic brands, too, but if you're paying a premium for Italian San Marzanos, look for the DOP certification, a guarantee that they are not only the San Marzano variety, but that they were grown in the volcanic soils near Naples.
Some companies are now weaving the words "San Marzano" into their brand names or labeling tomatoes "San Marzano-style," so beware of imposters.
In any case, choose the right tomato for the job. Whole plum tomatoes offer the best flavour. Chopped or diced tomatoes hold their shape, even after cooking, but often include additives to keep them from breaking down. Passata (puréed tomatoes) is another option that's easy to use when you want to create a smooth sauce or soup base, though passata contains more water and needs to be cooked down and thickened for sauces.
Picking Pasta
And there are ready-to-use tomato sauces, too, including Italian brands like Favuzzi and Gigi, as well as Carbone sauces from New York.
Though it's fun to spend time making pasta from scratch (just be sure to use semolina "00" flour), Italians prefer dried pasta for most dishes.
Fresh pasta has been made in Italian homes since the Middle Ages, but 200 years ago Italians discovered that the hill town of Gragnano has the perfect climate for both growing wheat and slowly drying pasta. That was a game-changer. With perfectly dried pasta available to send across the country, suddenly pasta did not need to be made daily from scratch.
The king of Naples decreed Gragnano the best place for pasta and, in 2013, the European Union agreed, giving Pasta di Gragnano PGI (Protected Geographical Indication) status.
The best dried pasta makers are still in Gragnano. They use rough bronze dies (moulds) to extrude the pasta, giving it a nice "tooth" that holds a sauce. This premium pasta is also dried slowly and remains a light buff colour.
The smooth surface and golden caramelized colour you see in mass-produced pasta is the result of faster extruding through smooth stainless steel or Teflon dies, and hotter drying methods. It's faster and cheaper to make, but not nearly as good to eat.
So read the package label and look for the words "Gragnano" and "bronze," often labelled "trafilatura al bronza."
Pasta also comes in a wide variety of shapes. In additional to the familiar spaghetti, linguine, macaroni and fusilli, there's the short, ear-like orecchiette for chunky sauces and salads; tiny whole wheat orzo for soups and sides; and chitarra spaghetti, which is cut on a wire cutter to create its square profile.
At Gigi's, Purcell carries both everyday and specialty pastas (Voiello is her daily go-to brand) as well as the La Rosa gluten-free pasta made with corn and rice flours.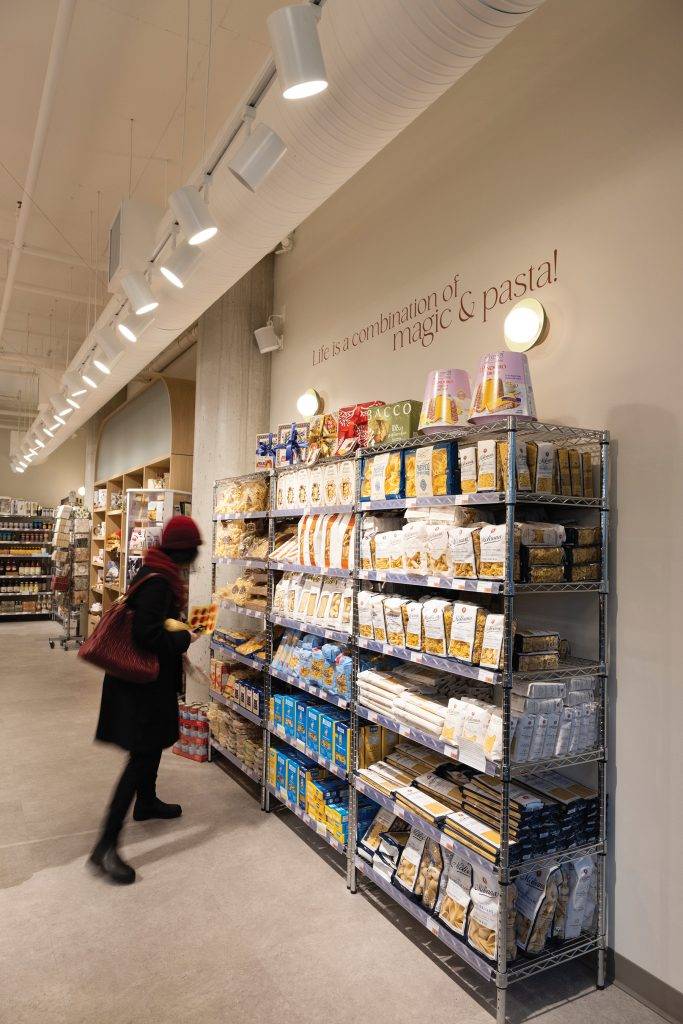 A tip when cooking pasta? Use lots of salted water to cook dried pasta, and save a cup or two of the starchy cooking water when you drain the cooked pasta, to add back to the sauce to thicken the dish.
Getting Cheesy
Parmigiano Reggiano is the king of cheeses. Make sure to buy a chunk of the real thing, imported from Italy and aged to golden, grainy perfection to grate over your pasta dishes and present on a cheese board. Or opt for the bargain Grana Padano, a similar hard grating cheese made from cow's milk in Italy's Po Valley, rather than the premier Parma region.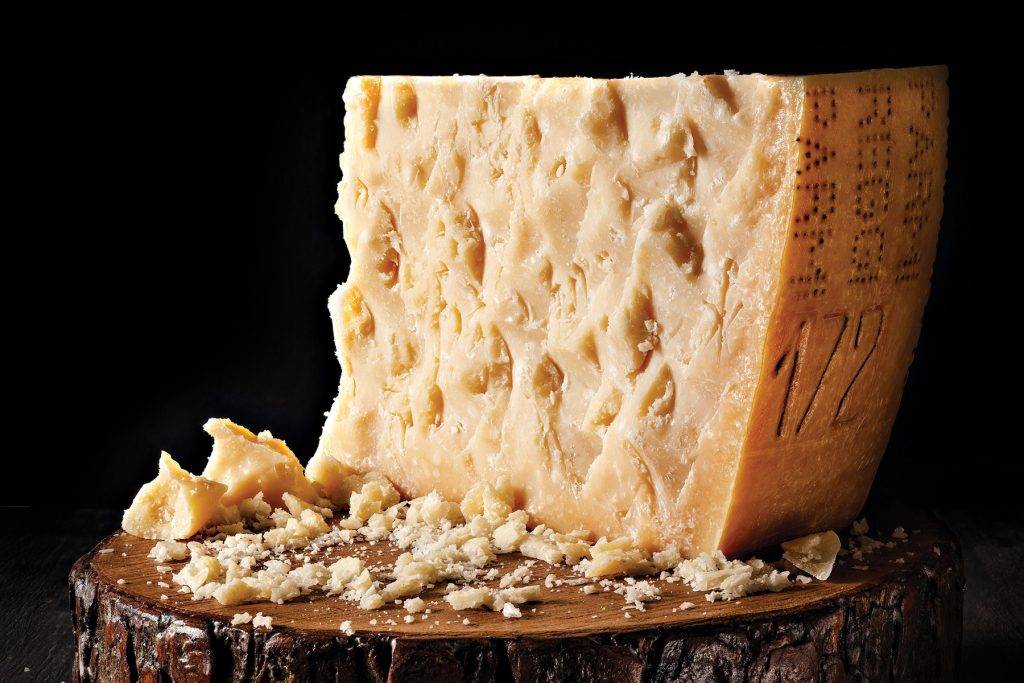 Pecorino Romano, an aged sheep cheese, is slightly saltier and sharper than Parmesan, but is also a good grating cheese for cooking. Pecorino also comes in dry, fresh and even smoked varieties.
Shredded mozzarella may be our favourite pizza cheese, but in Italy, fresh cheese — especially squeaky balls of mozzarella di bufala (made with water buffalo milk), fiore di latte and burrata, a skin of fresh white mozzarella with a creamy cheese centre — is a daily indulgence.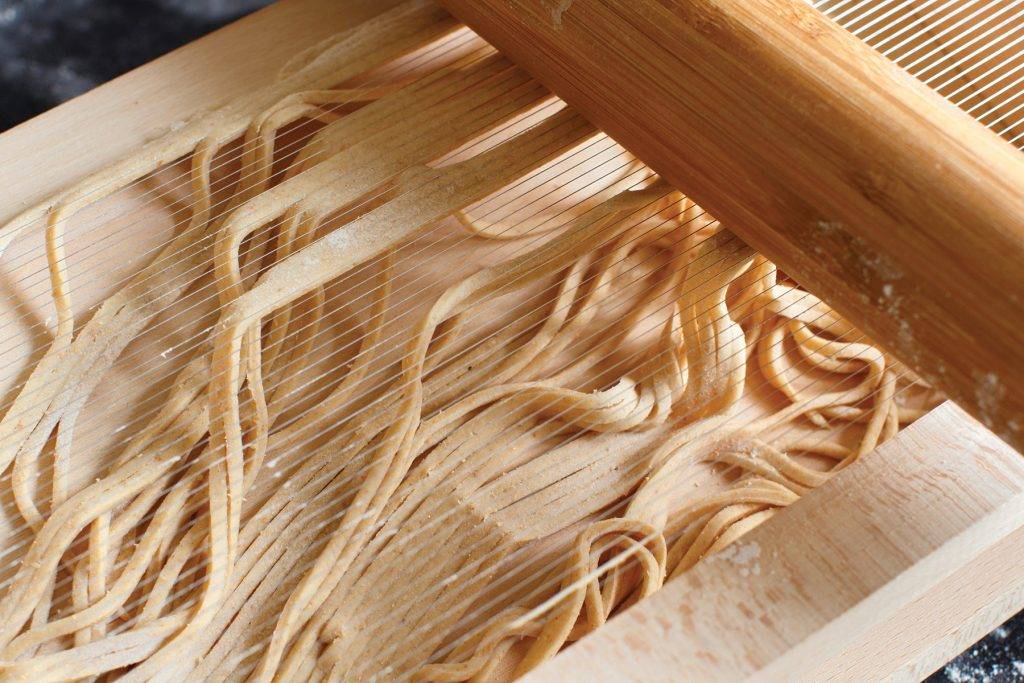 Purcell regularly imports fresh mozzarella and burrata directly from Italy — it usually arrives on Fridays and sells out immediately — and carries Italian Pecorino Romano, fontina, Gorgonzola and ricotta, along with other DOP cheeses and their Canadian counterparts.
Meaty Matters
Italy is legendary for cured pork products such as dried salami, aged prosciutto or culatello hams, and the cured fatback known as lardo.
The fatty, bacon-style cured meats used in Italian cooking include pancetta (cured pork belly) and guanciale, the similarly spiced and cured jowl that is favoured for carbonara and amatriciana pasta sauces.
Prosciutto di Parma is made from the leg of a heritage breed of pork in Emilia-Romagna, salted and air-cured for several months, while coppa or capocollo is similarly cured, but made from the heavily marbled pork neck fillet.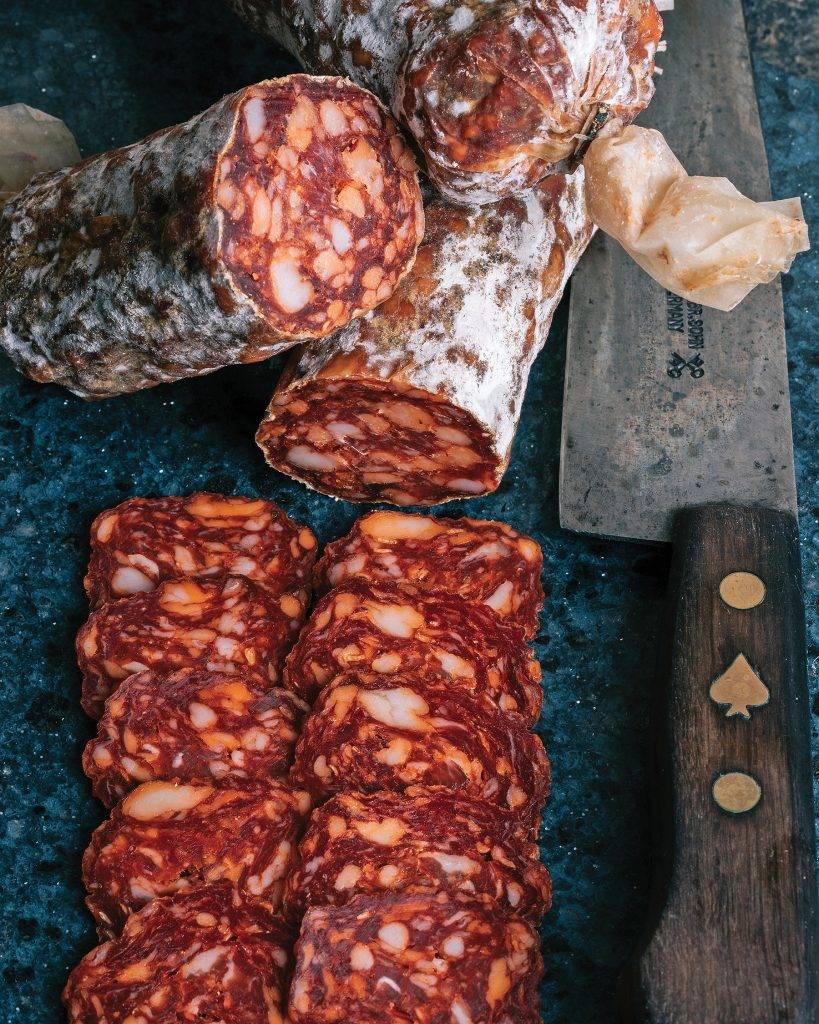 Mortadella is a large sausage from Bologna that has a smooth base of finely ground pork studded with cubes of fat and sometimes pistachios. In Italy, it's usually sliced thin for sandwiches and paired with pickled vegetables. Along with the wide variety of salami, soppressata and other sausages, as well as olives, cheeses, nuts and dried fruits, it's also fodder for a classic antipasto platter (the Italian charcuterie board).
Island Italian
While you're filling your pantry with Italian foods, don't forget our local producers and purveyors, who include some real Italian aficionados making artisan ingredients across Vancouver Island.
The Whole Beast Artisan Salumeria is ground zero for Italian-style cured meats. You'll find chef Cory Pelan's artisan salamis (flavoured with lemon and fennel, studded with Parmesan cheese, or made in the Venetian or Calabrese style) plus coppa di testa, mortadella and spicy, spreadable 'nduja.
At Cowichan Pasta Company in Duncan, chef Matt Horn produces an impressive line of artisan dried pasta and gourmet ravioli, all made with stone-ground whole grains and B.C. ingredients, and found at grocers across the Island. Or look for the dried, hand-rolled La Pasta Triestina, made by chef Massimo Buggini with organic B.C. ingredients, and sold at local farm markets and specialty stores.
In Courtenay, Natural Pastures Cheese Company specializes in fresh mozzarella di bufala and bocconcini (made with milk from Vancouver Island free-range water buffalo). There's award-winning, artisan gelato from Stefano Mosi and his Mosi Bakery, Cafe and Gelateria.
Add Italian cheeses from city cheesemongers such as Charelli's, Ottavio and L'Apero, and crusty loaves, focaccia and pastries from Alberto Pozzolo at The Italian Bakery, and you have the makings of a true Italian feast — no passport required!
Pasta all'Amatriciana
Genna Purcell of Gigi's Italian & Specialty Foods shares her favourite recipe for this traditional Roman pasta dish, one she makes using guanciale and square chitarra spaghetti. It's a slightly spicy tomato sauce flavoured with crispy, cured Italian pork — simple and satisfying.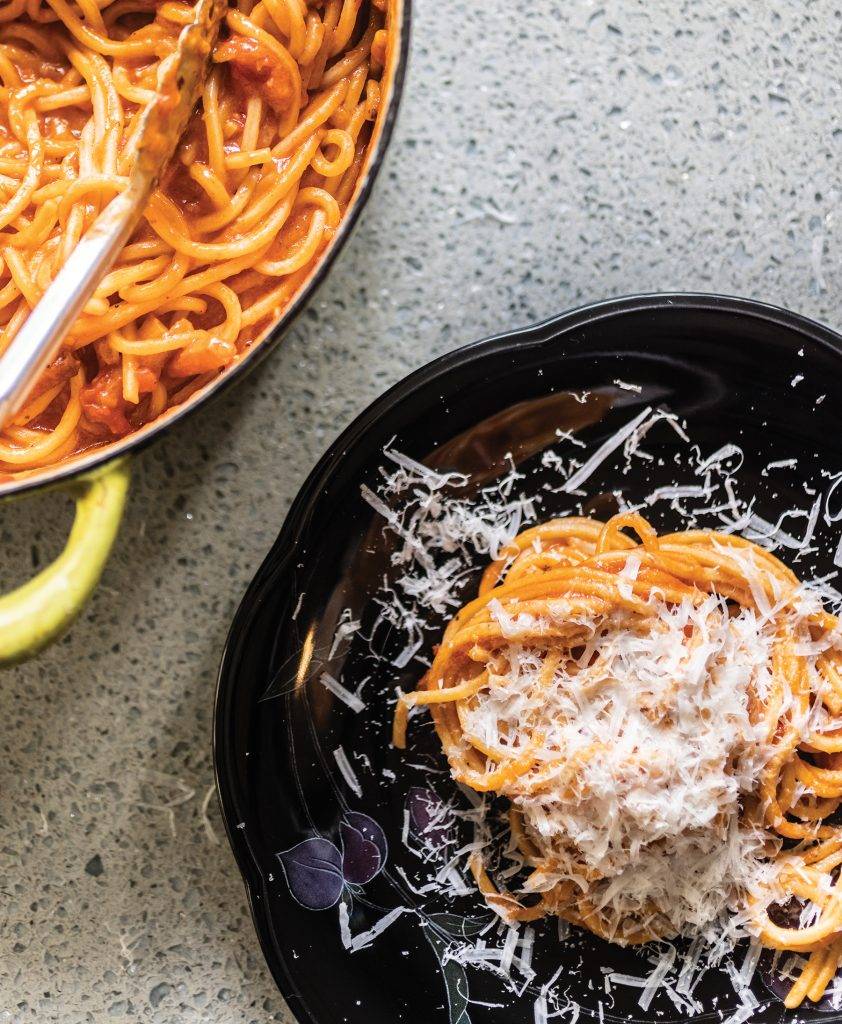 • 2 Tbsp extra-virgin olive oil
• 4 oz thinly sliced guanciale, pancetta or chopped unsmoked bacon
• ½ tsp crushed red pepper flakes
• ½ tsp freshly ground black pepper
• ¾ cup minced onion
• 2 cloves garlic, minced
• 1 (28 oz / 796 mL) can peeled tomatoes with juices, crushed by hand
• Kosher salt
• 12 oz dried bucatini or spaghetti (or ridged penne rigate or rigatoni)
• ¼ cup finely grated Pecorino Romano cheese (about 1 oz)
Heat oil in a Dutch oven or large heavy skillet over medium heat. Add guanciale and sauté until crisp and golden, about 4 minutes.
Add pepper flakes and black pepper; stir for 10 seconds. Add onion and garlic; cook, stirring often, until soft, about 8 minutes.
Add tomatoes, reduce heat to low, and cook, stirring occasionally, until sauce thickens, 15 to 20 minutes.
Meanwhile, bring a large pot of water to a boil. Season with salt; add the pasta and cook following package instructions, stirring occasionally, until 2 minutes before al dente. Drain, reserving 1 cup pasta cooking water.
Add drained pasta to sauce in skillet and toss vigorously with tongs to coat. Add ½ cup of the reserved pasta water and cook until sauce coats pasta and pasta is al dente, about 2 minutes. (Add a little more pasta water if the sauce is too dry.)
Stir in cheese and transfer pasta to warmed bowls. Serves 4.
When you're counting on the tomatoes to carry the dish, imported DOP Italian San Marzano tomatoes win out, offering both intensity and natural sweetness.
Ricotta Meatballs
Almost any Italian pasta dish is better with meatballs — a.k.a. polpette — and adding ricotta cheese makes the most tender and delicious meatballs ever! I like to brown them in the oven, then simmer them in a basic tomato sauce Go for homemade, like Pomodoro, or a good quality bottled sauce to serve over the pasta.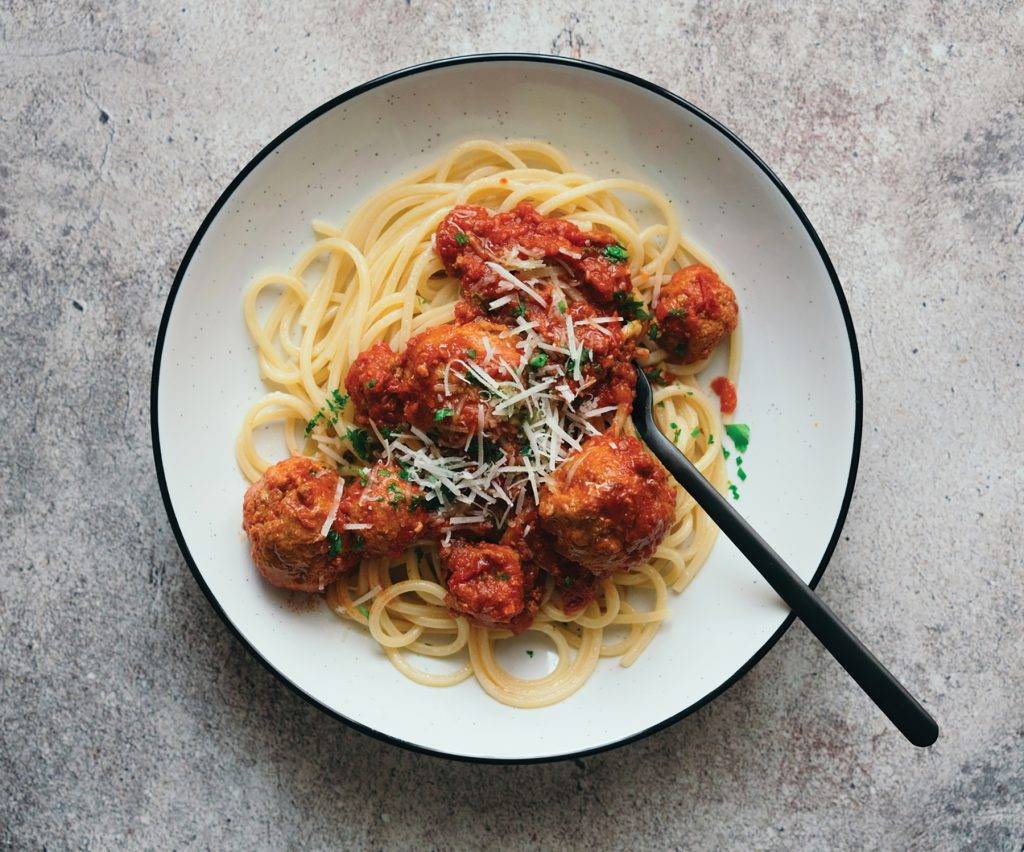 • 1 lb ground pork
• ½ lb ground beef
• 1 large clove garlic, minced or pressed
• ½ cup whole-milk ricotta cheese
• ½ cup grated Parmesan cheese (about 2 oz)
• 1 tsp sea salt
• ½ tsp freshly ground black pepper
• 1 large egg, lightly beaten
• ½ cup dry breadcrumbs
In a large bowl, combine the ground meat and garlic, using your hands to mix well. Stir in the remaining ingredients.
Chill the mixture for 30 to 60 minutes.
Line a baking sheet with parchment paper and preheat the oven to 400°F.
Roll meat mixture into balls, each about 2 inches in diameter, and arrange on the baking sheet.
Bake meatballs until browned and cooked through, 15 to 20 minutes.
Simmer the baked meatballs in your favourite tomato sauce and serve with pasta or in crusty rolls for meatball sandwiches.
Once baked, the meatballs can also be successfully frozen. Makes about 18 meatballs.