There may be a chill in the air, but you'll stay warm, cozy and oh, so stylish in these luxurious knitwear pieces.
Fashion Stylist: Janine Metcalfe | Photos by Jeffrey Bosdet
The inspiration for this fashion feature, says stylist Janine Metcalfe, came from photographer Jeffrey Bosdet's suggestion of Parry Bay Sheep Farm in Metchosin as the shoot location. "It seemed such a natural choice to showcase the textures and shapes of knitwear," she says, noting they chose the model, Claire Bates, for her fresh skin and rich, brunette locks cropped into a casual bob that spoke to the laid back sophistication of the clothes she wears here. "Claire is also a dancer, and she moves so gracefully, she really brings the garments to life. The result is a sort of wholesome, innocent scene, reinforcing the magic of rural life. We had a lot of fun!"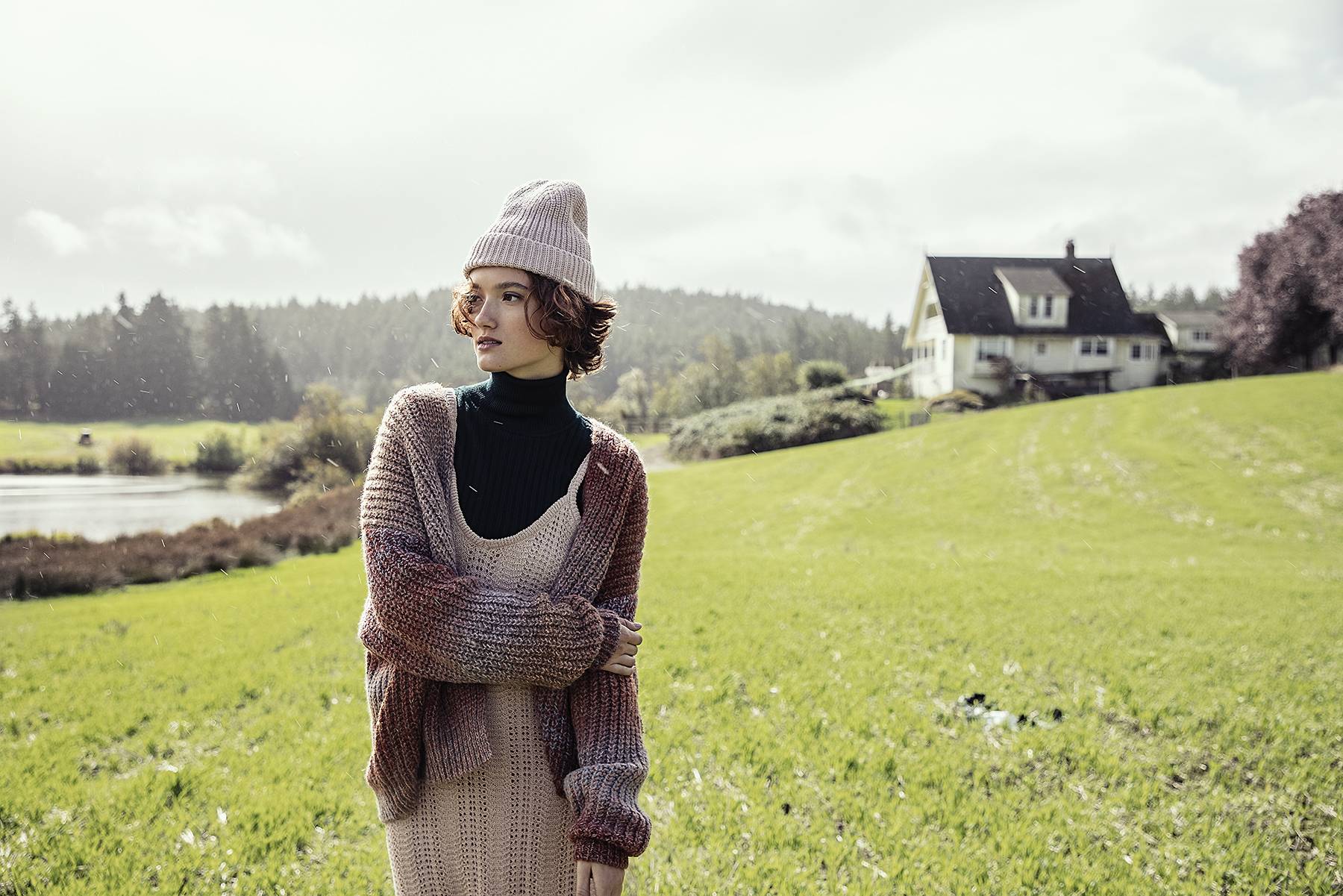 A pink crochet all-day cami dress by Volcom is worn over a forest green turtleneck by 24 Colours and under the Islia cardigan by Saint Tropez. The textured look is topped off with the Rosa toque by Mus & Bombon. All pieces available at Amelia Lee Boutique.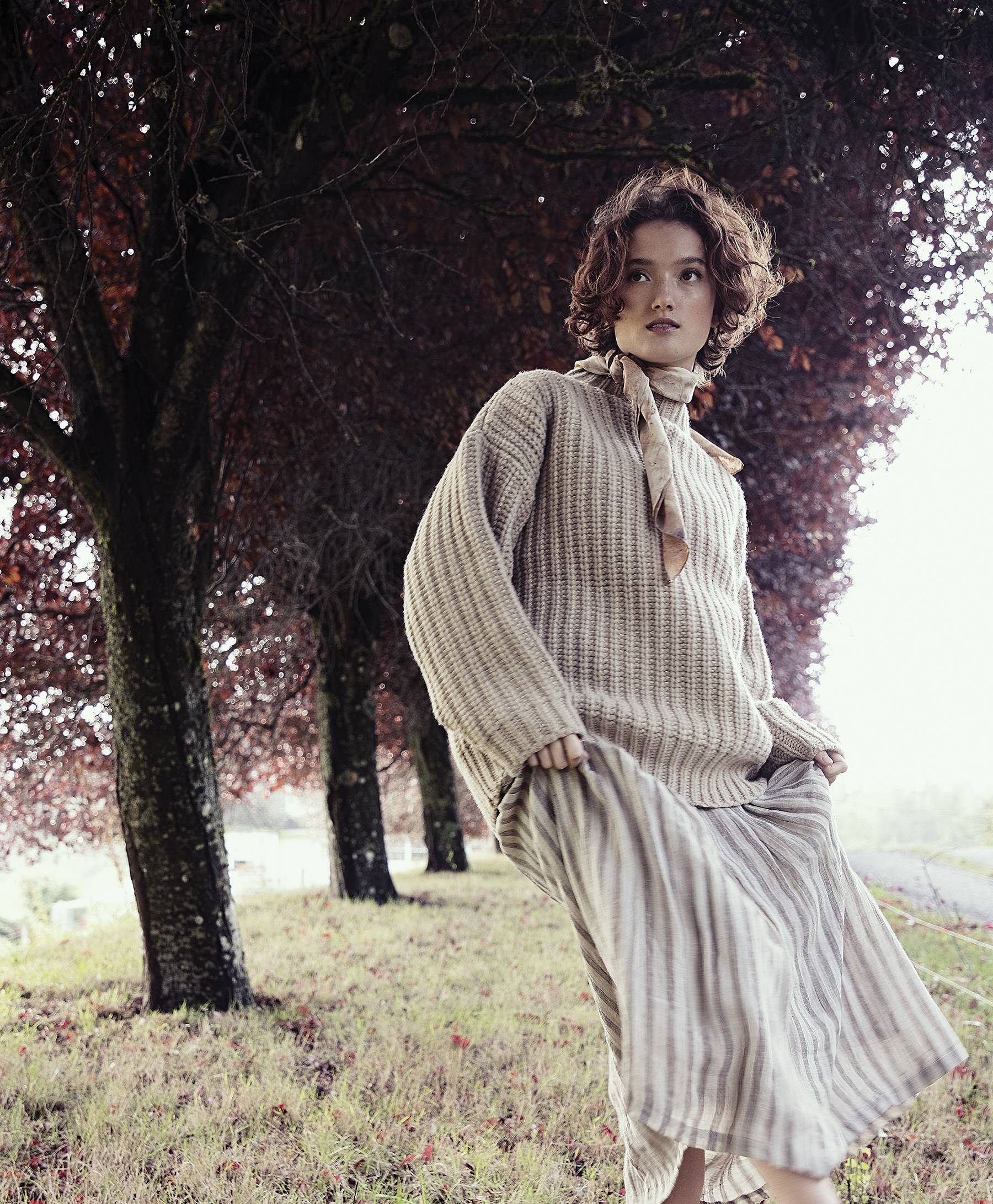 Mea merino wool sweater by Baserange is layered over a striped linen skirt by Ichi Antiquites, then finished with a botanical-dyed bandana by Tannin and Toil, all from Open House.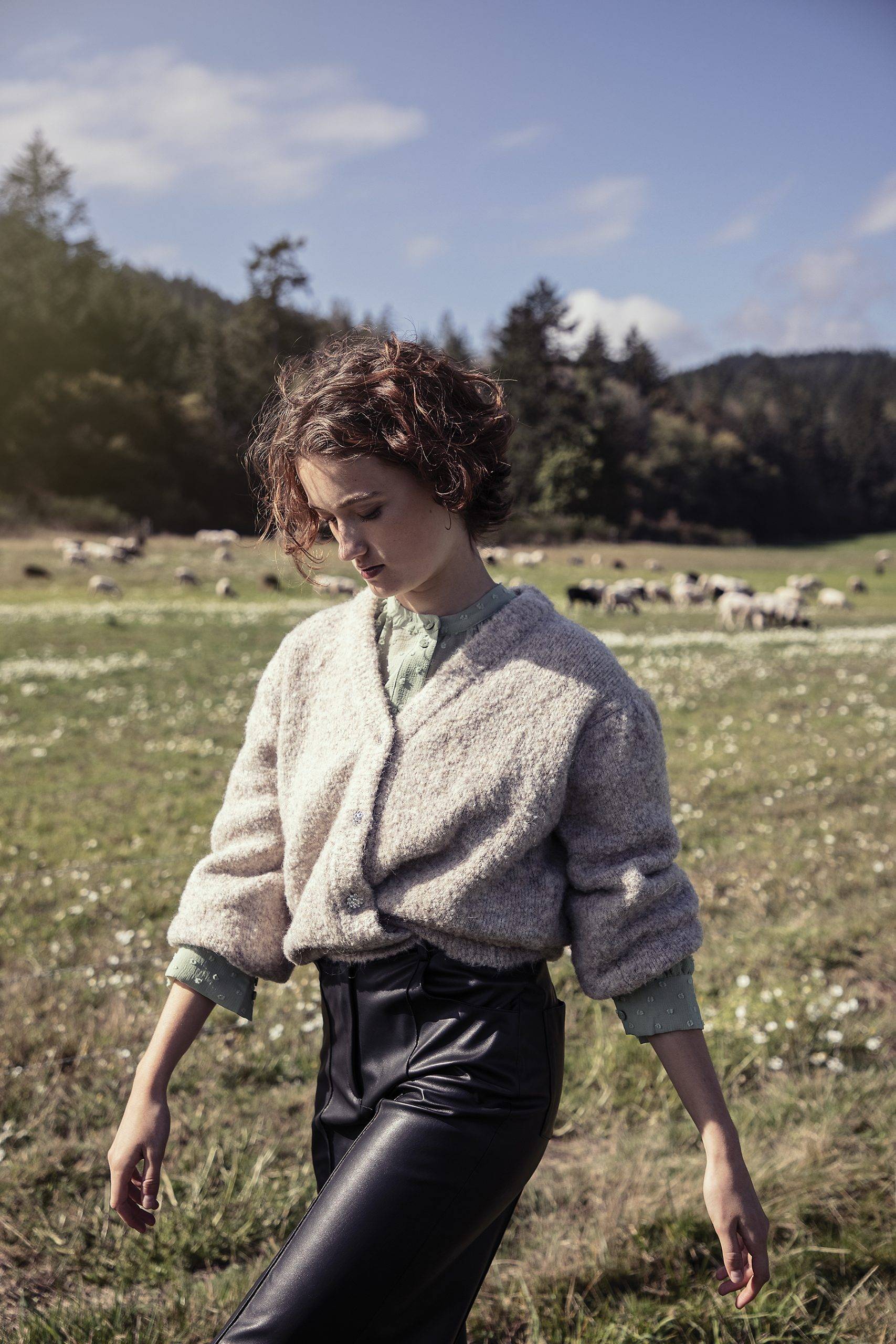 A sweet green blouse and rugged knit sweater paired with long Kaylee leather shorts, all by Soaked in Luxury and available at Frances Grey.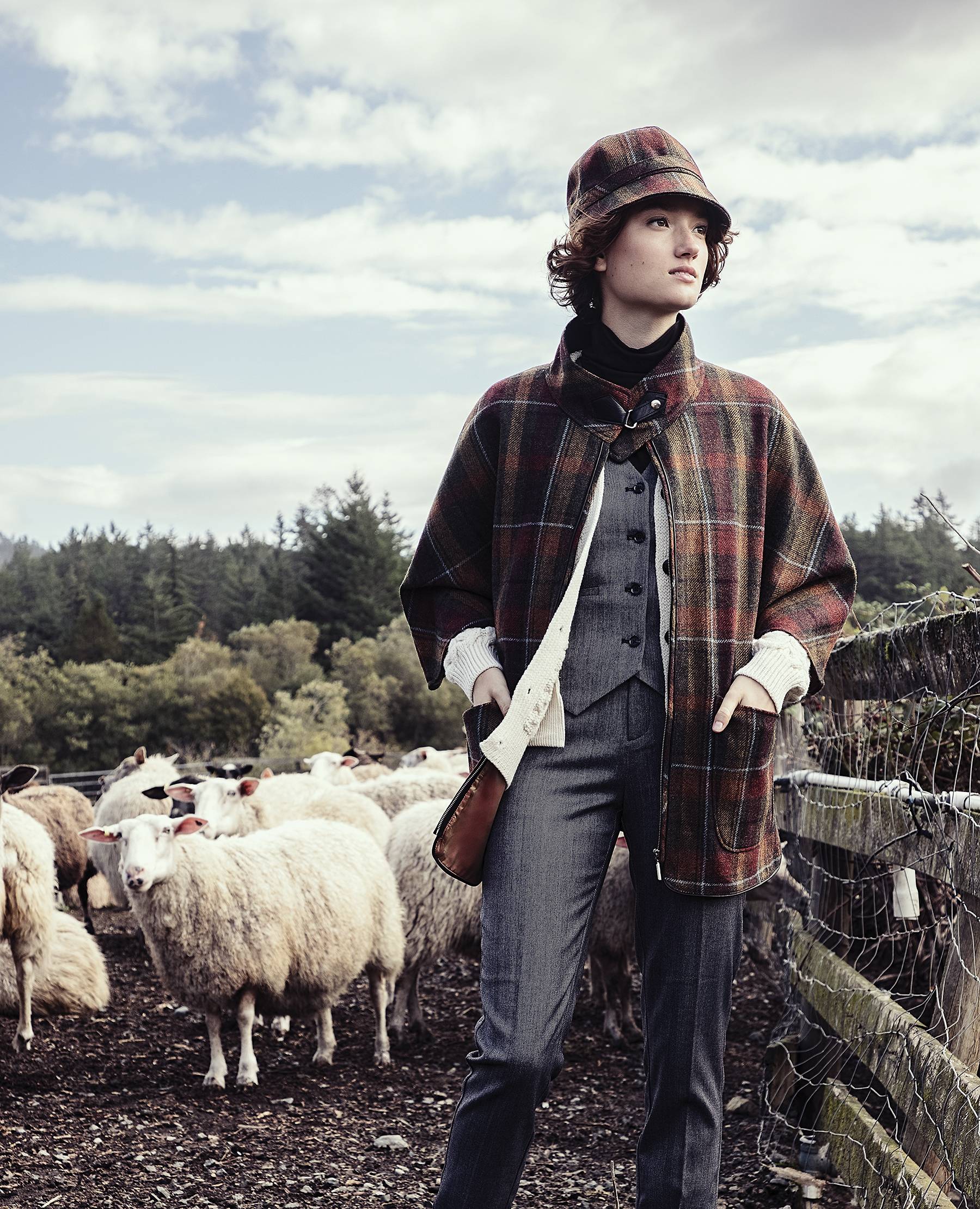 Dark grey trousers and vest by MKT Clothing Co., both from Frances Grey, and a Morgan turtleneck by Up! Pants, from Moden Boutique, are layered under a super soft merino Aran sweater and plaid Dunloe swing jacket paired with matching flapper hat, both by Mucros Weavers, available at Out of Ireland.
Luukaa cashmere cardigan coat in petrol and Clemence cashmere sweater in henna, both available at Hughes Clothing.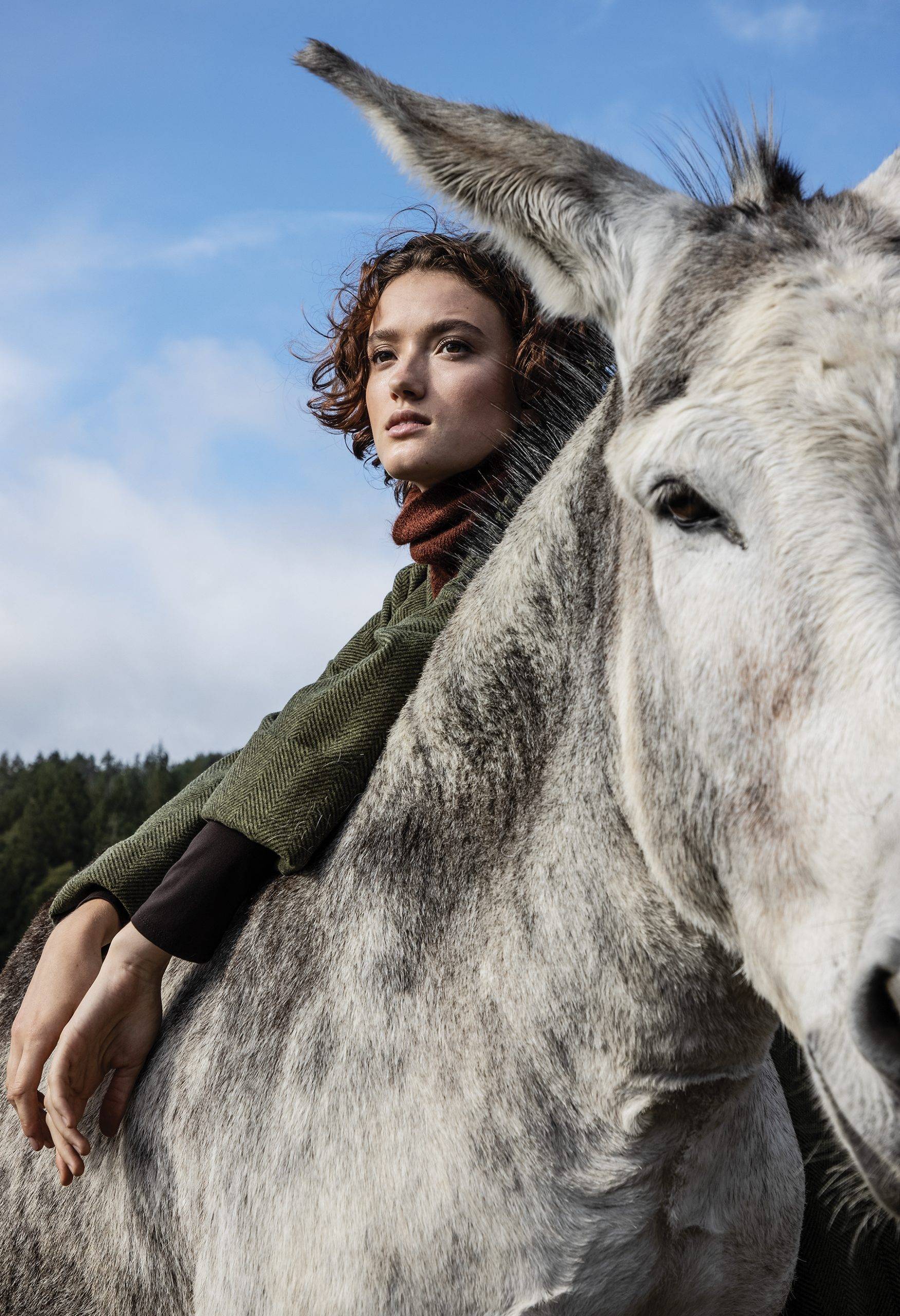 Madison Noble jacket by Ayrtight, Tuesday bib by Soaked in Luxury and Morgan turtleneck by Up! Pants, all available at Moden Boutique.
---
Model: Claire Bates/Lizbell Agency
Hair & makeup: Anya Ellis/Lizbell Agency
Thank you to John and Lorraine of Parry Bay Sheep Farm in Metchosin.