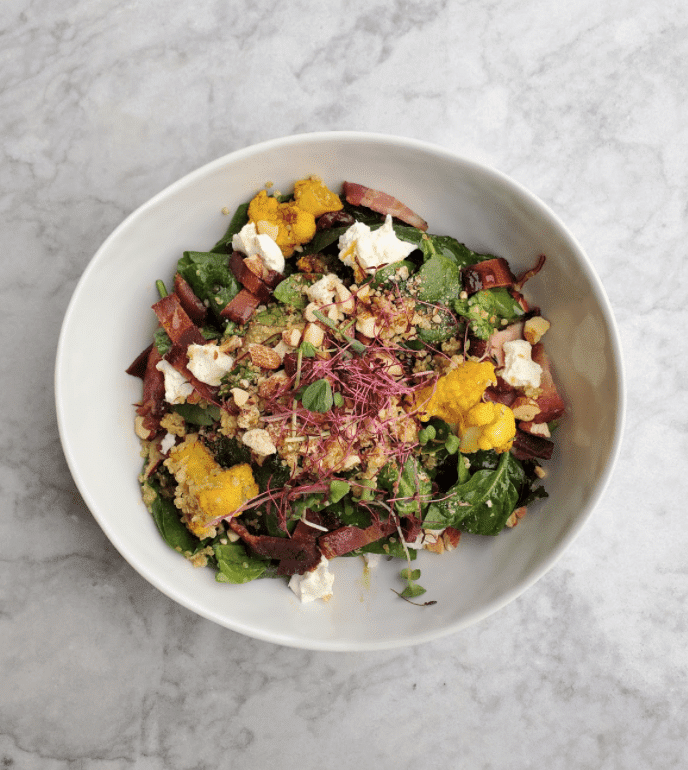 It's easy to love quinoa. It's incredibly versatile in taste and texture; it can be creamy, crunchy, fluffy and nutty.
It also packs a nutritional punch; it's very high in fiber and protein and an ideal grain for gluten intolerant people. It's also packed with minerals and extremely high in antioxidants.
This refreshing quinoa salad from Bear and Joey is also warming and zesty with a turmeric, lemon and dijon based dressing. Add some cauliflower and you're ready to go!
QUINOA
140g raw yellow quinoa
250g water
1 raw garlic clove
3g salt
Bring to boil in a pot and simmer for 20mins with a lid. Turn off and rest in the pot for 25 mins. Set aside.
DRESSING
93g raisins toasted 7 mins 350f
5g cumin seed toasted
1g turmeric toasted
78g white wine vinegar
7g confit garlic
17g Dijon
Juice and zest of 1 lemon
18g water
2g salt
Pinch of ground pepper
15g garlic oil
206g canola oil
Blend the raisins and spices really well in a blender and add the vinegar, Dijon, lemon, water, salt, pepper and blend well. Mix the oils together and while blending slowly drizzle in the oil till you have an emulsified dressing
Turmeric cauliflower
¼ head cauliflower
Ground turmeric
Oil
Salt and pepper
Cut the florets off the cauliflower into small bite size pieces and put into a bowl. Sprinkle only a little turmeric, salt and pepper and drizzle with oil. Toss together and lay on a tray or pan to roast in the oven at 400f for 5 mins. Set aside to cool.
Toasted almonds
Toast whole in the oven at 325f for 7-10 mins until golden. When cooled chop roughly on a chopping board. Keep chopping for desired texture.
Assembling
Firstly, using a pan on the stove sear 10 slices of bacon. And set aside to cool enough that you can chop into small bite sized pieces.
Finely slice some raw red cabbage into 1 inch slices. About 1.5 cups very loose and put into a mixing bowl.
Finley chop 1/6 bunch of cilantro and put into the bowl.
Add 10 hand full of baby kale lettuce or your favorite greens.
Add the cooled quinoa into the bowl.
Using half the dressing to start mix the salad gently and coat all the greens. Use more dressing as you desire.
Place the salad into 5 bowls ready to garnish. Sprinkle the chopped bacon over the top, crumble some goats curd or feta over the top of the salads, sprinkle the chopped almonds over the top to finish.