A waterfront condo renovation creates space for a simply stylish new beginning.
By Danielle Pope  |  Photos by Sarah MacNeill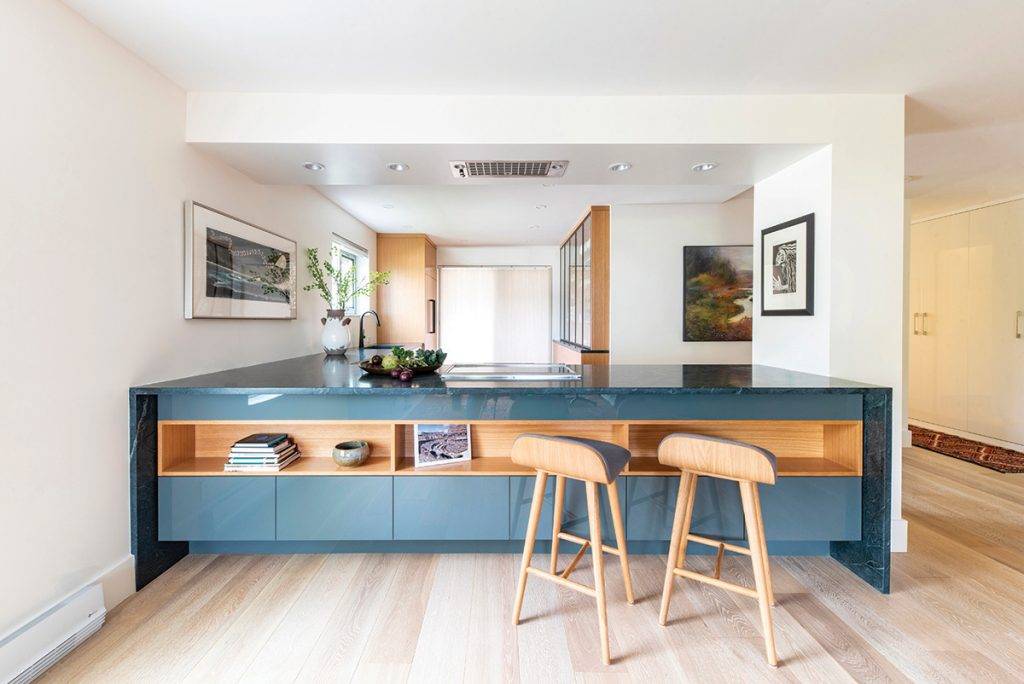 Terry Vatrt says she's always been a person prepared to evolve. Living on the Prairies for much of her life, change came often. When her family downsized from their large Winnipeg home to move out west, it sparked a massive clearing. However, it wasn't until recently that Vatrt was pushed to turn her shedding into something deeper. Now divorced and with her son at college, this was the first time in years she was on her own. It was her chance to start living the life she truly wanted.
"I realized it was time to step into my own life," says Vatrt. "I wanted to be able to create and curate my space, and experience that feeling you get when you're on vacation — having what you need, but only just."
Vatrt wanted her next home to welcome this phase of her life. She craved a modern, clean white space that would surround her with art, joy and provide room for those she loved — all with a backdrop of freedom. 
When Vatrt found the condo along Victoria's waterfront drive, she loved its location. And despite its dark palette, closed-off walls and dated kitchen, she could see potential in its sheltered patios and spacious layout. She walked away at first, but when she consulted the team she'd worked with on her previous home, they agreed: this could be the perfect restart.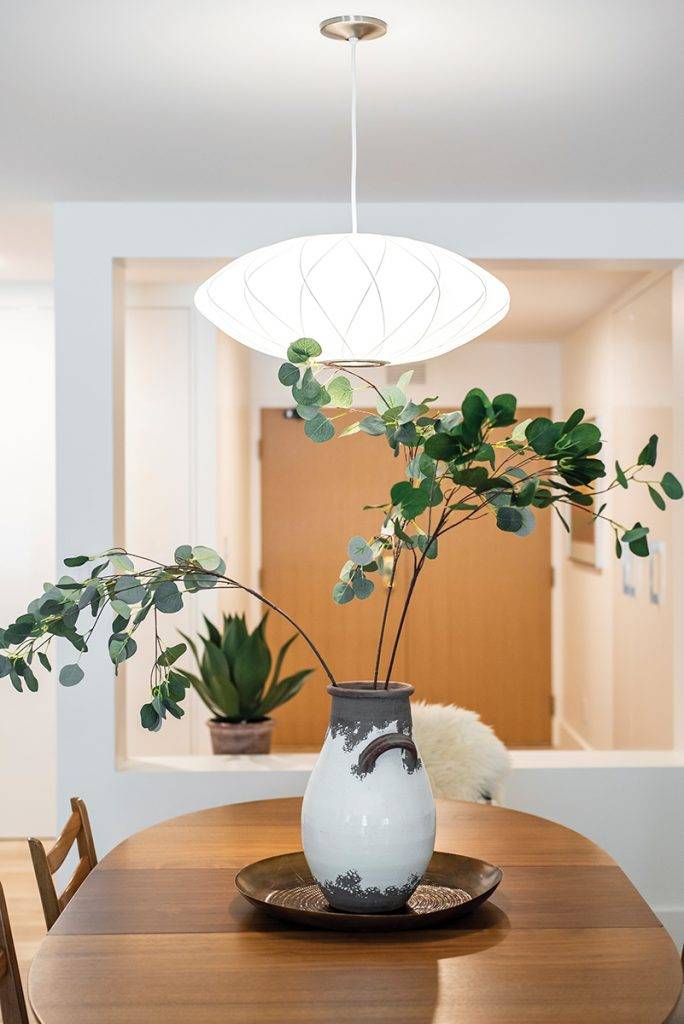 "I so appreciated where Terry was in her life, and I wanted to give her the best shot at entering her next chapter in a place she loved," says designer Raubyn Rothschild, principal of Rothschild West Design + Planning. "I know from working on other condo renovations that what you end up with doesn't have to look anything like what's there. I see it as clay from the beginning."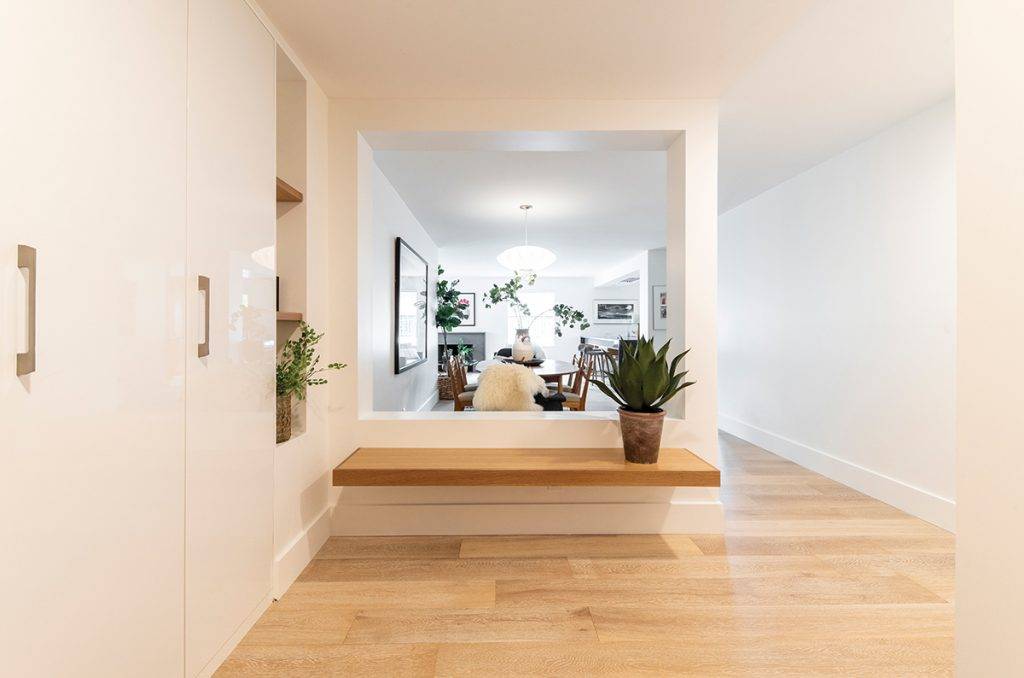 The concrete and steel building made it possible for the team to gut the inside, removing entire walls to open the space. Rothschild added function to the 1,460-square-foot home by placing inset displays and storage nooks in every cavity and floor-to-ceiling glossy white cabinets in the hall. The spare room doubles as a guest room and art studio, and Vatrt's two patios (one for sunny mornings and one for windy afternoons) highlight versatility. 
Mid-century modern furniture meshes with Vatrt's laid-back, beach-getaway vibe. 
Soothing colours and oak and marble find their place throughout the home. While it isn't exactly feminine, says Rothschild, it's inviting without being fussy. Everything has a place and, in true form, leaves room for the new.
Builder Blaine Rust, owner of Renex Custom Builders, added some special details — from hidden cabling to accent lighting. Understanding Vatrt's love of art, Rust recommended placing the light switches nearly a foot below typical height to create clean gallery walls.
"I often say, you tell us what you'd really like and we'll come up with the solution," says Rust. "Maybe we can't change a condo's eight-foot ceilings, but we can play with floor space, sight lines and how you use your home."
The kitchen is the focal point of the space and went through an evolution — starting as a white open-concept and transforming into an atmospheric centrepiece.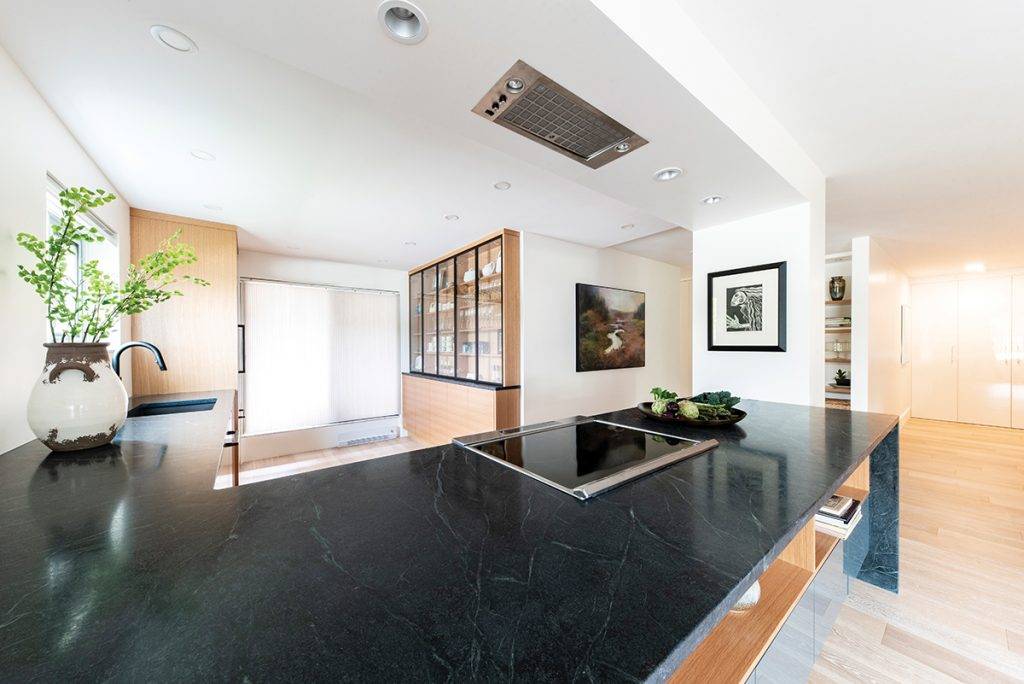 "At first we were recreating what Terry had in her old home, but she needed something more sophisticated now," says Rothschild. "Terry was changing, and we wanted the space to elevate that."
One kitchen wall was removed and replaced with an oversized peninsula to add storage and a sitting area. Dramatic, textured soapstone created statement counters and a glass cabinet framed in black aluminum offered a functional showcase.
"Part of my process was coming to terms with the question: what is my vision for the life I want to lead?" says Vatrt. "I've discovered a function of letting go is knowing that what you need will come to you when you need it. You have to make space for what's really important."
Resources
Designer: Rothschild West Design + Planning
Builder/Construction Manager: Renex Custom Builders
Plumber: Nexgen Plumbing & Heating
Electrician: Ian Sparks Electric
Doors: Custom oak c/o Renex Custom Builders
Hardware: EMCO c/o Victoria Specialty Hardware and Richelieu Hardware
Drywall: Renex Custom Builders Inc.
Tile: Island Floor Centre 
Painting: Hughes Painting
Kitchen/Bathroom Millwork:Victoria Millwork & Joinery
Custom Millwork: Victoria Millwork & Joinery and Renex Custom Builders
Finishing Carpentry: Renex Custom Builders
Floor: Island Floor Centre
Glass: A & D Glass Co.
Countertops: Abstract Stone
Base building & Accent Lighting: Richelieu Hardware
---
This article is from the March/April 2020 issue of YAM