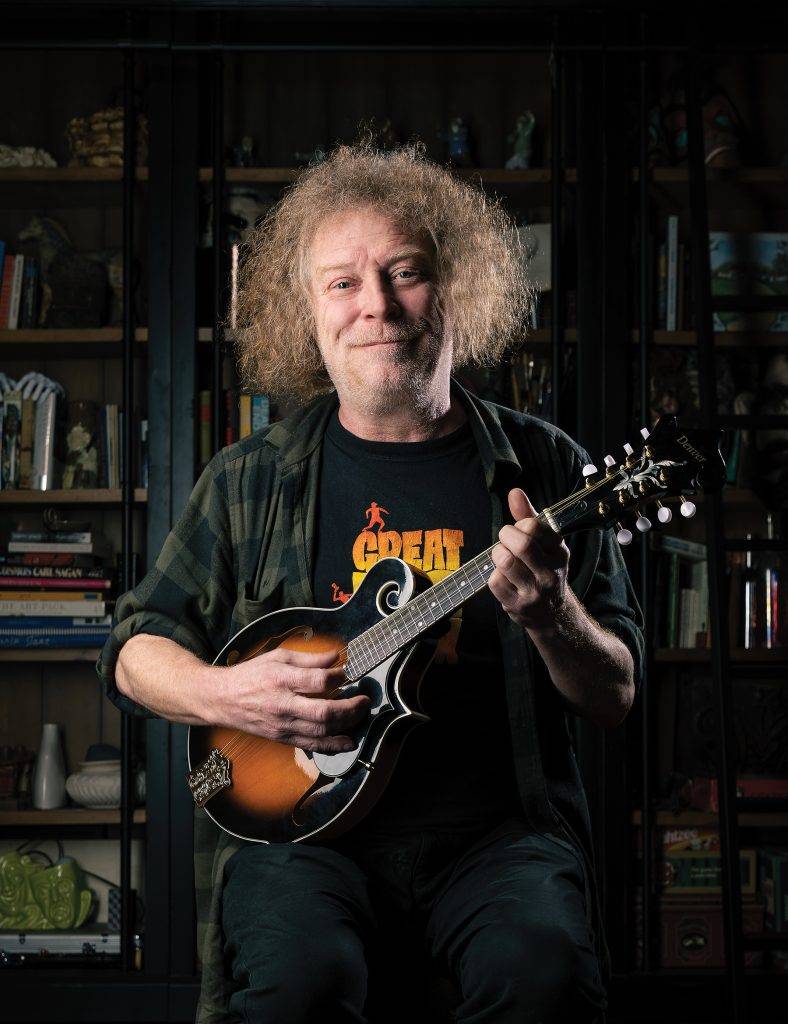 Wes Borg is vulnerable, generous and unmotivated by anything but the laugh.
BY DAVID LENNAM
Wes Borg is — uh, make that was — the busiest man in showbiz.
Before two years of pandemic gig cancellations made him feel trapped in the void, the fifty-something comedian was in almost every show that made you laugh: CBC's The Debaters; in one-man shows, musical standup, improv soaps, "Derwin Blanshard" mock talk show; as a performer with Atomic Vaudeville and regularly joining old pal Carolyn Mark for those hootenanny.
He has acted in theatre, appeared on British television's As Yet Untitled and released his first solo comedy album, "Better Than I Am." He's probably on The Bachelor. I should check.
So, all this, but unaccompanied by the sort of all-consuming motivation and ambition that can be blinding. (He doesn't audition.)
Borg is more the artist, in the sense of the word, rooming in a 1970s camper van he calls his 3-ton wife. Yes, his musical diary of satirical songs has one about her. Opening line: She got a scar on her face from when she killed an eagle/She's 40 years old, but she's barely legal.
He's unmotivated by fighting for jobs but skilled enough to get them anyway.
"I don't try to get work anymore. But I'm not against it. I love being asked. I'm on a real big anti-competition kick right now. It's the enemy of creativity. They've taken everything beautiful and turned it into a game show. [Comedy] can't be as career-centric as it used to be. It can't be about trying to make it, trying to get a TV show or any kind of gig. It's just got to be fun."
Comedy — good comedy — isn't about who's better. "I was taught that every piece of literature followed into man vs. world, man vs. himself, man vs. whatever. It was all fight, fight, fight, fight. There was always a bad guy, there was always a fight, but it's really about building tension.
You don't have to fight each other; you just have to build the tension, and then that feels like a compelling reason to continue watching the story. It is not about who wins."
Sharing the Stage (and the Laughs)
Comedian and longtime collaborator Katie-Ellen Humphries hails his performances as super-generous.
"There are not a lot of comedians who love to share the spotlight like Wes, and even fewer who exalt quite so much in making other people look like the funny one. The beauty and tragedy of Wes is he truly has no idea just how special he is. I don't know whether he realizes the impact he's had on generations of Canadian comedians and comedy fans."
Morgan Cranny has shared many stages with Borg. Improv, he says, is where that generosity dazzles. "He's very clever and goes for the laugh, but knows how to do it with you, rather than to you. It's fun writing shows together because we riff and feed off each other, and then cobble together the good stuff and riff off that."
Sometimes the blinders need to be lifted for us to recognize the talent around us. Borg is Exhibit A. He's lived with fame. Canadian fame, anyway. Growing up in Edmonton, doing "theatresports," he founded the legendary comedy group and Fringe royalty Three Dead Trolls in a Baggie.
The Trolls had a short-lived CBC TV series, a stack of comedy albums and comic plays like War of 1812.
Thirteen years ago, Borg turned up in Victoria and just didn't leave. ("What, I got to come up with ferry money to leave this place?") He'd quit Alberta on a roll. He left, winded by it all.
"I was done. I was burned out. It was a little too early [to have that kind of success]. I wouldn't recommend it. 'Cuz everything was so easy at the beginning, I just thought it would be easy.
We happened to have some lightning in a bottle."
Borg got a job at the Victoria Event Centre mopping floors and cleaning toilets and was lured back onto the stage by Atomic Vaudeville creator Britt Small.
---
"All sharpened by a quick, dark wit, he comes from the heart, and sometimes his heart is filled with marshmallows, and sometimes acid darts."
---
"Wes likes to play," says Small. "Probably one of the things I like best about him [is his] child-like openness and curiosity that's at the heart of clowning and performance. He's unafraid of, or rather embraces, his own foolishness, which makes him immediately charming and likable. All sharpened by a quick, dark wit, he comes from the heart, and sometimes his heart is filled with marshmallows, and sometimes acid darts. I welcome both."
Those marshmallows get roasted in the Lifetime Networks program Borg runs — a drama club for adults with developmental disabilities — upending assumptions about the disabled and giving them a stage to uplift, inspire and make us laugh. Watch for their upcoming Psych Ward: The Musical.
Often switching into cartoon voices or laughing like Krusty the Clown doing Seth Rogen, Borg talks about encouraging his drama club gang to choose wisely from comedy's thousand flavours.
"There's the derisive, scored-one-on-ya competitive kind of laughing at, making fun of, but it's much more fun to do the kind of comedy that is just about the joy. Laughter is the expression of joy. For me, it's defiance against how shitty mortality is. When you're vulnerable and honest [he almost whispers] that's all you need. Be vulnerable, be willing to fail and then be as honest as possible. That looks exactly like bravery."
Coda: What to Expect Now That You're Creepy is the title of a guidebook that Borg is writing for men of a certain age. Expect a TV series.